ROMA - REAL MADRID
Cristiano optimistic ahead of Champions League clash
"I don't feel the need to go out for dinner with Benzema every night. I didn't speak to Giggs or Ferdinand apart from a 'Good Morning' and we won a Champions League".Valencia vs Real Madrid live online: LaLiga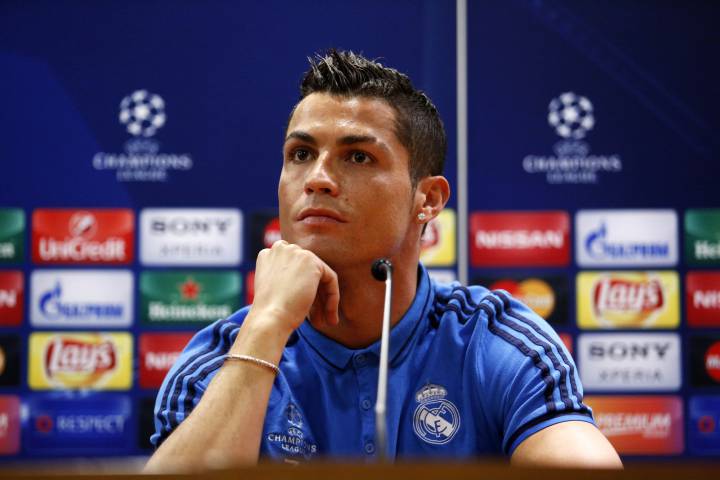 Cristiano spoke to the assembled media ahead of tomorrow's Roma-Real Madrid Champions League match. The Portuguese striker is confident in his team as the competition enters its decisive phase: "I feel the team is playing really well. In the past three weeks we've been working hard in training, playing well and winning. We've been scoring freely and playing a good brand of football. Obviously the Champions League is a very important competition for the club and players. We're looking forward to the game and although the tie is complicated on paper I feel we're ready for the challenge. We'll look to get off to a decent start and aim to win the match as per always".
What is your take on Messi's penalty against Celta? "I'll be precise with this. I know why Leo did this, but I won't elaborate any more. You can now think what you want".
Doubts about your performances: "This is something normal or at least that's the way I see it. When you raise a child poorly and give them everything they want then decide to change tact, they cry as a result. I've created a level of expectation for people but I do hope that I keep playing this poorly for the rest of the season".
General feelings at Real Madrid: "I'm happy and at a club that gives me plenty of affection. I'm playing constantly and score from time to time. I couldn't be happier and I'm at the best club in the world."
The Champions League this season: "I feel the same way about this competition as I do about La Liga. I want to do all I can to help Madrid to win. This is a special competition and I always want to do well for the fans".
Do you feel Madrid are favorites? "I always feel we are the favorites. We've won this competition more than any other club. We can still aspire to win the league title although we are a few points adrift but we all start from scratch at this point in the Champions League".
Spalletti stated that the tie is in the balance: "That's true. Things may change".
We'll see after tomorrow's game"
Totti is still playing at 39 years of age: "It's amazing. He really is an example to everyone. He's proving that age isn't everything. He's a great role model and show's that on occasion there are no limits in football".
Does the MSN benefit from the fact that all three are friends?: "You believe all that you read? I'll be straight with you. At Manchester United we won the Champions League and I didn't talk to the likes of Scoles, Giggs or Ferdinand, apart from 'Good Morning'. Despite that, we had an excellent team. I don't have to go out for dinner with Benzema or invite him over. What counts is what happens on the pitch. I don't need hugs and kisses".
You haven't scored away from the Bernabeu since November: "Since I arrived in Spain, show me one player that has scored more goals away from home. There isn't one".