RAYO VALLECANO
Rayo players claim innocence: "They can investigate us"
The players, accompanied by coach Paco Jémez, deny having thrown their game against Real Sociedad and plan to take legal action against those who have accused them.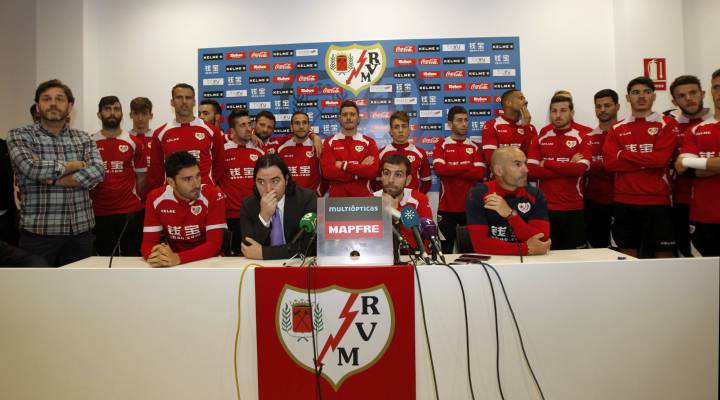 Rayo Vallecano players accompanied their coach Paco Jémez and club president Raúl Martín Presa for a joint press conference on Friday morning to catagorically refute claims that the team deliberately threw their game against Real Sociedad last weekend on which an unusually high number of bets were placed for a home win on the eve of the game. Rayo added that they plan to take legal action against those who accused them of match-fixing.
"The powers that be are welcome to open an investigation if they want. We are clean". That was the message which the Rayo squad put across. "A president in charge of the league cannot say these kinds of things", one of Rayo's captains David Cobeño said, in reference to LaLiga chief Javier Tebas. "When something happens first they have to show the facts".
Roberto Trashorras added: "I would put my hand in the fire for my team mates, and for the coaching staff. I have never doubted the professionalism of my work mates. If they suspect unusual activity, let them investigate. If I had the slightest suspicion that anyone had thrown the game, we wouldn't be here now doing this press conference". The player says that the team has received full backing from the Spanish Footballers' Association syndicate and warned thay Rayo would be taking the matter to the courts.
"If they are accusing the players, they are accusing me", said coach Paco Jémez