Kohli becomes Indian Premier League all time run-scorer
The India captain, Virat Kohli, didn't let a finger injury stop his run scoring as he hit another century in the Indian Premier League to reach 4,000 runs.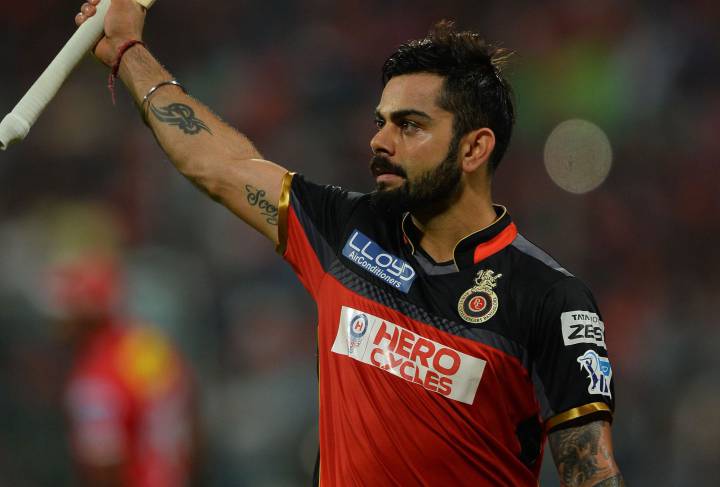 Virat Kohli smashed an unprecedented fourth century of the Indian Premier League (IPL) season -- despite nursing a finger injury -- to become the tournament's highest ever run-scorer.
Batting with nine stitches after splitting the webbing in his left hand in the previous game, Kohli bludgeoned 113 runs off 50 balls to reach 4,002 runs in the Twenty20 competition.
Kohli surpassed Indian batsman Suresh Raina's record of 3,985 runs as he led the Royal Challengers Bangalore to another crushing win against Kings XI Punjab on Wednesday.
The India captain put together a 147-run opening partnership with powerful Jamaican Chris Gayle (73).
Bangalore piled up 211 for three in the game, which was cut to 15 overs a side because of rain.
'When all that was happening out there, I thought surely I can't get a hundred in 15 overs. I wasn't believing that it was happening,' said Kohli.
The in-form 27-year-old this week also became the highest run-getter in a single season, and he now stands at 865 runs in 13 games.
Kohli is the first batsman to hit four tons in a single T20 season, which, along with five half-centuries, has taken his average to 86.50 in this year's competition.
Kohli and team-mate AB de Villiers also shared a record 229-run second-wicket stand last week, the highest partnership in the history of T20 cricket.