REAL MADRID
Zidane: "I'm delighted with how Asensio is doing... "
"He is showing that he wants to play. If he stays he knows what the score will be here, and the players he'll be competing with...". Zidane added that Cristiano will miss the league opener.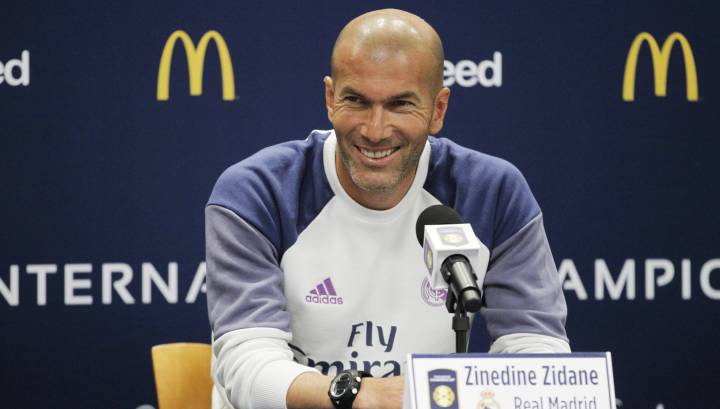 Zinedine Zidane faced the media on the eve of Real Madrid's second friendly in the United States - against Antonio Conte's Chelsea.
Building back the team's rhythm: "That's what these pre-season fiendlies are for and what I want to see tomorrow is a little more fluidity to the team's game; we've been doing it in training and now I want to see it in a match. We're doing well, we are well prepared and I would just like to see the team a little stronger than it has been since we returned to work".
Benzema's injury: "He won't play tomorrow. An injured player is always a worry and it's a concern that this is a recurring problem with his hip. We are working every day with the physios on this issues and while he's a lot better, let's hope he can take part in the third game. It's important that he plays a bit bfeore the Super Cup".
What position in the team would you like to strengthen? Is this the best squad in the world? "I think it is the best squad in the world, yes. But you always have to go out and show that it is, and we are on that now. As for the first part of the question, it's the same as always - up until 31st August, anything can happen. Apart from additions there are players who could leave the club. But I am happy with the players I have because they are working very hard - and that's important for any coach. With the talent that's obviously already there, the only thing we need to do is continue working hard every day. It's going to be a very tough season and we have to be prepared".
Your sons Luca and Enzo with the squad: "I'm the coach, they have what it takes to be here and they know how things are done here. They deserve to be here and that's all there is to it. We're here to work and they have the same right to do that as everyone else".
How's Keylor? "Keylor's feeling better, but right now I cannot say whether he will be fit by the 9th. It's looking a bit complicated. When we return to Spain, the surgeon who treated him will have another look at him and advise what work plan to undertake. It looks difficult to me but he's working hard and he's feeling better with each day. Casilla is the second choice keeper and he is more prepared - we're happy with him and he's ready to play".
Cristiano: "Let's see… He's not going to make the Super Cup, he's ruled out for that. His injury requires a month and after that he has got to physically prepare for the new season. We are not going to put him in the team if he has been a month out and had no pre-season at all. We have 10 days between the Super Cup and the opening game of the season. He'll be back training with out - no doubt about that, but playing… We'll see. Personally, I can't see him playing the first game".
Asensio: "He's ahppy here and he's showing that he really wants to play; if he stays, he knows what the score is - he know how things are here and the players he will be competing with for a place. I'm delighted with what he's doing. But anything could happen between now and the 31st. He's very young, but I'm not his friend, I'm his coach".