Real Madrid round-up: Back in Spain, Isco, Zidane, Kovacic
Real Madrid are back in Spain after their US Tour, where they made 12 million euros. Zidane gets a salary bump and the Italians want Isco and Kovacic.Real Madrid v. Fuenlabrada live online

Real Madrid are back in Spain
Zidane and his Real Madrid squad landed in Madrid yesterday afternoon after returning from their US tour. They beat Bayern Munich 1-0 in their final game. Real Madrid face Seville next, in the UEFA Super Cup on Tuesday (20:45 CEST)
The US Tour brought in a neat 12 million euros for Madrid
The US mission has been declared a success by the club: it reinforced the club's image in a key strategic market (that's sexy football chat for you...) and brought in 12 million euros net, with all the expenses (travel, hotels etc) being paid for by the International Champions Cup.
In total 274,479 tickets were sold for Real Madrid's games (against PSG, Chelsea and Bayern). And for the first game, against PSG, there were 86,641 fans in the Ohio Stadium, a record for soccer in the state.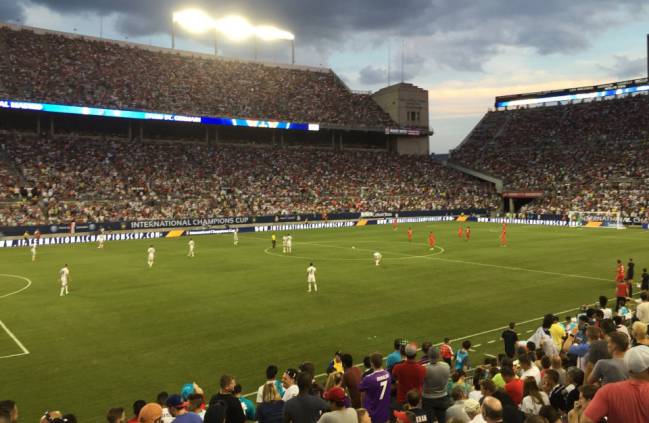 It's clear Madrid are in demand in the US of A.
Zidane doubles his salary
Real Madrid wanted to reward Zidane for his work since he took over from Benítez (one Champions League in the bag for example). The coach will see his income jump from 2.7 million euros a year to 5.5 million, but he's still behind what Ancelotti was on, and a long, long way off Mourinho and Guardiola in Manchester...
Kovacic a possible replacement for Pogba at Juve
Although Pogba still hasn't moved to Man Utd, everybody (well, almost everybody...) expects the deal to go through sooner rather than later. And to cover the Pogba sized hole in their squad Juventus would really like to get their hands on Real Madrid's Kovacic. The Croatian isn't vital to Zidane's plans... so he could be on his way to Italy to cover Pogba's departure.
Milan like the cut of Isco's jib
According to the Gazzetta dello Sport Milan are in talks with their Chinese investors Fosun to organise the funds to make a bid for Real Madrid's Isco. Jorge Mendes, super agent supreme, is involved apparently.
Zidane is a fan of Isco, but as we reported yesterday, he's still not made his mind up if there really is room in the squad for the twinkle-toed maestro...