Kroos fires Real Madrid to nervy win over impressive Celta
The German midfielder's late goal gave Zidane's side the three points after Fabian Orellana had cancelled out Alvaro Morata's opener.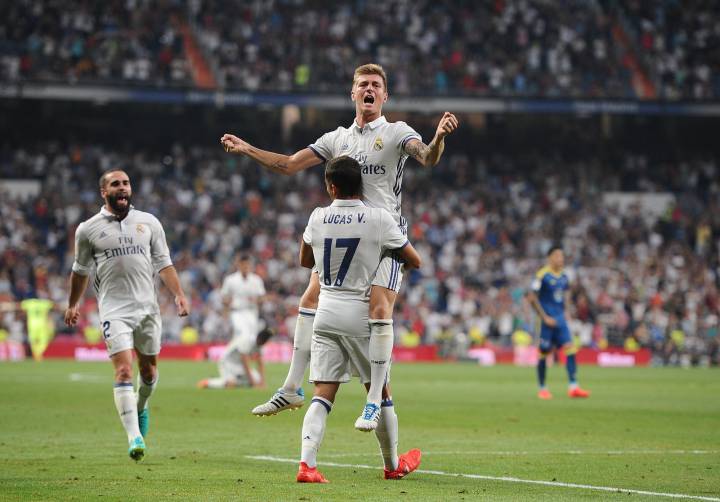 Toni Kroos' late goal 9 minutes from time gave Real Madrid a 2-1 win over Celta de Vigo at the Santiago Bernabéu this evening, a result which maintains their 100% start to the season but one that will also leave coach Zinedine Zidane with a lot to think about.
Madrid were firm favourites coming into the game, looking to record their 14th consecutive league win, a run stretching back into last season. But the visitors, who lost star forward Nolito to Manchester City in the summer and who started the season with a surprise home defeat to promoted minnows Leganés, proved far tougher opposition than most had expected.
After a goalless and evenly-matched first half in which both sides had chances, second half goals from Alvaro Morata and German midfielder Kroos either side of Fabian Orellana's equaliser for the Galicians gave Madrid the three points.
The home side could have scored more - Bale, Morata and the excellent Luka Modric all hit the woodwork - but they looked uncomfortable for long periods of the game and gifted Celta chance after chance. Without Cristiano Ronaldo, still not match fit and recovering from the knee injury he suffered during the Euro 2016 final back in July, they lacked penetration and looked unable to make the breakthrough until Kroos' late strike.
Madrid now sit top of the provisional La Liga standings pending the result of matches to be played this evening and tomorrow while Celta are yet to pick up any points after a second defeat in as many games.
Live Coverage
Peeeeeep! And that's full time. A hard-fought win for Real Madrid, probably far harder than they thought...
Min 90 | Three minutes of stoppage time.
Min 86 | Nervy moments at the back as Celta push on. A cross from the right falls to Madrid's Lucas Vazquez but he dilly-dallies and finds himself dribbling the ball along his own touchline. Eventually he's brought down under pressure and wins a free-kick but that's not what the Madrid faithful want to see with 5 minutes to go. Or ever, really.
Min 84 | Last change for Celta. Radoja is replaced by Pione Sisto. They have just 5 minutes left to get something out of the game.
Min 81 | Goooooooooool! Toni Kroos steps up with an excellent low shot from the edge of the box which he slots low down and out of reach to Sergio's left. Magnificent technique, magnificent finish. Excellent play from Lucas too, who waited for the pass instead of snapping the ball across goal.
Min 80 | And at the other end! Bale rises high to meet a cross from Lucas Vazquez. Sergio parries it low down and it trickles towards goal before he manages to scramble back to recover.
Min 79 | A glorious missed chance for Celta! A quick clearance sees the visitors 3 against 1 but Pape takes too long and his pass across goal is cut out by Ramos.
Min 75 | Changes for both sides. Mariano replaces goal scorer Alvaro Morata for Madrid while Berizzo sends on Pape Cheikh for Wass.
Min 72 | Celta make their first change of the match. Guidetti off to be replaced by former Liverpool man and local lad Iago Aspas.
Min 70 | James goes down in the box and appeals for a penalty claiming he was tripped by Roncaglia but gets nothing. Probably not enough contact by the looks of things.
Min 68 | Madrid make their second change of the game. Off goes Luka Modric to be replaced by James Rodriguez.
Min 66 | Goooooooool! Celta equalise! Orellana brings his side level with an excellent shot to Casilla's right from the edge of the box. Now it's Zidane's time to be upset. The Chilean was left all on his own, but he won't mind; his side are level and the pressure's back on the home side.
Min 65 | Zidane makes his first change. Marcos Asensio trots off to be replaced by Lucas Vazquez.
Min 63 | That man Morata hits the post! Madrid storm forward out of their own half and Kroos plays an excellent through ball to the former Juventus man who shoots past Sergio low down to his left and watches it trickle agonisingly close. Madrid look far more confident now.
Min 59 | Gooooooool! Morata breaks the deadlock and Madrid lead 1-0. Marcos Asensio found himself one-on-one with the keeper after yet another poor clearance and tried another intricate lob, hoping to replicate his spectacular goal last week at Anoeta. Sergio parried the shot but Morata was on hand to hammer home the rebound. Celta coach Eduardo Berizzo looks furious and so he should be.
Min 58 | Morata thought he'd found himself alone in front of goal after another scuffed clearance from Sergio but he's caught just offside. Very, very close but the right decision.
Min 54 | Another free kick for Madrid on the edge of the box. It's Bale and Johny again, and this time the defender goes in the book. And Madrid go close! The Welshman's curling shot looked destined for the top right corner but Sergio got there just in time with a diving save.
Min 52 | Free kick in a central position for Real Madrid. Bale steps up in Cristiano's absence but tries his best to impersonate him by firing the free kick high over the bar.
Min 50 | Gareth Bale takes a tumble in the box under pressure from left-back Johny but gets no love from the referee. Marcos Asensio fires in a shot from the right and draws a save from Sergio. The crowd like that a little more.
Min 48 | Madrid look to respond and Bale charges down the other end and forces a corner. Kroos takes it but it's cleared, as is Carvajal's follow-up cross.
Min 46 | Nervy opening moments in this second half. Some intricate build up play from Celta brings them to the edge of the box but it comes to nothing. The home fans don't like it though and whistling is clearly audible around the Bernabeu.
Min 45 | And we're off again.
Peeeep! That's half-time. Zidane's men have had their chances and Modric has been excellent but they've looked a little flat. Celta have looked confident and had chances of their own. The home side will be looking for a lot more in the second half.
Min 45 | Just the one minute of stoppage time.
Min 41 | Orellana takes a tumble on the edge of the box after a challenge from that man Casemiro. The Chilean takes the free kick himself but it's disappointing and headed directly out of the Madrid box by Sergio Ramos. Radoja follows up with a low shot but it goes straight into the hands of Kiko Casilla.
Min 36 | Varane gets across just in time to cut out a cross by Wass from the right.
Min 32 | Handbag alert. Casemiro shoves Pablo Hernandez rather aggressively but surprisingly nothing comes of it. How did he not get booked for that? The home fans aren't too upset though.
Min 31 | And another! Clever link up play from Kroos and Bale on the edge of the box leads to Modric drawing a good diving save from Sergio to his right. Header from the ensuing corner goes wide.
Min 29 | Another close call! Marcelo's cross across goal is slightly ahead of Bale and he can't quite get enough on it to nudge it towards goal. Good chances for both sides so far at the Bernabeu.
Min 28 | Modric! Heading towards goal from the right he looked as though he was searching for a cross but his shot caught Sergio by surprise and thundered against the crossbar.
Min 25 | Morata called for a foul on Sergio after trying to dispossess the keeper from behind as he goes to roll the ball out. Scenes reminiscent of the school playground.
Min 24 | Chance for Celta! Bongonda finds himself with an open channel charging towards the Madrid goal but instead of passing across to Guidetti in the middle he opts to go for goal himself. his scuffed shot hits the outside netting. His Swedish teammate scowls.
Min 20 | Good work by Guidetti on the left flank. Pressured by Sergio Ramos he gets a cross in and Wass gets on the end of it, only to loop it harmlessly into the hands of Kiko Casilla.
Min 17 | Marcelo charges forward but tries one too many step-overs and trips over his own feet. Luka Modric looks as though he could have a problem with his right ankle but it doesn't look too serious and play continues.
Min 14 | And again! Sergio scuffs his clearance straight to Luka Modric but gets back just in time to save the ensuing shot. The little Croatian has been in the thick of things in the first quarter of an hour.
Min 13 | Madrid go close! Alvaro Morata picks up the ball after Bale overruns it on the edge of the Celta box and curls a shot just left of Sergio's goal. Oohs and aahs sound out from the home fans.
Min 12 | Modric fouled by Wass in the Madrid half but he's back up on his feet quickly.
Min 10 | Madrid haven't lost a league opener at home since... Celta beat the hapless Vanderlei Luxemburgo's side 3-2 back in 2005. They're up against it to pull something similar off today.
Min 5 | Luka Modric's cutback from the right is intercepted and cleared but Madrid quickly get back possession. Zidane's men look in control, passing the ball around comfortably.
Min 2 | Morata dribbles his way into the box from the right flank, drawing a number of Celta defenders who make a meal of the clearance but eventually get it away safely.
Peeeeep! We're underway...
1 min to kick-off | A tribute to the victims of the recent earthquakes in Italy.
2 mins to kick-off | Deafening music blares across the Santiago Bernabeu before Spanish Olympic swimmer Mireia Belmonte walks onto the pitch to applause.
5 mins to kick-off | Real Madrid will be hoping to follow up their strong performance at Anoeta last weekend with another good showing at home today. Celta were ruthlessly crushed 7-1 on their last visit to the Bernabeu in March and will, obviously, be hoping to avoid a repeat result.
Team news:
Real Madrid: Casilla; Carvajal, Varane, Ramos, Marcelo; Casemiro, Kroos, Modric; Asensio, Morata, Bale
Celta: Sergio; Hugo Mallo, Roncaglia, Cabral, Jonny; Radoja, Pablo Hernández; Orellana, Wass, Bongonda; Guidetti
Real Madrid - Celta preview
Real Madrid
Luka Modric returns from suspension for Real Madrid tonight and is set to link up with Toni Kroos and Casemiro in midfield. His inclusion will see his compatriot Kovacic exiled to the substitute's bench. Zidane is expected to keep Morata, Asensio and Gareth Bale in attack after a successful opening game and 0-3 win in Anoeta and Portuguese defender Pepe also makes a welcome return to the squad having fully recovered from injury.
Isco will miss the home debut with a twisted ankle as Nacho is left out of the French coach's list. Colombian midfielder James will, once again start on the bench and Zidane has hinted that this situation may be a problem with the club trying to secure a deal for the player before the August 31 deadline despite the resistance of the midfielder to leave the Bernabeu. Cristiano is still 2/3 weeks away from full fitness and the stage is set for a home debut for Marco Asensio. The Mallorquín is not seen as a replacement for Ronaldo but as a symbol of the club's regeneration.
Celta
All is not well in Vigo with the club still suffering the fall-out from Nolito's departure. Three defeats in pre-season, problems with Cabral, an opening home defeat to new boys Leganes and memories of last season's 7-1 reverse in the Bernabeu do not auger well for Berizzo's men who do have good news in the shape of Iago Aspas returning to the squad.
Live Coverage: Real Madrid vs Celta de Vigo