James Rodríguez's mother on threats, the future, Zidane...
Pilar Rubio Gómez granted an interview with Bogotá-based journalist Vicky Dávila in which she spoke in depth about her son's life since he joined Real Madrid.
Intimidation on social media

Pilar Rubio Gómez, the mother of Real Madrid midfielder James Rodríguez, has spoken out about the death threats which the family has received in an interview broadcast today.
"At first it was just me who received the threats. I entered into my Twitter account and saw that that 'James orgullo nacional' (James, national pride) was trending. I published a tweet to say that I was filled with emotion and gratitude. A women replied, telling me that I should have used a condom and I answered that she might think about using some of her own advice then there wouldn't be so many people talking rubbish. Following that I received the first threat from Legión Holk. I told James about it, and he said that it needed to be reported to the police. I returned to Twitter to see what was happening and Legión Holk were attacking: saying that he i s national disgrace and other stupid messages. After that they continued to sent threats, saying that they were on their way to my house and that they were armed and going to kill my son, that he was trash... all of that with photographs showing guns. That was when we decided to file a formal complaint", James' mother explained to Bogotá-based journalist Vicky Dávila:
Insults are one thing, death threats, another
"We don't know anything about them (Legión Holk). When I blocked them, a really terrifying message arrived. It said: "Post a video apologising to Legión - if you don't, you with regret it for what is going to happen to your son. You will die, side by side with your little baby". One thing is being insulted, it's another to receive death threats. I don't think anything like that has ever happened to James before.Here in Colombia, the majority of the people support and love him, but we were victims of hackers. In any case, these are usually just kids of 14, 15 or 16 years of age and I thought to myself: if they're doing these things at that age, what are they doing to do when they are grown up?".
"The police told me not to answer them. Tweets were sent from Argentina, Mexico, Colombia... I think they are some kind of sect".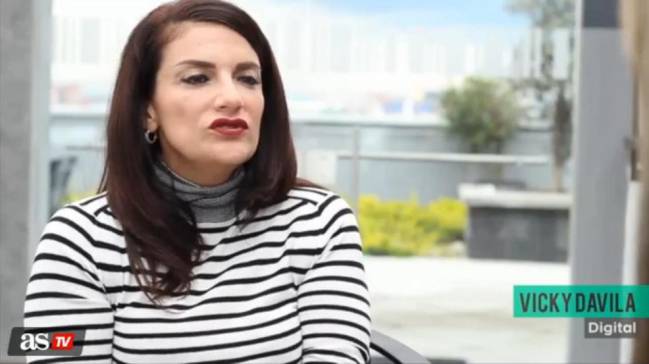 Too much bullying going on these days
Pilar Rubio Gómez says that online bullying has become commonplace in Colombia:
"In Colombia, we have allowed a lot of this bullying to go on, there is now this culture where it is seen as ok to laugh at other people and people wait for a public figure to make a mistake so that they can make fun of them. If social networking was used for what it should be used for, fine but a minority are living from this".
During another part of the interview, James Rodríguez's mother confirmed that Real Madrid have not been in contact with her about the death threats issue:
"I haven't heard anything from Real Madrid, yesterday I read in AS something about the group being tracked by the FBI. I think they are a sect who dedicate themselves to hack accounts of famous people. But it's frightening. When I flew out to Madrid yesterday I felt a sense of relief. I know that James loves his country and this will not stop him from coming home".
Pilar Rubio Gómez also spoke about her son's problematic call-up for international duty with Colombia despite being injured:
"He didn't feel pressurized because James is very professional and he knows that if he isn't in conditions to play, he won't".
Ignore what the papers say
And also how she takes reading criticism of her son

"I've learned how to handle it and I've stopped reading it. I've decided to take it with a pinch of salt. 90% of what is said isn't true and the other 10% only half-true so... It's best for me to remain on the margins, but I had to report what happened on Saturday because it is harrassment - an offence, but I don't think anything bad will happen".
Plain clothes police indicent
James' mum was also asked about when her son faced questioning for failing to stop when plagged down by Spanish police on his way to Valdebebas:
"I was really angry about the media storm which was generated by that incident with the car. I was actually there at the time and people started saying that I had gone especially to look after my own son. The media concoct these stories to damage a person's image, my son's still only a boy in relative terms. He is a model professional, he has his family, his daughter, his wife... I never saw any proof of a car chase - just that a speed camera caught him over the limit on arrival at Valdebebas".
No a bad word to say about anyone
And on Zidane, who as of the moment isn't counting that much on James:
"[My son] is a professional, he is also trying to do the best he can and he is with the rest of the players all of the time. The boss is the boss. He has never fought with Zidane or Real Madrid. I don't know ehere they get these stories from but James never speaks badly of anyone or criticizes anyone".