TENNIS
Dimitrov beats Nishikori in final to win Brisbane International
Bulgaria's Grigor Dimitrov will move up to 15 in the world rankings after seeing off Japan's Kei Nishikori to lift his fourth ATP Tour singles title.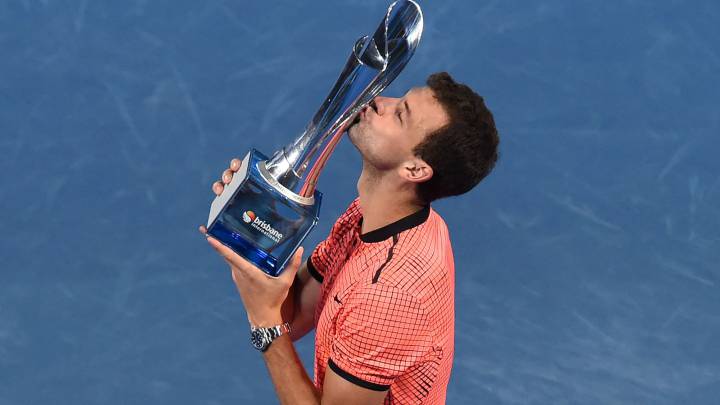 Bulgaria's Grigor Dimitrov won his first title in over two years when he upset world number five Kei Nishikori in three sets to win the Brisbane International on Sunday.
Fourth ATP Tour singles title in three sets
In an enthralling final between two evenly matched opponents, Dimitrov claimed the Roy Emerson Trophy 6-2, 2-6, 6-3, his fourth singles title on the ATP Tour.
Dimitrov was ranked as high as eighth in the world in 2014 and was nicknamed 'Baby Fed' because of his similar playing style to Swiss great Roger Federer.
Injury problems and poor form saw him slump during 2015 and the first half of 2016, when he plummeted to 40th in the world. But he recovered towards the end of last year and entered the season-opening tournament ranked 17.
Dimitrov up to 15th in world rankings
The Brisbane win will see him climb to 15 when the rankings are released Monday.
Dimitrov insisted he had not felt under pressure because of his rankings slide and said he knew he would eventually get the rewards for the hard work he was doing off court.
"I think that was kind of an emotional win for me, but at the same time, it wasn't unexpected," he said. "I think I have put in the work. I think I have learnt a lot.
Personal goal achieved within first week of 2017
"I have set myself quite high goals for the first six months, and one of them was actually to win a tournament," he added. "And it happened during the first week of the year."
The 25-year-old revealed later he had relaxed ahead of his matches with late-night visits to a Brisbane video game arcade.
"Since I have been here, every night I've been going to the arcades for an hour and a half," he laughed.
"It's given me tremendous joy. You know, it's something so childish [but] every time I was going to bed, I was, like, 'Wow, that feels so good'. It's just something so small."
Nishikori run against Dimitrov ends
Despite Dimitrov's win over top seed Milos Raonic in the semi-finals, 27-year-old Nishikori had not lost to the Bulgarian in three previous meetings and went into the final as firm favourite.
The Japanese star started well and had Dimitrov struggling to hold his opening service game. But from then on the Bulgarian dominated the first set, breaking Nishikori twice to take the opener in 36 minutes.
Dimitrov took that momentum into the second set and was comfortable on serve. But at 2-2 he faltered and was broken, with Nishikori seizing the initiative and winning four games in succession to level the match.
Nishikori took an injury break at the end of the second set to get treatment for a sore hip. This seemed to swing the momentum back to the Bulgarian, who immediately had the third seed under pressure.
Dimitrov breaks in third before seeing match out
But Nishikori held on and both men were untroubled on serve, until at 3-4 the Japanese player stumbled and gave Dimitrov a vital break.
The Bulgarian stepped up and showed no nerves as he served out the match, claiming victory in one hour, 48 minutes when Nishikori sent a backhand long.
Nishikori said he was not sure how bad his injury was but it would not affect his Australian Open chances.
"I felt it in the second set - it was still hurting during the second set," he said. "It's a little bit sad to finish like this. It's no big deal. It should be okay."