Rory McIlroy one behind leaders after Day 1 of South Africa Open
The Northern Irishman hit a first round 67 at the BMW Open in South Africa while experimenting with new clubs. Trevor Fisher junior and Keith Horne lead the way.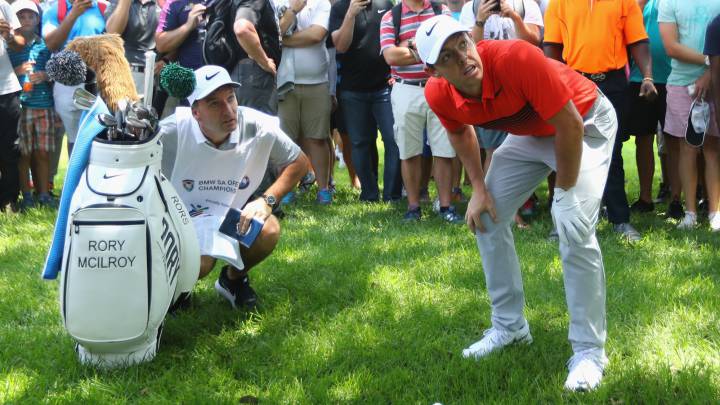 Fresh clubs for a run at world number one
Several superb second-nine recoveries helped world number two Rory McIlroy fire a first-round 67 in the South African Open on Thursday to trail leaders Trevor Fisher junior and Keith Horne by one shot.
Experimenting with clubs from three manufacturers after previous supplier Nike withdrew from the market, the Irishman struggled off the tee as his round drew to a close. Wayward drives found the rough on the final three holes at Glendower Golf Club in the eastern outskirts of Johannesburg, but McIlroy demonstrated his class with superb recovery shots.
He scrambled pars at seven and nine - the Irishman played the back nine first - and birdied eight for a five-under round and a satisfactory seasonal debut. When the four-time major winner last changed clubs, necessitated by signing a multimillion-dollar deal with Nike four years ago, he initially battled to adapt.
'I was a bit adventurous on my second nine,' admitted the 27-year-old, who hopes to replace Australian Jason Day at the top of the rankings by the end of January. 'As my round drew to a close, I had to scramble on a few holes and did my bit by salvaging some pars.
'I played well, giving myself birdie chances,' he said after being followed by a large, appreciative gallery in hot, partly cloudy conditions. Carding a 67 really pleased me and, given a continuation of the same good weather, I can definitely achieve a lower score.'
Plenty more to come
McIlroy was satisfied with his new clubs after a seven-birdie, two-bogey round over a 6,942-metre (7,100-yard) parkland course full of water hazards.
'It is nice to card a 67 in my first competitive round with the new clubs. I am sure I will become accustomed to them. There will be some chopping and changing as I go along.'
After four pars from the 10th, the relaxed Irishman collected four consecutive birdies before completing his first nine with another par. On the second nine, he picked up another birdie and bogeyed two straight par-fours before making two more birdies.
Local lads lead after Day 1
South African Fisher - 442 places below McIlroy in the world rankings - held the clubhouse lead on 66 for much of the day thanks to a purple eight-hole patch that delivered seven birdies. The lone slip by recently off-form Fisher was a bogey five on 11 at a club hosting the second oldest national golf championship after the British Open for the third year in a row.
Fellow South African Horne, ranked 383, took a share of the lead late in the opening round after birdieing seven holes and dropping only one shot.
Sharing second place with McIlroy were South Africans Thomas Aiken, Dean Burmester, who eagled the par-five 15th, and Jbe Kruger and Jordan Smith of England. The world number two was among five former major winners competing and fellow Irishman Darren Clarke carded a 70, as did 59-year-old Englishman Nick Faldo.
South African Ernie Els shot a 74 and compatriot Retief Goosen an 80 that included a triple bogey and two double bogeys. Defending champion Brandon Stone of South Africa returned a disappointing four-bogey 74 having carded a practice-round 61 over the same course three days ago.
Leaderboard
1. Keith Horne (RSa), -6
-. Trevor Fisher Jnr (RSa), -6
3. Rory McIlroy (IrN), -5
-. Jordan Smith (Eng), -5
-. JBe Kruger (RSa), -5
-. Thomas Aiken (RSa), -5
-. Dean Burmester (RSa), -5
...
27. Nick Faldo (Eng), -2
43. Adrián Otaegui, -1
54. Pep Anglés, par
112. Carlos Pigem, +3