FORMULA ONE
Bottas replaces Rosberg at Mercedes in "dream" move
The Finn has been confirmed as Lewis Hamilton's new team-mate at the Formula One team, in place of retired world champion Nico Rosberg.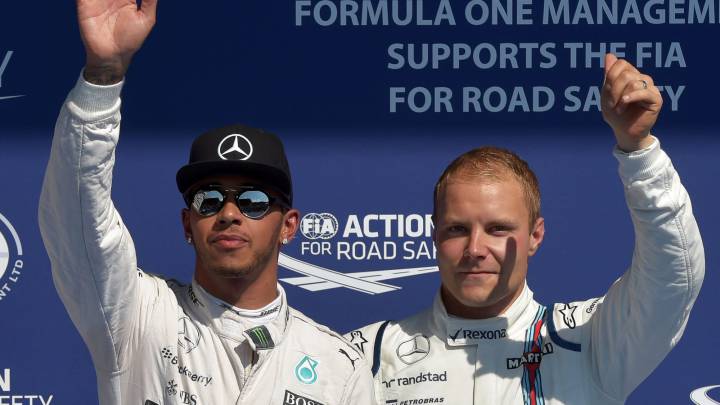 Valtteri Bottas was on Monday named as Lewis Hamilton's new team-mate at Mercedes, replacing retired world champion Nico Rosberg after being freed to join the Formula One giants by Williams.
Bottas to Mercedes, Massa in at Williams
The 27-year-old Finn's well-touted move to the all-conquering German constructor was facilitated by Williams persuading Felipe Massa to come out of retirement to race for them again in 2017.
Stuttgart-based Mercedes were left scrambling round for a second driver when Rosberg dramatically retired on 2 December just five days following his drivers' title triumph.
Bottas on Hamilton: "I think we'll be a strong pair"
While Rosberg and Hamilton were arch-rivals, Bottas said at Mercedes team headquarters that he wanted a good relationship.
"I think we are going to be a strong pair together," the said. "I really respect him [Hamilton] as a driver and as a person. He is so quick, he is a great reference for me.
"I am sure we are going to be close and we are going to be both pushing each other forward.
"But the main thing is that I am sure we are going to work as a team, to work together, and help the team as much as we can, and with a big spirit, go flat out."
Hamilton took to Twitter to greet Rosberg's replacement. "Welcome to the Team, Valtteri!" the British driver wrote.
Wolff: "Time to see how Bottas can step up"
Mercedes team chief Toto Wolff observed: "It's time to see how Valtteri can step up to challenge for wins and Championships."
Rosberg and Hamilton enjoyed a fiery rivalry in their pursuit of perfection at Mercedes, the former go-cart chums frequently clashing both on the circuit and off it
Bottas may prove to be a perfect choice, with his calm temperament matched with speed behind the wheel.
"Valtteri is a no-nonsense guy: down to earth, straightforward and very focused. Pretty Finnish, to be honest, and a great fit for us," claimed Wolff.
Minutes before Mercedes' confirmation that Bottas had landed the job, Williams' deputy team principal Claire Williams had described Bottas, who has nine top three finishes to his name, as "a huge talent".
"I would like to take this opportunity to thank him on behalf of the whole team, and wish him a successful season as he joins Mercedes," she said.
Massa, who has raced for Williams since 2014, will be joined in 2017 by Canadian teenage rookie Lance Stroll.
Mercedes move "a dream come true" - Bottas
For Bottas, this represents the ideal outcome as he moves over to a Mercedes team that has proved unbeatable in recent seasons, with Rosberg's maiden world championship following Hamilton's title successes in 2014 and 2015.
"I guarantee I will be giving it all," added Bottas, who switches stables after four seasons with Williams and 77 starts and an eighth-place finish in the 2016 drivers' championship.
"I want to thank Toto and everyone in the Mercedes diamond for this opportunity.
"I think it's going to take a while to understand that this is really happening. It's definitely another dream come true, to race in another team with such great history."