Vandeweghe stuns Muguruza in Australian Open quarters
The American world number 35 outgunned the French Open champion in a 6-4, 6-0 victory to reach a maiden grand slam semi-final.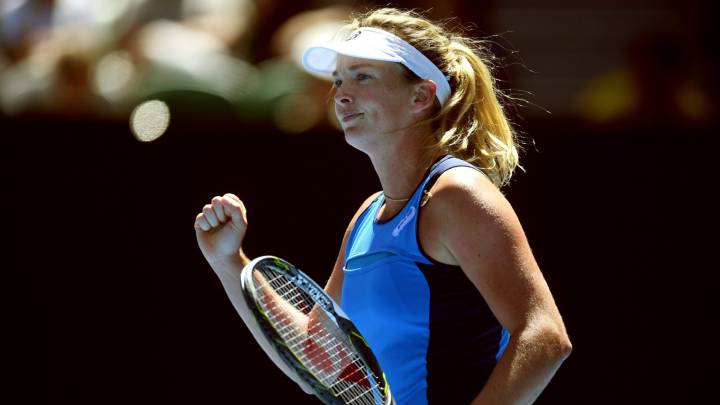 Coco Vandeweghe powered into her maiden grand slam semi-final with a dominant display of power hitting to dismantle reigning French Open champion Garbiñe Muguruza 6-4 6-0 at the Australian Open on Tuesday.
The 25-year-old American, who was equally as impressive in dispatching world number one Angelique Kerber in the previous round, controlled the match from the seventh game when she achieved her first break of serve.
Having taken 56 minutes to wrap up the first set, Vandeweghe raced through the second to clinch the match and her semi-final place 27 minutes later.
"A dream to play Venus"
"It's amazing to be in a semi-final. But, you know, not satisfying. I want to keep going, keep playing," Vandeweghe told reporters. "There's more things to do out on a tennis court that I'm hoping to achieve."
Vandeweghe, whose previous best grand slam tournament was making the quarter-finals at Wimbledon in 2015, will now meet compatriot Venus Williams.
"It's a dream to play someone you grew up watching," added Vandeweghe, who previously said that as a youngster she had tried getting an autograph from Williams at a tournament. "To play an unbelievable player, future Hall of Famer, Venus, to be on the court with her, I've only experienced it one time before."
"But to do it at this stage of a grand slam is kind of crazy. I mean, I can't really put it into words."
While neither player gave an inch in the opening salvos of the first set on Tuesday, the American's booming groundstrokes finally put sustained pressure on the Spaniard.
Muguruza unravels
Muguruza fought off five break points in the seventh game but gifted the advantage to the world number 35 with a double fault that gave the American a 4-3 lead.
Vandeweghe repelled Muguruza's only break point of the first set in the 10th game and sealed the set in 56 minutes when the seventh seed's backhand sailed over the baseline.
With the wind in her sails, Vandeweghe simply blasted away in the second set, barely putting a foot wrong.
"I thought it was pretty good," she said, crediting her coach Craig Kardon with putting together a winning strategy. "Knowing what Craig and I talked about before the match, the game plan is going to work, and believing in it, not wavering from it. I'm very proud of myself."