Copa del Rey semi-final draw:
Celta Vigo-Alavés (2 February / 8 February)
Atlético Madrid-FC Barcelona (1 February / 7 February)*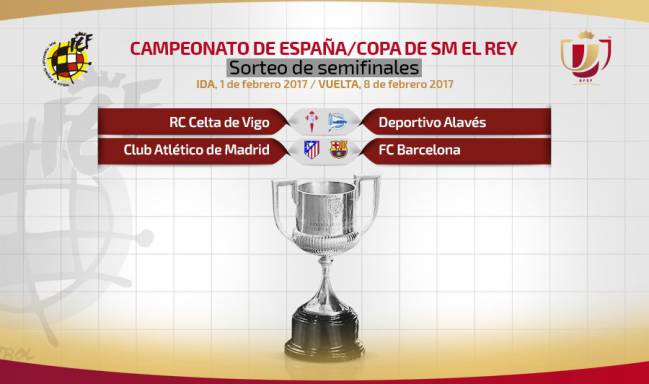 *all kick off times at 21:00 CET
Here's how the draw happened:
13:25 | Many thanks for your company this morning and keep up to date with all Copa del Rey news here
13:22 | We'll also bring you the all-important match dates and kick-off times as soon as the television networks agree on these and are confirmed
13:20 | An interesting draw....we'll keep you all posted with reaction throughout the course of the day.
13:18 | recap: Semi-final draw: Celta v Alavés / Atletico Madrid v FC Barcelona
13:17 | at the Calderon (first leg) and the following week second leg at Camp Nou
13:16 | ...which means semi-final two of: Barça/Atleti or Atleti/Barça
13:15 | So semi final one: Celta v Alavés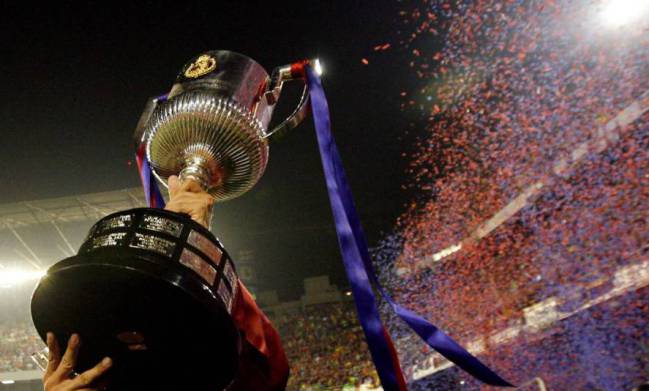 13:15 | Clemente Villaverde from Atleti draws...... Alaves
13:14 | and more waffle before we find out the all important rival....
13:13 | First name ....Celta
13:12 | Ok, business time, lights are dimmed, balls are moved ...sadly no Rod Stewart today ! We have to make do with Soller from Barça !
13:12 | Another promo video .... they're stretching this one today at the Spanish FA !
13:11 | The four balls (green this time) are teasing us in the crystal bowl !
13:10 | Nothing that illuminating from either of the four captains...we want the draw !!!
13:09 | Hugo Mallo (Celta), the last of the four captain's to offer his view on the draw.
13:07 | In an earlier interview, the Alaves president did let slip that he'd like to face Celta Vigo in the semi.
13:06 | We're now "Skypeing" with the respective captains of the four participating sides. Koke talking at the moment
13:05 | Most people seem to suggest staging the final at the Calderon would be a fitting close to the stadium as Atleti are set to move to a new purpose built ground in the San Blas area of the city.
13:04 | Later down the line , we'll have the usual "Copa del Rey Groundhog Day moment" surrounding the venue for the final...
13:01 | There's the obligatory video..."how they got here" as we relive the quarter final games, hang in there folks ... draw will be after the vid.
13:01 | Draw time.....
12:59 | 2001 was also the year when Alaves made history with their UEFA cup final against Liverpool
12:55 | The last Celta final defeat came in 2001 when Zaragoza ran out 3-1 on the day. Celta did see off Barça in the semi-final that particular year.
12:54 | Celta Vigo are somewhat the "bridesmaids" of the Spanish Cup, reaching the final on three occasions and losing all three !
12:52 | The football romantics out there are hoping for a Alavés v Celta final !
12:50 | Safe to say, Barcelona are the team to avoid in the draw as they were irresistible last night in their passage to the semi overcoming Real Sociedad.
12:45 | ...at 4/7, Atleti second favorites at 5/2. Celta priced at 9/1 with Alavés outsiders at 30/1.
12:45 | The Catalan side are clear favourites for the title with the bookies....
12:42 | Barça aiming to secure a place in their seventh consecutive Copa del Rey final.
12:40 | After the draw, cup television rights holders will liase to confirm the exact dates/kick-off times and we'll bring you these as soon as known.
12:35 | The second leg will be staged on Feb 8, but as per first leg a game may be staged on the day before or the Thursday 9.
12:35 | Just a reminder for the semi-final dates: first leg on Feb 1 (Weds) but its probable (depending on the draw) that a game will be staged on Jan 31 (Tuesday) or Thurs (Feb 2)
12:25 | With Alaves, Celta and Atleti playing their LaLiga games this Saturday, a tie involving two of these teams could be played next Tuesday.
12:20 | Two cup experts in FC Barcelona (28 titles) and Atleti (10) and two sides with no cup wins to their name...Alaves and Celta in the last four
12:15 | Less than 45 minutes ahead of the draw....
11:00 | Due to Barça playing on Sunday (at home to Real Betis), the Catalan side will not play their first leg next Tuesday.
10:45 | The clubs are asking their fans who they want to face in the semi-final draw. A Twitter survey among Celta fans shows one clear winner: Deportivo Alaves
10:25 | Good morning and welcome to our live coverage of this afternoon's 2016/17 Copa del Rey semi-final draw which will be taking place in the Luis Aragonés room at the Ciudad del Fútbol in Las Rozas, Madrid from 1300 CET.
---
Into the hat go Celta de Vigo, Alavés, Atlético de Madrid and FC Barcelona, the latter booking their place in the semis with a 5-2 victory (6-2 aggregate win) over Real Sociedad last night.
Cup runs
Barça have won this competition more than anyone else with 28 triumphs and this will be their seventh consecutive appearance in the semi-finals; Atlético have won the trophy 10 times and Celta, have made the final four times but ended as runners-up on each occasion while Alavés are looking to make the final for the first time in club history. This however, will be the fifth time that the Vitoria-Gasteiz-based outfit have made it as far as the semi-finals.
Dates for both legs
Dates for both legs have already been pencilled in with the first leg to be played on Wednesday 1st February with the return a week later on Wednesday 8th, although it is likely that one of the semi-finals will be played a day later for television commitments with the first leg taking place on Thursday 2nd February and the return leg on Thursday 9th.