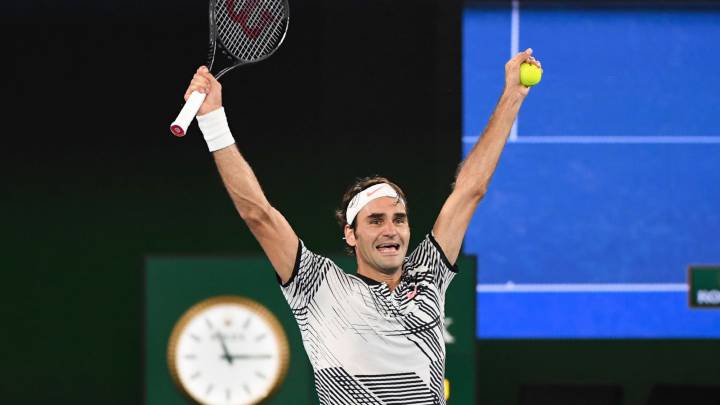 Federer vs Nadal: match summary
Roger Federer and Rafa Nadal treated the crowd on Rod Laver Arena to a vintage display of tennis as the Swiss edged a tense thriller in five sets to be crowned Australian Open champion four and a half years after his last Grand Slam triumph at Wimbledon and seven since he last lifted the trophy in Melbourne in 2010.
Both players were unexpected finalists at the first major of the year and expectations were high ahead of the match as the pair, all 65 years of them combined, renewed one of the greatest rivalries in the history of the sport in their ninth Grand Slam final meeting.
Federer breaks first
Federer struck first, targeting Nadal's second serve and carving out the first break of the match to claim the opening set but the Spaniard hit back in the second, breaking the Swiss twice to level the match.
The now-18 times Grand Slam champion stepped up a gear in the third as he raced to a 6-1 set win with a double break but Nadal, contesting his 21st major final, responded in the fourth with a break in the fourth game to force the duel to the wire.
Nadal 2-0 lead in final set
Momentum appeared to have shifted in the Spaniard's favour when he broke in the opening game of the final set and held for a 2-0 lead but Federer raised his game a level and broke his opponent twice with a stunning recital of precision hitting that was matched blow for blow by Nadal's powerful ground strokes as the match seesawed to an epic conclusion.
Serving for the match, Federer found himself 0-30 down and was forced to save two break points as he clawed his way back to deuce. On his first match point the Swiss appeared to double fault but successfully challenged as Nadal dug his heels in. On his second match point it was Nadal's turn to point to the eye in the sky as a Federer forehand scraped the line but even the Spaniard looked far from convinced and it was duly called in to hand Federer victory.
"There are no draws in tennis but I would have been happy to share one with Rafa tonight," the champion said after three hours and 38 minutes of enthralling competition.
Victory assured Federer of another line in the record books as his 6-4, 3-6, 6-1, 3-6, 6-3 triumph made him the first player in history to win five or more titles at three different Grand Slams. His fifth Australian Open title was added to seven Wimbledons, five US Opens and a single French Open title in 2009.
It will fall to Roland Garros to bear witness to Nadal's attempt to land a 15th Grand Slam title after he narrowly missed out in Melbourne. In the meantime, a titanic duel between two of the greatest players ever to wield a racket fully earned its place in the pantheon of classic major finals.
---
Federer 6-3 Nadal: fifth set

Game 9 | Nadal blasts a backhand return for 0-15, then Roger's backhand betrays him as he goes down the line that has served him so well today. 0-30. Ace. Nadal then comes in and batters a backhand volley virtually standing on the net... he manages to avoid contact though. Roger pulls back to 30-40 and then deuce with a wonderful cross court forehand. Two break points saved! And it's match point as Rafa sends a return long! Roger goes for the T again and then is called for a double fault, challenges, and is correct! Bloody hell. The first serve is then long and the second belted back by Nadal, forcing Roger long. Deuce. Ace! My word. Cracking serve, Rafa gets it back, Roger sends it over with icing on top and it hits the line! Rafa challenges, but it stands and Roger Federer is Australian Open champion!

Game 8 | Roger glides a volley over the net and at Rafa can't dig it out. A pugilistic exchange of blows ends when Rafa can't tame a forehand. 0-30. Double fault! Goodness. What a moment for one of those. Three break points now... Rafa saves the first with some heavy hitting and the second with a powerful serve into Roger's ribs. What a mistake! Roger fails to get decent contact on a very inviting second serve and pings it out of the court. Deuce... and that is the point of the match so far! 26 shots as the players go toe-to-toe and its Roger who comes out on top, another break point... and an unreturnable serve from Rafa! Where did he pull that from at a moment like that? Roger lashes the ball this way and that and has another bite of the cherry, and what a bit it is! A backhand that defies most laws of gravity and aerodynamics goes low to Nadal's forehand side and the Spaniard can only bosh it as far as the net. Federer serving for the match, with new balls!

Game 7 | Ace. 15-0. Net rush, volley. 30-0. A wild return from a wide kick serve and 40-0. A second-serve ace and that, as they say, is a wrap. The momentum has shifted seismically in this match. Huge, huge service game coming up for Rafa.

Game 6 | Boom! The longest rally of the match is put to bed with a stunning backhand to give Roger 0-15 and the Swiss explodes as he makes it 0-30! He steps in onto the Rafa second serve but finds himself in no-man's land and is pinned back by the Spaniard's heavey hitting, eventually framing one long. Rafa reacts by spanking a forehand down the line for 30-all. He then sends one long, challenges, is denied and will face a break point... a huge serve and forehand puts paid to it. There have been 28 break point opportunities in the match, with each player nailing four. Rafa moves to advantage, batters a serve into Roger's body and watches as the net cord sends his winner-in-waiting wide. Do they make those things in Switzerland? Advantage Roger with a fizzing backhand. Nadal goes for broke with a forehand but it's millimetres wide! Roger breaks back, to the delight of the crowd.

Game 5 | Roger is really punishing Rafa with those down the line backhands but errs trying to mix things up with a drop shot that the Spaniard hunts down and pops into the back court. Roger moves to 40-15 with some vintage shot-making and sends Rafa wide with a serve that he can only fire back well wide of the tramlines.

Game 4 | Roger nets a routine forehand for 15-0. He'll need to start burying those if he's to break back. Rafa thumps down a serve and it's 30-0. Rafa double faults - nerves? - to let the Swiss back in, an invitation he takes with a spectacular backhand for 30-30. A solid serve makes it back only as far as the fabric and it's game point but Rafa shoves a running forehand long and we're at deuce again... Roger carves another break point with a stunning backhand and Rafa returns the compliment. A Swiss backhand narrowly clears the baseline and it's advantage Rafa... A charging bull of a serve wraps up the game after more than six minutes.

Game 3 | There's no need to talk nerves with these two, they are hardly debutants at this particular ball and Roger teases a backhand on to the baseline as though he's playing an exhibition game. Rafa challanges but it just scraped the line. Two cracking serves and it's 40-0. A backhand from the Federer DOP and the Swiss holds. He's receiving treatment on his leg at the changeover.

Game 2 | Roger comes out blazing as he looks to strike back immediately but he misreads a half volley at the net and stands it up for Rafa to pummel back. A net cord then falls kindly for Roger, who strokes a backhand down the line for 15-30. An exchange of backhands cross-court ends with Roger finding more angles than Pythagoras and it's two break back points... the first ends in the net, the second Rafa saves with a gutsy belt down the line. It just tickles the white stuff and it's deuce. A raised hand from Roger as the net cord intervenes on his behalf again and it's break point three... Rafa clobbers it about and although thw Swiss gets it back, it's a written invite for a forehand winner. Another in the same vein takes Rafa to advantage. A big serve, a huge forehand and Rafa consolidates.

Game 1 | Roger popped off for a medical timeout at the end of the fourth so we'll have to see how he reacts to being taken to a fifth set for the third time this tournament. The Swiss gets the ball rolling and Rafa slams down a marker with a booming forehand for 0-15. A lengthy rally ends with the ball in Roger's side of the net but a clinical forehand gets him off the mark. Rafa finds the baseline with a hammer of Thor forehand to bring up double break point... Roger saves one with a silky strike beyond the Spaniard's backhand but then overhits a forehand and it's advantage Rafa!

---
Federer 3-6 Nadal: fourth set

Game 9 | An ace, then two thumping serves that Roger can't fashion anything out of and Rafa has three set points... He only needs one of them as Roger nets and we are going to a fifth, ladies and gentlemen!

Game 8 | Roger moves serenely to 30-0 before Rafa bites back with a cracking return and the Swiss then puts another one long for 30-all. Yet another ace makes it game point but Rafa forces his opponent long. Federer stamps his authority eventually and Rafa will have to serve this one out.

Game 7 | Rafa moves to 40-0 with some solid serving and wraps it up with an ace. Roger back in the saddle after the changeover as he seeks to stay in the fourth set.

Game 6 | Roger bangs down an ace. Then he bangs down another. Rafa then gets his racket around a kick second serve and bludgeons his way to 30-15. Roger gets himself into position for a fairly simple-looking put away but slams his volley long and then finds the net with a rushed forehand. Break point Rafa. Another ace, Roger's 13th. A textbook low volley into space and Rafa can only pump it into the doubles court. Another ace and Roger holds.

Game 5 | A forehand out into the doubles trams brings Roger's unforced error count to 39 (Rafa's is just 19) and another pair of misses hands the Spaniard 40-15. The Swiss works the angles and puts a forehand out of Rafa's reach then pins two shots to the baseline, forcing Rafa to net. Deuce... Roger challenges a backhand but it was out by a squeak but he makes no mistake with a forehand after Rafa return sat up and asked for it. Deuce again... another forehand long and Rafa has the chance to consolidate his break. A glorious rally has the Melbourne crowd on their feet and Rafa finishes it with an unbelievable half-volley to make it 4-1.

Game 4 | An unforced error hands Nadal 0-15 and another framer from the Swiss' racket brings up 0-30. Rafa then stokes his big guns and sends Roger scampering after a forehand while cranking up his arm for the next shot, which Roger can't get to. A low return has Roger stooping and the Swiss can only guide his shot into the net. Rafa breaks!

Game 3 | Nadal moves to 30-0 with some excellent play before a slightly overcooked forehand gets Roger on the board. Another of those serves wide to the Swiss backhand, which have been troubling Roger all game, followed by a booming serve and it's game Rafa.

Game 2 | A stinging serve and smash and a forehand into the net from a weak second serve and it's 30-0. A rush to the net and a volley pushed down the line and 40-0. An exchange of drop shots at the net goes Rafa's way, a series of cracking shots from the baseline goes Roger's and it's level.

Game 1 | What a return from Roger, a nonchalent flick of the wrist sending a backhand past his opponent down the line. 15-all. Some more wonderful hitting from both players and it's 30-all. Big game for Rafa this and he finds the angles to force Roger into an error. 40-30. Roger then puts too much on a forehand to bring a promising rally to a premature end.

---
Federer 6-1 Nadal: third set

Game 7 | 0-15, Roger challenges a call on his backhand side and he clearly has a good eye, it's out by a whisker. 15-15. Rafa pumps one long then Roger misjudges a forehand and it's 30-all. A third double fault and its a break point chance for Rafa... saved with an incredible forehand to the corner. Another rasping serve and it's set point... Roger goes for an ace down the T, misses, then is forced into the net by Rafa's return. A forehand long and it's advantage Rafa, his ninth break point opportunity. Saved with a missile of a Roger serve. Another and it's set point again... A deep forehand forces Rafa to get it back any way he can and Roger is there at the net to dink it back over for the set! 2-1.

Game 6 | We haven't seen many of Roger's celebrated drop shots today and his first attempt doesn't clear the net. Rafa sends him scurrying across the baseline and forces another error for 30-0. A great return, again stepping into the Rafa second serve, then a forehand that looke destined for Sydney but somehow clipped the line and Rafa can't keep it in. 30-30. Same recipe, cooked up on the backhand side, and Roger has another break point, his eighth of the game... and what a return! An elegant crack back to the corner and Rafa can't dig it out. His serve was decent as well.

Game 5 | 40-0 is up quicker than a cowboy on a toilet stop in rattlesnake country and then Roger clips a forehand beyond Nadal after a brief exchange of blows.

Game 4 | Rafa gives himself a bit of verbals after plopping a not-too-daunting shot into the net and Roger plays a glorious cross-court forehand to bring up 15-30. Goodness gracious! A rasping forehand and a drive volley on the run and it's two break points... Rafa saves, the second via that serve into a parallel dimension but Roger pings a spectacular forehand across Nadal's bow to bring up a third... Ace! "Vamos!" Deuce. Rafa edges ahead but then nets a forehand and it's deuce 3... Big serve, Roger clips the tape... Boom! A Rafa serve is sent back with some serious bite and the Spaniard can only watch. Roger steps in and pins Rafa to the baseline but the Spaniard can sharp shoot his way out from there and eventually holds, coming inside to clobber a forehand down the line.

Game 3 | Crikey! Roger makes up for game one by rattling through his service game.

Game 2 | Uffff. That was a zinger from Roger, a forehand with its own category of speed. The Swiss pulls Rafa this way and pushes him that, then whacks a forehand into the open court. 0-30. The Swiss cranks up for a sitter but finds then net and Rafa hits a thumping serve to get level. And again Roger finds one from the vault to bring up break point... and break he does, forcing Rafa to dump his shot into the net.

Game 1 | Three serves, three points, Rafa got a racket to two of them. A vintage Rafa forehand down the line gets him on the board and another sky-job off the Roger frame brings up 40-30. Roger attacks the net, but the net prevails and suddenly it's deuce. Another unforced error from the Swiss, thumping a straightforward forehand into the net and it's break point... saved, with an ace. Another forehand into the net, again not due to any particular venom on the Rafa return, another break point. Another ace and we're back as we were. Roger rushes the net again, fails to clear it again... not the Swiss maestro's most effective game ever this, but he finds another ace up his sleeve and it's deuce 4... Rafa pushes one long and then finds the net as Roger holds eventually. A very important hold it was too, what looked like being the quickest game of the match turning into the longest as Rafa dug in his heels.

---
Federer 3-6 Nadal: second set

Game 9 | A work of art from Rafa brings up 30-0; a serve so wide it should have its own postcode, then a forehand into the empty court. 40-0 reached with little fuss, three set points... and Rafa needs just the one, finding the same angle with his first serve, pushing his next shot into the forehand side and forcing Roger to crack it long. One set all!

Game 8 | 15-all in four shots, 30-15 as Rafa finds the net with a return. Roger clatters a backhand down one line and a forehand across the court and the ball is back in Rafa's...

Game 7 | New balls, a new racket for Roger and a slightly new slant on the set but Rafa races to 30-0 before the Swiss frames a shot into the Melbourne night. A big serve, a backhand into the net and a straightforward hold to force Roger to serve to stay in the set.

Game 6 | Federer won 93 percent of points on his first serve in the opening set. That has dropped to 40 percent in the second. Rafa frames a return and Roger is on it like a hawk. He then calls on hawkeye to challenge an ace called wide but the lino was spot on. Roger somehow wins a point after being battered by Rafa, who picks up the gauntlet by spanking a second serve into next week. Another double fault from Roger brings up 40-30 but some glorious hitting and a hold.

Game 5 | Roger needs to arrest his opponent's dominance and comes out guns a-blazing to fire his way to 0-30. A backhand winner was sitting up and begging but the Swiss somehow finds the net. A booming serve and it's in the potato bag again for 30-all. Another forehand winner and another break point for Roger, who's had three so far but only nailed one. But nails this one he does! Rafa hits one of those impossible to return bending forehands but Roger throws a racket at it and it's back past the glowering Spaniard and into the hoardings behind the baseline.

Game 4 | Solid return from Rafa and Roger finds the mesh, then cracks a forehand horribly wide for 0-30. Oooh, rare mistake there as Roger leaves a return that drops in by a foot or so... three break points. First is saved as Rafa goes long, second saved as Roger hits the one-two serve out wide and forehand into the opposite corner... then he fails to find the court again and Rafa breaks again!

Game 3 | Rafa has the wind in his sails now and races to 30-0 with a couple of hammer blows. The Swiss clips a reaction return to Rafa's shoelaces and then forces an error to bring up 30-all, targeting the second serve again. And again, a deep return forcing Rafa to push a backhand long. Break-back point... saved by Rafa as Roger gets too much on a forehand. The same again brings up advantage Rafa, but his second serve is punished again with the same recipe. As we were... And what a point from Roger! An impossible volley backed up with a slam dunk for another opportunity to break. A long rally and Roger eventually clubs a forehand into the doubles trams. Roger's radar fails him again as he pushes Rafa back on the baseline and, finally, the Spaniard consolidates!

Game 2 | A double fault from Roger gifts Rafa 0-15 and the Spaniard says gracias and forces his opponent into a forehand error for 0-30. The net cord elicits a grimace from the Spaniard and then intervenes again in favour of the Swiss! 30-all. Roger apologises, Rafa cracks a forehand down the line for break point.... Roger saves. Rafa plays a blinder and the net balances its favours out for a second break point.... and Rafa breaks!

Game 1 | Rafa first up again to get the second set underway. Roger again leaps on his serve and forces en error for 0-15. Nadal works a beautiful point for tablas and the Swiss jumps the gun with a forehand down the line. Another medium-length rally and Roger dumps a forehand into the lace. Rafa holds with an ace.

---
Federer 6-4 Nadal: first set
Game 10 | Nadal pulls a winner out of nowhere, Roger reponds with a third ace. A backhand wide and then a forehand forced into the net and it's set point... and another ace! Roger strikes first! 6-4.

Game 9 | Roger is stepping into the Rafa serve more and it works as he pulls up 0-15 with a cracking return but not so much when the Spaniard hits 'em where he's aiming for, two forced errors and an ace getting him to 40-15. A wild backhand then adds a little more pressure but Rafa wrongfoots his man, treats the crowd to a "vamos!" and stalks back to his chair. Roger will have to serve it out.

Game 8 | Roger whittles through a love game to consolidate his break, sending down an emphatic ace to seal the game. Rafa serving to stay in the set...

Game 7 | Roger jumps on a short second serve and cracks down a might forhand and picks a high backhand volley out of the sky before Rafa hits the target with a first serve. A long rally, Roger out on top with a punishing backhand, another with Rafa bludgeoning into the corner but the Swiss pulls off a glorious winner for 15-40... and Roger breaks as Rafa narrowly misses a line!

Game 6 | Eight-shot rally to start, Rafa sending a backhand long to back up that nine-shot stat from earlier. It's then right left right as Roger picks Rafa off with a forehand. Ace and quick-fire serve and forehand that tickles the line and Roger holds to love.

Game 5 | Rafa aims one at Roger's shoes and the Swiss finds the net, then a swift one-two from the Spaniard pushes his opponent out wide for 30-0. Two more huge serves, two skewed returns and it's another hold to love for Rafa.

Game 4 | Roger sends out a spiking second serve and Rafa can't get over it, Roger then sends a routine backhand long before rushing the net and popping off two effortless volleys. Serve, weak return, forehand down the line and then a short rally with Roger pushing Nadal side to side and the Spaniard can't keep a backhand in the tramlines.

Game 3 | Oooh, that was a hit from Federer to make it 0-15, a rasping forehand that clips the line to a scowl from Rafa, who blasts an unreturnable serve in reply. A wayward backhand brings up 15-30 and, well, well, a double fault from Rafa... then fortune smiles on the Spaniard! A juicy rally was getting underway but a net cord plops the ball into Roger's court and even the Swiss can't get to that. A big serve and a backhand dumped into the net and it's as you were.

Game 2 | Big serve from Roger, Rafa gets a racket on it but can't keep it in. Rafa starts pummelling Roger's backhand and eventually forces a mistake for 15-all. The Swiss sends another one to the backhand and it's long again from Rafa. Roger then works the angles, opens the court and puts a forehand away. Nadal strikes back for 40-30 but a huge serve and forehand levels the affair.

Game 1 | The opening point is a long one, Roger eventually clipping the underside of the net cord with a wide forehand then sends one long under no pressure to bring up 30-0. Another booming serve from the Spaniard and Roger can ony push a backhand long. Rafa then take control with a huge serve and a forehand into the corner, Roger goes long and it's a comfortable hold to love.

09:35 | Roger decides he's quite warm enough and goes for a nice sit down while Rafa sends down a few more serves... we're about to get underway. Rafa to serve.

09:30 | Rafa and Rog are warming up now and the excellent James Keothavong is in the chair for this final, an unflappable pair of hands to see us through.

---
Federer v Nadal: latest news
09:25 | Here we go... the players are making their way to the court, Federer leading the way. Do they do alphabetically, or based on number of tournament wins?

09:15 | A bit of analysis going on now and Federer apparently has only won 25 percent of points that have gone to nine shots or more during the tournament so far. Never one to hang around on court, the Swiss will have to live up to his "express" nickname today and avoid getting into a slug-fest with Nadal, who is more than happy to keep whacking it back over the net until the cows come home.

09:00 | If Federer is victorious today he will become the lowest-ranked Grand Slam champion since Gastón Gaudio's run to the French Open title in 2004 when the Argentinean was world number 44 going into the tournament.

08:30 | The players will be out on court in around an hour for the pre-match formalities and a quick knock before the game begins in earnest.

08:00 | What a tennis match we have in store for you today. It's expected to be such a classic that our live feeder, Rob, was up early to knock some balls around the AS tennis courts just to release some of the adrenalin. He'll be in his seat in time for the two greats of the game.
---
Federer v Nadal: preview
Roger Federer and Rafa Nadal defied the odds to reach the final of the Australian Open with both veterans posted as outsiders in a tournament expected to be dominated by current world number one Andy Murray and his recently deposed adversary Novak Djokovic, the defending champion and title-winner on six occasions in Melbourne.
Federer came into the tournament after a six-month layoff due to a knee injury while Nadal was considered to be merely feeling his way back from an ongoing wrist problem that restricted his 2016 season to fleeting, almost unrecognizable, tournament appearances.
Neither Federer nor Nadal reached a major final in 2016
Neither player had reached a major final in 2016, Federer appearing in the last four in Australia and Wimbledon and Nadal going out in the first round in Melbourne, pulling out of Roland Garros after the third round and departing Flushing Meadows after the fourth. Nadal's last grand slam win was in Paris in 2014, Federer's in SW19 in 2012. Going into the Australian Open Federer was ranked 17th, the Swiss' lowest position in the ATP standings since May 2001 and he hadn't won a single tournament in 2016. Nadal had triumphed in Barcelona and Monte Carlo, both clay court events, but his ranking had dropped to 10 a year earlier during another injury-hit season.
After the first round in Melbourne, Nadal was chalked up at 14/1 and Federer 20/1 to win the title. It's not Leicester City in August 2015 but it is a remarkable achievement, even if neither had to face Murray or Djokovic.
Federer v Nadal: Head-to-head
The first meeting between the pair was at the Miami Masters in 2003, where a 17-year-old Nadal announced himself to Federer in a 6-3, 6-3 victory. Thirty-four meetings later and Federer has won more grand slams than any male player in the history of the sport with 17, while Nadal is in joint second place with 14. The Spaniard though leads the overall head to head 23-11 and has won nine of the 11 grand slam matches contested between the two.
Their first slam meeting was in the last four at Roland Garros in 2005, by which time Federer already had five major titles under his belt. Nadal beat Federer in four sets and went on to claim the first of his nine French Open titles.
The last time they faced each other was on Federer's turf, in the 2015 Basel final, the home favourite triumphing in 6-3, 5-7, 6-3.
The last slam final they contested was at Roland Garros in 2011 while at the Australian Open Nadal and Federer have played three times, with the Spaniard victorious on every occasion.
Federer
The Swiss surrendered a set to Jurgen Melzer in the first round and was taken to five by Kei Nishikori and Stan Wawrinka but started to get tongues wagging in earnest with a clinical third-round dismantling of 10th seed Thomas Berdych, who was restricted to 10 games.
Federer's World Heritage backhand has been firing like it's 2007 and his movement has been as elegant as in his pomp. Some of the steely resolve of old emerged in the semi-final, when it appeared momentum had swung irreversibly towards Wawrinka as the fourth seed reeled off sets three and four for the loss of just five games. Federer returned with a bang in the fifth, breaking his compatriot in the sixth game and not allowing him back in with some stellar serving.
Nadal
Nadal is seeking to add to his only Australian Open triumph in 2009, when he beat Federer in five sets, and in doing so to become the first man in the open era to win all four slams twice.
The Spaniard was taken all the way by Grigor Dimitrov in the semi-finals and handed an almighty fright by up-and-coming 19-year-old Alexander Zverez, whose older brother Mischa accounted for top seed Murray in round four. However, Nadal dispatched sixth seed Gaël Monfils with minimum fuss and defeated world number three Milos Raonic in straight sets en route to the final. His feared forehand has been operating to devastating effect and Nadal is displaying no ill-effects from his various injury woes, chasing down balls like the cut-off sleeved scamp who stunned the tennis world in Paris in 2005.
Federer v Nadal: match forecast
The two players have gone to five sets only five times in their career head to head, the last one on the same court in Melbourne in 2009. A marathon can't be ruled out but Federer may fancy his best chance of victory is to put Nadal away as quickly as possible and avoid engaging in a battle of attrition that will suit his opponent better. The Swiss has also had one full day longer to recover after his semi-final. Federer in four.
Federer v Nadal: live match build-up