Liverpool boss Jurgen Klopp has conceded he was lucky not to be sent off for his outburst against the fourth official in Tuesday's draw with Chelsea – but refused to back Jose Mourinho's claim that some managers are given preferential treatment by referees.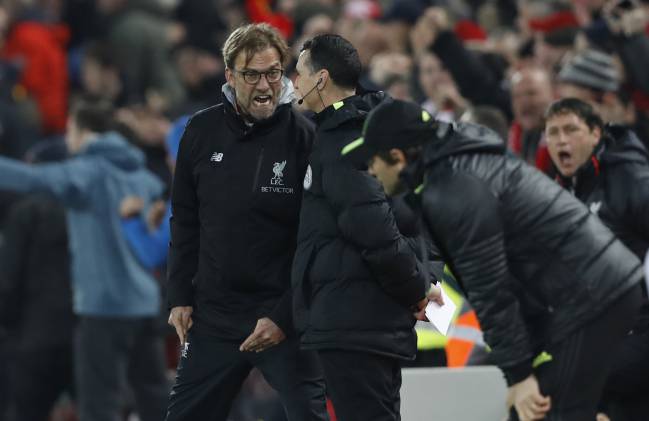 Klopp admitted to shouting "no-one can beat us" in the face of fourth official Neil Swarbrick after watching goalkeeper Simon Mignolet save Diego Costa's penalty in the Anfield stalemate.
He was not censored for his outburst and apologised immediately but that did not prevent Mourinho from referring to the incident following Manchester United's goalless draw with Hull City 24 hours later.
Swarbrick loves Klopp's emotion
"On Tuesday, one manager was told by the fourth official, 'I love your emotion and, because I love your emotion, no problem'," said the United boss. "I was told to sit down or I have to sit in the stands.
Klopp was inevitably asked to respond on Thursday but, after admitting many of the leading managers in England struggle to contain their emotions, was happy to play down the Portuguese's remarks.
Different strokes for different fourth officials
He said: "I heard things about this before, too. I have no idea if managers are treated differently.
"We all know what we can do. It [his clash with Swarbrick] did not look nice, but it was not as bad as it looked. Maybe I was lucky. There are different ways to handle the situation.
"It is an emotional game. It is not that simple to just switch off emotions. We struggle, myself, Jose, Arsene Wenger. Sometimes we get a fine, sometimes not.
"I was worse when I was younger. I have already improved."
Follow the live coverage match of Premier League Week 29 between: Liverpool vs Everton.