São Paulo turned down $15,000 Ronaldo offer in 1992
A scout approached the Brasileiro club about a deal for the 16-year-old but José Eduardo Pimenta Mezquita thought the price was a bit steep and offered just half.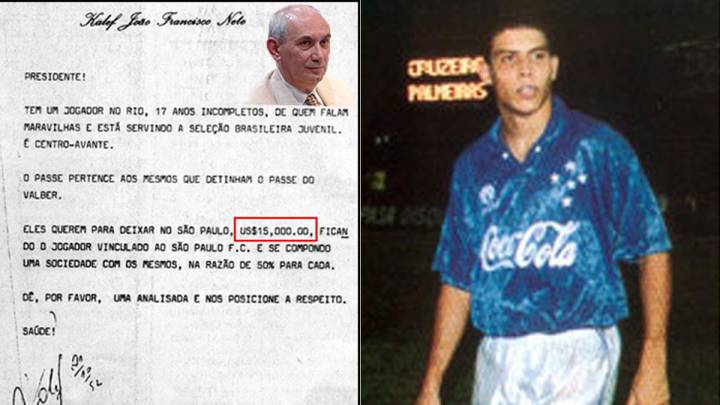 The football annals are filled with what-ifs…? Cristiano Ronaldo could have been Leo Messi's teammate at Barcelona for example, while had Arsenal not insisted on trialling a young Zlatan Ibrahimovic the Swede could have been a Gunner.
$15,000 for Ronaldo
Now it has emerged that Ronaldo was offered to São Paulo in 1992 for just $15,000 but the president of the club at the time, José Eduardo Pimenta Mezquita, decided the price was a bit over the top and made a counter-offer of just $7,500.
The offer originated from a scout, Kalef Joao Francisco Neto, who had watched a young Ronaldo playing for São Cristóvão in Rio and sent Pimenta a letter that was published on Wednesday by UOL: "I have a player in Rio, who is not yet 17, who people are saying great things and who plays for the Brazil youth team. He's a centre forward. They want him to play at São Paulo in exchange for $15,000. The player will belong to São Paulo and we will form a company with 50 percent of his rights each. Please, have a look at the proposal," Neto wrote.
Although Pimenta did not reply in writing, he said during a conversation with Neto that the price seemed a bit steep and offered half of the sum.
Cruzeiro
Ronaldo eventually went to Cruzeiro and scored 12 goals in 14 games before moving to PSV and going on to become the finest striker of his generation, if not of all time.