Real Madrid vs Las Palmas live online coverage | LaLiga Santander
After a frantic night at the Santiago Bernabeu, Real Madrid sit behind Barcelona in LaLiga and must assess after draw with Las PalmasChile-Australia live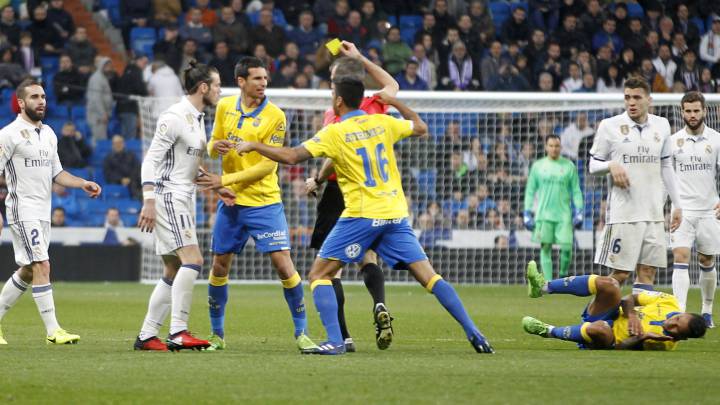 Real Madrid 3-3 Las Palmas: full-time report
In a game that started off with two early goals in quick succesion, there was a threat that it would sleepwalk to a draw as half-time approached. Gareth Bale was having none of that as he was sent off upon resumption of the second half for a bizarre kick on Jonathan Viera before pushing him to the ground when the Las Palmas player reacted. Before too long, Las Palmas had two goals scored, one through Viera and the other three minutes later from Kevin-Prince Boateng.
As the game ticked on, Real Madrid were stretched even further and it seemed only a matter of time before Las Palmas would strike again on the break. time and time again, however, they failed and when Dani Castellano was whistled for hand ball in the box with minute left, you got the sense that Zidane's men wee gearing up for a massive comeback. Ronaldo converted the penalty and just minutes later he headed home a late equaliser. In a game that saw a red card, six goals, two penalties, three goals ruled out for offside and plenty of talking points, it is easy forget what this game means for the title race. Las Palmas might feel as though they blew a two goal lead late on but they are not the first, and won't be the last to undone by this resilient bunch.
---
Real Madrid 3-3 Las Palmas: second half
FT | the referee blows the whistle on a bizarre game that saw Madrid throw away a one-goal lead, score three offside goals, have Gareth Bale sent off and trail by two before coming back to draw. My word.
Min 90+2 | Real Madrid with the last roll of the dice. Las Palmas the ones breaking though.
Min 90+1 | Ramos gets a foot on the ball and out for a corner as Halilovic lurks. Two teams gasping for air now.
GOAL! GOAL! Ronaldo with a fabulous header from a corner. And Real Madrid drawing after trailing by two for so long. What a game this turned into. Real Madrid proving their title credentials now and are out for a winner too.
Min 88 | Jese midjudges a pass and gives it back to Real Madrid for a goalkick. Just a couple of minute remaining now. This is going to be backs-to-the-walls stuff for the visitors for the last few.
GOAL! GOAL! Castellano is penalised for a handball in the box and Ronaldo slots home the spot kick. Four minutes remaining now and Real Madrid with an added sense of urgency.
Min 85 | Jese, again, finds himself breaking out again but his shot can not beat Navas.
Min 84 | Dani Carvajal absolutely rifles a shot towards Varas but he saves well with his fist.
Min 83 | Benzema misses a sitter. He pulls the shot with his left and manages to hit a Las Palmas defender. Ronaldo misses the rebound too.
Min 81 | Ronaldo booked now and he has a good laugh at that one. The replays show he did nothing! Not sure what the ref said he did wrong?
Min 80 | Jese nearly makes it four but Navas gets down and saves with a strong hand. Las Palmas picking Real Madrid off now as they push for a goal to make this last ten minutes nervy for the visitors.
Min 77 | Halilovic with an effort from distance but it drifts high and wide.
Min 75 | Vazquez with an efort that Varas is equal to. He tried to hit it with the outside of his boot but couldn't get enough on it to trouble the goalkeeper.
Las Palmas substitution: Alan Halilovic replaces one of the goalscorers in Jonathan Viera.
Min 73 | Benzema with a chance after good work from Vazquez. The Frenchman drives straight over the bar though for about eight yards out. He really needs to hit the target from there at the very least.
Real Madrid substitution: To cap off a really dreadful minute and a half for Morata, he gets taken off for Benzema. James replaces Kovacic also.
Min 71 | Morata booked for a foul just after his offside goal.
Min 70 | Another goal. Another offside for Morata. It was actually Ronaldo who was offside but the replay looked suspect.
Las Palmas substitution: Kevin Prince goes off to a round of applause from the travelling Las Palmas fans.
Min 66 | Las Palmas looking lethal on the break. This could not be going any better for them. Real's quickest defender in Varane is out, they are a man down and they have a two goal lead. If Real Madrid don't score, you can be guaranteed that Las Palmas will.
Real Madrid substitution: Lucas Vazquez comes off for Isco.
Min 64 | Ronaldo breaks free but he gets caught in two minds and ends up doing neither. The ball rolls over the endline and he probably thinks he might have struck it first time.
Min 62 | I hate to repeat myself but WHAT. A. GAME! Real Madrid nearly pull one back but the ball rebounds up off the crossbar and nearly falls to Ronaldo, who might have a claim for a penalty. As Las Palmas break, they have a chance to make it four but Navas saves their bacon.
GOAL! Prince breaks and gets a toepoke to the ball before Navas. He rolls the ball home to give the home side a two goal lead! What a crazy game.
Min 59 | Jese with a rasper that stings the gloves of Navas. Ramos dallies with the clearance and nearly, almost, fouls Jese as he wins it back. cleared in the end!
Min 57 | Marcelo wins a corner after a good run down the left-hand side.
GOAL! Viera with a very casual, but effective approach. He kicks it down just to the right of the middle of Navas. The Costa rican gets a foot to it but he sends it into the roof of the net. Las Palmas take the lead.
PENALTY! Sergio Ramos gives away a penalty after an excellent tackle on on Boateng. Simon arrives and drives a shot towardsa goal and the Real Madrid captain launches his body at it and handles it.
Min 53 | Ronaldo stretched his legs and makes it to what looked like a lost cause. He pulls it back to Morata and he fires well wide. He throws up a hand to apologise to teammates. They deserve it for that effort.
Min 52 | Boateng booked for pulling back Kroos.
On the Bale red card. There wasn't as much as a dirty tackle in the game leading up to it. That was really strange.
Min 50 | Four Real Madrid players offside now as Las Palmas step out from Kroos' free kick.
RED CARD! Gareth Bale losing the plot here. He drives Viera two kicks and gets a yellow before pushing Viera to the ground. What is wrong with Bale to have him that incensed?? Something must have preceded that because rarely have I ever seen Bale so upset.
Min 47 | This game is set to open right up. Real Madrid pressing Las Palma high up the field now in an effort to turn this game in their favour.
Min 46 | Let's see what this next 45 has to offer!
---
Real Madrid 1-1 Las Palmas: first half summary
A rather tepid performance from Real Madrid as they fail to take advantage of a number of chances presented to them, mostly due to Las Palmas' open style. Las Palmas are playing veyr wlel in certain areas of the field but need a more direct threat and strategy when they get the ball into the final third. All in all, i'd imagine Setien the happier of the two coaches heading in for the half-time cup of tea and slices of orange.
---
Real Madrid 1-1 Las Palmas: first half
Min 45 + 3 | A poor headed clearance falls to Ronaldo as he sets up for the volley. It comes off his foot sideways and goes straight back up into the air as the referee blows for half-time.
Min 45 + 1 | This has turned into a full on game of basketball. End-to-end. Ronaldo gets one across the box but Morata can't turn it into the net. they win a corner but Las Palmas get it clear.
3 minutes of added time.
Min 43 | Jese causing havoc again as he beats Carvajal and tries to put Artiles through. Ramos recovers and clears. David Simon booked for hauling down Kovacic as he tries to start a counter.
Min 41 | Really smart goalkeeping by Varas as Bale clips a cross into Ramos. He had a quick think and decided it was best to stay at home and he was right. Ramos heads straight into his hands.
Min 40 | He's nothing if he's not ambitious. Viera tries one from a mile out but it flies over Navas' crossbar.
Min 38 | Carvajal down the right, gets a cross in but Varas is out again and collects.
Min 36 | Las Palmas finding space between Real Madrid's lines again but have really failed to capitalise. They might even prefer for it to be more open but Real Madrid keeping things tight at the back.
Min 33 | Bale in behind but again Las Palmas finely-tune defensive line does its job and they step out so the Real Madrid man is offside.
Min 31 | Las Palmas come close as Lemos wins a header from a corner but Real Madrid break with Isco. They slow down and Las Palmas have the chance to regroup and stifle their attacking intent.
Min 30 | Jese looking right at home here at the Bernabeu as he lets the ball into Prince but he misjudges it and drives wide. He needed to get that on target. Has a sneaky look down at the ground to maybe pass off a little bit of the blame on the turf!
Min 28 | Bale thunders down the wing, gets a cross to Ronaldo but his shot is half-blocked and it goes just wide. Morata hanging out at the back post looking to get a nibble on it but can't reach it.
Las Palmas substitution: Bigas is replaces by Artiles as Setien is forced into an early change.
Min 24 | Not looking good for Bigas as he has to be stretchered off.
Min 24 | Pedro Bigas down after getting caught on the head by his own teammate, Dani Castellano.
Min 23 | That high line proving troublesome for Real Madrid as they try time and time again to drop it over the top but can't get the balance right. Javi Varas has been alert to everything Real Madrid are trying.
Min 21 | Real Madrid growing a little but impatient now as they struggle to break down Las Palmas again. An ambitious pass dribbles over the sideline as Las Palmas set up to build again.
Min 18 | Jese decides to test out Carvajal's hamstrings early on, and his own, as he drops the shoulder and tries to go by his former teammate. A slight tangle of legs later and Jese finds himself on the ground with Carvajal making off with the ball. No penalty despite the Las Palmas attacker looking at the ref to test the waters.
Min 17 | Jese and Castellano down the left but Jese's pass leaves the left-back with too much to do as Carvajal sees it out over the endline.
15 minute update: Lasp Palmas under Quique Setien are open, attacking and a lot of fun to watch. They have not changed their approach on their visit to the Santiago Bernabeu and this game could have 10 goals if the attackers are on target. Plenty of early chances, early scares and two goals with two more ruled out for offside. Strap yourselves in for the next 75 minutes of high-octane football.
Min 15 | Viera counters with two a man either side of him. Two on three as he finds Jese but his shot is defelcted up and out for a corner. Las Palmas looking dangerous.
Min 14 | Carvajal swings a cross into the box and Bale gets his head on it but it goes just wide.
Min 12 | Isco makes his way down the endline and gets it back across the goal but Las Palmas clear. This is end-to-end stuff.
Min 11 | Morata has the ball in the back of the net! He was offside though. He waves a finger at the linesman as he obviously felt that he was not and the replays show it was very close.
GOAL! GOAL! GOAL! No offside for that one. Tana nearly bursts the net with a rifle of a shot past Navas. He could not have hit that any sweeter.
GOAL! Isco breaks free and there is absolutely no offside this time. He makes no mistake as he rolls it past Javi Varas. The replays show it was very, very, very close.
Min 7 | Castellano raiding down the left and swings in a lovely cross to a waiting Prince. Ramos gets a header to it and clears.
Min 6 | Prince and Jese link up but the latter gives a pass in tight quarters and Real Madrid manage to win it back.
Min 5 | Prince is through but the referee blows his whistle for offside. Might need anothe rlook at that one but it appears he might have just strayed off.
Min 3 | Jese pulls it back to Roque Mesa but his shot is always rising and doesn't trouble Keylor Navas.
Min 1 | What a start! Morata has the ball in the net but he was offside. Lovely ball in by Bale as he puts it on a sixpence for the striker. Lively.
Min 1 | We are underway at the Santiago Bernabeu.
---
Real Madrid - Las Palmas: live build-up
21:29 | The Bernabeu turf looking particularly suave tonight. Can Real Madrid, or Las Palmas, give us a performance to match?
21:26 | Douglas' return to the Camp Nou to play his former club ended in tears. He was taken off after doing little during the game. Can Jese improve on that as he returns to the Bernabeu having left last summer?
21:00 | Just 30 minutes till kick-off. Live-feed Robbie has been warming up with the Barça game and going on how that is with fifteen to play, there can be no room for complacency tonight for Madrid.
20:48 | Isco and Morata have been given their chance to shine as Zidane rotates.
20:18 | The teams have been announced...
---
Real Madrid - Las Palmas: team line-ups
Madrid XI: Keylor, Carvajal, Ramos, Nacho, Marcelo, Kroos, Kovacic, Isco, Bale, Cristiano, Morata
Las Palmas XI: Varas, Simón, Lemos, Bigas, Dani Castellano, Roque, Vicente; Tana, Viera, Jesé, Boateng
---
19:52 | Lots of people asking what our recent tweet was about linked to a potential achievement that Zidane's side could achieve tonight. Maybe this will give you a clue.
19:20 | Almost time for Barça vs Sporting and our Robbie is all over it on the live feed. You've just got enough time to read the preview.
19:00 | The Madrid players may have one eye on proceedings at Camp Nou. Kick-off just 30 minutes away and the teams have been confirmed.
18:15 | Having scored the winner at Villarreal on Sunday, perennial understudy Álvaro Morata is knocking jolly hard on the door for a starting spot.
16:45 | In his column for AS, Elías Israel discusses Real Madrid pair Isco and Álvaro Morata, and Jesé's return to the Bernabéu.
15:55 | Real Madrid can make a little bit of Spanish history tonight...
14:30 | Despite the attacking prowess of both Barça's MSN & Real Madrid's BBC, none of these are LaLiga's most effective striker this season.
13:45 | Former Real Madrid boss, Rafa Benítez is doing well at Newcastle and his side are on a fast-track for a Premier League return.
13:00 | In the Spanish capital today? Why not attend the match at the iconic Santiago Bernabéu and enjoy the live game experience. Match tickets are still available.
12:40 | A big night for Jesé as the former Madrid striker returns to the Bernabéu for the first time since his summer '16 departure to PSG.
---
Real Madrid - Las Palmas: match preview
By the time this game kicks off at the Santiago Bernabéu, we'll already know what closest title rivals Barcelona have done in their early evening hosting of Sporting. Assuming no upset, Madrid are going to need no less than three points to return to the top of LaLiga while maintaining a game in hand. As well as this, the home side will want to add another record to their impressive season by scoring in their 45th consecutive match, again allowing them to give a smug smile to their friends in Catalonia.
Real Madrid
Zinedine Zidane will look at this game as a perfect tonic to recent events. Although the fixture away to Villarreal ended with the desired three points, the manner of the team's performance - for the first hour anyway - will not have settled some of the concerns of recent weeks. Another bonus for the club is having this game so quickly after to change the narrative away from controversy and calls of bias towards the capital giants. The manager is not going to say it out loud but he knows this is a game that should be a comfortable win and another step towards the league title so craved.
With Gareth Bale's recent return bringing so much pleasure to the team and fans, the fact that he's a doubt for Wednesday night will equally cause disappointment. In contrast, however, the half-hour performance from Isco at the weekend was a boost, giving Zidane more calls for his inclusion. Whereas players like Bale and Lucas Vazquez target in behind defenses, a great option in many situations, Isco offers a more creative answer to teams that sit back.
Player to watch: Cristiano - he's the big-name star that even gets headlines for doing very little but in recent games has begun to add an extra dimension to his play. Whether this is following work with Zidane, or he's taken it upon himself alone, his threat now includes bringing teammates into play rather than only the power of his right boot.
Las Palmas
The visitors come into the game knowing that taking any points back to their island will be some achievement, and although they have created some surprises this season, their run of four defeats will do nothing for confidence. This can sometimes work in the underdog's favour, however, with their mightier opponents under pressure not to let anything slip in their push for the title, while Las Palmas sit in relative insignificance - far enough from the fear of the drop, but with no chance of a European slot - anything could happen.
In their 32 visits to the Bernabéu, the Canaries have only avoided defeat on four occasions, but never triumphed. Manager Quique Setién spoke ahead of the game confident that they can turn around the recent trend of results although stated that it may not happen this midweek. Javi Varas is expected to return after going through training and Raúl is also likely to get some minutes in Madrid. Many eyes, of course, will be on ex-Los Blancos' player Jesé who, after an unsuccessful spell in Paris, joined Las Palmas to resurrect his career. Javi Castellano, Macedo, Montoro, Livaja and Hélder Lopes are all injured.
Player to watch: Kevin-Prince Boateng - the well travelled midfielder leads the team's scoring charts with six in 18 league appearances.
---
Real Madrid vs Las Palmas: bet on the game
Bet on Real Madrid v Las Palmas now
---
Real Madrid - Las Palmas: match build-up