James aims to renew at Real Madrid when Isco leaves
After his fine game against Eibar, where he scored and gave one assist, James made it clear where his future lies. "I want to be here forever..."Real Madrid v. Fuenlabrada live online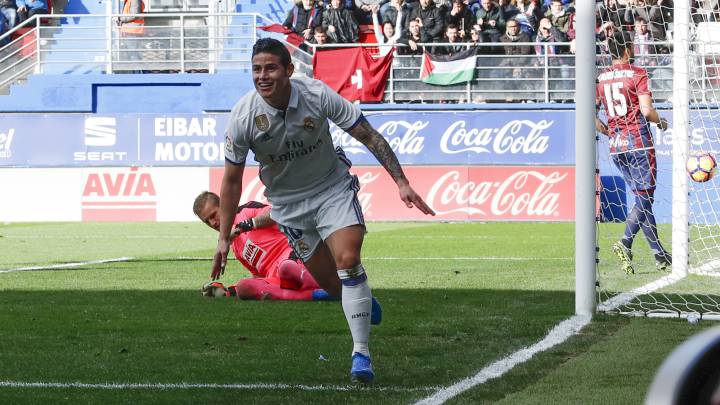 James' situation at Real Madrid
The situation of James at Real Madrid has changed overnight. At the Club World Cup, at the end of 2016, everything looked dark. The Colombian didn't play a single minute for Zidane's side at the competition and was effectively a substitute to the substitutes.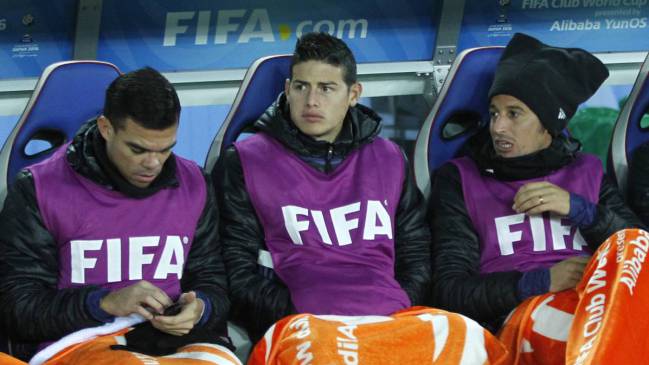 James was at the back of the Real Madrid queue
James had Isco, Lucas Vázquez, Kovacic and Asensio ahead of him at Real Madrid. And he ended up losing his temper about it. "I've got offers to leave Real Madrid and two weeks to think about it" he exploded. In the summer he'd had interest from Inter, who offered 80 million for him, but back then the player had decided to stay.
Christmas holidays good for James
But the Christmas break has done James the world of good. After playing in the opening games of 2017, particularly after the 3-0 against Sevilla in the Copa del Rey, he changed his tune. "I'm staying, I'm staying..." And since then things have been going his way.
New Real Madrid contract for James
James hopes to renew his contract at the end of this season, and expects to do so if Isco leaves Real Madrid. Isco's contract finishes in 2018 and he hasn't extended his deal, because he's not getting the playing time he wants and is keen to move to get more action.
And so James thinks he's likely to get a chance at extending his own deal. After his fine display at Ipurua (Eibar 1-4 Real Madrid), where he scored one and gave an assist for another (and was involved in the other two) he said: "Whenever I get given a chance I try to do well. That's all I'm focused on. I want to be here forever. You need to be aware that in life and in football you never know what's going to happen, but I want to stay here".
Next few months vital for James
The next few months will be vital for James' future. His contract ends in 2020. If Isco does leave it'll be easier for James to extend his deal (he earns 7.7 million a year). And that's exactly what he wants...
---
Update 12 May 2017: James has reached an initial agreement with Manchester United.