Barcelona - PSG Champions League: As it happened, match report
Late, late, late goals by Neymar (2), and Sergi Roberto give Barcelona the most unlikeliest of victories in the Champions League as PSG fluff a four goal leaadReal Madrid vs Barcelona: El Clásico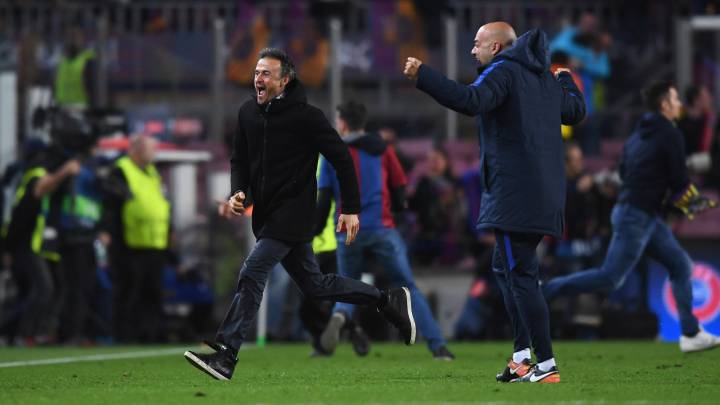 How and where to watch the Champions League quarter-final draw
Barcelona 6-1 PSG: match report
In a game that ebbed and flowed and never stopped from the first minute until the last and conjured every human emotion for even neutral fans, Barcelona came out on top as PSG travel back to Paris wondering what exactly happened at the Camp Nou.
From the very start, they were under the cosh and aside from a very brief spell in the second half, it stayed that way for the whole night. Luis Suarez was the first to give Barça a flicker of hope when he headered over Kevin Trapp to give the home side the lead on the night but they still needed three to even draw level with the visitors. As half-time approached and it seemed as though PSG had stemmed the tide, Barcelona grabbed another one when Iniesta stole the ball of Marquinhos toe and back-heeled it before a mixture of Kurwaza and Trapp helped it into the back of the net. Own goal!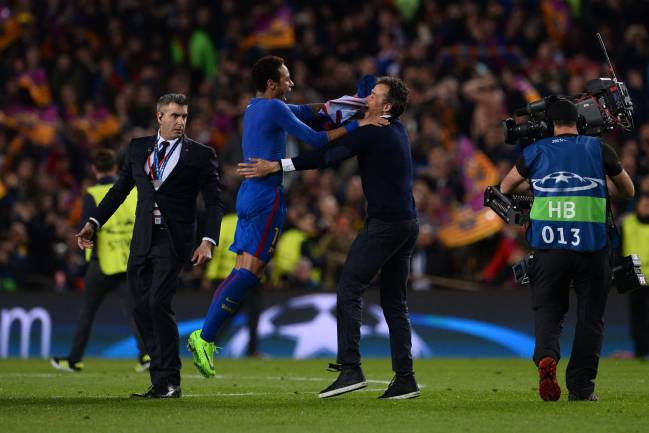 Half-time arrived and it seemed PSG might have a chance to settle themselves for the next onslaught Barça were sure to inflict on them.
They were right and Messi buried a penalty to make it seem like the dream was not only alive but it was unfolding in front of our very eyes after just five minutes of the restart. It did seem though, that Barça were fading fast and when Edinson Cavani buried a volley after a Kurzawa header down to him, it seemed like it was a bridge too far for the hosts. They had sent an untold amount of energy to score three and would not need another triple for the win - it seemed unlikely. When Neymar was fouled in a somewhat innocuous position out on the left with two minutes of regulation to play, it still seemed beyond them. But he whipped it beyond Trapp nonetheless. Little did we know at the time that history was about to be made and the Brazilian was the catalyst.
He scored a penalty two minutes later when Suarez was pulled down but it, somehow, still seemed unplausible despite what we were seeing happen in real time. As the clock clicked towards the end, and with Ter Stegen up front trying to impose himself, it was a matter of seconds before the referee blew the whistle. Neymar chipped a ball into the box as a last roll of the dice and Sergi Roberto, who had remained onside, got a foot on the ball to beat Trapp. Barcelona were in dreamland and the Camp Nou went crazy. Luis Enrique didn't know what to do as he jumped up and down with a smile as big as the comeback he had just masterminded.
One of the greatest European night ever had just taken place. Barcelona and Luis Enrique march on but questions need to be asked of Unai Emery's side as they were on the wrong side of both the worst collapse and the greatest comeback in modern football history.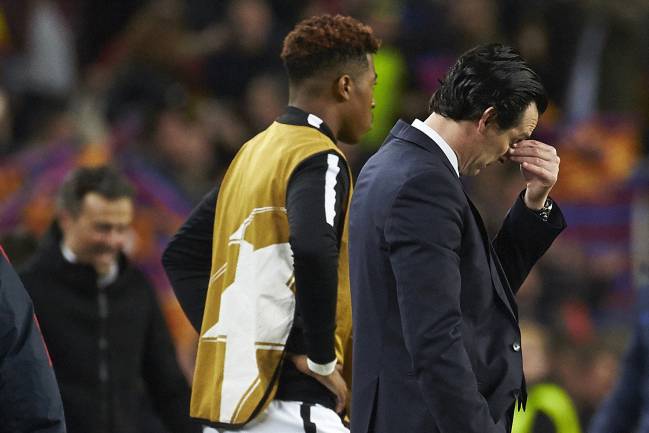 ---
Check out the best images of Barcelona 6-1 PSG (6-5 agg)
---
Barcelona 6-1 PSG: second half
FT - Three goals in about five minutes and Barcelona are through and the treble is still on. That was boring!
Min 90 + 5 | GOAL! GOAL! GOAL! GOAL! Neymar clips it into Sergi Roberto and he meets it with his foot. This is the game of the century. Without a doubt. PSG are shellshocked. What a disaster for them. What a turnaround by Barcelona.
Min 90 + 4 | Draxler is booked foul on Neymar. Messi stands over it. Mesis can't beat the first man. Ter Stegen is then fouled up in midfield! this is incredible, if I haven't said that before.
PSG substitution - Krychowiak comes on in place of Meunier.
Min 90+3 | Suarez goes down again but no penalty this time.
Min 90 + 1 | Five minutes of added time. the Barcelona fans singing again. Very nervous times for PSG. Pique meets a cross with his head and it falls to Trapp. The PSG goalkeeper falls to the ground to eat up another few seconds.
Min 90 | GOAL! GOAL! GOAL! GOAL! This is actually happening. Neymar slots the penalty to the left of Trapp, who dives the wrong way. PSG on the brink of collapse.
Min 89 | PENALTY! Marquinhoes is booked as he pulls Suarez down, who snuck in behind him. My lord this is a game for the ages.
Min 88 | GOAL! GOAL! GOAL! From an impossible angle, Neymar bends one around the wall and into the top corner. What an absolutely cracking finish that was.
Min 87 | Di Maria back up and trying to stop Neymar but he fouls the Brazilian. Free to Barça out on the left.
Min 86 | Di Maria through on goal and Mascherano with a last gasp tackle. It looked like he caught his ankle but the referee says goal kick. Looked a penalty? Di Maria remained down.
Barcelona substitution - Ivan Rakitic comes off for Andre Gomes.
Min 83 | Kurzawa launches himself into a tackle and gives away a free.
Min 81 | Suarez is pulled down, or at least it looks like that, in the box? Referee says no as Rakitic tries to pull it back to Messi but his pass goes straight to a PSG player.
Min 79 | Di Maria looking for a penalty but Pique's body was where his cross hit. Referee agrees. Well, replays suggest it hit his hand but he knew absolutely nothing about it. Good decision by the referee.
Barcelona substitution - Sergi Roberto replaces Rafinha.
Min 77 | Messi clips it in but Barcelona have men offside. turan headers it towards the goal but it wouldn't have counted anyway.
Min 76 | Di Maria catches Busquets with a late tackle and Barcleona with another free in.
PSG substitution - Serge Aurier replaces Draxler.
Min 74 | Cavani dives on the ground looking for a free but doesn't get it. Messi picks it up and makes his way into the box but drags his left-footed shot wide.
Min 73 | Messi wins a free. A little too far out for a shot but a decent position to trouble Trapp if the cross is right. It's not really as PSG clear.
Min 72 | Suarez with another foul as his bundles over Marquinhos and he remains unhappy. Messi having a go at the referee now too.
Min 70 | Long ball by Pique to Suarez is way too long. Barcelona trying everything now to get at least one of the three they need. PSG, for the first time all night seem composed.
Min 68 | Suarez breaks free with Neymar but he was adjudged to have fouled Kurwaza with a push in the back.
Min 67 | Suarez booked for diving as Verratti marshals him closely. There was a slight nudge in the back but Suarez made the absolute most of it and the ref was not fooled.
Min 66 | Arda Turan has a go but it is cleared but it didn't look like it was going in anyway. Barcelona have picked themselves up again and are pushing for another goal.
Barcelona substitution - Iniesta trots off for Arda Turan.
Min 65 | Neymar trying to go through three PSG players as he meets a dead end. He then pulls back Matuidi and gets booked. Harsh booking for, as Suarez tells the ref, his first foul.
Min 64 | Barcelona are on the ropes now. Cavani is in on goal but can't beat Ter Stegen this time.
Min 62 | GOAL! GOAL! GOAL! Cavani buries a strike towards Ter Stegen after Kurzawa headers it down to him and Barcelona are back to square one. They now need three to win and we will not have penalties.
Min 61 | Yellow card for Ivan Rakitic as he pulls back Draxler with PSG trying to mount an attack. PSG going through somewhat of a purple patch now as BArça catch their breath.
Min 60 | Verratti chips one to Meunier, who hits it first time and Umtiti gets it out for a corner. A game of ping pong in the box and it finally hits Matuidi and goes out for a goal kick. Firts bit of pressure from PSG all night.
Min 59 | Pique finds Messi but his pass to Iniesta is cut out as Messi hits the floow. Half-hearted penalty appeal but it was never a penalty.
Min 57 | Di Maria runs at Barcelona but his pass is half-blocked and won back by Barcelona. It didn't work out that time but Di Maria's direct running is something the needed.
PSG substitution - Di Maria comes on for Lucas Moura as Emery is to first to make a move.
Min 55 | PSG don't know what they're doing. Verratti turns back in possession and gets it to Rabiot befor ehe is turned over with nobody anywhere near him to pass it to. Neymar is eventually pushed over in the box but no penalty. Would have been very harsh.
Min 53 | The Camp Nou crowd are loving this! Singing like their lives depended on it. Free to Barcelona on the left.
Min 52 | PSG's first meaninful attack and Meunier puts it into Cavani, who hits the post as he gets a foot to the ball. That could have been trouble for Barcelona.
Min 50 | PSG's shoulders visibly slumped. They are flat and don't know what to do! Barcelona's tails up and on the march for another. Lucas Moura wins a free to slow things down. A quick look at the PSG fans in the crowd and they are very nervous!
Min 49 | GOAL! GOAL! GOAL! Messi absolute drills it beyond Kevin Trapp and PSG really are going out, it looks like. They have absolutely no response to this onslaught.
Min 48 | Barcelona penalty! Neymar is pulled down by Meunier as he dives head first into the Brazilian. The referee says no but the referee behind the goals gives it. PSG fuming.
Min 47 | The corner is swung in but is headed out to Draxler and his shot from outside the box is way off target.
Min 46 | We are back underway. PSG left Barcelona waiting on the field for a minute before kick-off for the second 45 as they huddled in the tunnel.
No changes for either side at the half.
---
Barcelona 2-0 PSG: first half summary
The perfect start for Barcelona as Luis Suarez gives them an early lead before an OG helps them to double it. A complete mental breakdown for both, you could argue. Kevin Trapp hesitated for the first and should have come out to collect when he was in a superior position than Suarez. The second, Marquinhos failed to clear and Andres Iniesta nipped in and stole it off his foot. We are very close to seeing one of both the greatest comebacks and the greatest collapses in the history of European football. Unai Emery has a job now to get his players up to speed or they will be left behind here in the second half.
Half-time changes? Barcelona are perfectly poised now but Unai Emery has to consider some changes. For whatever reason Blaise Matuidi is having a poor game and is on a booking with some dangerous tackles going in that could put him in a position for another one. Meanwhile, Lucas Moura can't keep the ball and when he does manage to get it into him, he can't do anything with it. Surely, if Di Maria is even 70% fit, which you would figure he is if he is on the bench, he has to be ready to come in!
---
Barcelona 2-0 PSG: first half
Min 45+3 | Luis Suarez is fouled by Thiago Silva. No card this time but one last attack for Barça before the break. Messi looking to swing it in. He does but it meets a PSG head and the referee blows the whistle for the break, and a breather for everyone involved!
Min 45 | Three minutes of added time. PSG need that half-time whistle. Messi wins it back from Matuidi, who can't stay on his feet, but Barcelona are stopped in their efforts to attack. PSG retreating all the way back into their penalty box. Corner for Barcelona.
Min 44 | PSG win a free as Umtiti stops Draxler, who was in full flight. They are really under pressure now.
Min 42 | This is really poor from PSG. They are under all sorts of pressure but they can't keep the ball for more than two passes. Pique pulls down Cavani and the Uruguayan looks for a card and he himself is booked.
Min 40 | GOAL! GOAL! GOAL! Iniesta hassles Marquinhos, who had the chance to clear but didn't, and he gets it across the goal before Kurzawa kicks it into his own goal. it will go down as an own goal but that was all Andres Iniesta.
Min 39 | Lucas Moura picks himself up off the deck after a collision with Ivan Rakitic and he comes back on the field. Looked like a sore one and he isn't having the best of games anyway. Di Maria at half-time?
Min 37 | Rakitic misjudges a backheel with Suarez looking for the return pass. It goes out for a goal-kick despite the best efforts of Suarez.
Min 35 | Sergio Busquets booked in the aftermatch of a little scuffle on the ground between Veratti and Rakitic. Dissent, quite possibly.
Min 35 | Messi plays Suarez in but his touch takes him too far right and he fires straight at Trapp.
Min 34 | Meunier playing with fire. He has his hands on Neymar as Messi looks for the through ball. Neymar hits the deck but the referee us unmoved. *CLICHE ALERT* I've seen 'em given!
Min 33 | Rafinha with another chance and this time he does get a cross in but it's tame and Trapp falls on it as it rolls his way.
Min 32 | Barcelona on the break now and Rafinha tries to cross it to a waiting Suarez but can't reach his teammate. PSG get it away, just about.
Min 30 | A number of throws now for PSG down the left-hand side. They're trying to slow it down. PSG win it back after Rakitic wins it for Barça and Moura drives a shot that bounces kindly up to Ter Stegen.
Min 29 | Meunier fouls Neymar. Not particularly bad but the way PSG are lunging into tackles, I wouldn't be surprised to see a red, or two, before the night is out.
Min 27 | Messi's free hits Cavani in the wall with his hands tucked very much into his chest. Suarez and Meunier have a meeting as the ball goes out for a corner and exchange words. Suarez not happy. Iniesta has a crack from distance but it goes over the crossbar.
Min 25 | PSG just can't seem to start a counter. Iniesta is dispossessed and Lucas Moura gives it away before Kurzawa launches himself into a challenge on Rafinha and is lucky not to be booked. Messi eyeing it up but too far out to the right for a shot on goal.
Min 23 | Pique booked for a foul on Cavani as he goes through the back of the PSG striker.
Min 21 | Some neat interplay between Neymar, Messi and Busquets before the former drives it out over the endline with a brutal pass. Way too much on that one for anyone to chase.
Min 20 | Barcelona committing so many men forward that one half-decent PSG break could be fatal. They haven't shown their ability to trouble Barça yet but as the game slows down into a more regular cadence, they might figure out a way.
Min 17 | Rafinha with a cross-field ball and Neymar controls it before whipping a right-footed shot just past Trapp's goal. That was so close to being two! Neymar knows it too.
Min 16 | It is slowing down now just as PSG might like. Lucas fouled this time in a dangerous position. Too far out for a shot. Moura cross it but Marquinhos was offside.
Min 15 | Messi goes close but Trapp's reaction tells you what you need to know. He knew it was going over the crossbar.
Min 14 | Free kick in Messi territory and a yellow card for Draxler. A little bit of extra-curricular activity too. Adrenaline in full flow now, so it is to be understood.
Min 12 | Cavani gets a head on the corner and it nearly goes in but too many bodies for it to beat. Another corner for PSG.
Min 11 | The very first attack for PSG and they want a penalty! Draxler kicks it off Mascherano's arm but there was very little the Argentine could do about it. Ref keeps his cool and blows for a corner.
Min 10 | Another corner as Suarez kicks it off Kurzawa. The corner is cleared initially but Mascherano has a volley back towards goals and it goes wide.
Min 9 | Neymar wins a corner as he tries to go around Meunier. PSG clear but Moura's long ball looking for Cavani can only find a Barcelona defender. The French champions struggling at the moment.
Min 8 | Messi looking for another early goal as he lofts one towards Suarez but Trapp collects.
Min 7 | PSG unable to string two passes together at the moment. iniesta pressures Meunier and kicks it out for a throw.
Min 5 | Matuidi booked for a foul on his compatriot, Samul Umtiti. Very harsh but it looked like the Barça player's reaction earned the booking.
Min 3 | GOAL! Exactly what Barcelona needed as Suarez headers the ball just over the line. Trapp thought about coming for it but didn't. Any doubt that it was over the line wiped out with a replay! It was two yards over.
Min 2 | A little bit sloppy early on as neither team able to get the ball down and make anything happen. Barcelona looking more comfortable though.
Min 1 | As expected, and I understand that it is too early to get a proper feel for the game, but PSG are sitting compact in a 4-3-3.
Min 1 | Deniz Aytekin gets us underway. Strap yourselves in, folks!
---
Barcelona v PSG: team news
Barcelona: Ter Stegen, Mascherano, Piqué, Umtiti, Rakitic, Sergio, Rafinha, Iniesta, Suárez, Messi, Neymar.
PSG: Trapp; Meunier, Marquinhos, Silva, Kurzawa; Rabiot, Verratti, Matuidi; Lucas, Cavani, Draxler
---
Barcelona v PSG live online: build up
20:45 | Luis Enrique have a right giggle on the bench before kick-off.
20:44 | The tifos are rolled out as the players line up for the Champions League anthem. You could barely even hear the national anthem, to be fair. We are ready to go.
20:42 | All the friendly handshakes before the game taking place in the tunnel as the chants from the crowd get louder.
20:40 | A multitude of senyeras flying at the Camp Nou! They might not be able to directly influence the tie but Barca fans certainly trying their best to help.
20:35 | Just 10 minutes out now from what might be the game of the season! I apologise in advance for when it's a 0-0 draw.
20:32 | Lionel Messi have been in really good form lately but Luis Suarez has not scored in the Champions League since September when he scored a brace against Celtic.
20:26 | Similar to that, at what point does Luis Enrique let Barça completely loose? If they don't have two by half-time? The problem with Luis Enrique playing the team he has selected, he has very little on the bench that can come in that will cause a serious change.
20:23 | I just can't wait to see how PSG approach this game. There's a very fine line between looking for that killer away goal and sitting too deep. If Emery manages to lose this game, provided nothing out of the ordinary happens like an early red card for his side, there will be serious questions asked not about Barça winning but of PSG losing.
20:21 | Barcelona have four under 25 with Ter Stegen, Samuel Umtiti, Rafinha and Neymar. the rest of their squad are getting on but they still have enough to turn this tie around. If there was any team in Europe who could, it is Barcelona.
20:14 | PSG's average age of 25.7 is mightily impressive. They have the spine of a good team for the best part of a decade provided they keep all their young talent. Seven of their starting 11 are 25 or younger and only Kevin Trapp (26), Thiago Silva (32), Blaise Matuidi (29) and Edinson Cavani (30) are older. That's some really good balance right there.
20:10 | The PSG players take to the field and look around at the impressive surroundings. They were all smiles and joking yesterday during a kick-around but there are no smiles tonight.
20:06 | Unai Emery, not the king of the Champions League, but certainly the king of the Europa League. He won the last three Europa League competitions with Sevilla and has progressed in all 12 of his last knockout ties in Europe. A very impressive record.
20:02 | And if you are feeling nostalgic about Luis Enrique's career as Barcelona manager, here is a look back at all the trophies he has won. Not the worst legacy he could be leaving behind but he would like to continue his Euro dream by pulling off the impossible tonight.
19:59 | OptaJose is not confident of a Barcelona comeback, as they tell us "No club has progressed in a #UCL knockout tie after losing the first leg by 4+ goals. Hope."
19:54 | I have put my psychoanalysts hat on and tried to figure out which manager had the best pre-game spiel. Unai Emery said, "Our only thought is to play the way we did in the first leg, without thinking about the result," which is a decent tactic but a little tame maybe? He couldn't very well come out and say they wanted to dominate if that was not, in fact, what they were going to do. It's a little ambiguous too, not giving anything away. 8/10.
Luis Enrique is a little bit screwed either way and he decided to come out swinging. It's something I can't help but applaud. "We are optimistic by nature and convinced of what we can do. We will try to make the most of the favourable circumstances." He also says Barça can score six. Yes, six! Even for this Barcelona attack, this is confident. In fairness, if he had any hope of putting Emery and his side off, this was probably the best approach. 9.5/10.
19:51 | You also could see Mascherano dropping out to play as right-back tonight. It will be necessary when PSG are attacking and Sergio Busquets could very well drop into the hole that he leaves in the centre of defense with Samuel Umtiti pushing out to the left.
19:45 | PSG's team news is out now too and the big news is that Angel di Maria does not start for the French champions. Thiago Silva is called upon after missing the home tie and other than that, it is the same side to start against Barça in Parc des Princes. Their midfield will be absolutely key in breaking Barcelona's dominance and starting counters for the visitors tonight. Will they be outnumbered though? So many questions! Can we just start the game now..
19:41 | He might well be biased, but Raúl (yes that one) says he doesn't think Barcelona are going to do it tonight. He reckons the comeback gene belongs to his beloved Real Madrid.
19:36 | The other thing is, will Neymar be stifled by the bodies in the middle? He tends to operate best with room to move up and down the left flank and has been doing an excellent job of it. Barcelona fans could fear that he might feel a little claustrohobic with the extra bodies, for want of a better term, cramping his style. It could also help whoever Emery selects at right-back.
19:33 | Luis Enrique seems to have opted for a back three. Umtiti, Mascherano and Pique are the three selected with Rakitic, Iniesta, Busquets and Rafinha in midfield. Can Mascherano cope with the speed of PSG's counter? I guess we are going to find out very soon. The Barça manager was obviously not happy with the dominance PSG asserted on the tie the first day out and will look to combat that with more bodies are the middle third. He also might be hoping Emery gives his side the ball and with that midfield, they can do damage with plenty of creativity to feed the front three.
19:22 | The closest they came was last year when they scored three in a 3-1 win that included goals from all three of the MSN. Zlatan responded for PSG but it was not enough. The visitors would be happy with that result tonight though.
19:20 | Barcelona have never lost to PSG at the Camp Nou. They have also never scored four goals against them at home. They have played them four times and won twice and drew twice!
19:10 | If you want to have some fun with your Barcelona fans before the game tonight, click here and let us know how it goes! *NOTE - Do not show them this if they a) have a bad heart b) are in the vicinity of any sharp objects.
19:07 | I have never actually done a live stream or live blog, or whatever the cool kids are calling it these days, during a penalty shoot-out. It's hectic at the best of times so that would be fun!
19:05 | Diego Simeone said Atletico Madrid did not practise penalties as it was a waste of time, and just two months later they were beaten on penalties in the Champions League final by Real Madrid. Heartbreaking stuff. Is Luis Enrique tempting fate with his nonchalance about penalties recently?
18:45 | Edinson Cavani is in excellent form and has scored 37 goals in 36 games this season. He scored again to see PSG earn all three points against Nancy at the weekend.
18:33 | Barcelona are trying to get into PSG's heads by posts the most astonishing comebacks on their Twitter account sowing the seeds of doubt as they prepare for a game they have nothing to gain from really and everything to lose, in a way.
Let me qualify that, of course they have plenty to gain, but they just need to hold their own tonight. Even a 3-0 loss and history will still look kindly of Emery's sides efforts in the first leg and "that time" they knocked out Barcelona! This will very much be an exercise in composure by PSG tonight.
18:30 | Did you think warm-ups were only for players? No, you should be just as prepared as the likes of Messi, Neyar and Draxler tonight once kick-off comes around. You can start by having a look at out preview of Deportivo - Real Betis tonight.
18:22 | Speaking of Barcelona and who they might replace when their current stars are on their way out, here is seven possible replacements that have been mentioned!
18:16 | Andres Iniesta has not played a full game in two months. He will be up against a man tonight who he declared his successor in terms of midfield maestros.
18:10 | Barcelona thumped Celta Vigo at the weekend and you can see our live stream of that game with as it happened commentary right here. Spoiler alert: they were incredible!
17:56 | In a funny move, after some of the fans booed him at points during the Leganes victory, the Camp Nou faithful were singing for him to stay at the weekend! Will they bywhistling the same tune after tonight?
17:06 | Gerard Pique is the joint-second highest scoring defender in the Champions League on 11 goals. Could he take inspiration from Ramos last night and help out his attackers?
16:47 | Will Barça go crazy from the moment the ref blows the whistle? Not if Luis Suárez's words have been taken on face value. He calls for patience.
16:21 | ...for anyone who does believe PSG can repeat their thrashing, the odds are over 200/1 right now for it to happen. Barça to take it to extra time with a 4-0 win is just over 20/1, however, if you just want to put money on the home side to qualify for the quarter finals then you'll get ten times your stake back.
---
---
16:17 | Anyone looking for some symmetry for tonight's game can draw on Madrid and Bayern Munich two-legged results: Madrid 3-1:1-3 Napoli and Bayern 5-1:1-5 Arsenal. Anyone think that PSG can win at Camp Nou 0-4?
15:56 | PSG manager Emery is confident in his team progressing to the quarter finals...even if they lose 4-0 in 120 minutes.
15:23 | Everyone, it seems, is voicing an opinion on Barça's comeback chances tonight and former Madrid captain, Raúl, can't see it happening. They don't have Madrid's genes, he says.
15:00 | Endearing himself to the Barça fraternity...Sergio Ramos claims an "azulgrana" exit at the hands of PSG will help him through the night.
14:30 | The other game in the Champions League tonight takes place in Dortmund as the Bundesliga side look to overcome a 1-0 defeat to Benfica in Lisbon. Here's our preview.
13:45 | Ligue 1 rivals AS Monaco players fancy Barcelona to overcome PSG and be in the March 17 champions League quarter final draw.
13:15 | Luis Enrique was in a buoyant and confident mood in yesterday's pre-match press conference.
12:30 | A packed house awaits PSG at Camp Nou with all tickets sold and 5.000 visiting fans expected in the Catalan capital.
11:45 | Good morning and welcome to the build-up ahead of this evening's live online Champions League coverage from Camp Nou as Barcelona look for an epic turnaround following the 4-0 defeat from the first leg in Paris.
---
Barcelona v PSG preview
As far as digging yourself into a hole goes, Luis Enrique's side nearly wore out the shovel three weeks ago with their first leg thumping at the hands of PSG. Yet there is an eerie calm surrounding the Camp Nou and a belief that if anyone can come back from 4-0 down, it is Barcelona.
Barcelona
Luis Enrique said before the game in his press conference that if PSG could score four against Barcelona, then Barcelona could score six against PSG. There are few doubting him given the talent they possess up front, and the form of Lionel Messi, Neymar, and to a lesser extend, Luis Suarez.
It seems that since Luis Enrique has announced his departure at the end of the season, Barcelona have united under a common goal to finish the season on a high, forget about the noise from outside, and get back to enjoying football. A 6-1 annihilation of Sporting Gijon last week followed by a 5-0 battering of Celta Vigo has not gone unnoticed. Rafinha has flourished in the midfield role that Andre Gomes, Denis Suarez, and Ivan Rakitic struggled to fill.
Andres Iniesta is rested and did not start either of their two most recent games. Meanwhile, Luis Enrique has settled on a back four of Jordi Alba, Gerard Pique, Samuel Umtiti and Sergi Roberto with the ability to shift to a back three if necessary.
Between the front three of Messi, Suarez and Neymar they have 14 goals, but the Argentine has the lion's share with 10. Prior to the embarrassment in Paris, Barcelona had won five of their six games in the Champions League and scored 20 goals, conceding just four, but they managed to match that number of goals conceded in 90 minutes at Parc des Princes.
Player to watch you cannot miss on the live stream: Andres Iniesta has not played a full game since early January and could be either the key to Barcelona breaking down PSG or the reason why they concede early. His fitness has been a matter of discussion and whether or not he gets back to his best this season, or ever, is worth keeping an eye on.
PSG
A late 1-0 win over Nancy was enough to see PSG win their last Ligue 1 game, which eases them into the second leg tie with Barcelona slightly under the radar with all of the attention focused on their Spanish opponents.
Thiago Motta will not play due to injury, while Angel di Maria remains a doubt and Adrian Rabbit seems to be ready to go despite being mentioned as an injury worry.
PSG do not have anyone that can match Messi's ten goals in the competition, but Edinson Cavani has seven in seven and 37 in 36 this season. His late penalty gave Unai Emery's men all three points against Nancy at the weekend.
PSG's path to the last 16 was a little more complicated. There was a time in the not so distant past that Emery's future at the club was up for debate. Three draws in the groups stages, two against Arsenal and one at home to Ludogorets was enough to see PSG finish second and two points behind Arsenal.
Player to watch you cannot miss on the live stream: Marco Verratti is 21 and is one of the most complete midfielders in the world today. He says he wants to stay at PSG and win plenty of titles. As Iniesta's star begins to fade, Verratti's continues to grow. He has been linked with top European clubs, including both Barcelona and Real Madrid. Keep an eye on how he controls the middle for his side.
---
Barcelona vs PSG: bet on the game
---
Barcelona v PSG live: match build-up live stream