Sports Illustrated magazine soccer correspondent, Grant Wahl, reported that "multiple sources" had confirmed the Galaxy's move to pry the striker away from Manchester United.
Ibrahimovic joined the Premier League giants last year on a free transfer from Paris Saint-Germain, signing a one-year contract with an option for a further year.
Reports in British media recently have said the 35-year-old Swedish star is keen to negotiate a new deal at United.
But, speaking after the Red Devils' recent League Cup victory over Southampton at Wembley, Ibrahimovic was reluctant to be drawn on his future.
"Let's see what happens. We have another two months of the season to go," said Ibrahimovic, who has scored 26 goals in all competitions for United this season.
LA Times reporter Kevin Baxter contacted the franchise after the speculation but the club wouldn't be drawn on the rumours and chose to offer "no comment" on the posibility of the Swede playing at the Stub Hub Centre.
Sports Illustrated said the proposed deal for Ibrahimovic would make him "easily" the highest-paid player in MLS history but did not give a figure.
Former LA Galaxy general manager Alexi Lalas (the man who brought David Beckham to MLS) believes the club "have a chance" to sign Zlatan Ibrahomivic. Speaking to BBC Radio he claimed: "I think they do have a chance,and whether it's this summer or maybe a year from now I still think there's going to be interest."
Ibrahimovic signed for Manchester United last summer despite the MLS side reportedly offering a big-money deal for the Swedish striker.
Although MLS teams have a salary cap, each team is allowed three designated players who are exempt from wage rules.
Orlando City's Brazilian former world footballer of the year Kaka is the highest paid player in the history of the league, commanding a salary of around $7.2 million (6.8 million euros).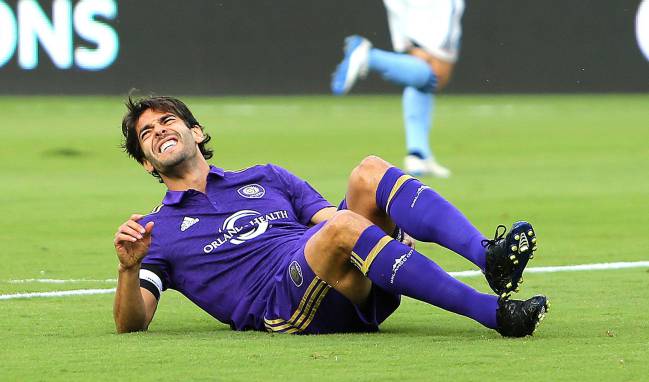 Ibrahimovic is currently reported to be paid a salary of around 300,000 pounds ($365,000, 346,000 euros) per week by United, or just under $19 million a year.
Semi-final of the FA Cup between: Chelsea vs Manchester United