Portugal 3-0 Hungary: match report
Hungary made it all too easy for Portugal, who were six points behind Switzerland heading into the game, at the Estadio da Luz after the team currently topping the group beat Latvia 1-0 earlier on Saturday.
Portugal started much better than the visitors but from the earliest point of the game, it looked like it would be an open, and free-flowing affair much like their Euro 2016 clash that ended 3-3 during the summer. That should have been the plan but the only thing missing from Hungary's arsenal was an attacking strategy and it seriously curtailed any repeat of that summer shootout in Parc Olympique Lyonnais.
Ronaldo went close with a header early, and his combinations with André Silva along with Raphael Guerreiro's input from the left full-back position, were making it very difficult for Berndt Storck's side. As Portugal tried and failed to land the opener, Hungary started to grow into the game but they could not figure out what it was they were trying to do up front, it seemed.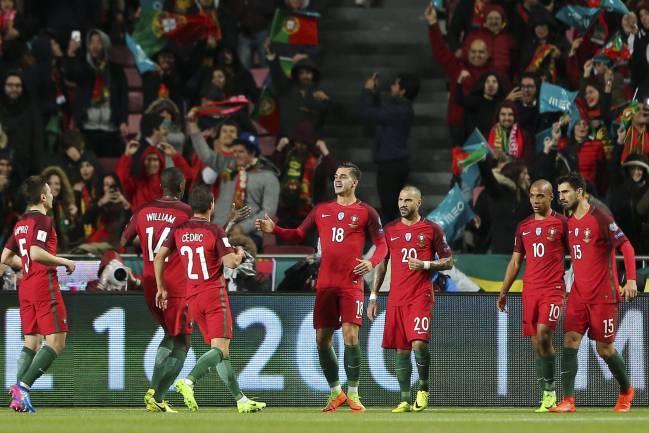 All of their hope and building confidence disappeared after Ronaldo slid the ball to Guerreiro before the Borussia Dortmund utlity man cross to a waiting André Silva to tap home. Just four minutes later, Ronaldo made it two when a long ball landed on André Silva's heal, by design, as he directed it to the Real Madrid star to drive low and hard beyond Peter Gulasci.
It was 2-0 at the break and Hungary needed to reinvent themselves in the dressing room at half-time if they were even going to give the reigning champions even a fright in the second 45.
Gergo Lovrensics came on at half-time in an effort to curb Guerreiro's attacking intent and it did, for a while. It wouldn't be long before Portugal realised how hapless Hungary were in attack though, and the home side went back to where they left off at the end of the first half. With the visitors not looking like getting a shot on target, let alone scoring one or god forbid two goals, Ronaldo sealed all three points for his side when he drove a free-kick from a difficult angle around the wall and beyond an outstretched Gulasci after 65 minutes.
Hungary got more aggressive, to no avail. They tried longer shots, to no avail. And ultimately their tired effort became jaded as the game petered out to the delight of Portugal, who were also happy to slide back down to fourth gear and never really threaten again for the remainder of the game.
Portugal are still in second and just three points behind Switzerland, while Hungary might have to be content with a play-off spot based on the strength of this performance.
---
Portugal 3-0 Hungary: second half
FT: That's it from Estadio da Luz as goals from André Silva and Ronaldo (2) see off a hapless Hunhary side.
Min 90+1 | Late on and Ronaldo roaming around the penalty area looking for his hat-trick. Bernardo Silva looks for him with a pass out on the right, but it takes a deflection and eludes the Real Madrid attacker. Not going to happen tonight for the treble, it looks like.
Min 88 | Pinter into the action. He side-foots a shot just over Rui Patricio's crossbar.
Min 87 | Bese has a shot that very nearly troubles Rui Patricio but flies over his crossbar.
Portugal substitution: Andre Gomes comes off and his replacement is Pizzi.
Hungary substitution: Zolta Gera comes off and is replaced by Pinter.
Min 85 | Quaresma turns and twists his way into a crossing position before putting it on Bernardo Silva's head. He can't keep it down though as it loops over the bar.
Portugal substitution: Joao Moutinho comes on for Joao Mario to a big round of applause.
Min 81 | Kampar finally makes it into the book for a cynical foul on Bernardo as he skips past him. Silva was into a sea of open space in the penalty area if he didn't foul him, if that is ANY excuse.
Min 79 | By pressure, I mean pushing them in the back when they've laid off the ball. Kadar lucky not to go in the book for a late challenge on Ronaldo.
Min 77 | Hungary putting more pressure on Portugal now in possession.
Min 75 | Zoltan Gera booked for a poor challenge on Joao Mario out by the sideline. Late and he came in from the side, or just slightly behind.
Min 72 | Kalmar, with men in front of him, tries a shot from 35 yards out. Blocked by a Portugal defender. His teammates understandably aggrieved but their heads just drop as opposed to saying anything. This has been a poor attacking performance by them despite being well capable of throwing the ball around in the middle.
Min 70 | Attempts at goal so far. Portugal have had 12 and Hungary just 3 (including that long-ranger from Szalai). Comprehensive so far from the European Champions.
Hungary substitution: Kalmar comes on for Gyurcso.
Min 67 | Szalai has resorted to shooting from 45 yards out. Rui Patricio palms it down to himself and saves with ease. Hasn't been easy for the big man but he hasn't helped himself. Has tried to go it alone too many times instead of waiting for support.
Portugal substitution: Andre Silva is replaces by Bernardo Silva.
Min 64 | GOAL! GOAL! GOAL! Ronaldo drives a free around the wall and beyond Gulasci from a very difficult angle. All too easy for the home side.
Min 62 | Szalai tries to run through two Portugaal defenders for what seems like the 100th time today. One of these times, he will realise he can't.
Min 60 | Dzsudzsak slides, misses the ball, and follows through on Andre Gomes. He gets a booking for the ill-timed challenge.
Min 58 | Excellent pressure and dispossession by Carvalho. He plays it to Joao Mario but he tries to be too smart with his little backheel to....well, nobody. Gulasci slides out to collect.
Min 56 | Guerreiro with a little dip of the hips and goes by a defender, before playing it to Ronaldo. He has a shot that gets deflected out for a corner.
Min 54 | Better from Hungary but Gyursco's cross goes straight to Rui Patricio. The Portuguese goalkeeper has been a magnet for the ball anytime it comes into the box.
Min 52 | Dzsudzsak looks for Szalai with a pass, but it is behind him and the striker keeps running. Portugal win it back. Hungary really are all over the place up front. Barely had a shot on target against their opponents.
Min 50 | Lovrensics with another cross that makes it into the box, but only as far as Rui Patricio's gloves. Hungary with a smart move as they try to pin Guerreiro back by making him defend against Lovrensics.
Min 48 | Lovrensics with some early involvement as he tries to get a cross in but Guerreiro stops it and puts it out for a throw.
Min 46 | We are underway as Hungary try to turn this game back in their favour.
One change as Hungary bring on Gergo Lovrensics for Adam Lang, their right-back.
---
Portugal 2-0 Hungary: first half summary
Portugal started the first half with plenty of the ball and had a number of half-chances including a free header for Ronaldo from a difficult angle that could have eased them into the lead as the look to keep pace with Sqitzerland, who went six points clear atop the group earlier with a win against Latvia. They failed to convert, however, and Hungary started to gain confidence. That didn't last long though. Once André Silva turned Raphael Guerreira's cross into the net, it was an entirely different story and just four minutes later (36'), Ronaldo drove home to double the home side's lead. It was all Portugal since that and Hungary are really sturggling to create anything with the European Champions looking very solid at the back.
---
Portugal 2-0 Hungary: first half
HT: André Silva and Ronaldo give Portugal a comfortable 2-0 lead going in at the break.
Min 45 | Quaresma with a cross that very nearly reaches André Silva, who is lurking at the back post. Headed clear.
Min 41 | Hungary with a rare chance but it's only a half-baked effort that Szalai doesn't really catch. Saved by Rui Patricio with ease.
Min 39 | Joao Mario with a chipped ball towards Ronaldo, who opts for the chilena. Not a bad effort and while he got it on target, he couldn't get enough pace on it to trouble Gulasci.
Min 38 | André Silva is a fabulous player. Such a class act. Every touch he takes is positive and he can create and finish too.
Min 36 | GOAL! Ronaldo, great finish! Long ball by Pepe, an absolute delightful back-heel to Ronaldo and he drills home beyond an outstretched Gulasci.
Min 33 | Guerreiro causing problems for Hungary. The problem the visiting side are having at the moment is that they have no real plan going forward, that is if you excluse the 'launch it in the general direction of Szalai' strategy.
Min 31 | GOAL! GOAL! GOAL! Andre Silva slots home to make it 1-0 to Portugal. Ronaldo out to Guerreiro and the left-back puts it on a plate for the striker.
Min 29 | High cross by Korhut into Portugal's penalty area. It falls to Szalai at an awkward angle and he decided his best option is to swing a foot at it. He blazes it a mile over the bar and a mile wide.
Min 27 | Ronaldo on the ball about 40 yards out on his left. He turns back on his right and has a shot that's blocked. He is finding himself on the ball just too far out to do any damage and Hungary won't mind him having the ball there all night.
Min 24 | Just like that jumper my mother bought for me when I was eight that was four sizes too big for me, Hungary are growing into this! The only problem is they are not committing enough players forward and suffering when they get into the final third.
Min 22 | Pepe with a tackle on Nagy as he gets into the penalty area. Goal-kick for Portugal.
Min 20 | Quaresma with a cross into Ronaldo, who has a free header, but he misses the target! He looks around to see if he was offside but he wasn't. Excellent chance to open the scoring.
Min 19 | Former Real Madrid Castilla striker has a shot from distance and it catches Cedric Soares in the chest. He is down and winded but recovers. Decent counter-attack and plenty of space for Hungary to drive into that time. Szalai had no help though.
Min 16 | Guerreiro almost sneaks in behind. He is tackled by two Hungary defenders. Portugal starting (and ending) most of their attacks down that left-hand side.
Min 15 | Portugal really taking control of this one now. It has been a good game and their is a Mexican wave taking place? Not the time or the place!
Min 13 | That free actually took a deflection off a Hungarian head and out for a corner tht Gulasci claims calmly.
Min 12 | Guerreiro with a lovely ball into the centre to Andre Silva, and he gets a touch before being pulled down by Vinicius. Ronaldo eyeing up the free-kick. Perfect angle and distance for his right foot. OH! And he comes close too. Just a little bit too high.
Min 11 | Andre Gomes looking for the ball in behind to Ronaldo. Ronaldo looking for it too but it's the wrong side of the defender and he has no chance of making it before pointing to where it should have gone.
Min 9 | Joao Mario lofts a free-kick into the penalty area in the direction of Ronaldo but Korhut uses his body well to block off the Portuguese captain and clears with a header.
Min 7 | Gulasci with a goalkick straight out to Carvalho, who headers it down to Ronaldo. The Real Madrid attacker takes a touch or two and lets fly with a shot. A lucky Portugal fan is going home with a ball in the stands. High and wide.
Min 5 | Andre Gomes whips a pass out to Guerreiro and he starts an attack linking well with Joao Mario. Vinicius pokes it back to his goalkeeper, who clears.
Min 3 | Carvalho penalised for a foul on Gera. Hungary looking for long, direct passes up the middle and along the ground so far, hitting spaces between Portugal's midfielders.
Min 2 | Joao Mario wins the ball back and sprays it out to Ronaldo. He makes a dart down the left but his cross goes out of play before it comes back down.
Min 1 | We are underway at the Estadio da Luz.
---
Portugal vs Hungary: team news
Portugal XI: Patricio; Cédric, Pepe, Fonte, Guerreiro; Quaresma, William, Gomes, Joao Mário; Cristiano, Andre Silva.
Hungary XI: Gulácsi; Bese, Lang, Kádár, Korhut; Gera, Nagy; Dzsudzsák, Vinicius, Gyurcsó; Szalai.
---
Portugal vs Hungary: latest news live
20:39 | Just minutes away now from kick-opp at Estadio da Luz. It's all smiles in the tunnel and handshakes. Pepe greeting everyone like old schoolmates.
20:22 | Also, Ronaldo's heir is said to be André Silva and he has been selected to start alongside the Real Madrid superstar tonight. It will be interesting to see them alongside each other again. They have scored 11 times in their three games together.
20:18 | Another team flying high in the Bundesliga are RB Leipzig and their goalkeeper, Péter Gulásci, gets the nod tonight and will be the man tasked with keeping out Ronaldo. He has kept clean sheets in six of his 25 games for the German side this season. Can he keep another one tonight?
20:11 | Meanwhile, the home side start with Szalai up front. He has scored 13 goals in 40 games for his country. He is also important to a much improved Hoffenheim side this season and has scored five in 14 Bundesliga games. He is in fine form and Pepe and Fonte will have their hands full this evening.
20:09 | Ronaldo leads the line for Portugal tonight along with Andre Silva. Andre Gomes also starts in midfield but Renato Sanches is on the bench alongside Gelson Martins. Pepe starts in defense alongside Fonte. The Real Madrid defender had been injured up until recently but is a vital part of Fernando Santos' side.
20:00 | There is no chance of Portugal taking the top spot tonight after Switzerland beat Latvia 1-0 thanks to a late goal Josip Drmic but Portugal can cut their lead at the top to three with a win. Hungary can leapfrog the Portuguese with a win and put themselves into second. All to play for tonight.
19:48 | And count your lucky stars because we get the chance to see this 40-year-old legend between the sticks tonight with his pyjama bottoms on!
19:34 | Nani is out for the game against Hungary, so could we get the chance to see Real Madrid and Barcelona target Gelson Martins? He was fabulous against the Spanish side when Sporting Lisbon played them in the Champions League.
19:13 | One player who struggles with his club and then turns it on for his country is James Rodriguez. Andre Gomes has struggled recently for Barcelona with increasing pressure on him to justify his transfer fee in the summer from Valencia. Can he use tonight as a way to play himself back into form?
18:53 | Ronaldo is the top scorer in the current World Cup Qualifying campaign alongside Robert Lewandowski with seven goals. Romelu Lukaku is just behind them on five, along with Ciro Immobile after his effort last night. Dusan Tadic of Serbia and Southampton is on four.
18:52 | Portugal, however, have scored 16 goals in four games and conceded three! Unfortunately for them, two of those goals came against Switzerland in the opening game as the hangover from the Euros remained. They have been playing catch up with the Swiss every since.
18:44 | The Hungarians have scored eight goals in four qualifying games. They play quite an exciting game and manager Bernd Storck said about taking over the team that he knew he had to change the style and way the national team operated: "Before July I was sporting director, then they made me coach. It was an entirely different job. I saw this as the perfect opportunity to take a new direction. When I stepped into this post I knew I had to change the style; not just the tactics but the coaching staff itself. I insisted that the Hungarian FA hire a full-time team to work around me."

18:00 | You would assume that Cristiano Ronaldo is universally loved, worshipped, and adored in Portugal. Perhaps not as much as you might think...
17:50 | Portugal boss Fernando Santos has completed the hat-trick of big jobs in his home country. He has led Porto, Sporting, and Benfica at various points in his managerial career.
17:30 | Keep an eye on Adam Nagy in the Hungary midfield. The youngster impressed during Euro 16 with his intelligence on the ball and maturity beyond his years. He has made a strong start to his Serie A career with Bologna, too.
16:30 | Portugal have scored a cool 16 goals in their last three qualifiers. Not to be sniffed at, but then again, their opponents in those games were Andorra, Faroe Islands, and Latvia.
15:30 | And here's the Portuguese side of things, brought straight to your ears.
15:05 | If you're after a Hungarian perspective on tonight's match, why not listen to the English language Hungarian Football Podcast. The guys over there are previewing possible team lineups, and more.
14:30 | Can Portugal make it an Iberian double this weekend? Spain played their part last night, seeing off Israel in Gijón.
13:25 | Have you read about the Hungarian coach who placed a curse on Portuguese giants Benfica? The curse, if you're of a superstitious disposition, is still in effect, and explains Benfica's ongoing European drought. Grab a coffee, and allow us to introduce you to Bela Guttman...
12:41 | Outside football, the big news in Cristiano Ronaldo's life is that from 29 March he'll have an airport named after him: the Madeira Cristiano Ronaldo Airport.
12:37 | Switzerland have four wins from four so far in Group B, and will expect to pick up another three points against 5th placed Latvia (1 win, 3 losses) at 18:00 (CET).
Portugal vs Hungary: match preview
Portugal and Hungary meet for the first time since serving up one of the games of the tournament at Euro 2016 in a thrilling 3-3 group-stage draw.
The two enjoyed successful campaigns in France, Portugal lifting a maiden continental title and the Hungarians posting a creditable last-16 finish - but are both now playing catch-up in qualifying for next year's World Cup.
Portugal
Ronaldo's side sit second in the group, having gone down 2-0 in their opening qualifer in Switzerland, who lead the section with four wins from four.
Portugal recovered from that loss to consecutively wallop Andorra, the Faroe Islands and Latvia, three wins in which Cristiano Ronaldo bagged no fewer than seven goals.
But they still have three points to make up on the Swiss, with the Eidgenossen facing a very winnable home match against the Latvians earlier on Saturday evening.
So only a fourth straight qualifying victory is likely to do if Fernando Santos' men are to keep themselves in touch with first place and the only automatic ticket to Russia.
Hungary
The last time Hungary were at a World Cup was back in 1986, and they find themselves in a real fight to remain in the hunt to end that three-decade hoodoo.
After a shaky start to their Group B bid, a pair of wins over Latvia and Andorra have left Bernd Storck's outfit in third position, two points behind their hosts.
And a positive result at the Estádio Da Luz is a must if they're to avoid being cut adrift from the top two and stay in the frame for at least a play-off place.
With seven defeats and not a single victory from their 11 previous meetings with Portugal, though, history isn't entirely on the visitors' side.
However, they do also boast an in-form international goal-plunderer in the shape of Adam Szalai, who has - like CR7 - netted in the last three qualifiers.
Portugal vs Hungary: live odds
Portugal are the heavy favourites for this one with the bookies, returning around 30 cents for each euro staked, while a shock Hungary win would net 12 euros. The draw is at 4.50.
You can get enhanced odds however on a Portugal win, with Betfair offering a tasty 6/1 on Ronaldo's side doing the business.
Opportunity to remember former Hungary and Benfica ace
Held at Benfica's home stadium, the occasion will also be a chance to remember Hungarian Miklos Feher, who tragically died while playing for the Portuguese club in 2004. A bust at the ground commemorates the striker, who won 25 caps for his country.
---