The soap opera is over. Tony Romo will retire from football and will become an NFL analyst on television having accepted a lucrative contract offer to do so. Romo made the decision, or at least the news broke, on the same day that rumours suggested he would be cut from the team by Cowboys' owner Jerry Jones.
Romo released a video almost a month ago saying goodbye to Cowboy fans on the day free agency began and it was said that he would fight for that elusive Super Bowl ring with another team. Two teams mooted as possible destinations were the Denver Broncos and the Houston Texans.
However, within hours, the Texans traded Brock Osweiler to the Cleveland Browns and the Dallas Cowboys pulled the brakes on their intentions to cut their quarterback of over ten years. Jerry Jones, the owner of the franchise, said he would take his time to mull over the decision in an effort to see if there was value in trading the player.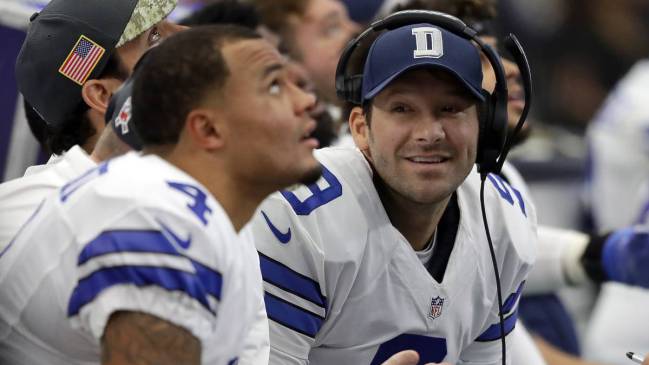 Romo unwanted
The value that Jones was hoping for never emerged. No teams showed enough interest to initiate a trade and it looked as though the team were about to cut him after giving him permission to speak with other teams.
Amongst members of the media who have been following the case, they say that CBS have offered the QB four million dollars a year to replace Phil Simms. For a player used to such a high salary, the four million he will get as a telvision analyst, it will come without the possibility of injury, sacks, tackles and hits, along with gruelling training camp and the immense pressure that comes with being the signal caller for "America's Team".
Romo spent 13 years with the Cowboys with 34,183 yards, 248 touchdowns and a spectacular 97.1 rating over the course of his career. At 37, the California-born Romo is coming off a number of season riddled with injuries to his back.
he lost his place to Dak Prescott having injured himself in the preseason and not being able to win back the starting spot when he returned after the rookie dazzled at every turn last season. Romo will go down as a Cowboys legend even though he could not bring them that much-coveted Super Bowl victory.