REAL MADRID - BARCELONA | MODRIC
Luka Modric: "Nobody notices when refereeing decisions go against Madrid"
The midfielder spoke to Croatian daily 'Sportske novosti' about the refereeing against Bayern and Sunday's Clásico: "The moment to win LaLiga has arrived".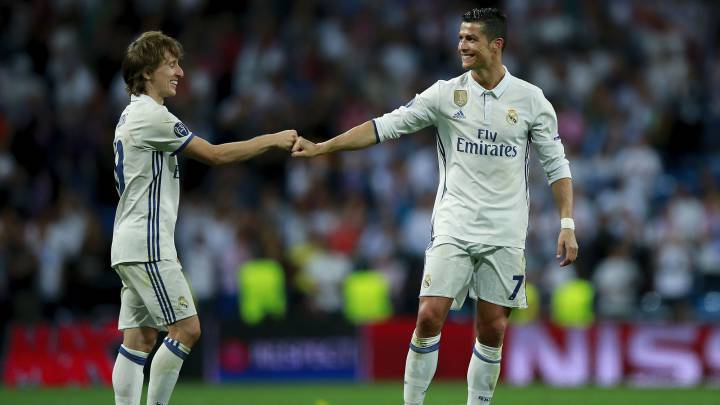 Luka Modric looked ahead to Sunday's Clásico with Croatian daily Sportske novosti and also offered his own insight into the debatable refereeing decisions during last week's Champions League quarter final return leg against Bayern Munich.
"It makes me feel a little sad that there are controversies after our victories over Bayern because I am convinced that over the two legs we were the better team, we created more chances on goal and once again Neuer was fantastic. Every refereeing decision which goes in Madrid's favour makes the headlines but whenever a decision goes against us, no one seems to realize, do they?", Modric explained. "Bayern were awarded a non-existent penalty, the own goal which Ramos scored came from an offside move, Vidal should have been given a second yellow card on 47 minutes..."
Modric changes opinion on video assistant refereeing
The player was also keen to clear up his stance on the use of video assistant refereeing (VAR): "Yes, I was against the use of VAR at the Club World Cup in Japan because it was very time consuming and the match officials were not familiar with using it but after seeing the France-Spain friendly, I've changed my mind a little and I can see that it can be a good thing for football".
Moving on to tomorrow's Clásico, Modric was asked about Neymar's suspension and whether he has spoken to compatriot Ivan Rakitic in the run-up to the game: "Being without Neymar is a big disadvantage for them, but we have to focus on ourselves. The league title is the only trophy I have never won with Real Madrid, and I think the moment has arrived. I haven't spoken to Rakitic, all of us are busy preparing for the match, we'll embrace and chat about it after the game, and hopefully I will have to console him..."
Modric pleased that there will be different Champions League finalists
The midfielder ended by giving his thoughts on having Atlético in the way of a place in the Champions League final: "It's better to face Atlético in the semi-finals than in the final; I'm sure people will be fed up with seeing the same two teams in the final for the third time in four years. Of course it is going to be very difficult, just like every game is against Atleti".



LaLiga Santander
Leaders
Messi

12

Goals
Roque Mesa

1007

Passes
Steals
*Update 22 de abril de 2017
LaLiga Santander
Leaders
Messi

12

Goals
Roque Mesa

1007

Passes
Steals
*Update 22 de abril de 2017