A top prospect in the National Football League draft denied accusations of rape on Wednesday as murky storylines embroiled the annual scramble for talent.
A three-day festival of horse-trading gets under way in Philadelphia on Thursday with NFL teams making their picks for the best players from collegiate gridiron.
But the fate of one expected first round pick -- Ohio State cornerback Gareon Conley -- is hanging in the balance after the emergence of an allegation of rape.
A 23-year-old Ohio woman has accused Conley of raping her at a hotel in Cleveland on April 9. The claim was made in a statement to police, who are investigating the allegation. No charges have been filed.
Conley denies the accusation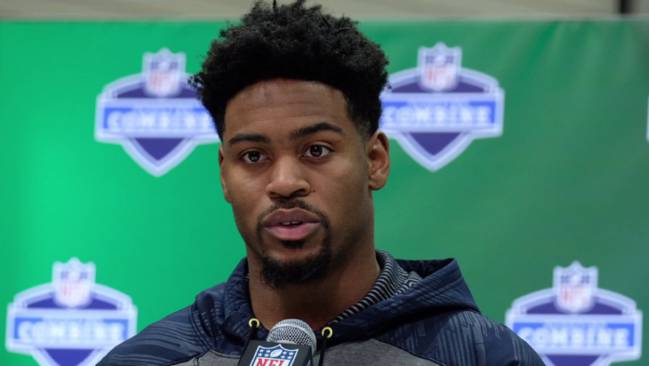 Conley, 21, issued a statement on Wednesday branding the accusation "completely false."
"I pride myself on doing things the right way," Conley said in a statement.
"The things being said about me and what happened that night are not true and don't fit my character at all. I realize that I put myself in the situation and I could have used better judgment.
"However, I have worked tirelessly to put myself in position to have the honor of being an NFL draft pick and these untrue allegations are putting a huge cloud over my name and the NFL draft."
Three witnesses -- including two people who say they have no link to Conley -- have reportedly told police the player was never alone with the woman who made the allegation.
The damage however may already have been done, with image-conscious NFL teams leery about offering a multi-million-dollar contract to a player threatened with the possibility of criminal charges.
Joe Mixon already dropped off the radar
Another top draft prospect, former Oklahoma running back Joe Mixon, has already dropped off the radar of several teams following his involvement in a 2014 assault case.
Mixon, widely seen as one of the best running backs in the draft, was suspended for the entire 2014 season after punching a female student in the face, leaving her with four broken bones. Mixon received a one-year deferred sentence and underwent 100 hours of community service for the attack.
But video footage of the assault which emerged last year caused a fresh wave of revulsion, making Mixon a toxic pick in the eyes of many NFL teams, mindful of high-profile domestic violence cases involving Ray Rice and Greg Hardy which rocked the league in recent years.
Mixon and his victim, Amelia Molitor, settled a civil lawsuit last week.
The Atlanta Falcons have left Mixon off their list of targets according to the Atlanta Journal Constitution.
General manager Thomas Dimitroff told the paper this week that while the franchise was "not looking for angels", a player's character was always a key consideration in making a draft choice.
"We are looking for guys who are real. We are looking for guys who ultimately will fit into the brotherhood..... We are particular about looking at the character situation and how they fit. It's a big thing, of course," Dimitroff said.
"There are some very good football players with some excellent talent in this country that have issues that don't fit well with us or another team," he added.