A response to Real Madrid's "how does it feel" banner, displayed before kick off between the Bernabéu club and Atlético in the first leg of the Champions League clash last Tuesday, caused a stir on social media, particularly after the Calderón's official Twitter account picked up on it.
Atlético fan's "pride"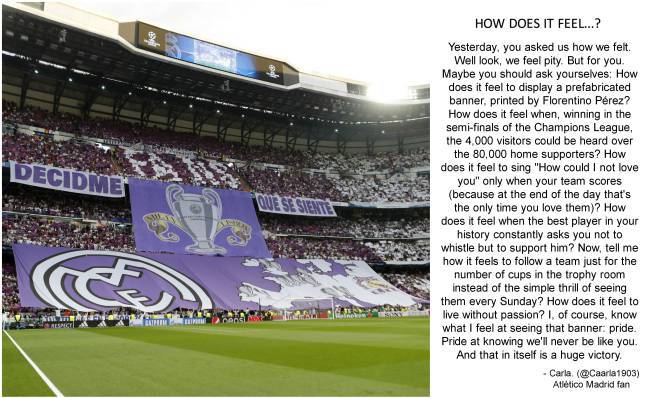 In the reply, "Carla" explained how it feels to be an Atlético fan, and admonished Real Madrid supporters for their actions. The post ended with the words: "I know what I feel when seeing that banner: pride. Pride that we'll never be like you."
However, closer inspection of the account showed that "Carla" had a bit pf previous in distasteful message-sending. In one tweet swiftly pinged about the ether the account holder said to Sergio Ramos: "You almighty son of a bitch, hopefully you die." Another continued with the same unpleasant theme: "I really want Sergio Ramos to die. More than anybody else in the world."
Arda Turan, Ashley Cole and Julen Lopetegui targeted
Among other less than conciliatory missives were the desire to see former Atlético midfielder Arda Turan break his leg, then break it again, as well as insults aimed at Ashley Cole (Die you son of a bitch) and Spain coach Julen Lopetegui (Call up Gabi to the national side you son of a bitch.)
The account, @Caarla1903, was deleted on Friday afternoon.