Scotland 2-2 England: match report
First things first. Do not be deceived by this scoreline. For over 80 minutes in Glasgow, both Scotland and England served up what can only be described as "budget" international footballing fayre in a game that would be a hammer blow for any nostalgia inclined individuals harking back to the old Home International post season tournament.
England looked to be heading for a comfortable three points and yet another clean sheet in their Russia 2018 qualifying campaign when up stepped Celtic's Leigh Griffiths with a sublimely struck free-kick to tie the game in 87th minute. Three minutes later, the Scots were awarded another free-kick in an almost identical position. Once again the 26 year old Griffiths was on target with an expertly dispatched dead ball.
Scotland panicked, sensing a historic win (their first since 1999 over the Auld Enemy) and failed to pick up a lurking Harry Kane who latched perfectly onto a Raheem Sterling delivery to tap home and break Scottish hearts.
A fantastic finale which compensated slightly for the previous poor 85 minutes. The draw does little for Scotland's Russia 2018 qualifying ambitions as Slovenia comfortably beat Malta and Slovakia play away in Lithuania with just four games to go. For three minutes tonight at Hampden, however the flame of hope briefly flickered for the "Tartan Army".
Scotland vs England: as it happened:
FT: Hampden Park: Scotland 2 (Griffiths 2) England 2 (Oxlade-Chamberlain, Kane)
All over at Hampden: Scotland 2-2 England 
93'  93'  93'  94'  90'+0'   Kane unmarked latches onto a long cross to tap home and break Scottish hearts. What an end to what has been by and large a dull game
90'+2'   Dyer to take.... and forces Gordon into action as England snatch it late with Kane... Gooooooooooooooooooooool England 
90' We're in added time... what a turnaround .... 4 minutes of added time .... England are facing a first defeat and are awarded a dengerous free-kick.  
90' Scotland 2-1 England ! 
88' Incredible from Leigh Griffiths ... two free-kicks in two minutes .... Hampden erupts !  
88' The 26 year old steps up and scores again !!!!!! 
88' Another free-kick for Scotland in an almost identical position as the goal for the Scots. Griffiths again ?
85'  Scotland 1-1 England:  Delightful free-kick from the Celtic player... a lifeline for the Scots and England finally concede a goal in the campaign. 
85' Gooooooooooooooooooooooooool Griffiths pulls Scotland level !
84' Slovenia go 2-0 over Malta.... Novakovic on target...
Dele Ali off and Sterling on for England 
83' An image no Scotland fan will want to see.......Slovenia's Josip Ilicic celebrates as he puts his side 1-0 against Malta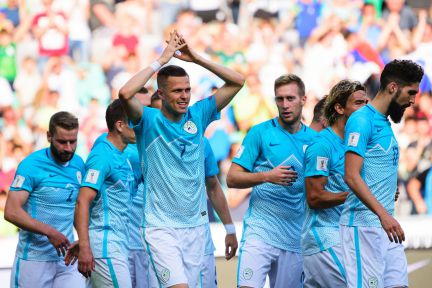 Chris Martin comes on for Scotland with early promise Ikechi Anya making way. Last throw of the dice from Gordon Strachan,
80' 10 minutes left for Scotland to salvage their WC 2018 campaign. 
England's Alex Oxlade-Chamberlain celebrates scoring the opener at Hampden.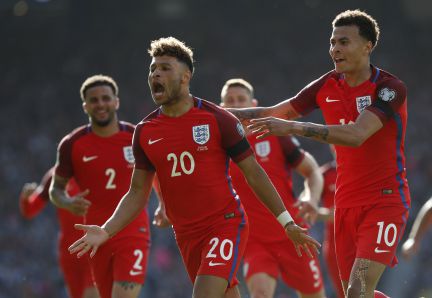 78' A tame shot from Griffiths as Scotland's body language would suggest that they know the chips are down ! 
73' A defeat tonight would pretty much rule out Scotland's chances of securing a ticket for Russia 2018. A shame for the excellent travelling Tartan Army who were last at a major tournament (to watch Scotland) back at France WC 1998.   
Scotland 0-1 England: Attempts 3-11 
71'  Fine individual goal from the Arsenal player rifling a left footed drive past Gordon just as it seemed that England were void of creative ideas. Two minutes it took the No. 20 to get on the scoresheet. 
Goal ! England go ahead ...... Alex Oxlade-Chamberlain strikes !
Scotland manager Gordon Strachan at Hampden today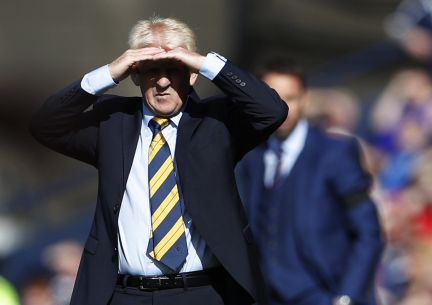 68' Possession: Scotland 34-66 England
Change for Scotland as Snodgrass is replaced by debutant Ryan Fraser
Change England: Oxlade Chamberlain on with Rashford the player to make way.
Everyone's favourite Scottish Cup ball selecter, Mr. Rod Stewart at Hampden today.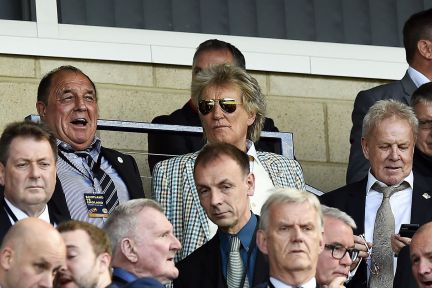 61' Ryan Fraser set to entter the fray. Internatonal debut for the Bournemouth player.
Dyer carded and will miss England's next qualifying game. 
60' Scotland break again with Armstrong trying his luck from long range but failing to get the ball down. Scotland bright on the break now.
58' Best chance for Scotland falls to unmarked Robertson and the No. 3 skies the ball over Joe Hart's bar. Poor effort from the Hull City player.
53' Once again inaccurate passing letting Scotland down. England do look composed in defence it has to be said. Testament to 0 (zero) goals against in their WC 2018 qualifying campaign.  Half hearted appeal for a Scotland penalty kick but the Italian match official waves play on.
51'  Livermore hits the post with a wickedly deflected shot and subsequently Scotland are unable to clear their lines. 
49' Marcus Rashford of England looks on during the FIFA 2018 World Cup Qualifier between Scotland and England at Hampden Park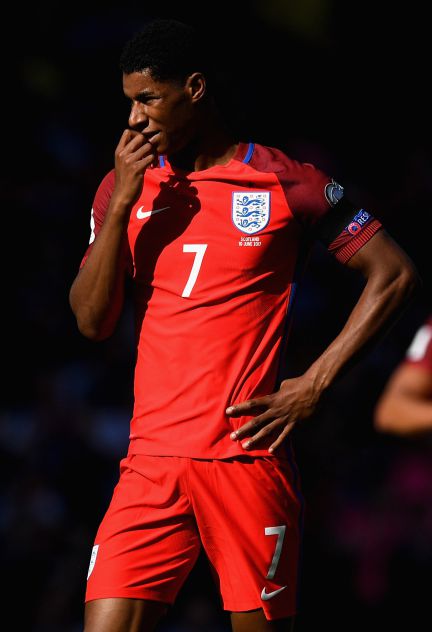 48' Clear to see Mister Dan Walker hasn't been too inspired with the football on view in the first half. 
46' No changes in the England ranks during the interval.
46' Off we go, Scotland with kick-off ...
McArthur on for Morrisson. The West Brom player was struggling from a 3rd minute knock.  
The Scotland XI pre-game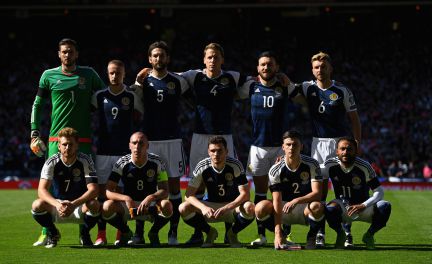 Scotland 0-0 England: half-time wrap: A brief opening burst from Scotland in the first five minutes was as good as it got for the Hampden faithful as the men in red have grown in constant ascendancy as the game has progressed. A slight consolation for Strachan's men is that England have yet to finish one of the numerous chances they have created during the first 45'. The Slovenia goal only adds to the pressure the Scots were already under but barring a dead-ball situation or one-off burst of skill it's difficult to see where a home goal will emerge from .  
 It actually gets worse for Scotland as Josip Ilicic puts Slovenia ahead vs. Malta on the stroke of half-time. Scotland need to win here this evening and from what we've seen in the first period that looks highly unlikely.
45' Halt time called at Hampden. Scotland 0-0 England
Livermore into the book for a late challenge on Snodgrass.
43' Hampden finds it's voice again as Scotland manage to retain the ball for 3/4 passes. The glimmer of good news for Scotland is that Malta-Slovenia is also 0-0 as we approach the break.  Gordon saves well from Livermore.   
40' Good effort from Adam Lallana forcing Gordon into action with the Celtic stopper palming away a left footed drive. 
36'  Ikechi Anya caught in possession as Dele Ali steams forward and overhits his pass to Rashford who can only fire tamely into the side netting. Neither keeper has been really tested this evening.   
34' The England starting XI at Hampden this evening.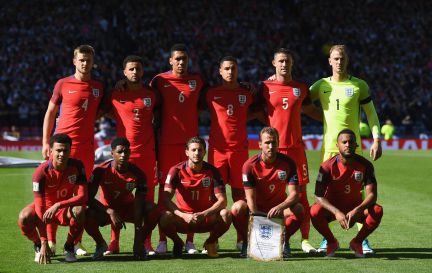 32'  England now totally dominant in possession stakes: 27-73 (%)
29'  Two good chances for England with Scotland at 6's and 7's at the back. Scottish keepe Gordon wandering as the ball is cleared off the Scotland line. Kane fires the rebound on target and the ball is cleared for a corner. England applying more and more pressure as the Scotland of  the first fifteen minutes is a distant memory.
26' Gareth Southgate looks on at Hampden.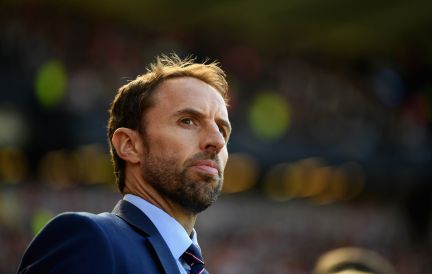 24' England win their first corner. Rashford takes and Scotland scramble the ball away. The Scots now unable to retain possession and England stamping authority on the match. England fans now loudest at Hampden. 
22' ...so that's what they're for !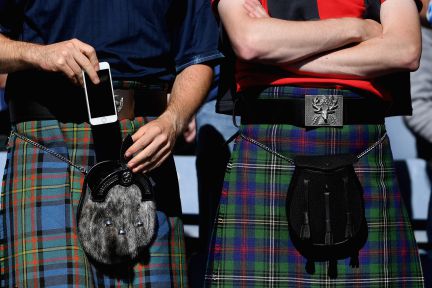 20'  "Can you hear England sing..Nooooooo, nooooooo, Can you hear England sing noooooo, noooooooo" is the ditty currently on the Hampden Park "playlist"
18' Harry Kane goess close for the first chance for England of the evening. The Spurs player failing to get over the ball as it bounced akwardly in the Scotland area. England now starting to impose themselves on proceedings with crisper passing. 
16' Possession after 16': Scotland 39% - England 61%
13' Scotland with a brighter start here at Hampden with just a poor final ball letting Strachan's men down in the opening stage of this evening's Russia 2018 qualifying match.
11'  Ikechi Anya looking good for the Scots providing danger and decent a delivery service on the right wing
10' Scotland's Stuart Armstrong in action with England's Kyle Walker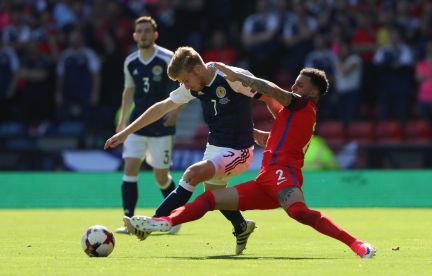 8' Scott Brown tries a what was either an ambitious attempt to catch Joe Hart out or a very poor pass to Snodgrass as the Scots win their second corner of the evening.
6' Scotland win a corner as Hampden roars ! Morrisson holding out at present as Griffiths fires a tame shot at Hart.
5' It appears that Morrisson may not be able to continue with Scotland preparing a change for the Premier League star. 
Scott Brown, first name in the book   
3' Scotland captain Scott Brown leaves, what Ron Atkinson often referred to as a "reducer" and is duly booked for basically a very very late tackle. 
3'  James Morrisson pulls up with some robust challenges flying in from both sides. The West Brom player gets to his feet and seems okay to continue. 
1' England get us underway as Signore Tagliavento sounds his whistle... 
52.500 fans await! We're all set ....
A minutes silence to be observed pre-game (for the London attack) which is impeccably observed by both sets of fans ! 
Mr Tagliavento (Italy) is our match official at a packed Hampden Park this evening. 
The teams are on the pitch. England in their all red away kit with Scotland in their classic navy blue shirts and white shorts as "Flower of Scotland" rings out on the bagpipes (a traditional Scottish musical instrument). 
Less than 10' to go. Scotland fans hoping for a repeat of November 1999 when a Don Hutchinson goal was enough to give the Scots their last win over England. 
Also playing in Group F today: Malta travel to Slovenia (another 1800 start) and later at 2045 Lithuania v Slovakia. 
Scottish wit out in force in a local Glasgow hosterly this afternoon   ;  )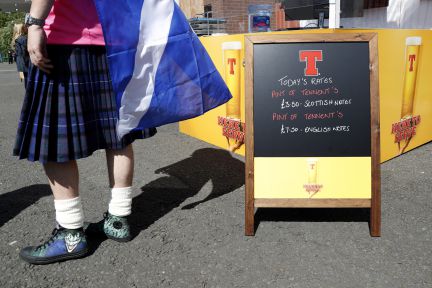 A "tropical" 20C in Glasgow this evening with 0% chance of rain. Excellent conditions for a football match.
More recent history, especially in the big games, has favoured the southern side of the UK. In the last 10 matches, Scotland have managed one win and there has been one draw.
In all competitions, and including friendlies (because there is no such thing as a friendly between these two!), England have won 48 games, Scotland have won 41, and there have been 24 draws. For those asking, that first game in 1872 ended 0-0.
Did you know: Scotland manager Gordon Strachan witnessed his nation's 1-2 victory over the Auld Enemy at Wembley in 1977 first hand. He was in the stadium with his wife...during their honeymoon!
As always when these two teams meet, narratives will be written with famous historical battles in mind. Bannockburn and Flodden may be mentioned depending on the result. *For anyone needing an honest and accurate depiction of some of the history between Scotland and England, look no further than Mel Gibson's Braveheart. ;-)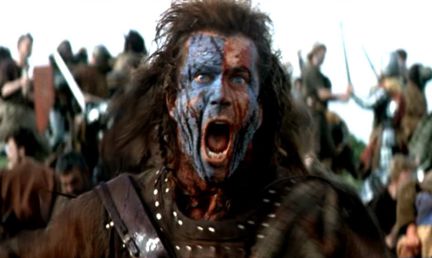 As it stands, few people see England dropping from their perch at the top of the Group F table meaning the fight is on for a playoff second place. This looks to be between Scotland, Slovenia and Slovakia with just two points splitting them, however if all three group games go to form, Scotland will sit five points adrift. A win for the Scots, though, and the pressure will switch to the others, who will still have England to play.
If you were wondering what other ways there are to enjoy this evening's game then wonder no more. Our handy how and where should help. 
...in saying that, Scotland goalkeeper, Craig Gordon, has said that they'll have to be keeping tabs all over the pitch!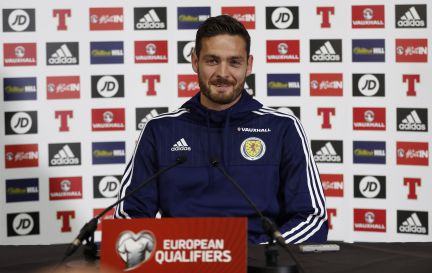 In-form striker Harry Kane will take the armband in tonight's encounter. The Scottish defence will have to keep close tabs on Captain Kane after a goal-splurge for Spurs last season.
Way, way back in December 1872, this was the newspaper article in the Manchester Guardian looking back on the game. We can't guarantee we'll be able to match that but we'll try.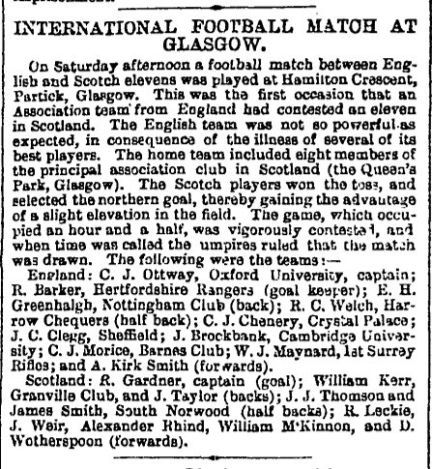 Read our preview below for some background to today's game and then stay with us as we bring you all the latest news, as well as some interesting - and hopefully entertaining - info throughout the day.
Welcome to our build up to the Group F World Cup 2018 qualifier between Scotland and England, the oldest rivalry in international football.
Scotland vs England: match preview
After going almost a decade and a half without once meeting at the start of the millennium, Scotland and England now prepare to face off for the fourth time in as many years as the the World Cup qualifying campaign moves past its midway point in Europe.
England go to Glasgow looking to further consolidate their position at the head of Group F, while the fourth-placed Scots are six points behind their visitors and battling to stay in contention for Russia 2018.
Scotland
Scotland sit two points behind Slovakia in second - which brings a probable play-off berth - and, with the Eastern Europeans and third-spot incumbents Slovenia in action against the group's bottom two, a negative result against the 'Auld Enemy' would in all likelihood see Gordon Strachan's men lose ground on each of the trio in front of them.
And ominously for Scotland, their three games against England since 2013 have all brought defeat - most recently a 3-0 reverse at Wembley in November in the sides' first Group F clash - and they have registered just the one win in their last ten matches against their near neighbours.
However, a beleaguered Strachan did see his team's qualification hopes boosted by a late Chris Martin winner against Slovenia in March, and the 60-year-old is not expected to make many changes from that vital victory.
That team featured six Celtic players - Craig Gordon, Kieran Tierney, Scott Brown, Stuart Armstrong, James Forrest and Leigh Griffiths - and Strachan admitted this week that he is keen to draw on the confidence of that sextet after a treble-winning season in which the Bhoys were unbeaten in the Scottish Premiership.
Speaking on Friday, Strachan was in upbeat mood, lauding his players' "enthusiasm" in training and declaring: "They're ready for the game, physically and mentally."
England
Manager Gareth Southgate takes England to Hampden for his second World Cup qualifier since his caretaker role was made permanent, having gone some way to securing the job full-time by beating Scotland last winter.
And Southgate has experience - of sorts - of defeating the Scots at Hampden, having been an unused substitute the last time the teams met at the stadium, when a Paul Scholes brace earned Kevin Keegan's side a 2-0 triumph.
After seeing off Lithuania 2-0 last time out, England remain unbeaten in Group F, lie four points clear of Slovakia and in pole position for the section's only automatic berth.
Indeed, they are the only country who are yet to concede in qualifying, and Scotland defender Charlie Mulgrew has acknowledged that his team go into the match-up as "massive underdogs".
But despite England's good form against Scotland, the hosts' recent record of just one home loss in nine - a defeat that came against world champions Germany - cannot have escaped Southgate's notice.
The England boss, who has seen Jamie Vardy and Nathaniel Clyne pull out of his squad through injury, has confirmed that Harry Kane, the Premier League's top scorer for the past two seasons, is to captain the side for the first time on Saturday, with Wayne Rooney, the team's last permanent skipper, not selected.
"I wanted to give him [Kane] that boost," Southgate told his pre-match press conference. "He was pretty chuffed."
---
Scotland vs England: possible line-ups
Scotland XI: Gordon, Tierney, Martin, Mulgrew, Robertson, McArthur, Brown, Forrest, Armstrong, Snodgrass, Griffiths
England XI: Hart, Walker, Cahill, Stones, Bertrand, Lallana, Dier, Dele, Lingard, Kane, Sterling
---
Scotland vs England live online: betting
There's already so much riding on this game but if you'd like to add some additional interest why not have a flutter on one of many outcomes coming true. At the time of writing, a home victory for the Scots would return five times your stake.
Bet on Scotland vs England here.