Spain's women take on Brazil in a friendly at the Fernando Torres stadium in Fuenlabrada this evening and AS took advantage of the occasion to sit down and chat with Marta - for many, the greatest female footballer of all-time and a five-time winner of the Ballon d'Or.

You are the most well-known face in the Brazil side and also in women's football. Do you feel like an icon of the women's game?
No. Of course, it is always nice to receive praise, it's interesting but I don't like to talk about myself as an icon. Obviously I am aware of the importance I have within football and that is a source of motivation for me to always give my best both on and off the pitch but I consider myself to be just a normal person like anyone else.
Marta, the face of women's football
But a lot of people, when they think about women's football, think about Marta…
I think it's the fruit of the work I have done with a huge amount of love, passion and dedication. And I do it precisely so that people remember me in that way. So that I can help in the development and evolution of the sport - especially for young children; I hope I can encourage them to take up a sport - and not just football but sport in general. I have always tried to leave a positive mark wherever I have gone. I think that's why people view me positively and that makes me very happy indeed, it really does.
You give off a sense of happiness, empathy and humility on the pitch. Is it important to you to maintain a positive image off the pitch too?
I've always been that way and that you should say those things about me makes me very happy. Because that has been my attitude right from the start. However much fame or success a sportsperson achieves, it's not enough. You have to leave positive things. I cannot be better than you just because I am better at playing football. I always want to be as best as I can be in what I do to encourage those who also try to be the best in what they do - in their job, in life... I don't like to appear in the newspapers for something which isn't positive. That's why my image is important to me, it does matter that I transmit that message and those values. I've always been like that I hope I continue to be that way for the rest of my life.
You're only 31 but it seems you have been in the game for much longer…
I was young when I started out. Maybe that's why people think I'm older than I am. I was in the national team at a young age. I was in the youth team at 15 and by the time I was 17, I was playing with Brazil's senior side. And I arrived just as women's football was starting to take off and as it grew and evolved, so did I. I've been playing football for many years and I hope to keep playing for many more. That's the reason I work so hard, to make sure my career is as long as it can be and to remain at the top level.
Culture shock leaving Brazil for Sweden's Damallsvenskan
It must have been a shock to leave a tropical country like Brazil to play in Sweden?

It was a massive shock. The difference is huge. I arrived in the middle of winter, to the north part of Scandinavia. When I came off the plane, it really hit me. It was day but there was no natural light. It was cloudy and dark and there was a metre and a half of snow in the ground. I thought to myself: 'Have I come to the right place?' I didn't have the right clothes for such a cold climate and I could hear my bones creaking. I was thinking: How am I going to play football in this cold? Where are we going to play? I'm going to freeze to death! But even though I arrived in winter, the football season hadn't started. The pre-season is played indoors, in heated sports halls. I gradually started learning all of this as time went on. I didn't think it was so bad after all and I started to see the good things, the quality of life that people have in Sweden. And also, I had been given the opportunity to live doing what I loved most. Of course there is a big difference in the salaries men and women footballers earn but I was able to live off what I was earning. So the positive side always exceeded the negative side. It made me forget that the food was different to what I was used to, the language was different and gradually I began adapting. And because the communication on the pitch was so good, that made it even easier for me to settle in.
You were immediately accepted in Sweden - something which wasn't the case in Brazil...
Yes. In Sweden there is equality in every level of society, not just in football. As soon as I arrived, I could see that fathers would take their daughters to the stadium to watch the match. In school, the teams were mixed, boys and girls. And it wasn't just the girls coming up to me to ask for an autograph, or to take a photo. It was the boys as well. That was a great motivation for me to keep working hard and grow as a player.
Before that you had come from Dois Riachos, Alagoas, a very small and poor town in north west Brazil, where it wasn't acceptable for a girl to be playing football...
It was like that then, when I started out. But today I have noticed things are changing. A few clubs now have football schools for girls and they will take on girls in their youth teams. My town was the worst because I was the only girl who played. I had no alternative but to play with the boys. Some of them thought it was crazy because it wasn't normal to see a girl in a setting that was regarded as being only for boys.
Did the boys let you play?
Not always. But I would fight with them to let me play. They would get a little irritated because when we took part in tournaments in other parts of the region, the other teams would make fun of them because we had a girl in the team. They would say that they must be really bad to have allowed a girl into the team to win. They felt humiliated about that. And on top of that, I stood out, I was scoring goals, winning trophies... and some of the boys were jealous because they couldn't accept that a women could reach that level. I proved that we can. And that prejudice is completely unfounded
What are your thoughts on Real Madrid not having a women's team?
I've heard that they're hoping to start one. It's very important for the development of women's football that clubs like Real Madrid have a women's team. But it's something which needs to come from the club itself, not from the outside. I think we really need to continue to support and look after the clubs who do have women's sections. There is a lot of talk about Barcelona and Real Madrid but we shouldn't forget about the small and medium-sized clubs that do have women's teams and don't get much exposure. I think we need to support women's football in general, not one club or another.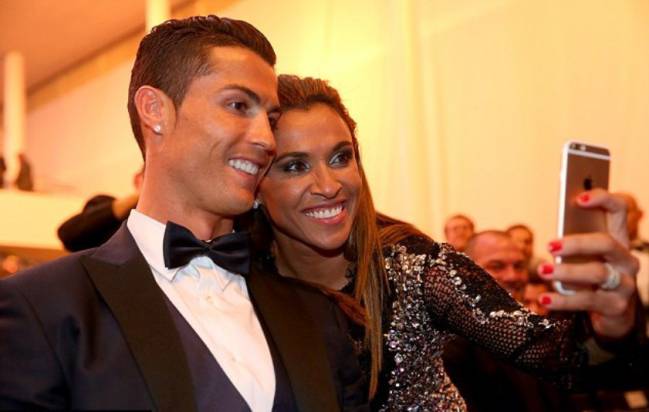 Marta, a big fan of Cristiano Ronaldo
Which club do you follow in Spain: Real Madrid or Barça?
I always follow both of them because I love watching football. But in the last few years I have been following Real Madrid more because I am in touch with some of the players and because I have a great admiration for Cristiano Ronaldo. I admire his dedication to his profession, his work and his winner's mentality - he always wants to win everything and he takes good care of himself to maintain himself in top shape. He has an immense ability to bounce back during the most difficult times. He's always very focused and sure of himself and what he does. What I like about him is that whenever the team needs him, he's there, without fail. He's the player I follow the most. When he played for Manchester United, I followed Manchester United. So these days, I support Madrid because of him but I love watching Barcelona as well. For me, Neymar was Barça's best player last season. I don't have a team as such, I love watching football and I enjoy watching the best players in the world. If you look at my Instagram account, you'll see that I am always following what's going on in football - whether it's the Third Division in Brazil, the Spanish women's league, the Champions League, Sweden, the United States... I enjoy all of it.