Nadal crushes Wawrinka to claim record 10th French Open
The King of Clay stamped his authority on Philippe Chatrier in a near-perfect performance to defeat the world number three in straight setsSuper Bowl 2018 live online: Patriots vs Eagles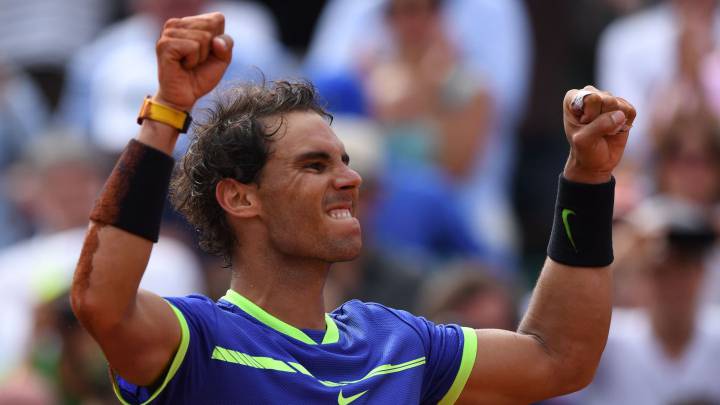 Rafa Nadal secured his place in the history books as the only player in the Open Era to win the same Grand Slam on 10 occasions as he systematically deconstructed the power game of Stan Wawrinka on Court Philippe Chatrier to reclaim his French Open crown.
Nadal holds court at Roland Garros
Nadal swept to his 10th title at Roland Garros in a crushing display of dominance, restricting the world number three to just six games in a one-sided contest that made a mockery of precipitate questions over the Spaniard's ability to return to his best after a series of injury problems in recent years that culminated in his early withdrawal from the tournament last year. Throughout this year's French Open he has been untouchable. The King of Clay surrendered just 35 games en route to the title without dropping a set and was broken just six times in seven contests.
In Sunday's final Wawrinka was unable to make a dent in the Nadal serve, picking up his only break point opportunity in game three of the first set with the Spaniard unerring on his delivery. Nadal found the target with 65 percent of his first serves and won 83 percent of points played on them, restricting Wawrinka to just 15 points on return. The champion plundered his opponent's own delivery, taking over 50 percent of points on the Wawrinka serve and broke the Swiss six times overall in a victory that was as convincing as it was concise.
Wawrinka managed to take Nadal past the two-hour mark for only the second time at this year's French Open and avoided the fate of Dominic Thiem, who was handed a love third set for his temerity. The Swiss' misery could only have been compounded by that ignominy though as Nadal delivered a masterclass on the crushed brick to nullify Wawrinka's powerful ground strokes. Taking his returns late to ensure sufficient length to pin his opponent back, Nadal pounded the baseline and didn't allow Wawrinka to apply any kind of rhythm on his feared backhand. Even when the 2015 champion was able to unleash two or three in a row his efforts were returned, often in extremis, with supreme court coverage from Nadal.
As Wawrinka's frustration increased a racket was sacrificed but if the tennis gods had tuned in they paid no heed to the Swiss as Nadal turned the screw in the final set, landing 81 percent of his first serves to his opponent's 48 as he broke Wawrinka three times. Nine of the Swiss' 19 winners came in the third as he blasted away at any opening but Nadal matched him blow-for-blow and gave up just one unforced error to cap a near-perfect performance on his way to a perfect 10 at Roland Garros.
Wawrinka 0-3 Nadal: as it happened
And he does so in incredible style, defeating arguably the second best clay player in the world at the moment 6-2, 6-3, 6-1 in a dominant display.
And this time he does it! Stan dumps an attempted drop shot into the net and Rafa reclaims his Roland Garros title after a two-year hiatus.
One goes begging as Rafa aims for the line on a forehand and misses. One left...
Stan slaps a forehand winner away but Rafa pummels him into the back court on the next point and brings up two championship points.
0-15 as Stan nets with Rafa looming menacingly at the tape. Long from Stan and Rafa two points from history...
Rafa moves to 40-0 without much ado and a forehand down the line forces Stan into an error. 5-1 and the Swiss serving to stay in the match.
A simple stat underlines just how difficult it is to play Rafa on clay - 18 winners from Stan so far. He hit 87 against Andy Murray. Meanwhile, just 11 unforced errors from the Spaniard's racket.
Stan gave it everything he had in that game but there's just no getting past Rafa today. Rafa back on the oche to serve for a 5-1 lead.
Stan punches a regulation forehand long and Rafa breaks to move 4-1 up!
Amazing stuff from Stan as he reaches a drop shot and slides it back over at an acute angle. The Swiss exhorts the crowd to a bit more support and elicits a huge cheer, which in turn sees a rare smile crease the world number three's face. A smash from the back court into net and a backhand wide of the mark though and Rafa has break point...
Stan charges the net and dispatches an awkward volley for advantage... but it's back to deuce as he nets a forehand after a solid approach shot from Rafa
Rafa builds a perfect point but fluffs his lines as he comes into the net, dumping a straightforward volley into the tape. A huge forehand and a backhand winner down the line and it's back to 40s...
And drops an almost apologetic attempt at a drop shot into the net to give Rafa a sniff of another break...
15-30 as Rafa backs up a booming forehand with a punched volley. Rafa dips into his greatest hits to replicate that on-the-run forehand winner from earlier, this time flashing it cross court past the despairing Stan. The Swiss brings up game point with an ace though...
The crowd attempt to get an "Olé" going but a stern glare from a far-from amused Stan makes them think better of it. A couple of heavy forehands and the Swiss races to 30-0
Stan's turn as he wallops a winner off the forehand but he skews his return on the next delivery before sending a forehand long and Rafa eases to 3-1.
Rafa back-pedals to get onto his forehand and sends a winner flashing past Stan. The Swiss sends the next one long and Rafa produces another forehand winner down the line for 40-30.
Stan delights the crowd with some spectacular shot-making and he's 0-30 up on the Rafa serve...
A quick mop for Rafa and he's ready to serve for a 3-1 lead in the third.
Again, Rafa gets round an impossible forehand to bring up 30-all. Stan sends down a furious serve and on the back of a couple of crisp forehands holds. 
Thw Swiss back on serve and he pulls off a wonderful volley to move to 15-0 but Rafa steps up a gear on the next point, clawing a forehand back into play before hitting a running backhand winner down the line.
Rafa is just sublime today and powers a forehand winner down the line to hold for love. Stan puffs out his cheeks in exasperation.
What a touch from Rafa at the net! The Spaniard dinks a volley over and Stan glowers at his box. Another booming forehand and Stan nets for 40-0. He is not taking any prisoners here, Rafa.
A third Wawrinka shot goes long, and in two shakes of a lamb's tail Nadal has three break points. Stan saves the first, but has no reply to a supreme Rafa winner on the second. The Spaniard is playing rather well, isn't he?
So, third set underway, Wawrinka to serve. Can the Swiss drag himself back into this? He quickly sends one shot long and, after a prolonged rally, punts another one beyond the baseline. 0-30.
Just long from Stan and he lets slip a word or two, probably none too self-complimentary, and boots a chair in frustration. Having had Rafa in his sights on the next point he gives a racket the treatment and finishes the job with his knee. You can't blame him really, Rafa is just too good at the moment. And the Spaniard duly holds for a two-set lead!
Stan gives himself a few cuffs with said new racket as he nets a forehand after controlling most of the opening rally. He finds a line on the next one though and it's 15s.
A forehand winner and Stan stays in the set. Rafa to serve with new balls for a two-set lead. Stan the Man reaches for a new axe and Rafa holds a ball aloft.
More dominant hitting from Rafa and he moves to 0-30 with a backhand winner. Stan gets back to 30-all with a fine secind serve and then pings down a first that Rafa can only club wide. 40-30
An ace and Rafa holds to love to force Stan to serve to stay in the set for a second time.
Rafa shows that he's not all bada-boom as he chases down a drop shot and glides a delicate chip into the corner. 40-0
Splendid rally, Rafa gradually cranking up that forehand as Stan defends before cracking one down the line. Stan cones into the net to try something different but a Rafa forehand almost takes his racket clean out of his hand. 30-0
Boom! Hammer time! Even Stan applauds as Rafa hits a fizzing forehand winner on the run, without looking, and it slams into the forehand court. An absolutely incredible shot. Stan holds though...
A couple of big serves and Stan is up 30-0 and a challenged call goes the Swiss' way to move him to 40-15.
Just long from Stan and Rafa leads 4-1. The body language from the two at the end of that game would give a sports psychologist plenty to go on, Rafa nodding his head and muttering to himself as Stan slopes back to his seat with the look of a man trying to bring down a charging bison with a pea shooter.
Rafa shows his incredible court coverage to move back to 30-all, getting a racket on everything the Swiss throws over the net. He'd probably get the kitchen sink onto the line the way he's playing at the moment and Stan pulls out everything short of that but still finds himself 40-30 down.
Huge forehand winner from Stan and the crowd get behind the Swiss, who moves to 15-30 with some solid hitting.
A big serve out wide forces Rafa into whacking a backhand long but the Spaniard finds a forehand return winner on the next point, a gloriously timed shot. He's long on the next one though and Stan holds. 
Now he's got his back up and finds the line with a backhand winner. 30-0
Stan, it seems, is not a happy man and he comes out grimacing but puts away a neat volley at the net to move 15-0 up.
Stan finally breaks Rafa's run of unanswered points as the Spaniard goes long but it's a consolation as Rafa takes the game to move to 3-0. It would take two Stans to stop Rafa in this mood. Incredible from the nine-times champion.
Wawrinka looks ruefully at a framer that clears the stadium in height but lands about a foot from where he struck it and trudges across the baseline for another round. Another Rafa forehand and it's 40-0.
Goodness! Iron Stan is bent thoroughly out of shape as Rafa breaks to love! The Swiss wondering just what he has to do to get past Rafa. He certainly can't hit the ball any harder than he is. 2-0 in the second.
Another shrug of the shoulders as Stan fails to find the court again and Rafa takes an absorbing rally as Stan nets, the Spaniard finding all the angles there to pin Stan back. A huge forehand into the corner and Rafa has break points, three of 'em!
Stan misses another forehand and Rafa holds. There was an air of despondency about the Swiss there as he swpied his racket through the air in frustration. 10 winner from Rafa in that first set.
The players enter into an attritional rally and Stan tires first, whacking a forehand into the net for 30-15. Great point from Stan! For once he hammers Nadal onto the defensive and forces a short ball from the Spaniard, which he drops back over the net with a deft drop shot. 30-all
The score line doesn't tell the whole story of the opening set, with Stan having one opportunity to break and causing some discomfort on the Rafa serve, but in truth the Swiss has yet to make a serious dent in the Spaniard's armour. That Stan hit only four winners and made 17 unforced errors does explain the 6-2 though. He'll have to tighten up considerably to get back into the contest. Rafa to serve.
An unforced error from Stan isn't the ideal start. Rafa nets for 15s but then gets busy with his forehand to move to 30-15. Another error from Rafa, who is standing well back to receive to get a better height on the return, but some more forehand work and he has a break point.... which he takes when Stan punches one just long! First set to Rafa, 6-2.
Rafa comes into the net and pulls off a glorious volley to hold and move to 5-2. Stan will serve to stay in the first set...
And that is the issue when you face Rafa on clay. Stan's backhand leading up to the forehand winner would have beaten most players but Rafa's top-spin heavy forehand means he can wrap his racket around anything on the forehand side at the right height and find the corner even when he's pushed out beyond the extent of the net. He almost pulls off the same shot again then lands a solid forehand blow to ease to 40-15.
And Rafa breaks at the second time of asking! He sends Stan charging about and forces the Swiss to dump a backhand into the net for 4-2.
Rafa into the net and Stan saves the first...
A lengthy rally gets game six underway and Stan bites first, sending a backhand in to the doubles court. Rafa then leathers a forehand winner past a disbelieving Stan and wins the next point to bring up three break points...
Nadal disguises a second serve with the sang froid of an undercover agent and Stan goes the wrong way... ace and game.
Stan goes for the line with Rafa out of range but misses by an inch or two. Rafa punches a backhand long to get Stan on the board but after a pair of lets sees a forehand winner zip down his left flank for 40-30.
Stan will be eager to keep the points as brief as possible this afternoon, Rafa's powers of recovery are exceptional and there's not much he won't get back. The clay king moves to 30-0 with a forehand winner...
That out-wide kick serve saves Stan's bacon as Rafa sends it into the first row. Gutsy hold from the Swiss and we remain level.
Rafa sees a second serve sit up invitingly but he gets too much on it and Stan has the advantage...
And Stan saves with another booming serve out wide that Rafa can't control. 40s...
Advantage Rafa as he clips the tramline with a huge backhand...
Advantage Nadal again but Stan steps into the court and unleashes a few hammer blows to save. 40s again...
Rafa forces Stan back with some accurate baseline hitting and forces a short return, which is dispatched into the corner by the onrushing Spaniard for break point... Stan saves again though as the game moves towards seven minutes in duration.
Another unforced error from Rafa - his sixth - hands Stan game point. Long from Stan again and we're on deuce three...
A brief rally ends as Rafa gets his frame on a forehand and it spins off harmlessly. Stan nets though and it's back to deuce...
Spectacular serve from Stan though and Rafa can't get it back. 40s.
Is there a player in the game that hits the ball harder than Stan? Probably not. He pummels Nadal into submission but then nets to hand Rafa an opening...
Stan is cranking up that wonderful backhand of his but fails to find the line after opening the possibility and then sends a forehand long to give Rafa a glimmer. 15-30...
Another thumping first serve and Rafa holds, but Stan has at least sown a seed of doubt in the Spaniard's second service game. 
And the first "vamos!" from Rafa as he sends over a rocket of a serve and Stan slaps his return long. Deuce. Maria down again to examine a Rafa serve and he concedes it hit the line. First serve again... and Rafa fires down an ace! Advantage...
An error from Nadal moves Stan up to 30-all and the crowd ooooh their approval as a wonderful point goes Stan's way to facilitate the first break opportunity of the match...
Stan rues a forehand into the net as Rafa mixes it up with some short deliveries. Deep serve from Rafa and his backhand is looking ominous early on as he belts one into the corner that Stan can only dump into the net. Long from Rafa and Stan has his first point on the Spaniard's serve. 30-15.
Nice work from Stan, who half wrongfoots Rafa with a couple of cross court forehand thumps and the Swiss holds with no major issues.
Unforced error from Stan brings up -015 but Rafa, who is aiming for the baseline to keep his opponent pinned back, sends one long. Stan slaps a forehand and Rafa finds the net on the next exchange. 40-15
Great hitting off the forehand wing from Rafa and he holds to love, his serve working like clockwork in that opening game.
Maria is out of his chair early, he's going to get a decent work out this afternoon we fancy, as Stan questions a call on the opening point. Just failed to clip the line though and Nadal backs it up with a huge serve to move to 30-0.
Rafa to get us underway. Joue, the umpire says, and we're off!
Pascal Maria is the man in the chair today and he manages to look completely nonplussed by the whole affair, prodding his pad with his pen and then folding his arms while he surveys his court. 
The players limber up with a little glower over the net, bounding from foot to foot, but then it's all smiles as the official photos are taken. Doubt there'll be many more from these two until one of them falls to the dirt in triumph though.
And similar treatment for Stan, who has won the hearts of the Paris crowd during his run to the final this year.
The players are getting ready to emerge on to the court now, Rafa first up to a huge ovation.
Both players have been serving fairly consistently, landing just over 60 percent of their first deliveries throughout the tournament.
Nadal has hit 141 winners on his march to the final - managing just five in his quarter-final victory over Pablo Carreño Busta, who retired at 6-2, 2-0 down with an abdominal injury - while Stan Wawrinka has 253 to his name, including a staggering 87 in his semi-final defeat of world number one Andy Murray.
Here's Rafa in action in Paris, in some of his greatest points of all time at Roland Garros.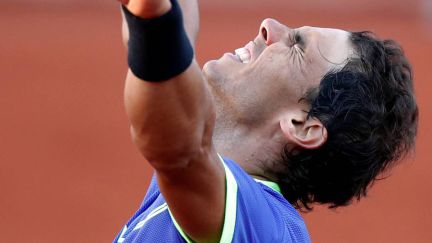 A stat that might have some telling on this afternoon's final: Rafa Nadal has spent over five fewer hours on court than Stan Wawrinka to reach the final and has only been pushed past the two-hour mark in one of his matches so far, the semi-final victory over Dominic Thiem. 
Here's how Jelena Ostapenko saw off Simona Halep to secure the women's singles final yesterday at Roland Garros  http://en.as.com/en/2017/06/10/other_sports/1497083461_745716.html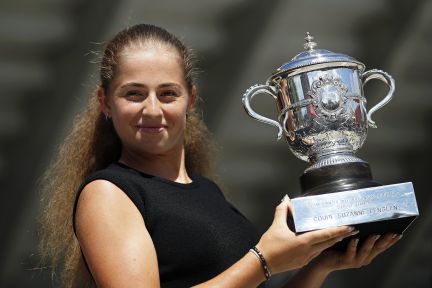 Hello and welcome to our live build-up and coverage of the 2017 Roland Garros men's singles final between Stan Wawrinks and Rafa Nadal.
Wawrinka-Nadal: preview Roland Garros
Most tennis players dream of winning one Grand Slam during their career. A select few will do so, with an even more elite set of players claiming more than one major title. On Sunday in Paris, Rafa Nadal will face Stan Wawrinka in the French Open final in a bid to become the first player in the Open Era to win the same Grand Slam on 10 occasions.
Nadal's record at Roland Garros is staggering. The Spaniard, who is surely the finest player ever to get clay in his shoes, has a 78-2 win-loss record at the French Open, and a 100-2 balance of victories over five set matches throughout his career on a surface a majority of other players cannot wait to exchange for something with a bit more zip.
Wawrinka, 100 percent in Grand Slam finals
Nadal's opponent on Saturday, Stan Wawrinka, falls into that category but the Swiss who shares a backhand furnished by the gods with his compatriot Roger Federer has proven in the past that he can adapt his hard-court game to the crushed brick. The 2015 champion was in scintillating form as he beat world number one Andy Murray in five sets to reach the final and he also holds the distinction of never having lost a Grand Slam final. However, Wawrinka has only featured in three in his late-blooming career while Nadal will be contesting his 22nd on Sunday and his 10th on Philippe Chatrier – the Spaniard has also never been beaten in the final in Paris.
Nadal beaten only twice at Roland Garros
The Spaniard's only two losses at the French Open were inflicted by Robin Söderling in the fourth round 2009 and Novak Djokovic in the 2015 quarterfinals. In order to add his name to a future pub quiz question Wawrinka recognizes he will have to be at his best.
"To play Rafa on clay in the French Open in a final is probably the biggest challenge you can have in tennis," he said looking ahead to the game. "He's the best player ever on clay. He's going for his 10th Roland Garros, so it's something really impressive. I will have to play my best tennis. But again, I did in the past, so we will see what happens on Sunday."
Wawrinka has won three of the last six meetings between the players after snapping a 12-game losing streak in the 2014 Australian Open final but has only ever beaten Nadal on clay once, at the 2015 Rome Masters in the three-set format. That said, the Swiss has the kind of power game that can certainly upset Nadal's rhythm and he hit 87 winners in his semi-final duel with Murray, eventually pounding the number one into the Parisian clay.
Nadal: "I think I can control him"
"It's true that when he hits hard, he hits really hard," Nadal told reporters ahead of the final. "Stopping him can be difficult. I do not want him to play his game, which means I need to make sure I don't let him be in that position where he can hit hard.
"I will have to do everything I can to keep him from playing aggressively. If I can play long balls, if I can hit hard, if I can do that, well, I think I will be able to control him."