Australia - Brazil live stream online: report, goals, action
Preview, live online build-up and minute-by-minute coverage as Australia host Brazil at the Melbourne Cricket Ground. Kick-off at 12:05 CEST on Tuesday 13 June 2017Barcelona-Getafe live: LaLiga Santander matchweek 23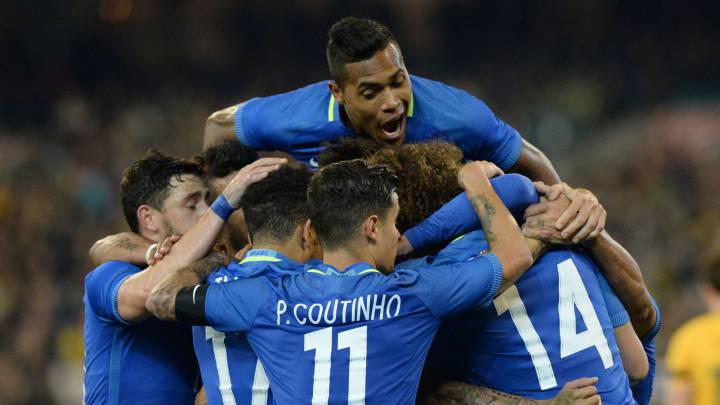 Brazil outclassed Australia in Melbourne with a raft a key names missing and without moving into second gear as Tite's Canarinha brushed the Socceroos aside 4-0.
Diego Souza opened the scoring after just 12 seconds in the Melbourne Cricket Ground to record the fastest-ever Brazil goal and the Sport Recife striker added his second with the final touch of the game to bookend a 90-minute stroll in the outfield for the five-times world champions.
Substitutes Thiago Silva and Taison completed the rout as Australia's defensive frailty was laid bare by a half-strength Brazil missing Neymar, Gabriel Jesus, Marcelo, Marquinhos, Casemiro and Roberto Firmino, among many others.
Australia will now travel to Russia for the Confederations Cup, where they have been grouped with World Cup holders Germany, Africa Cup of Nations champions Cameroon and Copa América winners Chile.
Australia 0-4 Brazil live stream online: as it happened
Diego Souza scored after 12 seconds for Brazil, then again with the final touch of the game. He'll be splicing his own particular highlights reel tonight we fancy.
And that's it from Melbourne as Brazil stroll to a 4-0 victory over Australia.
Goooooooooal! Willian pings in a corner and Souza rises above the home defence to power a header home. Harsh on Australia but Brazil lead - and win 4-0 - as the whistle goes.
91'  Cleared at the near post and Willian goes on a blistering run. Langerak is called into a great save off a shot from one of his own players, bizarrely the cleanest hit Australia have managed all evening.
91'  Corner to Australia, last roll of the dice here.
90'  Two minutes added...
89'  That would have been the Corinthians midfielder's first goal, on his second cap, at the age of 29. But Langerak has had a decent game after erring on the opener and doesn't deserve any more added to his goals against tally in fairness.
88'  Good save! Langerak stops a Rodriguinho point blank effort after more good work from Willian.
86'  Willian has been lively since his introduction and runs at the Australian back line again but the home side stop him eventually. Brazil are circling the Australian defence now and pushing for a fourth. The Roos can't get it clear and a short corner gets the blue shirts going again as they snap at heels on the edge of the area.
84'  Just a smidge under 50,000 in the stadium for the game, according to the official count. At least they've been treated to some goals, even if the majority you fancy would have preferred them going in at the other end. Diego Alves has hardly been troubled at all this evening.
81'  Celtic midfielder Tom Rogic sees an attempted clearance ricochet off his knee and into the gloves of Diego Alves.
80'  Nice touch in his own box from Rodrigo Caio to clip the ball off the toes of an attacker.
77'  Aaron Mooy on for the Roos in a triple change as the game enters the final 10 minutes.
Jemerson and the wonderfully named Rodriguinho preparing to come on for Brazil...
75'  That was Taison's first goal for Brazil and neatly taken it was too, slotting past Langerak from an acute angle. All uphill for the Roos now.
Goooooooooooal! Taison makes no mistake after Paulinho holds off a defender and flicks the ball back into the Shakhtar striker's path.
72'  Fernandinho on for David Luiz. Substitute Taison careers through the middle but gets a little too much on his final touch and can only poke the ball at Langerak, who clears.
71'  Good save! Willian drives down the left and squares for the unmarked Souza, who gets plenty of purchase on his strike but hits it straight at Langerak, who gets down low to stop.
70'  Oh, goal kick given instead apparently. Not quite sure why, it looked clear-cut enough.
69'  Corner for Australia as Kruse is thwarted in his effort to get around Alex Sandro. Coutinho trots off and Willian replaces him.
67'  David Luiz goes on a galloping run through the midfield but his final ball doesn't do his efforts justice. Hrustic gets a curling effort in and if we're not mistaken that is the frst time Diego Alves has touched the ball with his hands today.
64'  Australia are looking to build something here with a period of possession but the Brazil defence, and this is not something often said about the Canarinha, is extremely well-positioned to put a lid on pretty much every possible angle of attack.
64'  Lovely little flick from Souza to lose his man but then the Brazil forward loses his footing.
Goooooooooooal! Thiago Silva nods home off the underside of the bar after David Luiz's effort rattled the woodwork. A good old game of head tennis there as the Roos tried and failed to clear. Brazil 2-0 up now.
59'  Brazil enjoy a spell of possession before Alex Sandro is bundled off the ball. Coutinho slips into space on the right and pings in a cross but Australia get it out for a corner.
56'  Hrustic is making his debut for the Socceroos here and there is quite a bit of excitment about the young Groningen midfielder down under. He has just over half an hour against mighty Brazil to make a mark.
55'  Jackson Irvine also on for Sainsbury.
55'  Australia are looking slightly more ambitious at the start of the second half and draw a couple of free kicks as they knock on the door and the home side are about to make some changes. On comes Hrustic and McLaren as Cahill and Leckie make way.
52'  Douglas Costa gets a cross in but there's only one blue shirt in the box and goalscorer Souza doesn't deign to try and get to it.
50'  Leckie turns on the afterburners and Australia get a cross in but Troisi can't direct his header towards Alves' goal.
49'  Australia awarded a free-kick as the evergreen Cahill is floored from behind. Another quick take comes to nothing though.
47'  Alex Sandro pulls the trigger after being put through by Coutinho and rippled the side netting. Decent opening there after some deft footwork from the Liverpool schemer.
46'  The second half gets underway. Australia get into a bit of pickle between themselves and gift Brazil a throw.
The home fans are having a bit of a boogie in the stands at half time courtesy of the stadium speakers. Will their side give them something to dance about in the second half? We're about to find out...
Australia will need to find an extra gear in the second half if they're to get anything out of the game. Brazil look extremely comfortable and are attacking at will, although in the absence of some of their key names they too are lacking a little samba flair up top.
45'+1'  And that's the half in Melbourne. Brazil lead through Diego Souza's first-minute goal.
45'  Cahill almost finds himself in on goal as a clearance lamps Kruse in the chops and drops into the area but Diego Alves was quick to spot the danger.
45'  One minute added by Mr Clattenburg...
43'  Australia earn a free kick as Rafinha bundles an opponent over. The Roos take quickly when surely a better option would have been a sling into the box.
41'  Cahill picks David Luiz's pocket and Australia come again but they just lack that edge of pace or touch of vision to really stretch the Brazil midfield. 
40'  Australia aggrieved as they felt they ought to have been awarded a corner there and the ball did look to have gone well out. The Ros' brief threat at the other end fizzles out and the blue shirts decamp to the opposite half again.
38'  If Australia are going to make a dent in the Brazil back four you suspect it will be the Everton legend and Fantasy Football stalwart who makes it happen. James Troisi chances his arm from distance but it's well wide.
35'  Cahill offers a cheeky "what, me mate?" to Rafinha after chopping down the Barça man from behind with considerable relish.
34'  Australia are really struggling to hold on to the ball for more than two or three touches. Every time the Roos win possession they hand it straight back.
32'  Alex Sandro gets away down the left and crosses for Souza, who plays a deft touch to Paulinho but the midfielder skies his shot from about three yards out.
30'  The Chelsea defender is back on the pitch though and commits a foul immediately. Giuliano and Costa have switched wings for now as Brazil look to pick a way through the Australia back line, who have been pretty solid against everything thrown at them through the middle.
29'  David Luiz has pulled up in a bit of discomfort, looks like he may have got some studs on the top of his foot there...
28'  Coutinho does well to send Souza through but the forward's shot is dragged wide of Langerak's sticks.
26'  It's been generally low on quality from both sides so far but David Luiz strides through the Aussie back line and tees up Souza, who dinks the ball over Langerak but the Recife forward was offside.
25'  Giuliano brings out the ref's whistle as he scythes down Cahill as the Roos captain was looking to break from his own half.
23'  Another poor decision from Coutinho as the Liverpool man plays it into a defender's shin with two teammates arriving in the area. Australia hump it clear and Diego Alves is back on the ball.
22'  Ufff, close from Brazil as Souza gets away down the right and sends in an awkward cross but Australia manage to get it clear.
21'  The Bayern Munich man took a knock there and gets a spraying with the old numbing spray. They still make that stuff?
20'  Coutinho bizarrely elects to play it in the opposite direction to goal, catching Douglas Costa out.
19'  Coutinho tries to make something happen on the Australia left and sambas past a couple of challenges but then tries the Premier League trick of pulling up and claiming interference when he realised he couldn't reach his own touch past a defender. Nothing given, rightly so. Free kick to Brazil about 30 yards out on the right...
17'  Douglas Costa has been buzzing about for Brazil and he invites the ref's whistle for a foul. Australia move upfield and win a throw out on the right. Kruse feels he should have had a free kick on the edge of the box but Clattenburg is unmoved.
15'  Mathew Leckie attempts to outfox two opponents in midfield and pulls it off but none of his teammates read his intention and Brazil recover possession.
13'  Excellent defending from Rodrigo, who cuts out a fizzing cross at Alves' near post.
12'  Mark Milligan does well to thwart a Brazil attack as Paulinho tries to go through the middle. It's then all the way back to Brazil keeper Diego Alves, who has probably had more touches than any other player so far.
11'  Cahill is clearly up for this one as he eyes a place at a fourth World Cup next year and snaps into a tackle out of keeping with the general pace of the encounter.
9'  David Luiz has a little grumble about the award of a free kick but he was climbing all over Cahill there. Australia sling it into the proverbial again but Brazil clear.
8'  Coutinho plays himself around Luongo in midfield but the QPR midfielder introduces the Brazilian to a Championship challenge and Brazil have a free kick.
6'  Chance for Australia! The bal lis swung in from a free kick and Tim Cahill can't guide his shot on target with the Brazil defence caught napping. The flag was up anyway but Australia will look to work those set-pieces all game.
4'  Douglas Costa gets away down the left but he can't whip it in from the byline and the ball trundles off for a goal kick.
3' They're both OK to continue though as Brazil get the ball moving again...
2'  Australia come out from that blow swinging and launch an attack but Brazil get it clear. There's a nasty clash of heads in the middle and scorer Souza and Roos defender Trent Sainsbury are down... 
Good lord, that didn't take long, Australian caught completely off guard as Brazil attack from the off, Diego Souza finishing low to make it 1-0. Keeper Mitchell Langerak really should have done better with that, it wasn't exactly a net-buster. Seconds on the clock and Brazil lead!
1'  And we're off.... and Gooooooooool!
The anthems done and the handshakes underway, we're about to get going in Melbourne, Mark Clattenburg trotting to the middle.
The Socceroos earned their place at the June 17-July 2 Confederations Cup by winning the Asian Cup in 2015 and will take on Germany, Cameroon and Chile in the group stage.
Mile Jedinak will be absent today after the Australia captain picked up a groin injury in that win over Saudi Arabia, which will also rule him out of the Confederations Cup in Russia.
Around 15 minutes until kick-off at the Melbourne Cricket Ground now where Australia will aim to build on their 3-2 win over Saudi Arabia last time out.
Samba captain Coutinho celebrated his 25th birthday on Monday. What a week! http://en.as.com/videos/2017/06/12/en/1497273688_060821.html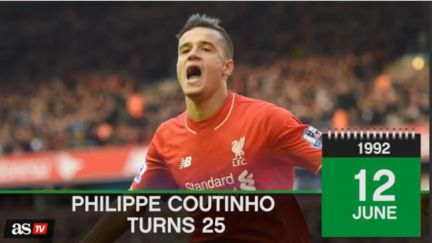 Brazil are without several of their big-name stars for this friendly. No Neymar, Alves, Marcelo, Firmino or Marquinhos. They still have a few decent options, however, and whoever plays will want to show their worth as Russia gets closer. They'll also not want to lose two on the bounce after their defeat to South American rivals, Argentina.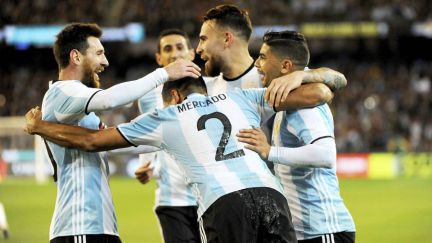 Australian tails will also be up as they recently won the Asian Cup and players will be staking a claim for a place against Germany next time out as they get their Confederations Cup campaign started.
Obviously friendly games bring a different competitive dynamic but in terms of form the Socceroos are doing nicely. Last time out they beat Saudi Arabia in a World Cup qualifier and are enjoying an unbeaten run of eight - winning half of them.
Brazil's captain for the day, as mentioned, will be Liverpool FC's mercurial Philippe Coutinho. He has been speaking ahead of the game about the links connecting him with a possible huge move to LaLiga.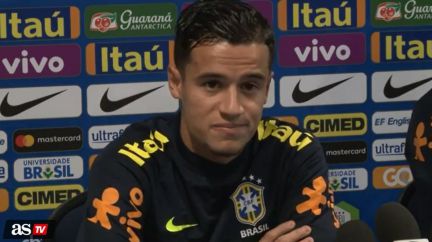 We mentioned the game kicks off at five past noon where we are...but here's how to find out the time (and other viewing options) wherever you are in the world.
To get started, have a read of our preview below and then stay with us as we bring you all the latest news ahead of the game followed, from just after noon our time, by live minute-by-minute coverage.
Good morning from Madrid as we start our build up to the next game in Brazil's trip to Australia, this time against the Socceroos. 
Australia vs Brazil live stream online: preview
Diego Souza will replace injured striker Gabriel Jesus and Philippe Coutinho is line to lead Brazil in Tuesday's friendly with Australia in Melbourne. A replacement had to be found for Manchester City's Jesus, who has returned home after suffering a fractured eye socket in Brazil's 1-0 Superclasico loss to Argentina at the MCG on Friday.
Brazil
It will be Souza's chance to impress team manager Tite ahead of next year's World Cup in Russia and represents his first opportunity to start for Brazil after late substitute appearances in qualifiers against Uruguay and Paraguay this year.
"For me it's great to be called up and to have the opportunity to play," said Souza, who normally plays as an attacking midfielder for Sport Recife. "It will be important to show my best. There are so many centre-forward options in Brazil: Fred, Firmino, Gabriel Jesus, are all looking for a place in the team.
"I've have the dream of maybe being at a World Cup, it's difficult, they're very good players, the competition is great, but I'm enjoying it."
Along with Souza, Brazil are likely to make further team changes with Diego Alves, Rafinha, Rodrigo Caio, Alex Sandro, David Luiz, Giuliano and Douglas Costa all pressing for a start.
Only Thiago Silva, Paulinho and Coutinho are expected to feature from the side that faced Argentina, with the Liverpool midfielder Coutinho in line to captain his country against the Socceroos. Brazilian reports said that Tite would continue the rotation of captains in the national team with Coutinho to take over the captain's armband after Thiago Silva led the team against Argentina on Friday.
Team coordinator Edu Gaspar, the former Arsenal, Valencia and Brazil midfielder, said his country viewed the Socceroos game as vital 2018 World Cup preparation.
"We're not sure yet (about all the changes) Tite (will decide). But our expectations are the same as when we played Argentina," Edu told reporters. "When Brazil goes onto the pitch, we want to do our best and we're very excited to play a good game and play our best."
Brazil, who have already qualified for Russia 2018, did not bring leading stars Neymar, Marcelo, Dani Alves and Roberto Firmino to Australia.
"To be qualified for the World Cup is important, that was our main goal, so the Argentina game was good as preparation," he said. "We had a good game a few players like Thiago Silva, Fernandinho played very well. We didn't want to lose but we can't complain, we didn't have a bad game."
Australia
The Socceroos are coming off a 3-2 home win over Saudi Arabia last Thursday which kept alive their automatic qualifying hopes for next year's World Cup finals. Australia are using the prestige Brazil friendly as their final match preparation for this month's Confederations Cup in Russia.
"Anytime that kind of opportunity comes along you want to make the most of it," Australia coach Ange Postecoglou said.
"I guess the key is not to get too caught up in who the opponent is but make sure you get something out of the exercise."
Former Everton star Tim Cahill is expected to get some game time against Brazil.
---
Australia vs Brazil: betting odds
If you feel like making this friendly match more interesting why not have a little flutter. For expected new captain Coutinho to open the scoring you can get 9/2 at the time of writing.
Bet on Australia vs Brazil now