Serbia U21 vs Spain U21: match report
Spain's second unit took a while to get going on Friday night in Bydgoszcz but they controlled the game without over-exerting themselves. Serbia started well and were ambititious at times thanks to the speed of Radonjic and the presence of Djurdjevic up front but there was always the threat that if they got too ambitious, they would be made to pay.
It was Denis Suarez who gave Spain the lead after 38 minutes when a lovely combination between Iñaki Williams and Alvaro Odriozola allowed the latter to race free and pull the ball back to a waiting Suarez just insde the penalty area. The captain of the side made no mistake as he drilled the ball to the back of the net.
Just minutes later, Spain were given a further boost when Uros Djurdjevic was given his second yellow and marching orders for an elbow to the jaw of Mikel Merino. The Serbian striker protested but it was no use. If they had a difficult job before, it became most unenviable after the sending off.
The second half continued as expected with Serbia struggling to trouble Spain with their disadvantage and the fact that they didn't try to push forward despite being a goal down and out of the tournament in any case. Denis Suarez continued to prode and test Manojlovic but he could not replicate the result of his first half strike.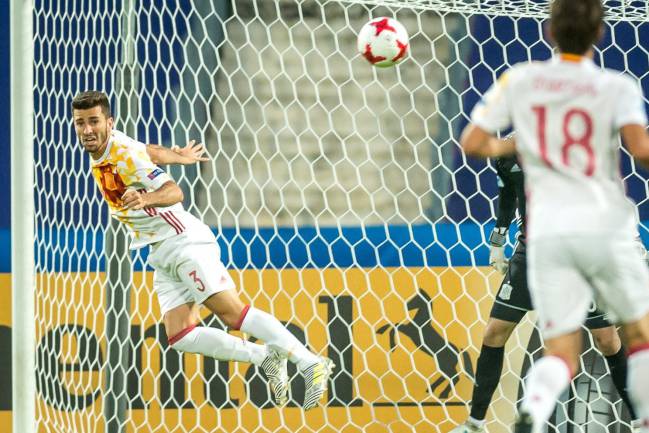 The second half petereed out but in the last 10 minutes the two teams sprung back into life with Serbia fighting for pride and Spain's attackers looking to get on the scoresheet. Mayoral was rejected by Manojlovic with an excellent stop with Lopez making a fine save from Zivkovic up the other end just moments later. That second goals never came though. Spain were solid if not spectacular with Odriozola, at right-back, never putting a foot wrong all night as one or two of Spain's second choice knock on the door of the starting XI.
Having said that, Albert Celades won't have too many questions to answer when it comes to team selection for the semi-final. While his 'second unit' played well and were never troubled, they didn't set Bydgoszcz on fire with their display.
The game ended 1-0 with Serbia's lack of a striker making it almost impossible for them to find a way back into the game. Spain finish the group stages with full points and will now look to the semi-final on Tuesday.
Serbia U21 vs Spain U21: live feed
 90'+1'  Game over! Suarez' strike separates the teams. Solid if not spectacular from Celades' men.
90'+1'  Iñaki fouled as Plavsic looks to win it back and give Serbia a chance! 
89'  Gacinovic with some very fancy footwork to buy himself a yard before he strikes at Lopez. Good save but the winger would have hoped to get mor ebehind that one.
87' Second change for Serbia. Plavsic replaces Lukic
85'  Another lovely save. Lopez this time. Zivkovic has a shot that he tips over the crossbar. So close! 
83'  What a save! Manojlovic saves from Mayoral from point blank range. Really strong hand. Mayoral is disgusted!
82'  Lukic fouled by Rodri. 
81'  The game has lost a little bit of spark now. Serbia lacking ambition to get back into it. Although it's hard with 10 men. 
79'  Spain have had 17 efforts on goal so far! Serbia with just seven.
76'  Denis fouled by Filipovic
73' Radonjic replaced by Ristic.
73'  Serbia's best move. Radonjic chests down a pass into the box and Maksimovic arrives to strike. Lopez saves but more positive than anything we have seen from them in this half.
70'  Very dangerous ball into the box by Zivkovic but only if it was slightly further away form Lopez as he gathers with ease.
68'  Denis continues to move forward. He plays it off to Soler but he loses out. A long ball towards Oyarzabal sees him whistled for offside.
66'  Iñaki links up with Denis and he strikes. Lovely effort but Manojlovic is equal to it. It falls to the Barcelona midfielder again and he misses the target. Getting into some really dangerous positions.
64'  Serbia really struggling to trouble Spain in even the simplest ways. They don't even have anyone in the penalty area let alone anyone getting on the ball in there!
62'  Denis fouled by Veljkovic
60'  Odriozola with a lovely ball onto Iñaki's head but he flahes wide.
59'  Denis takes the ball down closing in on goal, Mayoral takes it off his foot as they cros spaths but he loses it. Chance gone.
58'  The lack of a striker, as you might expect, really hurting Serbia.
56'  Serbia with a little bit of the ball now despite being a man down. They need to create something. Spain managing the game quite well.
53'  Another corner that Veljkovic gets a foot to but Lopez is not troubled by it.
52'  Corner for Serbia. Gacinovic goes down under a challenge from Diego but it's just a corner and nothing more.
51'  Mayoral has a shot and wants a penalty. Caught a hand but referee says it wasn't intentional. It was tucked into his body too. Would have been very harsh.
49'  Iñaki with a run down the wing but he overruns it. 
47'  Denis Suarez through again. Mistake by Manojlovic and it breaks to Suarez befor ehe fires a shot back at the keeper. 
46'  Back underway for the second half.
Players back on the field. Don't seem to be any changes for either side. 
45'  That's it for the first half. Spain looking increasingly more comfortable. Serbia down to 10 men. Denis Suarez with the goal for the Spaniards.
43'  Corner for Spain. Denis Suarez whips it in but a free before it even arrives is blown. 
41'   Djurdjevic with a second yellow for an elbow to the jaw on Mikel Merino. 
40'  After struggling to make any chance in the opening 40, Spain now have two in quick succession. Soler hits it over from close range! 
38'  Lovely, lovely move! Denis Suarez finished with style after Odriozola pulls it back to him. The combo with Iñaki Williams what created the chance.
36'  Radonjic leaves Odriozola in his wake. His cross is perfect but there's nobody there to get a touch on it as it goes across the goalmouth.
34'  Mayoral breaks free from a challenge and has the whole field open to him. He plays it to Suarez, who spots Odriozola streaking up the right. His pass is too far ahead of the Real sociedad right-back and it goes out for a throw.
32'  Chances few and far between for Spain. Gaya has a shot from outside the box but it's always drifting wide.
30'  Odriozola in a race with Radonjic. Neck and neck but it goes out over the line for a restart. 
29'  Serbia remain well organised at the back. Very little space for Spain to move around in up front.
28'  Another shot by Djurdjevic bit he's further out this time and doesn't catch it cleanly. Another handy save for Lopez.
26'  Denis Suarez breaks into enemy territory and has a crack that hits the side netting. Decent effort! 
25'  Chance for Serbia but Radonjic can't reach the ball that's crossed. He had space in the box on his own too!
24'  Mayoral goes down again and Maksimovic wants action taken. No contact and he fell to the ground.
22'  Denis lines up the free from out on the left. Mayoral ttries to take it down but he leaves his leg in and a sErbian defender lunges at him before he goes down looking for a penalty. 
21' Djurdjevic fouls Gaya and gets himself in the referee's book for his trouble.
18'  Carlos Soler through on goal. He tries a chip but Manojlovic saves it with a hand. He got a lovely ball from Diego from deep. A little lucky but he should finish that.
17'  Suarez looks for another ball in behind for Gaya but it's cut out this time. He's trying to do a little too much at times, it seems.
15'  Djurdjevic with a chance from a throuygh ball. Lovely run but he had more time than he thought. He strikes it first time and Lopez gets down to collect it. 
14'  Denis with a lovely through ball to Gaya. His cross is headed clear and Suarez fouls Gacinovic as the ball bounces in between the two of them.
13'  Odriozola wins a throw. All Spain now as they continue to push further up the field.
11'  Denis Suarez looks for an ambitious pass over the top but Manojlovic collects it.
10'  Chance for Spain. Mayoral gets the ball out wide and plays it to Williams but his left-footed effort is blocked.
8'  Spain taking back control and playing the game at the pace they want.
6'  Serbia looking decent going forward. Decent and dangerous.
6'  Mayoral wins it for Spain high up the field and lays it off to Suarez but he's dispossessed. 
5'  He grabs his head in his hands. he knows how bad that was!
5'  From the corner, the striker heads it down and Veljkovic puts it over from two yards out! Very poor. 
4'  Gacinovic gets in behind and the ball arrives into him. He squares, or tries to, to Djurdjevic but Spain scramble it away for a corner.
3'  Serbia with more of the ball in the early going. Merino is forced to clear from a cross. Serbia back in control.
3'  Radonjic with a nice move inside the box but it's nicked off his foot. Spain recover. 
2'  Mikel Merino tries a through ball that's cut out and the return ball by Serbia sees Djurdjevic ruled out for offside.
1'  We are underway!
After the Spanish national anthem, we have the Serbian's. 
A massive chance for Iñaki Williams to convince tonight. gerard Deulofeu has been so-so in his two games and Williams scored a beautiful goal in the second game. If Iñaki Williams scores and does wll tonight, that situation has to be revisited.
They're showing Asesnio's hat-trick from the Macedonia game. That third goal was a thing of beauty.
Rodri will most likely play in midfield with Mikel Merino at centre-back. A really good chance for Celades to rest his entire first team given the frequency of the games. As if they needed another advantage!
Serbia XI: Manoljovic, Veljkovic, Jovanovic, Filipovic, Antonov, Lukic, Gacinovic, Maksinovic, Zivkovic, Radonjic, Djurdjevic
11 changes for Celades tonight. Lopez, Odriozola, Gonzalez, Merino, Gaya, Soler, Suarez, Oyarazabal, Williams, Rodri, Mayoral.
Mijat Gacinovic, Serbia's number 10, will be a man to watch this evening. The Eintracht Frankfurt midfielder has excelled in a deeper position in the Bundesliga. 
Spain's goalkeeper, Kepa Arrizabalaga, looks set to extend his contract at Athletic Bilbao until 2022. That would include a release clause of €50m.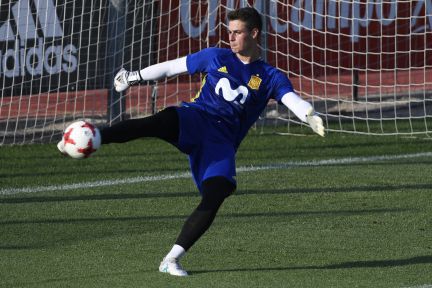 Slovakia beat Sweden 3-0 to finish second in Group A and they've got a good chance of being the best runner-up, meaning they could be Spain's rivals in the semi-final, to be played on 27 July.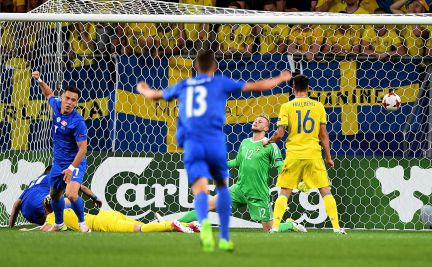 The last time these two sides met was in the playoffs for the 2015 championships. Serbia came out on top over the two legs: a 2-1 away win following a goalless encounter in Jagodina. Spain were at the time targeting a third consecutive U21 Euro title. Real Madrid's Isco was part of that side.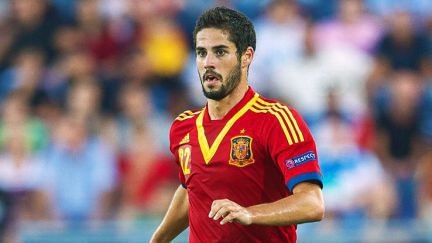 There are seven Serbian players a yellow card away from a ban in the tournament but as this doesn't have a direct impact this year let's look at Spain's. Just the two - Dani Ceballos and Jorge Meré - but that may help make a decision or two about the line-up for Celades.
Spain coach Celades is not going into this game with a who cares attitude: "Independent of the fact the points aren't needed for qualifying, we want to go into the semi-finals with the right feeling and to give a good display and win the game," he said.
The referee for tonight's game is Lithuania's Gediminas Mažeika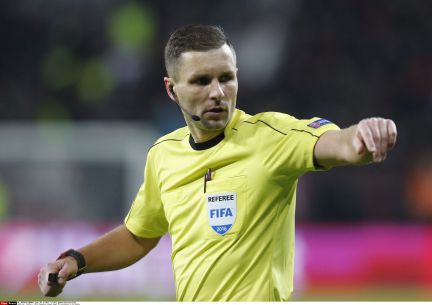 If you haven't already, have avert your eyes down and check out our preview to the match. After that, stay with us through the day for all the latest news ahead of our live coverage.
Welcome to our build-up to the third and final group game for both Serbia and Spain in the Euro U21s. Both teams with very different plans after this game - Serbia going home, Spain off to the semis.
Serbia U21 vs Spain U21: match preview
Serbia team info
After a 2-0 loss to Portugal in the opening game, Serbia went on to draw with Macedonia 2-2. Mijat Gaćinović was the man of the match in that game and he will be up against his former Eintracht Frankfurt teammate in Jesus Vallejo on Friday night. And fortunately, although they cannot progress in this tournament, the Serbians will be ready to cause an upset against one of the favourites,
The worrying thing for Serbia, who are fighting a losing battle in any case, is that they will be missing Marko Grujić and Radovan Pankov who picked up two yellows in their first two games. While Pankov hasn't played and got banned for an indiscretion after the whistle in the Macedonia game, Grujić of Liverpool FC fame is a lynchpin in the Serbian midfield.
They will need to compensate for his loss while also trying their best to keep Spain out and create enough going forward to go out of the tournament on a high.
Spain team info
Albert Celades has so much talent in his squad that nobody has kicked up a fuss about starting. There are players on the bench that would be stars of the other nation and we might get a chance to see them on Friday night.
After beating Macedonia 5-0 in the first game and showing patience and guile against Portugal in a showdown of two powers at underage international level, they have shown their credentials to anyone who was silly enough to ask for them.
Marco Asensio, while quiet against Portugal in an attacking sense, made excellent use of the ball and continues to excel in Celades' side. Saul continues to be a driving force for his country and scored a lovely goal against Portugal that removed some early nerves. The defense is solid, the midfield is exceptional with and without the ball and their attack is dynamic and dangerous.
It will be interesting to see how Celades picks his team on Friday night but whoever it is, they will be keen to impress in an effort to snatch some playing time in the semi-final.
---
Serbia U21 vs Spain U21: betting odds
With progression to the last four not now on the line for Serbia, and Spain impressing in their first two games, you can get a decent price on the former winning the game, 6/1 at the time of writing. And remember Spain have already qualified so may rest a number of key players.
Follow the live coverage match of U-21 European Championships semi-final between: Spain-Italy
Line-ups
Nenad Lalatovic
4-3-3
22

Srdan Plavsic

20

Mihailo Ristic