Chile-Germany live online: Confederations Cup final
Don't miss a minute of Chile vs Germany live online. The final of the 2017 Confederations Cup live minute by minute from Saint Peterburg (Russia) with an 20:00 CEST kick-off.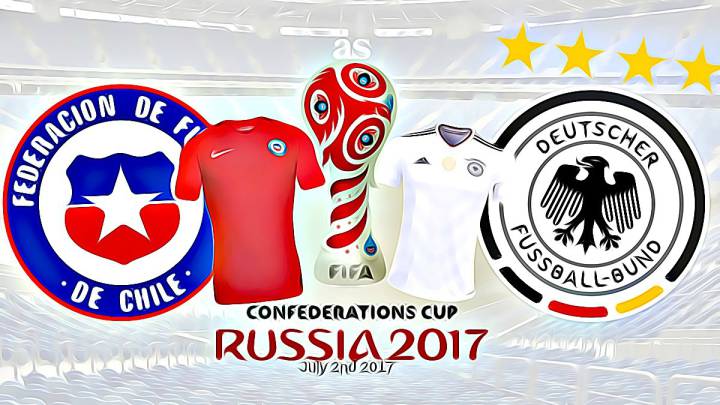 Hello and welcome to our build-up ahead of live online minute by minute coverage of the 2017 Confederations Cup final as Chile face Germany in Saint Peterburg. Kick-off this evening is 20:00 CEST.
90'+5' Full time. Germany have won the 2017 Confederations Cup. 
90'+4' Sánchez, shorts rolled up, curls the free-kick towards the bottom corner. Ter Stegen parries it clear, with Vidal agonisingly close to meeting the rebound. 
90'+3' Excellent defending from Medel to prevent Stindl getting through on goal. Up at the other end, Ginter fouls Valencia, and Chile have a free-kick 25 yards out. It's last-chance saloon for La Roja. 
90'+2' Rudy is booked, and Claudio Bravo strides in to the Germany half to launch the free-kick towards goal. His delivery is woeful, and Germany clear. 
90'+1' Löw sends on fresh legs. Suele for Goretzka. 
90' Five minutes of added time for Chile to find an equaliser. 
90' Löw is on the pitch diffusing a scrap! Emre Can is fouled and refuses to let go of the ball. A herd of Chileans come steaming in, Medel leading the charge. Can and Bravo are both booked. 
88' Germany have a half-chance for a second. Draxler heads the ball in to Bravo's arms after a swift counter-attack. 
86' Medel eases Stindl off the ball, as the goalscorer sought to sneak in one-on-one. You've seen penalties given for challenges like that... Medel didn't make an attempt to play the ball, he just leant in to the man. 
84' I think that was the moment for Chile... Sánchez' cross is deflected, and Puch manages to keep it in play and square it to his fellow substitute Sagal. Five yards out, Chile's number 9 manages to get right under the ball and send it well over. That will probably land in Siberia. A golden chance goes begging. 
83' Edson Puch, who is another player plying his trade in Mexico, tries to scamper around the outside of Ruediger. The big defender sticks a foot in to send it out for a corner, which Germany clear. 
81' Double change for Chile. Aránguiz and Vargas off, Sagal and Puch on. 
80' Aránguiz rasps a daisy-cutter towards the far post. It was going wide, but Ter Stegen tips it behind anyway. Depsite an acrobatic effort from Vidal, Germany clear. The Bayern midfielder thrashes the grass in frustration. 
78' Emre Can replaces Timo Werner. A defensive move to sure up the German midfield, which has been porous in the last few minutes. 
75' Chile want a penalty after Sánchez was up-ended. The Arsenal man sits on the floor, gesturing that it should go to the VAR. Vidal shoots over from close range after the ball dropped. Vargas is booked for being over-eager in his protests, and now the referee is having a word with Juan Antonio Pizzi. 
73' Vargas tests Ter Stegen. The striker receives the ball in the box with his back to goal, spins, and hits a low shot straight at the 'keeper. He did well to get a shot away. 
72' Sánchez cuts inside past a flying Goretzka, but there are too many bodies between him and the goal. One of them, Mustafi, blocks his shot, but Chile come again. Germany are being pushed back towards their own goal. 
71'  Kimmich is penalised for a foul on Beauseour. No aggro with Vidal on this occasion. 
69' It's all become rather scrappy and disjointed in the second half. Chile have lost the attakcing verve that they started the match with. 
65' After taking their sweet time, Jara is given a yellow card. He's a lucky boy. The replays weren't kind to him, it looked like a clear elbow in the chops. 
63' Werner is down in a heap following a challenge from Jara. The tackle was clean, but the former Nottingham Forest defender caught Werner on the cheek as he followed through. Hang on, we've gone to the VAR... Jara could be in a pickle. There was an elbow involved. 
59' There's a ding-dong between Kimmich and Vidal, team-mates at Bayern. Kimmich had a coming together wiith Bravo, and Vidal came steaming in with a shove. Both are booked. 
57' Germany with a free-kick on the right flank after Sánchez fouled Kimmich. Goretzka swings in a lovely ball, and after a bit of pin-ball it lands, quite literally, in Vidal's lap. He adjusts his body on the floor and clears. 
55' Strong run from Draxler in to the box. It looks for a moment like Werner will take the ball off his toes, but he doesn't and only a flying block from Jara prevents him doubling Germany's lead. The subsequent corner is woefully underhit, and Chile clear at the near post. 
53' Pizzi makes his first change, sending on Leo Valencia in the place of Marcelo Díaz, who was at fault for the Germany goal. Valencia plays for Palestino in the Chilean division, and they have a lovely kit. 
50' Timo Werner, a villain figure in Germany due to his club (RB Leipzig) and his tendancy to take a tumble under light contact, is threaded through, but Medel does well to cover. Germany attack once again. A through ball to Stindl is over-cooked, forcing Bravo to shepherd the ball out of play for a goal kick. I'm a big fan of goalkeepers shepherding the ball - that is the definition of 'living life on the edge'. 
47' Tuco Hernández stands over the ball for a free-kick, 40 yards out. He plays it short, and Chile keep hold of the ball. 
46'  Germany get the second half going!
 Here's the exact moment of the robbery. Werner on Díaz. It's like an episode of Crimewatch.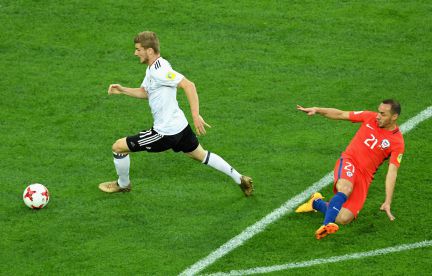 Well, that was really fun. Chile came flying out of the traps, but a momentary lapse of concentration by Marcelo Díaz allowed Germany to open the scoring through Stindl. The Germans could have been further ahead, with Chilean defenders determined to pass the ball straight to white shirts. 
45' Halt time. 
45' Watching Chile is not good for the heart... Jara passes the ball straight to Draxler. He plays the ball to Goretzka deep inside the box, but Claudio Bravo does well to make himself big and block the shot. 
43' Beausejour and Isla have got absolute license to roam. Like wild horses marauding up the wings, they are. Isla steals the ball from Rudiger by the corner flag, and lays it off to Aránguiz who crosses to the far post. Sánchez leaps, but not quite enough. The ball goes straight up off the top of his head and Ter Stegen claims. 
40' Werner gets his head down and dribbles towards goal. He looks up, tries to work space for a shot, and lays it off to Draxler to shoot. He pulls a low shot just wide. Germany are growing in to this as we approach half time. 
38' More trouble for Chile as a result of the entire team attacking with gusto. Germany break with a one-man advantage. Only Medel and Jara are back. The ball find its way to Timo Werner, but just as he's about to pull the trigger, Isla gets back to boot the ball out for a corner, which Chile glance clear at the near post. 
36' Leon Goretzka goes close. The Schalke man allowed the ball to roll across his body on the right side of the box, before flashing a shot towards Bravo's far post. It whizzes narrowly wide. 
33' Aránguiz buries his face in the turf after an agricultural challenge from Draxler. He'll be fine to carry on though, and Draxler receives a stern word from the referee, Milorad Mazic from Serbia. 
32' Chile's high-press is all well and good if they manage to harry the German defence in to a mistake. But so far this evening, Löw's team have played out from the back with precision, meaning that when they get beyond that first wave of red shirts, there's a lot of space to exploit. 
29' Vidal finds Sánchez on the right flank, and he whips a sumptuously-shaped cross towards Vargas at the far post. Plenty of pace and dip on that, but it's marginally too high for Vargas, who now makes his living with Tigres in Mexico. 
27' Chile return to be their own worst enemy. Gary Medel takes to much time to clear a bouncing ball, and Werner nips in to head it on to Draxler. Medel's blushes are spared as the PSG maestro was narrowly offside. 
26' 64% of possession for Chile. But they were careless with it at the crucial moment, and that's why Germany lead. 
25' Again, Germany play out nicely from the back and Draxler has the chance to stretch his legs. He strides towards the box, but a well-timed tackle by Gary Medel ends the danger. 
22' It will be interesting to see how Chile react to that goal, which was completely against the run of play. Marcelo Díaz was far too casual. He was so preoccupied with turning away from Stindl, that he neglected the fact that Werner was sneaking up behind him like a pantomime villain. 
20' GOL GOL GOL! A defensive catastrophe from Díaz gifts Werner the ball on the edge of the box. He commits Bravo, and squares it to Stindl who passes the ball in to an empty net. 
18' Marcelo Díaz is fouled outside the box. Chile opt for a short-free-kick routine, with Sánchez and Isla combining neatly on the right to work their way in to the box. Isla fizzes a cross across goal, but a German defender gets a head to it. 
16' Chile have taken 5 shots to Germany's 1. La Roja are shooting on sight, probably encouraged by Ter Stegen's shakiness in Germany's match against Cameroon. 
14' Lars Stindl steams down the right flank and hangs a cross in to the near post. Aránguiz gets back to nod it behind for a corner, which is cleared. That Germany attack came after Ter Stegen had done really well to play a ball out to Ruediger, over the top of the rabid Chilean press. 
12' Goretzka is robbed by Sánchez in the Germany half, and he hits a low, rasping shot that Ter Stegen manages to smother. It has been 'all Chile' in the early stages. 
10' Lovely, lovely feet from Sánchez on the edge of the box to nip away from Rudy. The ball looked like it was magnetically attached to his boot. Sánchez doesn't manage to work enough space for a shot, and the ball is cleared for a corner. Germany clear, but they can't hold on to the ball at the moment. 
9' As expected, Señor Pizzi's team are pressing Germany with ferocity high up the pitch. Sánchez steams towards Ruediger, forcing him to knock a hopeful ball inthe general direction of Timo Werner, and Chile regain possession. 
7' Vidal has a pop from range. It's not a great connection from the man with the intricate barnet. Goal kick to Germany. 
4' A good chance for Chile. Vidal lifts a lovely ball through to Aránguiz, who takes it down and bursts in to the box beyond Rüdiger. He lays the ball off to Vidal in the box, who sees his toe-poke blocked by a combination of Ter Stegen and Ginter. 
3' Arturo Vidal is playing in an advanced role, just behind Vargas and Sánchez. He links up well with Vargas on the egde of the box, but the linesman lifts his flag for offside. 
2' Chile stride forward and Alexis Sánchez registers the first shot of the match. It's not his best - the Arsenal man drags the ball wide of goal. The South Americans are looking very comfortable in possession in the early stages. 
1' Chile get us underway in the final of the 2017 Confederations Cup!
Arturo Vidal, eyes shut, hand on chest, absolutely pumps out the Chilean national anthem. 
Out come the teams! Die Mannschaft sporting some rather smart tracksuit tops. 
A marching band led by an man-size unidentified fluffy creature. Great fun during the closing ceremony.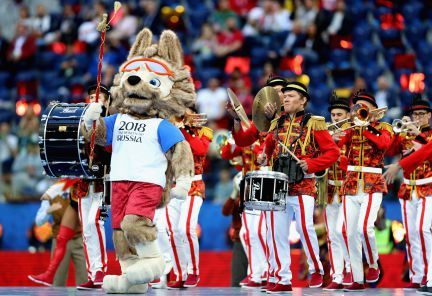 Germany and Chile met in the group stage of the tournament a couple of weeks ago in Kazan. Stindl and Sánchez were on the scoresheet in a 1-1 draw. 
A rather bemused-looking Ronaldo with the Confederations Cup trophy.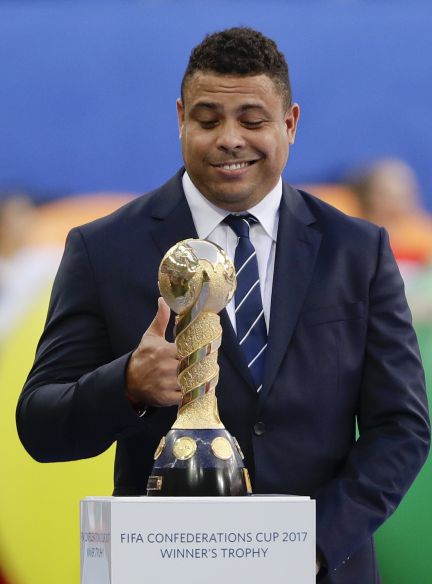 Leon Goretzka is the man of the moment for Germany. The Schalke midfielder scored a quick-fire double in the semi-final win over Mexico. He's a powerful runner with similarities to Steven Gerrard in terms of how he's able to burst forward with long strides. 
 The leading cap-holder for Germany is Julian Draxler with 34. 
There are four players in the Chile team with more than 100 caps: Bravo (114), Sánchez (114), Jara (106), and Medel (104). Vidal and Isla (both 94) are not far off their centuries. 
We've had the calculator out in AS Towers. The players in the Chile starting XI have 931 caps between them. The players in the German starting XI have 182 caps between them. 
TEAM NEWS! Chile XI: Bravo, Isla, Hernández, Sánchez, Vidal, Medel, Vargas, Díaz, Jara, Aránguiz, Beausejour. 
 Mustafi for Henrichs is the only Germany change from the semi-final win over Mexico. 
TEAM NEWS! Germany XI: Ter Stegen, Mustafi, Hector, Ginter, Draxler (c), Goretzka, Werner, Stindl, Rüdiger, Kimmich, Rudy.
Juan Antonio Pizzi is in the Chile dugout. The Argentine took over in January 2016, replacing Jorge Sampaoli. He was previously in charge of León in the Mexican league.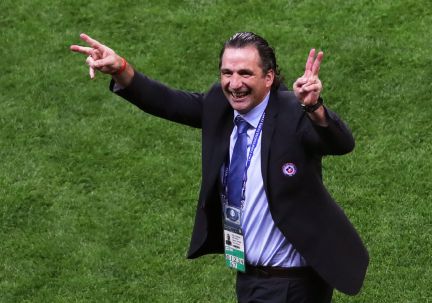 Löw is the longest-serving international manager in Europe. He took over Die Mannschaft in July 2006, shortly after Germany had hosted the World Cup.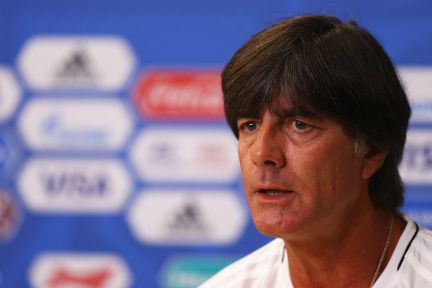 Joachim Löw has been very complimentary of Chile in his pre-match comments. "We admire Chile and their national team. It's a small country that has beaten Argentina and Brazil in the Copa América. They have eight or nine players among the elite."
Russian President Vladimir Putin will not be at the final in Saint Petersburg. He's tied up on state business, but Vitali Mutko, the president of the Russian Football Union and the ex-president of Zenit, will attend.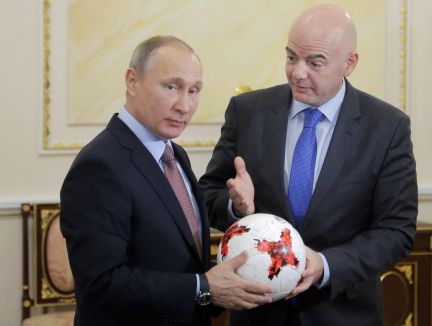 With just under five hours remaining until kick-off, here's a reminder of how and where to watch this evening's Confederations Cup final.
Pic. of the official Adidas Krasava 2017 Confed Cup final match ball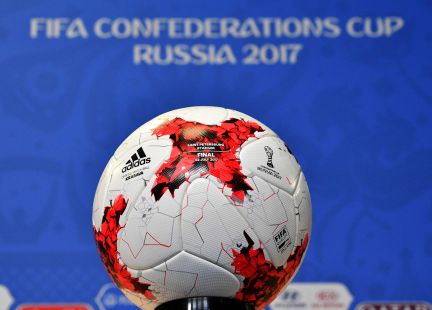 Chile can prove they're the world's best, says Arturo Vidal. Read more from his pre match press conference here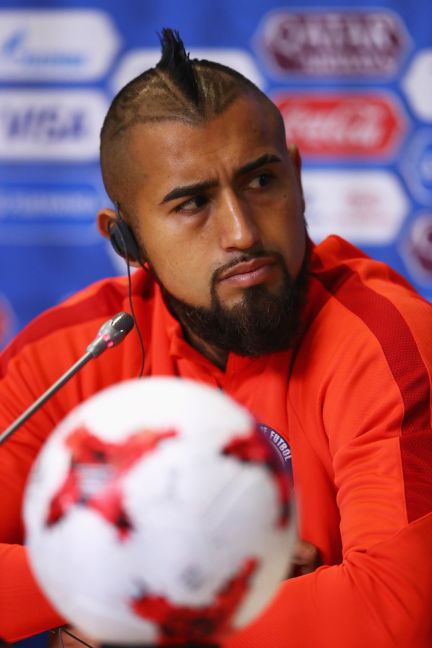 Hello and welcome to our build-up ahead of live online minute by minute coverage of the 2017 Confederations Cup final as Chile face Germany in Saint Petersburg. Kick-off this evening is 20:00 CEST.
Chile v Germany live online, Confederations Cup final: build up
Chile v Germany live, Confederations Cup final: preview
We will have a maiden winner of the Confederations cup on Sunday night regardless of who comes out on top. In a game that is as much a battle of styles as it is about youth versus experience, Germany play Chile in a repeat of the group game that finished 1-1.
The Germans average age is south of 24 while Chile's is just under 30 with plenty of their players having breached the three-decade mark. The closest a German player comes to 30 is Lars Stindl at the ripe old age of 28.
The battle for the Golden Boot rages on with German duo, Leon Goretzka and Timo Werner in prime position to pick up the award. Both players have three goals with Lars Stindl just one behind them on two. Ronaldo also has two but he was released by Portugal to meet his new bundles of joy and will not play in the third place playoff.
Chile
Artuto Vidal believes Chile can become the best team in the world if they can manage to beat Germany on Sunday having discarded of Portugal, the European champions, in the last game. A win over Germany would mean a double over the World and Euro champs, which is the logic behind the Bayern Munich man's thinking.
Juan Antonio Pizzi has replaced Jorge Sampaoli, who replaced Marcelo Bielsa after a brief spell by Claudio Borghi on the sideline for Chile. That does not mean, however, that their style has changed. Germany know all too well about their energetic approach. Shokdran Mustafi was the subject of plenty of pressure early during the group game and coughed up the ball in order to let Alexis Sanchez in for the opening goal. Germany will need to make sure they don't let the same thing happen again.
They do, however, tend to tire as the game progresses and this might be a reason why Germany opted to sit back against Mexico and soak up pressure early in the first half before controlling the tempo and the game as Mexico tired in the second half allowing them to wrap up the game with two later goals.The German coach says, "Chile are the most powerful opponents in this tournament, we know them pretty well and we expect them to go for it in the final."
Germany
Joachim Loew left many of his first team squad at home and opted for youth in the tournament but that does not necessarily mean there has been a drop in quality with those stepping in eager to make a name for themselves ahead of a crucial period before the World Cup in 2018.
The Germans played quite conservatively in the semi-final against Mexico but were capable of attacking with pace and purpose when required. They tore Juan Carlos Osorio's side to shreds when given the chance, and even sometimes when they weren't give the chance, and were 2-0 up before 10 minutes had been played in the game.
Leon Goretzka scored both of those goals but livewire Timo Werner and substitute Younes wrapped up the scoring to prove they have plenty of resources on the bench and strength in even their most inexperienced players.
Possible line-ups:
Chile: Claudio Bravo; Mauricio Isla, Gary Medel, Gonzalo Jara, Jean Beausejour; Pablo Hernandez, Marcelo Diaz, Charles Aranguiz, Arturo Vidal; Eduardo Vargas, Alexis Sanchez
Germany: Marc-Andre Ter Stegen; Matthias Ginter, Antonio Rudiger, Niklas Sule; Joshua Kimmich, Sebastian Rudy, Leon Goretzka, Jonas Hector; Lars Stindl, Julian Draxler; Timo Werner
Chile v Germany: Confederations Cup final betting
Germany's Emre Can to be the first name on tonight's scoreboard at the Saint Petersburg pays out at a respectable 22/1.