Once again in the summer transfer market, clubs around Europe are cranking up their efforts to find those perceived missing pieces of their footballing jigsaw puzzles. Join AS English for live transfer news throughout the day as we keep you up to date on all the movements happening in European leagues and beyond. Rumours, talks, expected deals, completed signings, contract extensions - it'll all be covered right here.
Transfer market live: Saturday 22 July 2017
One of the Neymar knock-on rumours is that Barcelona would spend big on Liverpool's Coutinho (actually there is talk they'd like to have both!). But The Reds' manager Jürgen Klopp doesn't see it happening.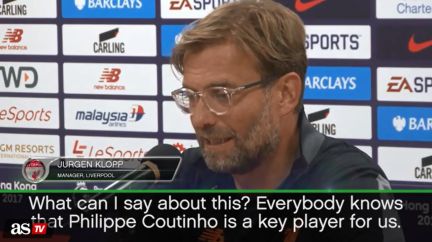 Sticking on the Parisian theme, Unai Emery has confirmed that Polish midfielder Grzgorz Krychowiak will leave PSG this summer. Atlético Madrid are interested in the Polish midfielder. 
In other PSG-related news, Neymar has met with Barça president Bartomeu in the United States, and has informed him of his intention to leave the club. No prizes for guessing where to... 
Carlos Vela has arrived back in San Sebastián where he will discuss his future with Real Sociedad. The Mexican's contract is due to expire in June 2018 and he has received a number of offers - from England, France and one from Germany believed to be from Wolfsburg. However, La Real's return to European competition could persuade him to stay on. Should he decide to stay where his is, the Basque side will offer him a contract extension. Vela will talk it over with president Jokin Aperribay and Loren during the next few days.
Barça president Josep Maria Bartomeu held a meeting with Neymar at the Red Bull Arena in New Jersey yesterday to discuss the player's future and both were seen leaving with long faces afterwards.