When SKA Khabarovsk secured their first-ever promotion to Russia's Premier League last May, there was no time to dwell on the loud groans emanating from Moscow and St Petersburg, some seven time zones away.
Instead, fans of the far-eastern club, whose ground is roughly 20 kilometres from the country's border with China, were busy basking in an unlikely achievement.
The far-flung minnows reached Russia's top division following a nail-biting shootout victory over Orenburg in the relegation play-offs.
ФК «СКА-Хабаровск» сообщает о подписании контракта с защитником национальной сборной Грузии Георгием Наваловским.

Добро пожаловать! pic.twitter.com/z04JzBfe57

— ФК «СКА-Хабаровск» (@fcska) 26 July 2017
8,300 km from Russian capital
Now the club is the curse of much of the Russian football elite, which lives in dread of the long-haul visit to the club's 15,000-seater Lenin stadium located 8,300 kilometres away from Moscow.
Khabarovsk is an eight-hour flight from the Russian capital and even further from St Petersburg.
"Few people believed we would be successful as Orenburg are a far more wealthy club than we are," Yury Sobeshchuk, SKA's press spokesman, told AFP by telephone.
"Many of the country's small clubs' representatives expressed their gratitude to us, saying they were pleased money doesn't yet decide everything in our football."
Founded in 1946, FC SKA has long lived in the shadow of the city's more famous bandy and ice hockey teams.
But now the club can look forward to dates with Russia's most storied clubs, even if the feeling is far from mutual.
"The hopes of our supporters came true. They have finally received a chance to watch the country's top teams live," Sobeshchuk said.
"And our first Premier League match with Zenit (St Petersburg), which was sold out in just few hours, showed the serious rise of interest in football in Khabarovsk."
Poor season start
The season-opener marked an inauspicious start to life in the big time as SKA were beaten 2-0 by Italian Roberto Mancini's Zenit.
After the game the Zenit captain and Mancini's compatriot Domenico Criscito branded the flight to Khabarovsk as "the worst in my life".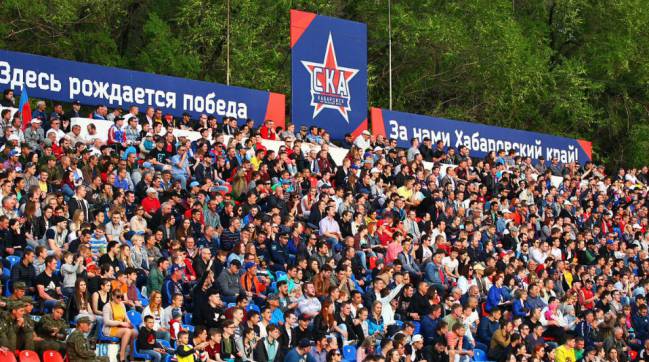 Khabarovsk is not the most easternmost team to have competed in Russia's top flight, however.
Luch Vladivostok and Okean Nakhodka, who played in the country's elite division in the early 1990's, are both based 100km further east of the club.
For fans of Zenit and the Moscow clubs, an away trip to Khabarovsk means a choice between a lengthy flight and a train journey lasting more than five days.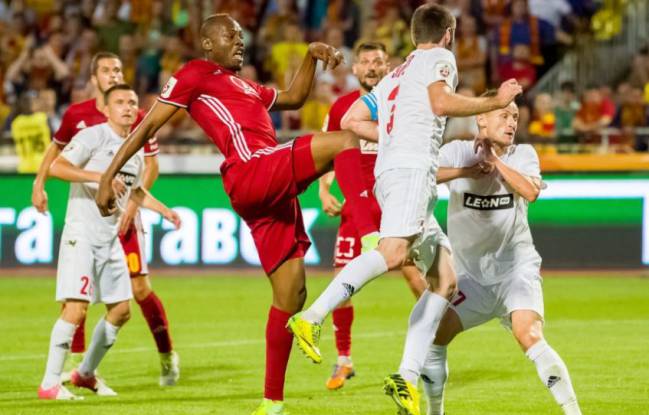 "I'd like to attend every away game of Spartak (Moscow) but I just cannot afford to buy the plane tickets to Khabarovsk and back," 29-year-old Sergei Trofimov, a supporter of one of the country's most celebrated clubs told AFP.
"It's too expensive. And I will definitely never dare to go there by train.
"Of course SKA are not to be blamed for their city's distant location but it will be much more convenient without them in the Premier League."
Fans of Russia's big hitters might well see their wishes fulfilled come the end of the season.
After the home defeat against Zenit, SKA Khabarovsk have also lost 1-0 to fellow strugglers FC Arsenal Tula on the road, hinting at a long, hard campaign ahead.
But for the moment relegation is a distant prospect for the club's jubilant fans.
"Now we have got a chance to show our worth, to bring joy to our supporters, Sobeshchuk said. "We're set to do our best to extend this fairytale as long as possible."