Netherlands 4-2 Denmark: match report
A brace from Vivianne Miedema led hosts Netherlands to a 4-2 win over Denmark and their first women's Euro title in Enschede on Sunday.
Miedema pulled the hosts level at 1-1 on ten minutes and added her second goal two minutes from the end to round off the scoring, with Lieke Martens and skipper Sherida Spitse also scoring for the champions.
Denmark took the lead as Nadia Nadim scored from the penalty spot on six minutes after Kika van Es had brought down Sanne Troelsgaard in the box.
Miedema then fired home a superb cross from right winger Shanice van de Sanden who had outsprinted Cecilie Sandvej on the wing.
Martens turned with the ball just outside the box in the 28th minute and her low left-footer beat diving Danish keeper Stina Petersen at her left post.
The valiant Danes equalised on 33 minutes when skipper Pernille Harder picked up a long pass on the right wing, took it inside the box and wrong-footed Dutch keeper Sari van Veenendaal, scoring with a low left-foot shot to her left post.
All square at the break
Spitse then scored five minutes after the break with a low shot from a free-kick and Miedema made it 4-2 after fooling a defender inside the box and beating Petersen with a low shot in the 89th minute.
The Dutch are only the fourth team to lift the trophy after eight-time champions Germany, two-time winners Norway and Sweden, who won the first edition in 1984.
Denmark, like the Dutch playing in their first final, made two changes in their starting line-up as Sofie Junge Pedersen replaced midfielder Line Jensen, out with a torn knee ligament, while Sandvej came in for left-back Line Roddik.
Propelled by a sold-out Twente stadium in Enschede, the Dutch dominated the early minutes of a very lively first half, but Denmark's first goal levelled the situation on the pitch.
Martens could have extended her scoring record after 15 minutes, when van de Sanden's low cross found her inside the box, but Petersen had little trouble clearing her weak shot.
Nadim had two good chances to add to her opener, but her one-on-one with Van Veenendaal ended in the hands of the Dutch keeper and then she missed a cross.
In the second half, Van Es sent a long-range shot wide, Petersen superbly stopped Miedema's blast from longange and Jackie Groenen narrowly missed from long range.
At the other end, Katrine Veje's attempt from inside the box missed the Dutch goal, just like a rebound from a corner by substitute Frederikke Thogersen.
Troelsgaard missed the top corner by an inch five minutes from the end as the Danes pushed for an equaliser.
Netherlands vs Denmark Euro 2017 final: As it happened
90'+4'  GAME OVER! Netherlands are the winners of euro 2017! Excellent game and convincing performance from the winners. 
90'+2'  Four added on but Denmark will do well to find one, let alone two.
90'  Jansen comes on for Van de Sanden.
89' 4-2! Game over. Miedema's third in two games. She cuts inside and strikes with her right. Keeper had no chance.
88'  Martens in the corner trying to take time off the clock.
84'  Troelsgaard gets a shot away. My word, that was close! 
83'  Van de Sanden is away again as Denmark spurn another half chance. She heads for the corner but Denmark dispossess her easily and break. Cross by Nadin and it lands to Harder but she can't get a shot off. She pokes it to Troelsgaard but her shot is blocked. Denmark eventually win a corner.
81'  Time of the essence now for Denmark.
80'  Netherlands have it in the corner and don't seem to be killing time but in no hurry to speed things up.
77'  Boye replaced by Roddik.
75'  Boye down and holding her knee. Doesn't look great but physios on the field checking it out now.
73'  Cross comes in and headed by Junge.
72' Yellow for Van der Gragt as she hauls down Harder.
70'  Groenen finds a yard in front of the penalty area and lines up a shot. She slices it wide though. Close. 
68'  Cross comes in and Thoegersen gets on the end of a failed punch by Veenendaal. She strikes wide with the left though.
Thoegersen replaces Kildemoes.
66'  Veje wins a corner for Denmark.
64'  Harder wins the ball back on the right. She crosses and Veje strikes but it is just inches wide. Perfect strike but lacking accuracy.
62'  What a save. Troelsgaard loses out to Van de Donk. She crosses and Miedama volleys at the back post but Lykke saves. Absolutely brilliant.
61'  Cross by Veje is too strong and goes out for a goal-kick on the other side.
59'  Denmark trying to figure out a way back into the game. Still 3-2 to Netherlands.
56' Janssen comes in for Van Lunteren. The defender hurt herself in the first half but continued. Taken off just before the hour mark.
54'  What a pass by Martens to open it up for Van de Sanden. Denmark recover though. The winger didn't have the support she might have wanted and Denmark manage to get enough bodies back.
51' It's Spitse. Martins ran over it and Spitse strikes low leaving Lykke stuck to the ground.
50'  Free for Netherlands in a nice position. Martins lining it up. 
47'  Corner for Denmark. 
46'  We are back underway.
45'+2'  That's it for the first half in which we saw four goals and plenty of action. Netherlands looked like they might take control but Denmark looking more dangerous as the game progressed.
45'+1'  Two minutes of added time. 
45' Nadim has a proper shout at the lineswoman after fouling her marker. She gets booked too for her troubles.
43'  Harder with the free but she sends it high and over. 
41' Dekker booked for the foul, and not helped by her protests after.
41'  Harder fouled as Nadim sends her free with a through ball. Dekker not happy but she clearly obstructed the Danish striker.
37'  Penalty shout. Veje shoots with her left as the ball comes over the top but Van Lunteren takes her down. The Netherlands defender is injured and Veje is fine but could have been a penalty! Van Lunteren is very lucky.
35'  Harder a little over zealous that time. She tripped up Van der Gragt as the ball made it's way down the field.
33' Officially a goalfest! Harder draws Denmark level yet again. she stays onside and makes her way into the penalty are before striking with her left beyond a flat-footed Van Veenendaal.
Better from Denmark.
30'  Oh, Nadim through but Van Veenendaal gets out and gets an important hand to the ball, sending the striker and the ball to an impossible angle for a shot. She sends it back towards the danger area but Netherlands recover.
28' Martens with the goal! She gets it in the centre of the field, turns onto her left and unleashes a shot that is drifting away from Lykke. 2-1 to Netherlands.
Water break. 
23'  Miedema fouled by Larsen as she receives the ball and backs into the defender. Another chance for Netherlands to build. 
22'  Groenen probably deserved a yellow for a foul on Veje. Escapes a yellow but wouldn't have been out of order if she got one. 
20'  Van de Sanden causing problems for Denmark. A lovely step-over and she is free down the right again. Her cross can't find a teammate though.
18'  Netherlands on the move forward again but a sloppy pass ends their attack this time. IIt's been all oranje so far.
16'  Ball comes to Martens at the back post and she strikes but Van Veenendaal gets down to her right and saves. Denmark scramble it away.
15'  Spitse takes the free but it's too close to Lykke.
13'  It seemed to work as the ref didn't book her and was previously thinking about it.
13'  Van de Donk hauled down as she makes a move forward. Troelsgaard the culprit but she's making her case to the referee. 
10'  GOAL! 1-1 and the Netherlands are level. Van de Sanden with a run down the line and Miedama slots it home. Lovely work by the right winger.
6'  Nadim steps up and slots it home! 1-0 to Denmark.
5'  Kika van Es fouls Troelsgaard and the referee gives a penalty!
4'  Van de Sanden sends one into the ènalty area but Denmark get it away...
1'  We are underway! 
Just minutes away from kick-off now!
Stadium starting to fill up.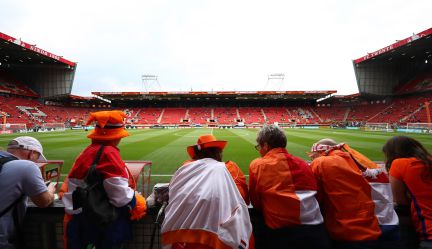 If you're trying to find the game on telly or online, and can't. This might help.
If you are looking for a read before the game. This one on Danish striker Nadia Nadim escaping the taliban is excellent.
For Netherlands, Jackie Groenen aged 22 is a livewire and able to create something out of nothing in most situations. Denmark were solid at the back against Austria but the Austrians were keen to just sit back. Meanwhile, Arsenal's Daniëlle van de Donk was also excellent and got an important goal in the semi-final against England.
The atmosphere is building ahead of the final and we want to point out a couple of the better players to watch out for. For Denmark, their best player by a country mile was Harder and will prove a handful for Netherlands later on this afternoon. She slotted her penalty home and caused all sorts of problems for Austria in the semi-final. The problem might be fatigure for the Danes as they were dragged through extra-time and penalties during the week. 
Netherlands vs Denmark live stream online: match preview
This evening brings a first final appearance for both sides in the UEFA European Women's Championship, although Denmark were winners of a previous guise of the tournament back in 1979.
And with Germany lifting the trophy in the last six editions of the Euros, we are about to witness the first time any other country has taken the continental spoils since 1993.
Netherlands
The hosts sealed their final place by seeing off England 3-0 in the semi-finals on Thursday, having topped Group A with maximum points and defeated Sweden in the last eight.
Their triumph over the Lionesses - clinched courtesy of strikes by Vivianne Miedema and Danielle van de Donk, and a Millie Bright own goal - saw the underdogs oust the tournament favourites.
And after taking that impressive scalp, Sarina Wiegman's charges are now being heavily tipped by the bookmakers to make home advantage count and claim a first European title.
What's more, they already have experience of beating Denmark at this year's finals, having downed Nils Nielsen's team 1-0 in the group stage thanks to Sherida Spitse's penalty.
"Since the first game against Denmark both teams have improved," said Dutch coach Wiegman ahead of the final. "We have kept on following Denmark and we have little things in our strategy prepared.
"We did wonder how big the tournament would be. We knew it would depend on how we performed, but we could hardly have dreamed it would be this big."
Denmark
Denmark made it to the final with victory on penalties over Austria in the first semi, coming through 3-0 in the shoot-out after the last-four match had ended scoreless.
Prior to that, it was the Danes who were responsible for putting Germany to the sword in the quarter-finals, after being paired with the seven-time European champions as Group A runners-up.
Speaking in his pre-final press conference on Saturday, Danish boss Nielsen looked to the big screen for inspiration as he discussed his side's group-stage reverse to the Dutch.
"If you think about it, in the Rocky movies, in the first movie Apollo Creed was surprised when Rocky fought back," Nielsen said. "Like we did in the second half [against the Netherlands].
"And it is going to be like in the second Rocky movie: this time Rocky is going to win."
Netherlands vs Denmark live stream online: potential line-ups
Netherlands XI: Van Veenendaal; Van Lunteren, Dekker, Van der Gragt, Van Es; Spitse, Van de Donke, Groenen; Martens, Miedema, Van de Sanden,
Head coach: Sarina Wiegman
Denmark XI: Petersen; Nielsen, Boye Sorensen, Larsen, Roddik; Troelsgaard, Kildemoes, Jensen, Veje; Harder, Nadim.
Head coach: Nils Nielsen
Netherlands vs Denmark: Euro 2017 live stream online final betting
The Netherlands are the bookies' favourites to secure the trophy in Enschede, with the hosts priced at 8/11 at the time of writing to beat off the challenge of the Danes, who are valued back at 4/1.