Real Madrid 2-1 Manchester United: 2017 UEFA Super Cup match report

Real Madrid 2-1 Manchester United. match report
Real Madrid claimed their first trophy of the year and doomed Jose Mourinho to become the first manager to lose three European Super Cups with a 2-1 victory in Skopje on Tuesday night.
With plenty of talk in the build-up over whether Bale would start or not and whether he was on the way out of the club, the Welsh man did start and starred but Cristiano Ronaldo had to settle for a place on the bench while Nemanja Matic made his Manchester United debut.
It was Bale who had the first chance as the ball landed to him standing on the six-yard box and he blazed wide. After a good opening spell from Manchester United, Real Madrid sprang to life and for a long spell, left United chasing shadows.
At the very end of that good spell, on 24 minutes, Dani Carvajal put a ball over the top to Casemiro and the Brazilian midfielder made no mistake as he slotted past David de Gea. There were shouts for offside and the replays suggested they were based on the truth but the linesman withheld his flag and Real Madrid were 1-0 up.
United were struggling to come to terms with Real Madrid's quality but after a quick water break they seemed to curb their opponent's dominance and even had a couple of chances themselves. None of them landed though and 1-0 was how it would wind up at the half.
Mourinho brought Marcus Rashford on for the second half to ignite United's attack but it was Real Madrid who were revitalised after the break. Isco, who had a growing influence on the game, played a lovely one-two with Bale and slotted expertly past De Gea, who was left helpless and exposed.
With 54 minutes played, Real Madrid were two to the good and out of sight, or so it seemed. Just minutes later, Paul Pogba had a header from point blank range saved by Navas and Romelu Lukaku missed the rebound from even closer. It was one of those night for United.
Gareth Bale found himself free down the right just two minutes after that miss and could have put the game to bed but his shot rifled back off the crossbar and away to safety from a Man United point of view.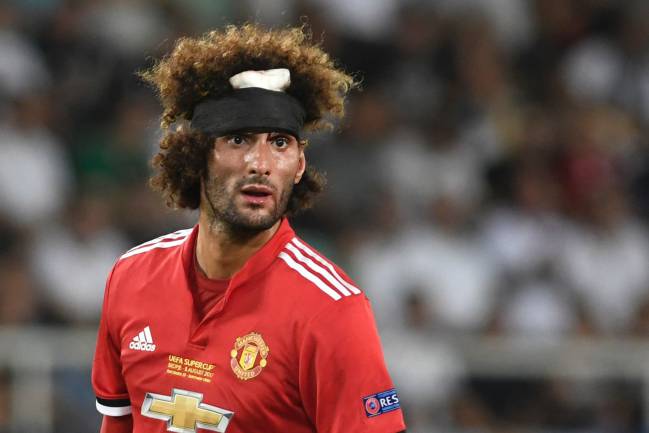 United made it close after the hour mark (62) when Nemanja Matic, who impressed his new employers on his first full day of work, took a shot that Navas could only parry and this time the Belgian new signing didn't miss. Lukaku had opened his and United's account.
There were chances for both sides as the game ticked on and opened up. Marouane Fellaini made a difference to United's style and hopes when he came on but none of his efforts could be converted.
Asensio had a chance but De Gea, like he so often does, kept United dreaming with a wonderful on the line.
The light was turned out on that dream after seven minutes of injury time when the referee called full-time in Skopje and Jose Mourinho will be forced back to the drawing board ahead of their opening game of the Premier League next weekend. The battles keep getting bigger for Zidane and co. however as they get ready to face Barcelona fresh of the loss of Neymar and with plenty to prove after last season and with a new coach.
Real Madrid vs Manchester United live stream online: latest news
90'+7' Game over! Real Madrid claim their first title of the year. Zidane's Real Madrid beats Mourinho's Manchester United.
90'+7'  Ronaldo fires the free towards goal but it goes high and over.
90'+6'  Valencia did catch his left foot and took it from under him.
90'+6'  Ronaldo wins a fairly handy free. Valencia with the foul. 
90'+4' Free for United and again it's launched towards Fellaini. Real Madrid clear it and then Rashford fouls Vazquez, getting himself booked in the process.
90'+3'  Rashford with the cross but way too long for Lukaku. United running out of chances.
90'+2'  From the corner, Ramos heads wide.
90'+2'  Lucas Vazquez with some very quick feet and he squares to Asensio. David De Gea with another excellent save to keep United in it.
90'+1'  Valencia with a cross after making room for himself down the righ. Fellaini with the header but he was falling backwards and Navas saves.
90'+1'  Seven minutes of added time.
90'  Lukaku with a foul throw. 
89'  Valencia blocks a Marcelo cross and puts it out for a corner.
88'  United need a goal fast. Seems as though both teams are getting tired.
86' Ramos booked for jumping into t tackle with Pogba. Silly yellow to pick up. Pogba did grab him around the neck though.
85'  Rashford steps up and takes the free. Way over. No chance.
84' Carvajal booked for a trip on Rashford. He looked to be last man back. Dodgy one and not clear if Rashford would get to it but it's a free. Replays show it was a pull of the shirt. Quite silly from Carvajal.
82' Benzema makes way for Ronaldo. The last change for Zidane.
82'  Razor sharp break by Real Madrid. Marcelo to Benzema and the Frenchman tries to get it across to Asensio but fails. Corner for Real Madrid. Ronaldo waiting on the sideline ready to come on.
81'  How did he miss? Mkhitaryan put Rashford through and Navas gets a touch to it as he tries to strike it past him. Corner. 
80'  Back underway and Fellaini is still off getting seen to. 
78'  Fellaini with blood streaming from his head and remains down. Ramos back up and shake shis hand while the Belgian lies on the ground. 
76'  Fellaini with a header at the back post. Himself and Ramos clashed heads. Both down rubbing their heads.
75'  After a cooling break, we are back underway. 
72' Double change for Zidane. Asensio and Vazquez replace Isco and Bale.
72'  United on the attack now. Benzema fouls Rashford and they have another chance to launch an attack.
71'  Rashford wins a corner. Whipped in dangerously and United pick it up at the back post. 
69'  Valencia with a foul on Isco.
67'  Bale on the deck after being caught on the back of the head by Smalling with his head. Free but nothing more as it seemed accidental.
65'  Carvajal and Fellaini having a nice battle in the mismatch of the century. 
62' GOAL! Lukaku finished from close range after Matic's shot is parried by Keylor Navas. United back in this one.
61'  Just moments later and Carvajal cross low for Benzema but he slips, and tries to reach the ball but he's on his backside and can't.
60'  Bale put through and he has acres of space. He drives a shot against the crossbar! 
58'  Modric more hopeful than anything else as he takes a shot from distance. De Gea gets down and saves.
56' Fellaini coming on for Herrera. 
54'  What a chance. Herrera puts the ball on Pogba's head and Navas saves. Lukaku misses with the follow-up sending it over the bar. 
52' World class. Isco scores to make it 2-0. 1-2 between Isco and Bale and the latter slots past a helpless De Gea. 
51'  United applying more pressure now. Ramos makes a mistake and United win a throw. The game is opening up now. Real Madrid want more and United need a goal.
49'  Lovely, lovely outside of the foot pass from Pogba. Rashford is away with Lukaku there for support. Casemiro gets a foot in. 
48'  Real Madrid looking for more. Mkhitaryan gives it away and Marcelo runs and strikes. Deflected out for a corner.
48'  Isco fouled by Herrera. Bale carries on the mantle before Kroos strikes. De Gea with a wonderful save. Corner Real Madrid.
47'  Rashford chases down Navas. Clearance from the Costa Rican and United get the chance to build again.
46'  We are back underway for the second half. Can United get a goal!?
 One change at half-time. Marcus Rashford replaces Jesse Lingard.
Rashford is out warming up at the half. Could be the catalyst for change if he is coming on.
It looked like it would be all one way sailing at one stage in the first half. United have worked themselves into the game and pushed Real Madrid back though. They still haven't really tested Navas either. 
45'+2'  Half-time. The Casemiro goal seperates the two sides. Nice moment between Mourinho and Ronaldo as they enter the tunnel. Rui Faria gets a hug too.
45'+1'  Bale breaks and passes to Isco, who lays it on to Modric. Isco eventually tries a ball in behind to Bale but that's got too much on it. 
45'  It is a chance. Lukaku battles with Ramos and he wins, gets a header off but it is never troubling Keylor Navas.
45'  Casemiro with a trademark run and Pogba wins it back. One last attack for United maybe. 
44'  Valencia fouls Isco now. 
43'  Modric with a run that Matic matches step for step. He loses it and it falls to Benzema, who strikes and forces a save from De Gea. Real Madrid starting to build again but United looking dangerous on the break.
42' Lingard given the first booking of the night for a foul on Isco. He is protesting vehemently but referee is not for changing. Isco gets up quite gingerly. Looked like his ankle was caught.
41'  Valencia with another teasing cross, Varane with another headed clearance. 
40'  Matic fouls Isco now to relieve the pressure for Real Madrid. United definitely improved since the water break, or 'cooling period' as I've heard it called.
39'  Valencia take on Marcelo, buys himself a yard and crosses but Real Madrid get it away. 
38'  Muy ambicioso says the Spanish commentator. It most certainly was ambitious but it was way off! 
36'  Lukaku plays it out to the left to Pogba but his right-footed effort is blocked. Good move by United and much better from them. 
35'  Lukaku and Herrera are through. Loads of space to run into too but Lukaku is offside. The Spanish midfielder is upset because if Lukaku leaves it, he's onside. 
34'  Free from Herrera is too far away from Matic. 
33'  After that break, Pogba moves forward and Casemiro fouls him. Free in a dangerous position depending on the delivery.
Water break. United will be delighted. Real Madrid getting some tactics off Zidane but they might not be too happy as it breaks their stride.
29'  Valencia with a wayward pass at the back. Benzema hesitates giving the pass through to Bale and he is offside. He was more onside than the goal but this time the glaf does go up.
28'  More of the same. Real Madrid knocking on the door again. United can't get anywher near them. Bale sends a cross in and United finally get it back. That's before the give it straight back to Real Madrid. They're back on the attack.
26'  United chasing shadows at the moment.
24' GOAL! GOAL! GOAL! Casemiro with the finish. That was coming. Casemiro slots home from a ball over the top by Carvajal. He had a look to see ig he was offide and replays show he was but no flag.
22'  Good hands by De Gea. Modric tries a cross form the touchline. It takes a deflection and comes straight at the keeper. He collects. Not much time to think for that one.
22'  Isco with a couple of touches in the last few minutes. He has struggled to get into the game so far. His shot is well over this time.
21'  Cross from Marcelo towards Benzema is headed out to Carvajal, who sends it back where it came from but it's sent back once again. Real Madrid really knocking on the door. 
19'  Bale goes down just outside the box and has a look at the referee. He doesn't protest too much but questions the ref with his eyes. Ref answers back with no whistle.
Take a moment out to say.. this is a belter of a game so far!
18'  Carvajal does too much. He goes by Lingard with ease and then looks for contact off the United player but Lingard jumps out of the way. Poor clearance by United and Casemiro gets a shot away but it's high and De Gea never under pressure. 
16'  Oh, Casemiro bends down low and headers the ball against the cross bar and out to safety from the corner. Great chance. 
16'  Scare for United. Bale and Benzema link up and the Frenck striker nearly gets room to take a shot. He passes to Modric, who is off balance. Real Madrid eventually win the corner.
14'  Matic with a ball to Pogba down the line. Varane puts it out for a throw. Nice move by Lingard and Pogba to make space. 
13'  And now Lukaku pays Casemiro back from the free by De Gea. Real Madrid taking control in the last few minutes. 
13'  Smalling fouled by Casemiro from the corner.
12'  Benzema putting Lindleof under pressure. Real Madrid win a corner. 
12'  Long ball over the top by Ramos to Isco and the midfielder brings it down but his attempted chipped through ball goes wide. 
9'  Herrera goes through the back of Kroos now and gives away a free. Real Madrid glad of the break. All United so far.
8'  Mkhitaryan nutmegs Ramos and goes by him. The Armenian falls but Ramos tells him to get up. Referee doesn't think it was a free either. Could have been trouble for Bale if that was deemed a free.
7'  United flirting outside Real Madrid's penalty area. Lukaku and Pogba try for a 1-2 but Real Madrid clear. 
6'  Pogba sets Lingard away but a good tackle and the ball makes its way back to Navas. Real Madrid back in possession.
5'  Pogba with a seriously hefty challenge on Casemiro. The Brazilian remains down. Replays suggest it wasn't as bad as it looked, just a shoulder. Real Madrid restart.
4'  Kroos with loads of time and he finds Bale, who makes a smart run. His cross is cleared and United break. Navas kicks Varane's backpass out for a throw. 
3'  Bale with a real chance. Cross from Marcelo is deflected into the air and Matic misses it, not even going for it, and Bale hits it wide. What a chance. Poor defending from United. 
2'  Marcelo throw reaches Benzema in behind United's defence. It makes it to Bale and he wins a corner. 
1'  Long ball down to Lukaku and Real Madrid have confusion at the back. Navas comes out but Ramos headers it up to him. navas recovers and collects. 
1'  Here we go! We are underway for the first trophy of the season. 
Ronaldo, Kovacic and Vazquez on the bench looking relaxed. 
Teams being led out onto the field now. United in their traditional red and Real Madrid in black second strip. Sergio Ramos carrying the Champions League trophy. Valencia brings the Europa League trophy out. 
Some traditional Macedonian music and dancing to get us started here. Nice touch. 
Jose Mourinho has lost the two Super Cups he has played in, against Milan with Porto and against Munich with Chelsea. No manager has ever lost three! 
Real Madrid will wear their black strips tonight.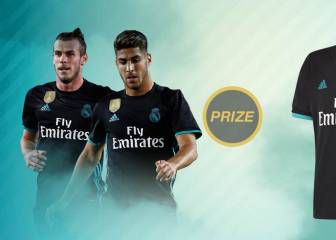 Dani Ceballos, Marcos Llorente, Borja Mayoral and Jesus Vallejo have all been left out of the squad. Zidane named a 24-man squad but has left the four summer arrivals out of the first game of the season. Theo Hernandez is the only new signing to make the squad. 
Zidane lucky enough to be afforded the chance to start almost the exact same team as he did in Cardiff. The only exception is Ronaldo is out and Bale is in. given recent form, Ronaldo is a huge loss but really not losing too much with Bale if he can influence this game. 
With Phil Jones and Eric Bailly suspended, Mourinho picks Smalling and Lindleof in defense. Will be interesting to see what kind of partnership they can form having looked a little slow to get started in preseason. 
Gareth Bale starts for Zidane. Ronaldo might see minutes but has been left off after just three days of training since his return from holidays. Zidane says he is in the same shape as he was for the Champions League final but doesn't make the starting XI.
Mourinho's defense is not what you would call strong. Isco and Bale should enjoy themselves against Valencia and Darmian. The pair have the speed and ability to drop in behind United's midfield to pick up the ball and cause havoc. 
Mourinho said that Matic was "available, but not available like the others" at his press conference last night. He must be fit enough and given he played with Mourinho at Chelsea, knows what is required in his team.
Plenty to pick through there on both sides. 
De Gea, Valencia, Lindelof, Smalling, Darmian, Matic, Herrera, Pogba, Mkhitaryan, Lingard, Lukaku.
Keylor, Carvajal, Ramos, Varane, Marcelo, Modric, Casemiro, Kroos, Isco, Benzema, Bale.
Just in case there is any doubt, if this ends in a draw, it will go to extra-time and penalties after 90 minutes. 
Far from Zizou to not keep Mourinho guessing: "We're going to play in several different ways, that's not going to change. We're lucky to have a lot of important players who can play in various positions and tomorrow you'll see how we're going to play".
Back to where we left off last year! Real Madrid are looking to continue their goal scoring run in official games. They have scored in 65 and will be looking to do the same tonight.
Will Gareth Bale start tonight, or will Marco Asensio? Both, potentially, if Ronaldo is reserved but it's a debate that is likely to rumble on all season.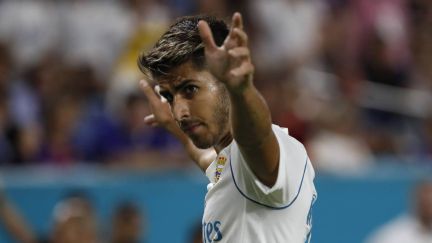 This will be the first competitive meeting between the sides since 2012-13 in the last 16 of the Champions League. Have yourself a wander down memory lane with this vide of the best bits from fixtures past.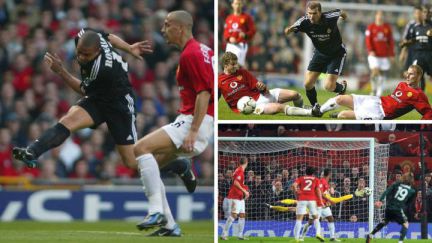 Lucas Vázquez is being targeted by Roma after Monchi gives up on Leicester City's Riyad Mahrez.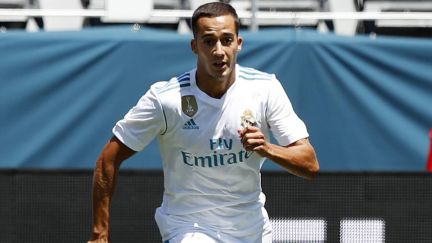 Good morning! Join us for live build-up to tonight's European curtain-raiser in Skopje!
Real Madrid vs Manchester United live stream online: Super Cup preview
The first official game of the 2017-18 season for both sides and it is set to be an epic encounter between two heavyweights of European football. The game itself kicks off at 20:45 at Philip II Arena in Skopje, Macedonia. Champions League winners Real Madrid and Europa League winners Manchester United face each other in Skopje, Macedonia where temperatures are set to soar above 30 for the European Super Cup.
Real Madrid will compete for six trophies this season with the very real possibility of winning, if not all, a large chunk of that six. Manchester United will battle for five as Mourinho looks to start his season off with the first of what United fans are hoping is a successful year at the club.
Real Madrid: UEFA SuperCup 2017
The big news in Real Madrid's camp is that Cristiano Ronaldo, fresh off his summer holidays, is in Zinedine Zidane's squad and is "here to play" according to the manager. There is lots of noise around the Portuguese attacker, as always, says Zidane but he is calm.
Meanwhile, Gareth Bale is garnering attention that is not being helped by Jose Mourinho. The former Real Madrid head coach says if Bale doesn't start then he might be heading for the exit and would be willing to fight for him if that's the case.
Zidane seems unmoved, however, as always, and is only concerned with what his side do.
He has his first choice keeper, defense, and midfield but it remains to be seen what the French manager opts to do with his forward line.
There are doubts that Ronaldo, after his three days of training, will be ready to play but if he does, Marco Asensio and Gareth Bale are battling for playing time alongside, presumable, Karim Benzema.
Zidane says Real Madrid are missing a striker but for the moment, his compatriot will likely lead the line. The big question is who lines up beside him.
Manchester United: UEFA SuperCup 2017
Jose Mourinho is intent on playing up United's role as the underdogs citing the difference in quality between the Champions League and the Europa League.
He will be without Phil Jones and Eric Bailly as both are suspended while Timothy Fosu-Mensah will also be abesnt as he moves south to London where he will play with Crystal Palace on loan for the year.
Luke Shaw, Ashley Young and Marcos Rojo continue their longer term injury rehab while Nemanja Matic is "available but not available like the others", according to Mourinho.
Mourinho, who said he practically had to beg to leave Real Madrid, will return to play his former side for the first time in an official game since he left for Chelsea four years ago. It will be the fifth time in total that he has played Real Madrid as a manager with a record of three losses and one draw - all during his time at Porto.
The players he signed this summer moved to win trophies and at the earliest opportunity, they are offered the chance to do just that and hand their manager his first win over Real Madrid. The rivalry has heated up in recent years and here are five reasons in helping to understand why.
Real Madrid vs Manchester United live stream online: potential line-ups
Real Madrid XI: Navas, Carvajal, Varane, Ramos, Marcelo, Modric, Casemiro, Kroos, Isco, Benzema, Cristiano/Bale
Head coach: Zinedine Zidane
Manchester United XI: De Gea, Smalling, Lindelöf, Blind, Valencia, Darmian, Herrera, Fellaini, Pogba, Mkhitaryan/Rashford, Lukaku
Head coach: José Mourinho
Real Madrid vs Manchester United livestream online: Super Cup betting
Real Madrid are the bookies' favourites to lift the Super Cup in Skopje, with Manchester United valued back at 29/10 at the time of writing.
Place your bet on Real Madrid vs Manchester United now.