Germany vs Norway Russia World Cup 2018 qualifier: match report, goals, as it happened
A 6-0 hiding was more than enough to see Germany take one step closer to qualifying for the World Cup in Russia 2018 as they stay top of Group C. Jamaica vs USA: Gold Cup live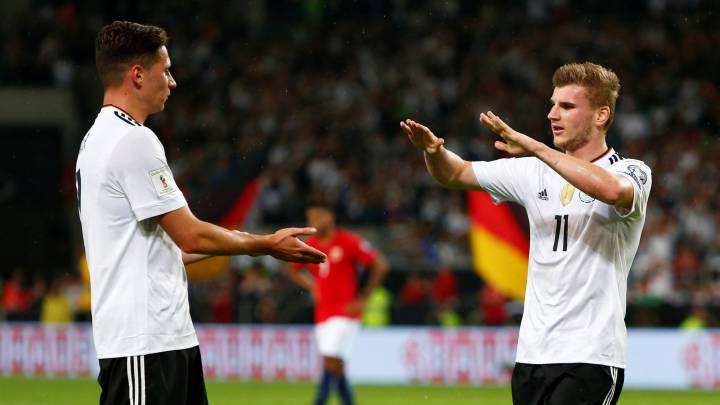 Germany 6-0 Norway: match report
Germany ended this one as a contest before it ever had a chance to get going and led 4-0 at half-time before landing another two after the break to remain top of their group and take one step closer to qualifying for the World Cup with a win in their next game taking them to Russia.
After a lacklustre display against Czech Republic on Thursday night that they managed to win thanks to a late Mats Hummels winner, they weren't in the mood for having their nerves tested in the same fashion on Monday in Stuttgart.
Mesut Ozil finished after 10 minutes and Germany never looked back. It was a flowing move by Germany that started at the back and when Jonas Hector pulled it back into Ozil's path, his left foot swung and he made perfect contact, leaving Jarstein stranded in Norway's goals.
The excellent Julian Draxler added the second seven minutes later with a move that started at the back again. A long ball to Werner by Kimmich was headed into Ozil's path and he played it to the PSG man. Draxler swiveled almost on the spot and curled home with his left.
Timo Werner heaped more misery on Norway after 21 mnutes when Kroos found him in the centre after a quick-thinking Mueller stepped over it. Werner slotted home and the game was in the bag as Norway were incapable of moutning even the most token of attacks.
3-0 became 4-0 after 40 minutes when a Thomas Mueller - Timo Werner combo unlocked Norway yet again. This time Mueller crossed from the right and Werner drove a header beyond Jarstein as Norway looked to be in real trouble.
The half-time whistle couldn't come quick enough as Germany looked to keep piling on the pressure as Norway clung on for dear life.
Leon Goretzka was Joachim Loew's first sub and he had scored within five minutes of the restart when a perfect Draxler cross was met by the sub as he flew through the air.
Germany were home and hosed and the game died a death but Mario Gomez was keen to do something off the bench and he did just that on 79 minutes. Joshua Kimmich sent a cross into the box and the substitute nestled a diving header into the bottom corner. 6-0 with all three points secure for Joachim Loew's side.
Norway's shoulders slumped early on and it wasn't really a true test of Germany's credentials but they are now within a win of qualifying for the World Cup next summer with games to spare and that means Loew can try out different players or hammer home some of the finer points of his already finely-tuned system.
Germany vs Norway live stream online: World Cup Qualifiers
GAME OVER! Germany in the World Cup.
90'+2'  King down the byline, drives a shot towards goal. Ter Stegen doesn't know much about it but Germany manage to scramble it away. Corner. 
90'  Two more minutes of torture for Norway.
90'  Khedira looks to find Kimmich but it's too heavy a pass. Goal-kick.
88'  They're going to the World Cup.
88'  This one has been over for quite some time. Germany try again for a seventh but to no avail.
84' Yellow for Linnes for a really late one on Kroos.
79' OOOOH! Hold on, they win it back. Kimmich sends in a cross and Gomez heads home.
79'  Mario Gomez tries to go it alone but has Ozil in support. He loses it.
76'  Linnes comes on for Selnaes.
75'  Draxler to Ozil but it goes out for a throw. Still making sure to put in a huge effort. They want more. But it's over this one. 
74'  King, Norway's only hope going forward, getting frustrated. He slides in on Kimmich late as the ball goes out for a throw. 
72'  King wins a throw. Watched carefully by Jonas Hector.
70'  Kimmich inside to Draxler. He lets it get away from him but gets the shot away with his left. Blocked.
 Rashford gives England the lead. 2-1
68'  Clip there of Sebastian Rudy with some tapping around his ankle. He took a knock on it in the first half.
68'  Jonas Hector strikes. But he makes a mess of it. Well wide.
66' Werner replaced by Mario Gomez.
65'  More of the same. Germany with 71% of possession. They've had 15 efforts so far.
62'  And he's involved immediately. Cross and Khedira hits it back towards goal but it lands to Kimmich and he isn't expecting it! Wide.
61' Sami Khedira comes on in his hometown of Stuttgart for Rudy.
59'  Corner. Berget heads it wide at the back post.
58' Elyounoussi replaced by Svensson.
58'  Joshua King with a cross. Rudiger gets a foot to it and puts it out for a corner. 
55'  Selnaes with a rare chance for Norway. He moves the ball out to the right before striking and hitting the side netting.
54'  Rudy strikes from distance. Goes a yard wide. Had Jarstein worried for a minute.
52'  That Draxler to the byline approach is still catching out Norway. He delivers to Ozil this time but it's cleared off the line.
50' Goretzka on the field for five minutes. GOAL! Draxler with a tempting cross and Goretzka drives it home.
49'  Germany toying with Norway now. Ozil tries a through-ball that gets ut out. Then Draxler with some keepy-uppys in the box before immich headers back. Corner Germany.
Changes at half-time by both managers. Mueller off for Goretzka. Valsik replaces Berge.
47'  Trademark Kroos. Werner pulls it back and Kroos arrives to strike with his right, trying to curl it into the corner. Blocked by Norway. 
46'  We are underway for the second half.
45'  Ref whistles for half-time. Game over already.
45'  Draxler with a cross. Kimmich heads down to Mueller and he strikes but Norway manage to get bodies in front of it and clear. So close to a fifth. 
44'  Kroos with a strike after another flick/dummy from Mueller. This tume Jarstein gets down and saves.
 Chris Brunt puts Northern Ireland 2-0 up.
40' Timo Werner benefits again from Mueller on the right. Cross to the penalty spot and Werner heads home.
38'  Rudy down in a heap after blocking a shot. It hit the very top of his toe and seemed to twist his foot. He runs it off but doesn't look comfortable.
 A Josip Ilicic penalty has Slovenia up 1-0 against Lithuania.
 Oh, and Scotland lead Malta 1-0 through Christophe Berra.
 Eric Dier pulls England level at 1-1 with Slovakia.
37'  Aleesami foul. Germany with a free after Werner hits the deck.
36'  Ball into the back post and Berget heads it back towards goal. Tries, I think, to loop it over Ter Stegen. The Barca keeper saves it. 
35'  Better. Norway win a corner. 
34'  Werner looks for Mueller but he had gone in the opposite direction. On different pages. Reading different books in different languages too.
Norway with one shot (off target) and Germany with eight in total.
32'  Ozil gets on the end of a short Hector cross. He hits it with his left. Jarstein collects. 
30'  Quite the onslaught from Germany here. No fourth goal just yet.
 And Poland beating Kazakhstan 1-0 thanks to a Milik goal.
 Northern Ireland lead with a Jonny Evans header against Czech Republic.
29'  Hector with a move down the left now. He crosses, and has more success. Forces a clearance, at least.
28'  Ball falls to Mueller. He strikes with his right from outside the box but it's blocked. 
27'  Kimmich down the line. He gets a cross away, and gets taken out of it in the process, but the ball was already out for a goal-kick.
27'  Jarstein with the goal-kick. Looks short but sends everyone out. Germany all over them. 
26'  Mueller into Werner. He can't get enough on it and it drifts wide. 
25'  Kimmich with a cross. Mueller gets a head to it but can't do anything but slow the ball down. Germany win it again and start, or continue to, throw the ball around the box. 
23'  Berget with a solid run. He has a man outside but goes it alone. Strikes high and over the bar. Worth a try. 
21'  Definitely no way back now. Werner slots home from a Kroos pass in the box. Mueller steps over it and Werner makes no mistakes. This could get ugly.
21' Werner goal!
20'  Any way back for Norway? 
17' Straight up the other end and Draxler with the finish. Werner heads it down, Ozil plays to Draxler and the PSG player swivels and slot home.
17'  Ball comes flying into the box and King takes it down with a lovely touch. Germany well-positioned defensively. They eventually win a goal-kick as Aleesami sends it out over the line.
16'  Joshua King wins the ball, turns, and plays it out to the left. Nice play from the Bournemouth player. Norway with a decent spell of possession now too. 
14'  Werner drives a shot across goal. Chance! But it was way too tight an angle.
13' Selnaes with a foul on Rudy. Booking.
12'  A really lovely pass from Ozil to open out the whole pitch for Mueller. He shoots with his left but drags the shot just slightly wide.
10' GOAL! Sad to say after just ten minutes but that goal was coming. Mesut Ozil strikes and leaves Jarstein looking at it. It was with his left but Werner was in the way and might have been offside but goal stands.
8'  Kroos drops it short to Draxler and Norway regather possession. They're struggling to hold onto the ball up front though.
8'  Kroos fouled by King. chance for the Real Madrid man to send one into the box. Awkward angle though. 
7'  Germany running Norway ragged early on. Rudiger searches for Hector way out on the left but he overhits it.
6'  Kimmich with a cross that Jarstein gathers and calms things down.
5'  Some lovely football by Germany to get out of trouble. Werner links with Mueller. Mueller popping up on the right very frequently. He won't score from there but causes damage nonetheless.
Slovakia beating England 1-0 after just a couple of minutes. Lobotka with the goal.
2'  Germany had scored after five minutes against Czech Republic and cooled off after that. Nearly a repeat. And nearly the same man with the goal!
2'  Germany win a throw. Keeping the ball early on. Kroos out wide to Kimmich and he lays it off to Mueller. The Bayern Munich man with a cross to Werner and he almost slices home. Kimmich miles away with the rebound. 
1'  We are underway!
The two teams lead out onto the field. 
Don't forget, we will be bringing you scores and updates from the other dames around World Cup qualifying tonight too. 
While Germany's record overall is mightily impressive against Norway, Joachim Loew has played two, won one and lost one, during his time on the bench for the Germans.
And here is some pre-,atch reading for you courtesy of the German federation's website:
"The first game against the Scandinavians took place in November 1923 in Stadion Hoheluft, Hamburg, which Germany won 1-0. The Germans then lost 2-0 in the quarterfinals of the 1936 Berlin Olympic Games. The teams also met in the 1954 World Cup qualifiers: the first leg ended as a 1-1 draw in Oslo, then the Germans won the second leg 5-1 in Hamburg. The most recent clash was the first leg match in the 2018 World Cup qualifiers exactly a year ago – the Germans won 3-0 in Oslo after goals from Thomas Müller (15', 60') and Joshua Kimmich (45'), which was his first international goal. Müller played a direct role in all three goals (two goals, one assist)."
This is the 22nd these two teams have met. Germany leading the way with 14 wins and Norway have just two. Germny are undefeated in their last 25 games too.
So, Josh King starts. If he is half as influential as he was against Man City when Bournemouth played the, Germany have a problem. As they say in Spain, he is currently living a good moment. 
Germany XI against Norway: Ter Stegen, Hector, Hummels, Draxler, Kroos, Özil, Werner, Müller (C), Rüdiger, Kimmich, Rudy
Norway XI against Germany: Jarstein, Elabdellaoui, Skjelvik, Nordtveit, Aleesami, Berge, Elyounoussi, Berget, King, Daelhi, Selnaes
Here is the full story of Khedira giving away the 1,200 tickets to disadvantaged kids. 
He says, "We wanted to do something good for the region two years after the charity game, and the national team match on Monday in Stuttgart offers the ideal setting." Stuttgart is his hometown.
Good morning and welcome to our build-up ahead of live action from Stuttgart as Germany welcome Norway in a crucial Russia 2018 World Cup qualifier. We'll be building up ahead of the game with a 20:45 CEST start in Germany.
Good morning and welcome to our build-up ahead of live action from Stuttgart as Germany welcome Norway in a crucial Russia 2018 World Cup qualifier. We'll be building up ahead of the game with a 20:45 CEST start in Germany.
Germany vs Norway live stream online: World Cup qualifying match preview
Norway travel to the Mercedes-Benz Arena in Stuttgart to face Germany (Monday, 20:45 CET), who are already assured of at least a playoff place after a perfect campaign so far, with nothing less than three points of any use to Lars Lagerbäck's side.
With three qualifiers including Monday's game remaining in Group C the home side will assure automatic qualification for the World Cup in Russia if they beat Norway, who have endured a disappointing campaign to date. Löw's reigning champions will go through to the finals if they are victorious and Northern Ireland fail to beat the Czech Republic.
Germany
Germany have racked up seven wins from seven games in a typically efficient qualifying phase, scoring 29 times and conceding just twice – although 15 of those goals were scored against San Marino. However, the world champions left it late to maintain their perfect record as an 88th-minute Mats Hummels goal sealed victory for Löw's side in Prague at the weekend.
That result leaves Germany requiring just four points from the remaining three fixtures to reach the World Cup as group winners and avoid the playoffs, assuming Northern Ireland also end their campaign with three wins to secure second.
Löw is without some experienced hands including captain Manuel Neuer, the Bayern Munich keeper having only just returned to action after a lengthy injury layoff with a broken metatarsal sustained in the Champions League quarter-finals against Real Madrid in April. Also missing are Andre Schürrle, Mario Götze, Benedikt Höwedes and Jérôme Boateng, who have a total of 230 caps between them.
Norway
Norway still have an outside chance of qualifying for the playoffs as they meet San Marino in the next round of fixtures and Northern Ireland at home on the final day, but it is one that few but the most diehard Norwegian fans would risk a kroner or two on: Lars Lagerbäck's side must win their final three games – including beating Germany at home – and make up a 14-goal swing on Northern Ireland in the process.
If only they could play Brazil every week: Norway are famously one of few sides never to have been defeated by the Canarinha but all-too often turn their giant-killing form on its head in qualifying.
Germany strolled to a 3-0 victory when the teams met in Oslo in the opening round of fixtures and Lagerbäck's charges then conspired to hand Azerbaijan one of only two qualifying wins so far in Baku in a 1-0 loss. San Marino managed their solitary qualifying goal to date at Norway's expense and were level with 77 minutes played in Oslo – having also provided the home side's opener on 12 minutes through a Davide Simoncini own goal – before Adama Diomandé, Martin Samuelsen and Joshua King spared a nation's blushes with a late flurry.
In their last outing Norway through themselves a lifeline with a 2-0 victory in Azerbaijan, albeit courtesy of a King penalty and a Rashad Sadygov own goal.
There is a precedent for what Lagerbäck must mastermind in Stuttgart – a 1-0 away friendly victory in February 2009, the last time the sides met before the 2018 qualifiers. However, Löw and Germany are unlikely to soften their grip on Group C with Russia a victory away depending on the result in Belfast.
---
Germany vs Norway live stream online: possible line-ups
Germany XI: Ter Stegen; Hummels, Rüdiger, Süle; Hector, Müller, Kroos, Emre Can, Draxler; Werner, Gomez.
Coach: Joachim Löw
Norway XI: Jarstein; Aleesami, Skjelvik, Nodtveit, Svennson; Berge, Johansen; Möller Daehli, Elyounoussi; King, Sörloth.
Coach: Lars Lagerbäck
---
Germany vs Norway live stream online: selected betting odds
Norway are huge outsiders at 23/1 for victory with the goalscorer stakes dominated by the home side. Timo Werner is favourite to get the scoreboard going at 4/1 while a 4-0 home win is chalked up at just 8/1.
Line-ups
5

Gustav Valsvik

16

J. Svensson

On for Mohammed Elyounoussi

17

Linnes

4

Sigurd Rosted

19

Bjorn Maars

12

Sten Grytebust