Real Madrid
Real Madrid equal goal scoring record of Pelé's Santos
Sunday 17 September 2017 will be remembered as the day that Zinedine Zidane's team scored in their 73rd consecutive game, matching the feat of Pelé's Brazilian clubChampions League Final: Real Madrid - Liverpool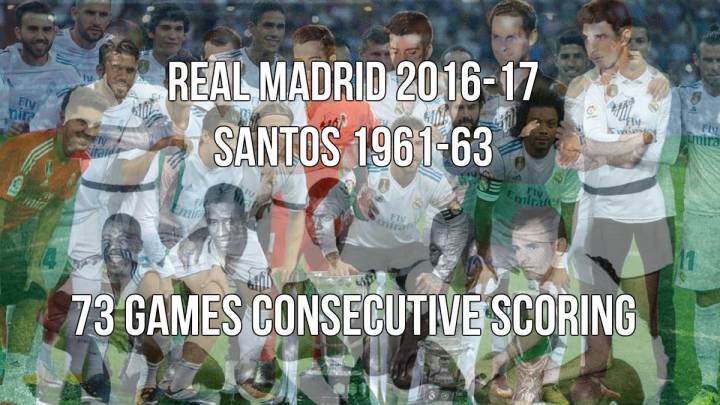 With a goal from Mayoral in the 19th minute against Real Sociedad, Real Madrid equalled Santos' long-standing record of most consecutive games scoring.
Equalling the great Santos record
The team, under the stewardship of Zinedine Zidane, has now scored in 73 matches and this was done before, by the great Brazilian side Santos, which featured one of the all-time footballing legeneds, Pelé. Their run, from November 21 1961 through to August 15 1963, was made up of 52 wins, 14 draws and 7 defeats, scoring 245 goals and conceding 96.
Bayern Munich's European record of 63 consecutive games, set over seasons 2012/13 and 2013/14, was eclipsed some time ago. And Cristiano, Bale, Benzema, Isco, Asensio and co (including the now-Chelsea player Álvaro Morata) have contributed to the incredible achievement. To go one step ahead of Santos, Zidane's side will need to score at the Santiago Bernabéu on Wednesday 20 September against Real Betis.
La Real bookend Madrid's record
Amazingly, the goal scoring streak started at Anoeta against Real Sociedad with Gareth Bale on the scoresheet. This followed the 0-0 Champions League draw away at Manchester City way back in April 2016, the last time Los Blancos were kept out.
Real Madrid competition scoring
The 198 goals over the 73 games have been split as follows:
LaLiga 118
Champions League 41
Copa del Rey 22
Club World Cup 6
European Super Cup 5
Spanish Super Cup 5