Montpellier 0 - 0 PSG: match report
Paris Saint-Germain lost their perfect start to the Ligue 1 season as they struggled to a 0-0 draw at Montpellier on Saturday without the injured Neymar.
With the world's most expensive player on the sidelines to ensure his fitness for Tuesday's Champions League clash against Bayern Munich, PSG were uninspiring in attack against a stubborn Montpellier side playing in a 5-4-1 formation.
Rising star Kylian Mbappe had the best of the visitors' chances, but the 18-year-old was profligate in front of goal as Unai Emery's men could only extend their lead at the top of the table over reigning champions Monaco to one point.
Montpellier 0 - 0 PSG: as it happened
90'+4' Game over! Mbenza tries to go by Silva but he falls over and that's all of the action from Montpellier.
90'+3' Ball in by Rabiot and Lucas Moura was ruled to have pushed and showed his way to get to the ball. Nothing has gone his way since he came on.
90'+2' Cavani tries to shoot but Hilton all over him and does well to block the shot. Cavani has a kick at the player in the end as he takes off with the ball.
90'+1' Mbenza broke free but got caught and PSG win it back. He might have tried to lob Areola as he was coming off his line.
90' Alves looks for Cavani but way to close to Lecomte. 
89' PSG moving forward now in search of that goal. Verratti takes it down and gets squeezed by three Montpellier defenders. They clear but PSG coming back up the field.
88' Montpellier running out of ideas too. 
87' Verratti with another ball into the box that Montpellier manage to get away. Cavani looking around and looking for it but it didn't land for him.
86' Verratti swings one in and Lecomte comes out, gathers and falls over a teammate. All good as we enter the last few minutes.
85' PSG ran out of ideas a long time ago.
83' Verratti and Moura end up on the ground as they struggle for the ball in the penalty area. Ball floats out and over the goal. 
82' Ninga replaced by Mbenza.
82' They win it straight back though and cross but there's a free in the penalty area.
81' Into the last ten, Montpellier with a free from a position where they can cross into the box. And they do but Moura heads away.
80' Motta is replaced by Gio Lo Celso.
79' Cavani tackled by Mendes in the penalty area. He gets up quite slowly but no penalty. PSG struggling now.
75' Congre fouled yet again by Moura. He looks frustrated and he's only been on the field for 10 minutes. COngre down in a heap again.
73' Congre fouled by Moura. He's down and in pain. Looks like he'll be fine though.
73' 73' Similar pattern to the first half. PSG taking their foot off the gas and Montpellier growing into this. 
71' Roussillon replaced now by Piriz. An excellent game by the left-back, in the second half in particular. He was causing real problems for PSG down that left hand side.
70' Meunier replaced by Dani Alves.
69'   Meunier in behind Roussillon but the left-back recovers and it's a corner.
67' Montpellier relying more heavily on the counter but that's fine by them because they are getting really close.
67'   Montpellier are so close. Ninga breaks after a lovely ball from Roussillon and he returns the favour but Areola is quick off his line and gathers.
66' Emery makes the first move. Let's see if he can make a difference.
66' Draxler replaced by Lucas Moura.
66' Roussillon with a lovely run down the left. His cross is really, really poor though. The chap was exhausted after the dart forward. 
64' That's the closest PSG have come. Mbappe makes a lovely run in behing, catching Aguilar off guard. The full-back recovers, pokes it out of Mbappe's reach and it bounces off one of his own players and out for a corner. They're certainly getting closer.
62' Good break from Montpellier. Ninga down the left, comes inside and then shoots at the keeper. Poor effort but decent run in the first place to get himself into that position.
60' Motta fouled again. Dani Alves is warming up though. 
58' PSG upping the ante now. Mbappe with a cross that flashes across goal. It comes back and he heads down into the ground and wide.
58' Mix-up at the back as Lecomte just barely gets his foot to a cross. More reflexive than anything.
58' It was actually Mendes and Silva crashed into the back of him as he cleared. He's down now and receiving treatment.
57' Draxler corner is headed back into the air by Silva.
54' Corner arrives back in after being initially cleared. Lecomte drives it over the sideline.
54' Mbappe crosses to the back post but Montpellier head it awa for a corner.
53' A PSG counter absolutely crumbles. Really poor from them and Montpellier up the field again. Lasne with a shot but Areola is comfortable behind that one.
51' Meunier caught out around the back as Roussillon gets past him. He squares and PSG clear. Decent chance for a chance there. 
50' PSG knocking on the door now. Ball from deep by Rabiot and Cavani dummies, Mbappe flicks it back towards him but Montpellier get it away.
48' Ball over the top chased down by Draxler down the right. He wins it and turns and recycles. 
48' Draxler to Mbappe and he strikes but a really competent save from Lecomte.
47' Similar start to the first half. PSG with all the ball.
46' Back underway for the second half!
  Two teams re-emerge and it seems there are no changes just yet from either manager.
  His options at that number 10 position are limited, however. Maybe bring Moura on and play Draxler in the centre?
  Motta has been involved plenty but emery could do with replacing him with a number 10 that can receive and create, feeding Cavani in the process. Having said that, Montpellier have looked quite good when they attacked so he might wait for the first 10 or 15 minutes to see can he break them down with the team he selected first.
45'+2' That's it for the first half. PSG started far better but they took the foot off the pedal and started to retreat as Montpellier grew into the game. They came back quite strong to finish but failed to really trouble the home side.
45'+2' Looks like they can't take it. Meunier with a through ball and Lecomte saves. Cavani was putting pressure on but was too far away from it.
45'+2' Verratti fouled and straight back up. They have one more chance to take the lead. 
45'+1' Lecomte saves and puts it out for a corner. 
45'+1' The first of two added minutes. 
45' Montpellier try to slow it down. Lecomte with the goal-kick and they win a throw from it.
44' Yuri strikes up into the stands! 
43' Draxler delivers a cross from a free. Motta can't reach and neither can Marquinhos.
41' Yellow for Mendes as he fouls Mbappé, who gets to the ball before the French striker.
40'   Draxler twists and turns but can't break free. He wins a corner though, which Silva can't direct towards goal.
39' Then break themselves. Corner for PSG. Ref has a word with Lecomte and tells him to cut out the messing.
38' Montpellier break again and they are breaking with purpose and a plan but it breaks down again. PSG snuff them out. 
37' Not entirely sure where as Cavani was nowhere near him and not offside? Strange one and Cavani lets the referee know as much.
37' Ball at the back post. Cavani tries to get to it but Aguilar clears. But there's a free somewhere? 
36' Silva gets a head to the corner but he heads it further away from goal as it came at an awkward angle.
35' Yuri crosses and Aguilar blocked, with his hand, butit's a corner. No free.
34' PSG have failed to get the ball into Montpellier's box in a while. Not showing any urgency to either.
32' Sessegnon with a cross to the front post that gets flicked on and cleared. Montpellier still trying to build but Hilton's cross is a mile wide.
32' Good break from Ninga and Montpellier again but he has no support and has to go by Verratti on his own. He can't but he wins a corner.
30' Yellow for Ninga with a foul on Silva. He explains that it was his first but he stood on the defender's heel and probably merited it.
28' Skhiri's touch lets him down and PSG have a chance. But they lose out too. Sloppy from the league leaders.
26' Mbappe with a stepover and chips a cross straight into Lecomte's hands.
25' Yuri stretched to keep bacll from going out for a throw. He gets to it and puts it out for a goal-kick.
24' Mendes lining up a shot on his left but can't find the moment. He gets it on his right and lets fly from 40 yards out. Blocked and then he fouls Verratti. Maybe best is Mendes heads back to centre-half. 
22' Roussillon's touch is slightly off target as Montpellier try to make a break. Slick move from the home side. Sambia, a Pogba-esque midfielder, looking good early on.
21' PSG back on the ball and looking for a way through. Montpellier proving a tough nut to crack so far.
18' Mbappe in around the back but he gets too close to the end line. Ends up back in Lecomte's hands. 
17' Reall dangerous ball cut back by Verratti. It falls to Draxler but he can't find space for a shot. He cuts it back to after moving forward. Cavani swings and misses before Mbappé picks it up and sees his shot blocked. Better from the visitors.
15' Ninga crosses with his left, Silva clears into the air and Montpellier win it back. Cross arrives in an Areola flaps at it but gets a finger, or two, to it. Averts the danger.
13' Motta fouls Sessegnon again. Free in a decent position. Slightly right and 10 yards outside the penalty area. 
13' A very choppy start to this one. Back to where the ball was on Montpellier attacing down the left.
12' A yellow for Marquinhos for a foul ages ago on Lasne. 
12' Better from Montpellier. They're coming out of their shell now. 
11' Motta back up and at them. It was a free but against Motta. The free is chipped straight to Areola.
10' Motta fouled again. Sessegnon this time but it actually wasn't a foul. He went over his knee.
9' A glimpse of Dani Alves on the bench. 
9' Yuri throw to Verratti and he plays it back before the left-back passes it back to the Italian. He's in an offside position.
8' Motta fouled again. PSG building in a good position. 
7' Better from Montpellier. Mbappe loses out and the home side break. Ninga coughs it up but not after a run down the line.
6' Rabiot to Motta and out to Verratti and the Italian chips one towards Mbappé but he is outmuscled in the air. Free for the home side.
5' They lose it immediately. This will be a long afternoon and early evening if they can't hold onto the ball better. Sitting deep but PSG happy to throw it around the back too. 
4' Montpellier win it back. They have a throw now on the left and with almost five minutes on the clock, they get the chance to build an attack.
3' He's back on his feet and points to his elbow. Didn't look obvious tfrom the replay.
2' Motta down after taking a blow to the stomach, it seems. Replays show nothing happened though? Perhaps, a pulled muscle?
2' Montpellier with an early chance to counter but PSG win it back. 
1' PSG in their yellow away shirts. 
1' We are underway between PSG and Montpellier.
We are almost ready for action in Montpellier. The players emerge from the tunnel.
Cavani is PSG's top scorer in the league by three goals (7) with Neymar on four. He is also chipping in with assists. Mbappe on one in the league with just three games played. Might be a great chance for him to get on the scoresheet today.
We also have team news from Montpellier: Lecomte, Aguilar, Congre, Hilton, Mendes, Sambia, Lasne, Skhiri, Roussillon, Sessegnon, Ninga.
As many expected, PSG go with Mbappe, Cavani and Draxler in a front three. Motta steps into a midfield three in what seems like a very defensive side from Unai Emery. He's obviously wary of Montpellier today. 
The absence of Neymar with could also inspire Montpellier to repeat their impressive 3-0 mauling of the visitors in December 2016, with Emery's men keen to avoid ceding so easily as they look to maintain their perfect start to the season.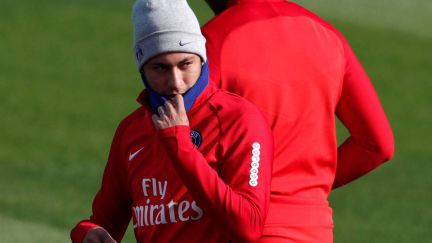 PSG's big-spending approach has also made news this week, with Hans-Joachim Watzk, Borussia Dortmund's chief executive, claiming that the only way to put a stop to inflated market prices is by deducting points. Full story here.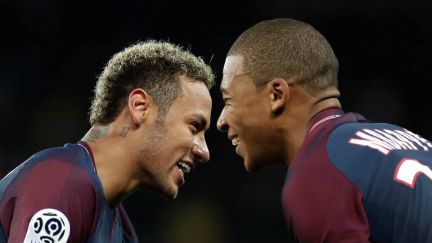 Hopefully the sound of the electric guitar is not the sound of disharmony among the PSG players after a trying week involving Cavani, Neymar, Dani Alves, a ball and a penalty. One would imagine it was all soothing musak and delicate flavours at the reconciliation meal organised by the Brazilian right-back earlier in the week.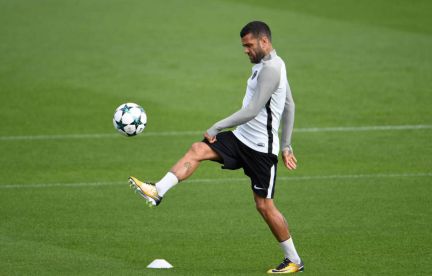 Welcome to our build up to the live game from Ligue 1 today at La Mosson as Montpellier host league leaders PSG.
Montpellier vs PSG: match preview
PSG sit somewhat comfortably in first place, with Monaco three points behind them, despite a scare against Lyon the last day out while Montpellier are themselves coming off a win and sit in 12th place.
(Check out AS English's How and where to watch guide here.)
Montpellier
Captained by 40-year-old Brazilian, Hilton, Montpellier got their second win of the season last weekend when they beat Troyes 1-0 away from home to catapult them up to 12th with seven points after six games. However, that win came on the back of two losses, a draw and another loss.
The last time PSG travelled to face the side, they were beaten 3-0 thanks to goals from Paul Lasne, Ellyes Skhiri and recently-departed Ryad Boudebouz. PSG were flying high in Ligue 1 at the time and got landed back down to earth with the loss but that was, of course, before the arrival of Neymar and Kylian Mbappe among others.
They will be relying on the trickery of former Sunderland and West Brom attacker midfielder, Stephan Sessegnon but will need help up front as €2.5 million summer signing, Giovanni Sio has not hit the ground running scoring just one goal in his four league appearances.
Montpellier possible line-up: Lecomte, Mukiele, Congre, Mendes, Aguilar, Skhiri, Lasne, Sessegnon, Roussillon, Sio.
PSG
The big news for PSG came on Friday when Neymar was ruled out with a slight foot injury that Unai Emery did not want to risk with Bayern Munich coming midweek in the Champions League.
Neymar and Cavani's bust-up over a penalty that the Uruguayuan subsequently took and missed seems to be forgotten about. The Brazilian reportedly apologised and all is good but make no mistake that this will be the main talking point before PSG's trip south to the port town of Montpellier.
Dani Alves was questioned for his role in a childish free-kick routine that ended up with Neymar placing the ball despite Cavani's protests. Diego Forlan criticised him along with others but Unai Emery seems unconvinced that this will create problems in his squad.
"Saturday is an important match. We take the games one after the other and we're now 100% focussed on this trip. They're always difficult games against them. We haven't forgotten that we lost there last season. There's almost a sense of revenge about it," says Marco Verratti, who is cleared to play after serving a suspension.
On the injury front, Unai Emery says, "We still have Friday's training session ahead of us, but Today (Thursday), Verratti and Di Maria felt good. The latter trained with the squad and is making good progress. There is no problem concerning Verratti. Pastore is still working with the physios and will not be ready for Saturday. The others are all going well; they will be ready for Saturday."
PSG possible line-up:

Areola; Meunier, Marquinhos, Kimpembe, Berchiche; Verratti, Rabiot; Mbappe, Draxler, Di Maria; Cavani