Bernd Schuster looked wistfully back on his time at Barcelona in a new programme broadcast by TV3 Quan s'apaguen els llums ('When the lights are turned off') - a confession which he hopes will be a reconciliation with culés. Barça fans adored Schuster when he joined the club at the start of the 1980s but he broke their hearts when he joined archenemies Real Madrid in 1988. The 57-year-old admitted that his time at Barcelona was a very special time in his life.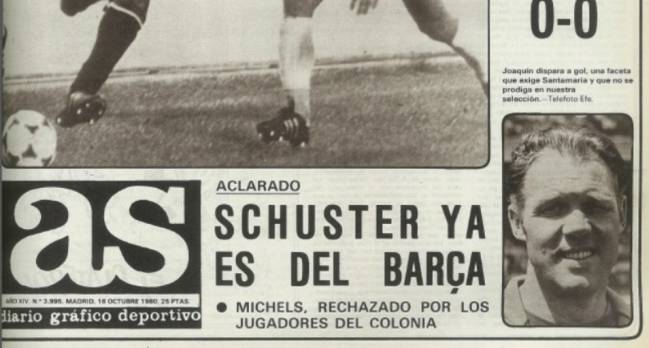 Schuster's "special time" in Barcelona
"My relationship with Barcelona was love at first sight - completely. The fans were smitten with me and I felt the same way about them. They thought: 'This guy is one of us'. And I was. I felt very comfortable and happy playing here. Living in Barcelona at that time was just amazing", Schuster told presenter Lluís Canut.
The former midfielder is aware of what he meant to the people in Barcelona, as he explained: "I felt like a god here. I've said it many times. I was treated like a god. I was idolized. Guys with blonde hair would get the same haircut as me, and if players were blonde, they would be named after me... There were moments when I was actually quite shocked by the dimension of the impact I was having. It was here that, for the first time I saw a fan crying after we lost a game and that had an effect on me. I didn't know what to do. I could understand that Barça is more than a club for the fans, for the stadium, for the city... It was nothing like anything I had experienced in Germany. Here, everything was magnified to XXL size. I'd try to explain it to my friends but I'd tell them that to understand Barcelona, you've got to live it, experience it. What I lived through in Barcelona is something which I will never forget for the rest of my life".
Schuster, El Tel and that fateful night in Seville
But the honeymoon period came crashing to an end in Seville during the European Cup final against Steaua Bucharest when Terry Venables took Schuster off for Moratalla with five minutes of regulation time to go and the scoreboard locked at 0-0; Barcelona went on to lose the game in the penalty shoot-out and later, at the team hotel, Schuster blamed the coach and clashed with club president José Luis Núñez. That is the version he told TV3 three decades on: "I never thought I had to leave the club - not even for one second. I didn't want to leave. I was happy at Barça. But my response didn't go down well (with the board). They even said that I wasn't right in the head... some not very nice things were said. It went to court... Then the following season I didn't play. I wasn't registered in the squad. I would train every day but at the weekend I would stay at home", Schuster recalled.
Schuster turns down Juventus
That was the moment when [Real Madrid president] Ramón Mendoza and [Madrid coach] Leo Beenhakker took advantage of the player's situation to get in touch with him. "I received an offer from Juventus in February - the Platini era was coming to an end. I met up with Juve officials in Switzerland, but I didn't see myself playing there, in Italy. I was able to leave on a free and they handed me a blank cheque. They wanted me as Platini's replacement but I decided not to go. Then Beenhakker called me and asked me to go to Madrid with him. I met with Leo and Ramón Mendoza, the president at that time, and we reached an agreement".