President Donald Trump's war of words with the National Football League over players who kneel during the national anthem in protest against racism stretched into a fourth day on Monday, with Trump saying players "must respect" the flag.
Dozens of NFL players, coaches and even some owners joined in silent protest at games on Sunday against Trump's call for owners to fire players who do not stand during the "Star-Spangled Banner."
"The issue of kneeling has nothing to do with race. It is about respect for our Country, Flag and National Anthem. NFL must respect this!" Trump said in a Twitter post on Monday.
The issue of kneeling has nothing to do with race. It is about respect for our Country, Flag and National Anthem. NFL must respect this!

— Donald J. Trump (@realDonaldTrump) September 25, 2017
Trump not happy with "son of a bitch" protesters
The Republican kicked off his battle with the largest-grossing U.S. professional sports league at a political rally in Alabama on Friday, when he said any protesting player was a "son of a bitch" who should be cut from his team.
On Monday, he praised the NASCAR auto-racing league which, according to media reports, saw no signs of demonstrations on Sunday.
The theme could play well with Trump's conservative base as the Republican president grapples with North Korea's nuclear threats, an investigation of Russian meddling in the 2016 election and a healthcare bill struggle in Congress.
But Trump also galvanized players, teams and the league to assert what they saw as a right to express their political convictions freely. The controversy highlighted a deep political rift that Trump's election has exposed across many segments of American society.
Trump called for a boycott of games
Former San Francisco 49ers quarterback Colin Kaepernick began the practice of kneeling during the anthem in protest of police brutality and racial inequities last year. No NFL team has signed Kaepernick for this season.
Early reports from the major networks on viewership were mixed. CBS Corp said overall viewership of games it broadcast on Sunday was up 4 percent from last year and 1 percent from last week.
NBC, owned by Comcast Corp, said viewership for its Sunday night game was down compared with the prior week.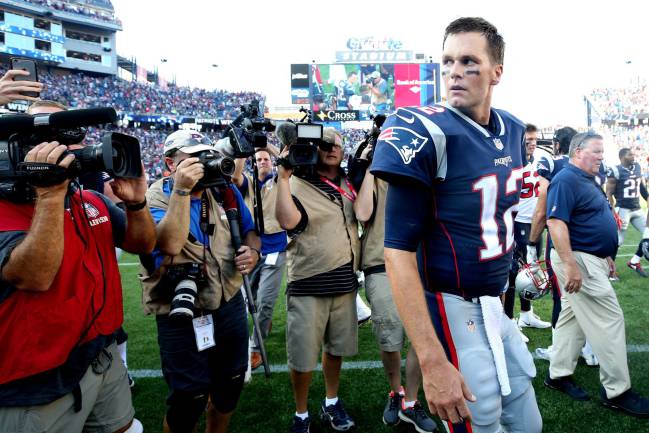 Prominent players continued to speak out against Trump
New England Patriots quarterback Tom Brady, one of the league's best-known faces, on Monday said he disagreed with Trump's remarks. Brady has previously said he regards Trump as a friend.
"I certainly disagree with what he said. I thought it was just divisive," New England Patriots quarterback Tom Brady told Boston's WEEI radio.
Brady said he had heard some fans booing the athletes' gestures during the anthem. About 16 Patriots knelt during the anthem on Sunday, while Brady stood with one hand over his heart and another arm locked with a teammate's.
"Everyone has the right to do whatever they want to do. If you don't agree, that is fine," Brady said. "You can voice your disagreement, I think that is great. It's part of our democracy."
The next NFL matchup occurs Monday night in Arizona, when the Cardinals play the Dallas Cowboys. Neither team has had a player conspicuously kneel during the anthem.