Mexico and Iraq opened up their 2017 Under-17 World Cup campaigns with a draw in Kolkata, as the men from the Middle East earned their first ever point at the tournament.
Twice winners of the U-17 world title and the current CONCAFAF U-17 champions, the Mexicans came into this Group F clash as favourites to defeat a side whose only previous finals appearance - in 2013 - had seen them lose all three games.
Dangerous Dawood gives Iraq a first-half lead
However, an Iraqi team buoyed by last year's Asian Football Confederation U-16 Championship triumph took a 16th-minute lead through the impressive and constantly menacing Mohammed Dawood.
On one of the many occasions on which Iraq sought to exploit Dawood's pace with through-balls in behind the Mexico backline, the Al-Naft striker ran in on goal, rounded goalkeeper César López and rolled the underdogs ahead.
Mexico equalise in dominant second-half display
But Mexico, who had the lion's share of the possession throughout, took a greater measure of control after half time, and Roberto de la Rosa sidefooted El Tri level in the 51st minute after being found in the box by Daniel López's pull-back.
Having beaten Chile 4-0 earlier in the day, England top the group after its first round of fixtures.
Iraq 1-1 Mexico: as it happened
    Mexico had more possession (63%), had more shots on goal (15 to six) and controlled the second half, but have to settle for a draw against underdogs Iraq, who put in a hard-working defensive display - allied with the major threat posed by the highly talented Mohammed Dawood on the break - to earn their first ever point at an Under-17 World Cup. Thanks for reading!
96' Peeep! That is indeed that. 1-1 it ends in Kolkata.
96' We have one minute of time added on to go... and Mexico win yet another free-kick on the right touchline, to howls of disagreement from the Iraqi defence. Gutiérrez runs over it, Torres delivers... and it doesn't even clear the two-man wall. That would appear to be that.
94' All these stoppages suit Iraq just fine, one suspects. Mexico have barely had a sniff in attack since we passed the 90 mark.
92' Now Ali Raad goes down after a foul by Torres, before again finding himself on the turf after being bumped into by Huerta, who gets a booking for his troubles. 
90' There'll be six minutes of added time in Kolkata.
88' Kareem is booked after flinging out an arm as he tussled for the ball. At the same time, Muntadher Mohammed drops to the turg with what initially looked like cramp but appears to be something more serious, as he's strechered off and replace by Alaa Adnan.
86' Torres and Mangaña both look to fire it across goal from the right-hand side of the box, but on each occasion come up against a white wall. It's all Mexico, but they are running out of time.
84' Here's a chance for Mexico, though. Gutiérrez stands over a free-kick on the right, and it's a decent delivery - but keeper Ibadi comes out bravely and is clattered into by Robles, earning a welcome free-kick for Iraq. He goes down and stays down: he appears in some pain, although, one suspects, it's also a chance to eat up a few seconds. Having never even won a point at the U17 World Cup, a draw would do the underdogs just fine.
83' Mexico make anothe substitution, César Huerta coming on for goalscorer De la Rosa. Mexico have had 15 shots to Iraq's 6 and the better of the possession, but as things stand the teams are going to be sharing the spoils.
81' Close! That man Lainez is at the centre of the action again, taking a ball into the face but shrugging it off to scuttle at the Iraq defence and shoot just wide from the edge of the box. Iraqi sub Ali Raad is then booked - for what, I must confess, I am not sure.
80' Dawood is booked for diving after taking a theatrical tumble. It looks like the right call, but without the benefit of a replay I cannot say for sure.
78' Robles is booked for a bit of rough-and-tumble on Dawood, and Iraq have a free-kick. Which they make no use of.
76' That was Daniel López's last contribution, as Mexico make their first change by throwing on Deivoon Magana in his stead. Just over ten minutes to go - can either side (most likely Mexico) snatch the three points?
74' Ibadi has to be alert once more to clear Daniel López's low cross from the left, with De La Rosa waiting.
72' The Lainez-Messi comparisons are certainly not for nothing. He receives it with his back to goal, turns, dances past a challenge and thumps a goal-bound effort towards the corner - but Ibadi pushes it around the post, and the corner comes to nought. When Lainez picks it up around the edges of the box, Mexico really do look very dangerous.
70' Now it's the Mexico defence who are backpedalling as Dawood bursts at them down the right channel, but just overruns it and it's goal-kick. Muntadher Mohammed then knocks a speculative effort at goal, which López scrambles clear, but only as far as Dawood. He turns it back across goal, but a black shirt is there first to get it clear. It's been a better couple of minutes for Iraq.
67' Mexico get another free-kick to clip into the area, and again the delivery isn't up to scratch. They still come away with a corner, though, which Ibadi scrambles to palm out for another. Iraq clear that one, too. 
66' Iraq make a second change, bringing Ali Raad on for Habeeb Mohammed.
65' It's been all Mexico in this second 45, but that old ping-it-forward-for-Dawood-to-run-onto tactic catches the men in black out once again. Thankfully for them, however, Dawood's low, angled shot on the run is blocked by López. 
61' Lainez once more gets himself on the ball and has two Iraqi defenders backpedalling furiously before deflecting his cross out for a corner, which Gutiérrez will deliver. Iraq bring on Maytham Jabbar for skipper Ridha. Wasn't the golden rule of substitutions not to make one when you're defending a corner? Either way, Iraq survive: Ibadi catches comfortably.
58' Lainez is increasingly wreaking havoc when Mexico get him on the ball,. He pings a lovely low cross into the danger area, which Iraq just about get clear. Mexico are looking far more purposeful in this second period, and appear a very good bet to score again soon.
56' And just as I write that,  Mexico deliver yet another free-kick into the box, and two white shirts get into a terrible muddle - but, thankfully for Iraq, Robles again directs his header well off target.
54' Just looking at that Mexican equaliser again, López's pull-back found its way to De la Rosa thanks to a wild swing-and-a-miss from Ayad. The Iraqi's are starting to look decidely shaky at the back.
54' Mexico have their tails up now, and Lainez earns a free-kick about 40 yards out after a driving run at the Iraqi defence.Alexis Gutiérrez delivers it, but Robles' header is well off target.
51' Daniel López receives in the area with his back to goal, turns and lays it back to De la Rosa to get his head up and pretty much pass it into the far corner. Iraq had kept Mexico out well up to now, but that was too easy for El Tri. All square in Kolkata.
49' Gooooal to Mexico! De la Rosa levels!
48' Mexico respond, and De la Rosa is almost in only to see his shot blocked, before Lainez stings Ibadi's palms from the edge of the box.
47' It's basically just a punt up field, which Dawood flicks on and the Mexico defence should gobble up - but don't. The ball runs through and suddenly Ridha is bustling in on goal and taps it around the keeper - but Sandoval is there to punt it clear. What a let off.
45' No changes. Mexico start on the attack, but De la Rosa is penalised for fouling his marker and, from the resulting free-kick, Iraq almost score!
45' Peeep! We're back underway.
Out come the teams for the second half in Kolkata... Have Mexico made any changes? One wouldn't be surprised.
Incidentally, it'll come as little surprise that Dawood is on this list drawn up by The Guardian of the best young talents in the age group. It also includes Mexico's Diego Lainez, who "has been compared to Lionel Messi". It's fair to say that Arteaga's men could have done with Messi in that somewhat potency-free first-half performance. 
45' Peeeep! And that's half time. Mexico have had the lion's share of the possession - 63%, indeed - but haven conjured up litte in the way of clearcut opportunities to score. Iraq's Plan A, Plan B and Plan C all seem to be to soak up the Mexican pressure and hit Mohammed Dawood's runs in behind the El Tri backline - and so far it's paying off for them. Join us in 15 for the second half.
45' Mexico come again, but Torres and De la Rosa's combination-play breaks down on the edge of the box.
44' Lainez chips it into De la Rosa with his back to goal, but a white shirt is there to take it off his toes. Mexico come again, but De la Rosa lets it run to precisely no-one in particular on the edge of the box, and it's cleared once more.
42' Mexico win a corner on the left, but Ibadi comfortably punches clear. They've had their fair share of chances to hurt Iraq from set-pieces, but really have done stuff all with them.
40' Dawood is at it again, a slide-rule ball releasing him to run at Robles and make a beeline towards López's goal. He's unlucky, though as a double deflection see his shot ping back off him and out for a goal kick. He really is a handful.
38' Mexico win another free-kick in swing-it-into-the-mixer territory. Can they get their delivery right this time? Well, sort of. Robles glances a header that loops almost in slow motion towards the top corner, and Ibadi plays it safe by touching it out for a corner. Which comes to zilch.
36' You've not missed anything, by the way - Ibadi took a knock for his troubles as he caught the ball, and has needed a couple of minutes of magic-sponging. Play is back underway now. 
34'   There's the first yellow card of the game, Iraq captain Ridha going into the book for a late challenge on Lainez, I think it was. It brings Mexico an opportunity to deliver the ball into the box, but Ibadi again comes out and claims well.
32' Dawood has been terrrific.
31' No sooner do Mexico almost equalise than Iraq very nearly make it 2-0! Robles is utterly sleeping as he tries to shepherd the ball back to his keeper, and Dawood nips in ahead of the Mexican skipper to fire the ball across goal - but just beyond the far post!
30' Mexico hit the woodwork! That's better build-up play from the 2005 and 2011 tournament winners and Lainez's cross finds De la Rosa at the far post, but his header rebounds off the corner of post and bar!
29' Roberto de la Rosa brings it forward and has a ping at goal, but it's deflected wide for a corner - which Ali Ibadi comes and claims. 
26' The Mexicans look to have no shortage of skill on the ball, but are doing very little to concern Iraq in the final third, and thus far that Dawood sucker punch continues to separate the sides.
25' Mexico coach Mario Arteaga has a face of some concern on the touchline, and well he might. El Tri fling the ball up towards Daniel López, who is penalised for his aerial challenge on Abdulabbas Ayad.
22' Mexico have failed to test Iraq so far, but they win a corner and a chance to change that. They take it short, Gamiz finally clipping a ball towards the back stick, where they're queuing up - but have been caught offside by the up-stepping Iraqi defence. De la Rosa headed it over anyway.
20' He shoots - but López easily catches his attempt to bend it into the right-hand side near post.
19' Not content with one, Iraq win another free-kick and another chance for Muntadher Mohammed to bung it into the mixer. Or will he shoot?
17' The Mexicans are rattled. Sandoval now fouls the tricky Shakir on the right flank, and Iraq have a chance to swing it into the danger area. Muntadher Mohammed stands over it... but it's headed clear by captain Carlos Robles.
14' Once again a quick ball is fired in behind the Mexican backline for Dawood to run onto - and this time it pays dividends! There's no flag, and the striker cooly rounds López before rolling into the net! The underdogs lead!
14' Goooal to Iraq! Dawood!
13' Incidentally, the crowd were off their feet at a cheeky little flick from Jairo Torres moments before then. He's certainly a man to watch, having been named player of the tournament in Mexico's triumphant U17 Concacaf Championship campaign earlier this year.
12'   Ufff, the Iraqis get themselves in a right old muddle, Daniel López stealing it inside the penalty area and laying it back to Luis Gamiz to strike from the edge of the box... but he scuffs it well wide. A let-off for Iraq.
10' Mexico keeper López again has to be alert to beat Dawood to a quick through-ball in behind the backline, this time from Albaqer. That seems like a definite tactic on Iraq's part. 
7'   Mexico come again, the decibels rising inside the stadium as Diego Lainez carves out half a yard to cross to the back stick, where the header is blocked. Lainez then gets a chance to repeat the trick...but this time it can't get past the first man.
6' There's the first moment from the Mexicans in the attack - but it comes to a damp squib of an end as Jairo Torres humps a cross miles too long.
5' The crowd - a pretty healthy one by the way are shouting their approval as Dawood again looks to cause Mexico trouble, but César López is out of his area quickly to smother it before he can run on to a through ball.
4' Iraq have started on the front foot here, swinging a ball in towards Dawood, who feels he's been fouled. Nothing doing.
2' After trading early free-kicks, Iraq look to get dangerman Mohammed Dawood running in behind the Mexican defence, but he's offside. 
Peeep! We're underway.
We're all set for kick-off. Can Iraq spring a surprise against the two-time champions, ranked 74 places above them, and claim a first ever win in an Under-17 World Cup match?
Ditto the Mexicans.
Iraq up first. They belt it out with gusto and, to no-one's surprise, demonstrate that their talents lie elsewhere.
Anthems time...
The teams are coming out in Kolkata! Five minutes to kick-off!
Iraq XI: Ibadi, Habeeb Mohammed, Abdulsada, Muntadher Mohammed, Dawood, Ridha (C), Shakir, Ayad, Albaqer, Ali, Kareem.
As ever, we've knocked together a quick guide as to how and where you can watch the action.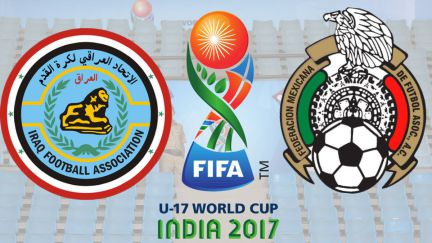 Iraq take on Mexico today in Kolkata in the under-17 World Cup and we'll be bringing you all the action from the Vivekananda Yuba Bharati Krirangan with kick-off at 16:30 CET.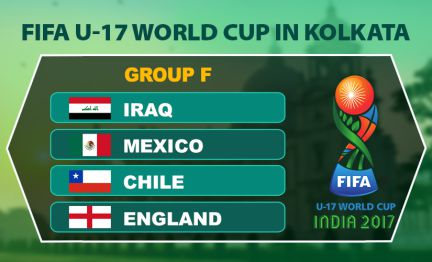 Preview
Two-time world champions Mexico take on Asian champions Iraq as Groups E and F get underway today. Despite having landed in one of the tougher groups, Qahtan Al-Rubaye's Iraq will be aiming to improve on their last finishes in the tournament – they exited at the group stage in the 2013 edition when they were also in the same group as Mexico and eventual champions Nigeria. Being back in India will conjure many happy memories for Iraq, who were crowned U16 AFC champions in Margao little over 12 months ago.
Mexico lifted the trophy for the first time in Peru in 2005 when the tournament featured just 16 teams – some of the promising young stars who were on the pitch in the final against Brazil included Carlos Vela, Giovani dos Santos and Marcelo… Mexico were back on the winners' podium in 2011, beating Uruguay on home soil to the delight of a packed Azteca.
Iraq team news
Qahtan Al-Rubaye has depth and quality in his 21-man squad and experience in captain Saif Khalid, who skippered the team to victory in their AFC triumphs at U14 and U16 level. Khalid models his game on Xavi and has been compared to ex-Iraq star Nashat Akram, another of his role models in the game.
Man to watch: Mohammed Dawood. In 16-year-old Mohammed Dawood, Iraq have a very talented and versatile striker who is comfortable playing in any of the forward positions. An intelligent player who reads the game well and reacts quickly to make sure he is always in goal-scoring positions. He's got everything you'd look for in a quality forward – pace, strength, the confidence to improvise and heading ability. He's gaining valuable experience in the Iraqi Premier League with Baghdad-based outfit, Al-Naft SC.
Mexico team news
Mexico coach Mario Arteaga has a wealth of experienced players in his squad with a handful of players already boxing above their weight in the Liga MX. Names such as Carlos Robles, Ián Jairo Torres, Daniel López and Roberto de la Rosa are advanced for their level and make El Tri a very well-balanced side. Arteaga has also called a player who was born in France but raised in Mexico – goalkeeper Víctor André Alcaráz Díaz who guards the net for Guadalajara's Under-20s.
Man to watch: Diego Lainez. The young Club América midfielder, who first started kicking a ball about when he was four, has been on an upward trajectory since he first starred at international level with Mexico's Under-13s. A left-footed, attacking midfielder, Lainez was handed his senior debut with the Águilas aged 16 years and eight months and appeared for the first time in the Liga MX just three days later. Incredibly skillful for his tender age, with the ball at his feet, Lainez is reminiscent of Isco, or some commenters go as far as likening him to a young Leo Messi! Like Messi Lainez likes to drift over the right wing and cut inside on his favoured left foot. He will be a real handful for Iraq's defence on Sunday.
Iraq v Mexico live stream online: possible line-ups
Iraq: Ibadi; Habeeb, Matham, Muntadher, Ammar; Mohammed, Saif, Ridha, Alaa, Bassam; Kareem, Dawood.
Mexico: López; Adrián Vázquez, Robles, Olivas, Sandoval; Ruiz, Alexis Gutiérrez, Jairo Torres; Lainez, Daniel López, De la Rosa.