Real Madrid 3-0 Eibar Spanish LaLiga week 9: match report, goals, action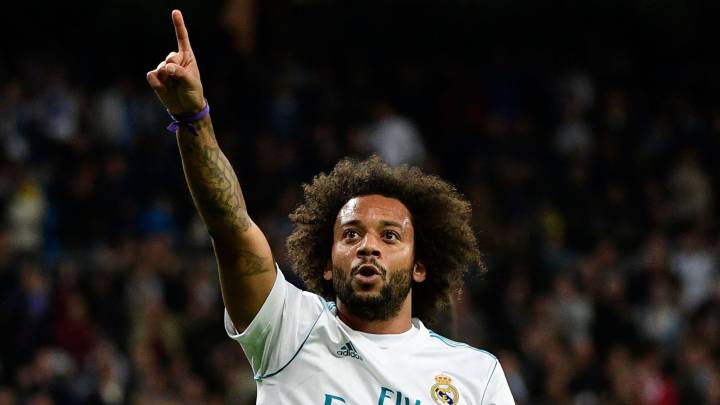 Real Madrid 3-0 Eibar: match report
Real Madrid barely got out of third gear on Sunday night but didn't need to as they beat a tame Eibar side 3-0 at the Santiago Bernabéu, who didn't do a whole lot to help themselves.
Paulo Oliveira gave Real Madrid the lead with an own goal as the ball arrived in from the right from a Marco Asensio cross. He was under pressure from Sergio Ramos and he was hardly at fault but it was the beginning of the end for the visitors.
10 minutes later, with 28 gone, Isco broke down the left and crosses to a wide open Asensio, and he swung his left foot at it. The ball evaded Dmitrovic as he seemed to catch it late. It whizzed by his arm and it was a proper howler. Less than a half an hour in, it was looking like there would be no upset.
Real Madrid continued to control play and Eibar, while looking good on the ball, failed to create any meaningful chances.
Marcelo clinched the three points with the goal of the game when Theo Hernandez broke down the left and played the ball to Marcelo. He gave it to Benzema, who returned it almost immediately. A swivel and a strike later and the ball was whizzing past Dmmitrovic yet again. This time, however, he could do nothing about it.
Real Madrid up 3-0 in a game that failed to ever get going. They move up to third behind just Barcelona and Valencia while Eibar remain 16th with just seven points from a possible 27.
Real Madrid vs Eibar live stream online: latest news
90'+2' GAME OVER! Routine for Real Madrid but far from their best performance.
90'+2'   Inui with a shot now and Casilla saves and put it out for a corner.
90'+1'   Sergi Enrich through on goal. He's offside though and misses in any case as Casilla saves with his feet.
89'   Ronaldo through on goal down the right and drives a shot that Dmitrovic beats away.
88'   Strike by Inui and Casilla gathers it at the second time of asking.
85'   Casemiro trying to barge his way through for a goal. Dmitrovic out again to gather it.
82' GOAL! What a finish that is. Marcelo rounds it off for Real Madrid. theo to Marcelo, inside to Benzema and back again to Marcelo as he drives a shot low and beyond Dmitrovic.
79' Sergi Enrich replaces Gonzalo Escalante.
79'   Marcelo through on goal but Dmitrovic rushes out and gets it away. Marcelo picks it back up and crosses to Ronaldo but he chests it down and drives it into the side netting.
78'   Eibar have barely threatened Real Madrid's goal and don't look like they will either although Sergi Enrich coming on now as Mendilibar gives the striker some last instructions.
78'   Turning into a procession now for Real Madrid.
74' Second sub along with Vazquez was Marcelo, who came on for Dani Ceballos.
74'   Ronaldo with a lovely backheel to Benzema and he sees his shot blocked.
72'   Kike upset as a ball down the line is too far!
70' Isco replaces by Lucas Vazquez.
70'   Casemiro passes to Ramos way up the field and he loses out but nearly wins it back. Eibar eventually win a throw.
68'   Kike breaks through and clips one into the side netting. Really tough angle.
66'   Ronaldo through on goal and misses. he waited too long and Dmitrovic was able to save. Benzema drives the rebound over!
66'   Modric leaves Jordan for dead and strikes but it's always going wide. 
64' Kike replaces Charles.
63' Benzema replaces Marco Asensio.
63'   Capa with another cross but that goes way over the top again with no attackers from Eibar arriving to get anything on it.
62'   Cross comes in and Theo heads out for a corner. No real danger but probably better safe than sorry and Ramos gives him a thumbs up.
61'   Asensio makes it in behind defense, crosses and it's cleared for a corner. It comes in again and Eibar clear before it arrives in again and Dmitrovic grabs it under pressure from Ronaldo.
57'   Eibar better in the last couple of minutes. Still nothing doing for them. 
55'   Might have been a temptation to give that but he made the right decision. 
54'   Eibar want a penalty. Inui goes down under a challenge from Casemiro and the ref tells him to get up. 
52'   Ronaldo with a free but that one goes way over. He's unimpressed with that one and seems a little peeved in general the whole game. He's desperate to get on the scoresheet.
50'   Lovely move as Asensio create a counter with a back heel that goes over his head. He plays it out wide to Isco and he closes in on Dmitrovic with options inside. He shoots, the keeper saves and Real Madrid win a corner.
49'   Jordan is the one who sends it towards goal. Capa crosses in the rebound when it makes it to him. Way over the bar and wide.
48'   Nacho fouls Inui again. He''s struggling with the wide man tonight. Escalante ready to swing it into the box.
47'   Real Madrid with all of the ball to start the second half. Eibar sitting back and Real Madrid teasing out different routes forward to see which one is the best.
46' We are underway for the second half.
45'   No more time here as Real Madrid lead Eibar 2-0. A very tame showing from both sides.
42'   Theo bursting a lung down the left and gets to it, crosses, but it's too close to Dmitrovic.
40'   Modrc fouls Inui this time. Looked more clumsy as the Japanese player ran into the Croatian's path. Another chance for Eibar to ask some questions of Real Madrid. They answer them emphatically as they break and Theo is hauled down by Arbilla.
38'   Cote strikes from outside the box with his left. It went close but was always drifting wide. Casilla had a think about it too.
36'   Foul on Inui as Ceballos crashes into him. 
34'   Throw for Eibar on the left. They've barely ventured outside their own half since that second goal. 
33'   Real Madrid turning the screw now. Cross comes in and Asensio, who might have headed it himself, heads it down to Ronaldo but Eibar manage to get it away before he can shoot. 
32'   Casemiro drives a shot towards goal, hoping to get some of the good luck that Asensio had with his shot, but it's off target. He hit it really well but just slightly off target.
31'   Ball arrives in from the left and Ronaldo throws his leg at it but he's offside, to start, and he can't make contact anyway. Good ball in from Modric.
28' Isco crosses to Asensio and he drives a shot low at Dmitrovic. He seems to see it late, or something, but that is terrible goalkeeping. Regardless, Real Madrid 2-0 up!
26'   Asensio drives a shot in from distance but that's not troubling Dmitrovic.
26'   Another free for Eibar and Jordan again but this one bounces tamely to Casilla and he grabs it.
24'   Ball comes flying in and Madrid get it away. Inui with the ball then on the rebound and gets it nicked off his toe by Casemiro.
22' Casemiro booked in the end along with Charles.
22'   Free for Eibar on the left. Miles out but a decent chance for them to throw it into the box. They do and Ceballos goes down with a sore hea. the play continues and Cote is fouled by Nacho. Casemiro and Cote have some serious words after.
20'   Inui crosses low but it tolls safely into Casilla's arms.
18' GOAL! Real Madrid. Own goal. Oliveira heads home a Marco Asensio cross. It looped over Dmitrovic. 
17'   Ronaldo has a crack but it takes a deflection and goes out for a corner. There were four Eibar players ahead of him.
15'   Inui brushed aside by Casemiro and he clears but it's out for a throw. Nothing really doing for either side so far. Eibar break and Inui mishits a pass with forwards streaking to his left and right.
14'   Jordan pushes Casemiro out of the way and the Brazilian wins a free.
12'   Modric breaks free from a couple of eibar tacklers and plays it to Isco. He had strayed offside though.
10'   Escalante gets his head to a cross at the back post. He heads over though.
9'   Ramos to Modric and Modric has the ball taken off his toe. Real Madrid recover, however, and go back on the attack.
7'   Real Madrid asked to take a free again, for some reason. But the ball comes back and Casilla sends it to the left. Eibar recover and have started this game quite positively.
6'   Lovely ball from Inui on the left over to Charles and he heads down to Joan Jordan. The attacker strikes but Casilla gets down and gets his body behind it.
5'   Isco takes a cross-field ball down and plays it into Theo's path but he can't doing anthing with it.
5'   Varane with a long ball across to Isco and Real Madrid test the strength of Eibar's right hand side.
3'   Ander Capa threatening down the right. He receives the ball from Rivera but he's offside.
2'   Nacho heads into Asensio's path and he plays it across the box to a wide open Isco. Slack marking.
2'   First chance for Real Madrid and it falls to Isco on the left. He tries to curl it past Dmitrovic and the keeper saves. Great chance.
1'   We are underway!
    Ready for action as Capa and Ramos shake hands and take a lovely photo before kick-off.
Real Madrid haven't hit their stride in front of goal either and have only scored 15. Five teams in the top flight have scored more. Barcelona, Valencia, Celta Vigo, Real Betis and Real Sociedad have all scored more.
Eibar have struggled with both scoring and conceding goals this season. They have the third worst goal difference at -14 with only Las Palmas and Malaga right behind them. They scored three, which is only matched by Alaves, who didn't score until the sixth week of the season!
Leganes are currently beating Athletic Club which means the Madrid club are up and level with Real Madrid on 17 points in 5th place.
Nacho has been excellent when asked to step in for Real Madrid. Monchi, of Rome, reportedly had the defender at the top of his January shopping list. Two stand-in full-backs tonight for Zidane too as Theo starts in the left back position. He will surely be tasked with pinning Capa back as far as possible. The right back will move to Athletic Club next season and has been excellent for Eibar for a long time.
This is the seventh time Real Madrid have played Eibar in LaLiga. Real Madrid have won five and drawn once. 
Marcelo rested as Nacho comes in for Achraf. Kroos is too as Ceballos gets a somewhat rare start. Asensio, Isco and Ronaldo as the front three!
Eibar XI: Dmitrovic, Escalante, Rivera, Capa, Inui, Paulo, Cote, Arbilla, Charles, Lombán, Jordán.
Real Madrid XI: Casilla, Nacho, Varane, Ramos, Theo, Casemiro, Modric, Ceballos, Asensio, Isco, Ronaldo.
Zinedine Zidane has discarded Mayoral from his squad along with others and puts his faith in Karim Benzema as the only player who can play as a pure number nine. Zidane says that Gary Lineker's criticism of the French striker was "a disgrace". He said that he is one of the best around and that while he won't score 60 goals, he's get 30 and be involved in another 30.
Elsewhere, a certain prolific Real Madrid striker is up for another - probably nailed-on - award, which takes place on Monday. 

  As Editor Alfredo Relaño also wrote his Sunday editorial on Lineker's criticism, arguing that although Benzema doesn't score the number of goals expected by a Real Madrid number 9, he does offer a whole lot more and is a better player than many who do score week in, week out. 

Much of the talk before this game has revolved around Gary Lineker questioning the quality of Karim Benzema, which has rankled the Madridistas, to say the least. This is what Zidane had to say on the matter. 

Another focal point this evening will be the continued progress of Achraf Hakimi as cover for Carvajal at right back. 

One of the stories of tonight's game is the inclusion of the Under-19s keeper Moha Ramos in the Real squad. Read more about the keeper from the Canary Islands here. 

Fret not, here's all the how-and-where to watch information for this evening 's game, wherever you happen to be.
This evening's encounter sees a Real Madrid side looking to keep pace with runaway leaders Barcelona, who are currently a substantial eight points ahead at the top of the table. Eibar, on the other hand, are looking anxiously over their shoulders, teetering dangerously above the drop zone. 
Hello and welcome to AS English's live coverage of the LaLiga clash between Real Madrid and Eibar at the Santiago Bernabéu (20:45 CET).
Real Madrid vs Eibar live stream online: match preview
Real Madrid welcome Eibar to the Bernabéu on Sunday evening as Zinedine Zidane's side look to keep pace with Liga leaders Barcelona. Eibar have never got the better of the reigning champions but did upset the odds last season in a 1-1 draw in Madrid that capped a run of four stalemates for Zidane's side. Fran Rico put the visitors ahead before Gareth Bale salvaged a point for the home side, a little bit of history that the Real boss will be keen to ensure does not repeat itself with his team already playing catch-up in their defence of the title.
Real Madrid
Injuries have been as much a part of the narrative during Zidane's Bernabéu tenure as victories and titles and first-choice keeper Keylor Navas joined the queue for the treatment table in the run-up to the game after his spectacular performance against Spurs in midweek. Kiko Casilla is a perfectly able deputy to the Costa Rica international and will guard the sticks behind a defence that is likely to feature rising star Achraf Hakimi on the right in the absence of Dani Carvajal after the 18-year-old shone on his Champions League debut.
Zidane may choose to rotate elsewhere at the back, bringing Theo Hernández in on the left to hand Marcelo a breather and possibly handing Nacho a start in the centre with Raphael Varane trained on his own on Thursday after the Tottenham game.
Isco has stated his case for a regular starting berth with some outstanding performances this season, not least with a double in the 2-0 victory over Espanyol in Real's last home Liga game, and in light of the form of his forwards Zidane could use an extra goal threat against a visiting side who are likely to operate with nine men behind the ball when not in possession.
Karim Benzema and Cristiano Ronaldo will start as they both seek to rediscover their touch in front of goal. The Frenchman was particularly culpable against Spurs, missing two clear chances, and Ronaldo is also struggling with just one Liga goal to his name in 360 minutes so far this season, although he does have five goals and four assists against Sunday's opponents in five league matches.
Gareth Bale returned to training this week but will not be able to contribute as he did last season, leaving Zidane to choose between Marco Asensio and Lucas Vázquez if he opts for a three-pronged attack. If the Frenchman elects to play Benzema and Ronaldo up front in a 4-4-2, Isco will slot in on the left of midfield alongside Luka Modric and Toni Kroos, with the possibility that Casemiro may be given the afternoon to allow Dani Ceballos or Marcos Llorente to get further playing time under their belts with Mateo Kovacic still on the sidelines.
Eibar
José Luis Mendilibar is likely to opt for damage limitation in the Bernabéu after seeing his side thrashed 6-1 by Barcelona, 4-0 by Celta and 3-0 by Villarreal in consecutive Liga fixtures. The rot was slowed a little in Eibar's last outing, a 0-0 draw with Depor, but the three shots on goal mustered in that game are probably not going to be exceeded in the Bernabéu.
Any chances that do come his side's way will be reliant on Sergi Enrich's marksmanship. The striker will be tasked with ploughing a solitary furrow up front with two banks of four and five behind him. The 27-year-old bagged 11 league goals last season but has found the net just once so far in 2017-18, scoring the consolation in the defeat against Barça.
A five-man defence will be reasonably confident of nullifying the threat of Real's forwards on the basis of the success enjoyed at the Bernabéu by Valencia, Levante and Betis but an early goal may open the floodgates, as Mendilibar will be all too aware.
The Eibar boss has a mounting injury crisis of his own and will be without Pedro León, a player who always has a still sore point to prove when he faces his former employers, last season's scorer in the Bernabéu Fran Rico, seasoned centre half Iván Ramis and winger Iván Alejo all out.
The creative strings will be therefore be placed in the hands of Japan international Takashi Inui, who will give Achraf a workout from the left flank with Gonzalo Escalante working the lines in midfield alongside Dani García. Full backs Ander Capa and David Juncá will look to open up space on the overlap when Eibar are able to break in the hopes of getting ball into the air and into the box for Enrich, which is where Real are most vulnerable. Only Zidane's side have put more crosses in than Eibar in LaLiga this season and that is where Mendilibar will seek to profit while attempting to keep the score down at the other end.
---
Real Madrid vs Eibar live stream online: possible line-ups
Real Madrid XI: Casilla; Achraf, Ramos, Nacho, Hernández; Llorente, Kroos, Modric, Isco; Ronaldo, Benzema.
Coach: Zinedine Zidane
Eibar XI: Dmitrovic; Capa, Arbilla, Gálvez, Oliveira, Juncá; Jordan, Escalante, García, Inui; Enrich.
Coach: José Luis Mendilibar