Italy face the very real prospect of missing out on the World Cup for the first time since 1958 after Sweden - who reached the final that year on home soil - invoked a similar figthing spirit to defeat the Azzurri by a single goal in the Friends Arena in Solna.
Gian Piero Ventura's side failed to create many clear-cut chances against a well-orginised Sweden, who were more than content to let Italy have possession of the ball after quickly noting that the visitors had left their attacking ideas in the dressing room. Andrea Belotti missed a golden opportunity to put his side ahead early in the first half but sent his header just wide of Robin Olsen's upright.
Mateo Darmian later rattled a post with a cracking drive from distance but by then Sweden had taken the lead through substitute Jakob Johansson, whose deflected drive wrong-footed Gianluigi Buffon. It was a deserved lead for the home side, who had showed more invention and willingness to run for the cause than Ventura's unadventurous Italy.
One Italy shot on goal tells its own story and Ventura will face an uncomfortable press conference on Sunday before he attempts to turn the tie around in the San Siro a day later.
Sweden vs Italy live online: as it happened
90'+5' The ball falls to Insigne, who opens his body, shapes and... drags it wide. And that was the final chance! Sweden win 1-0! Advantage the Blue-Yellow going into the second leg on Monday.
90'+4'   The entire Italy bench are on their feet. You'd think it was a 90-minute affair. The ball is all the way back to Buffon as Italy come again, possibly for the final waltz...
90'+3'   Insigne tries to play the ball in but Lindelöf is there to head clear. Sweden holding firm. 
90'+2'   Italy start to build from the back again but it's route one time now...
90'+1'   Chiellini tires of build-up play and hits a cross from deep but that's never going to trouble the Sweden back four. Italy carve out a half-chance but Immobile sends it into the stands on the turn.
89'   Darmian sends in a cross but it's behind Olsen's goal. Five minutes added...
88'   Time slipping away for Italy. The home fans are whistling already but there'll be about four minutes of stoppage time we reckon.
87'   Chiellini whips a cross around the back of the Sweden defence and Insigne almost gets to it but he's called offside anyway.
85'   Five minutes to go for Italy to salvage something here. Sweden will be more than happy with the result ahead of the return in Milan on Monday.
84'   Forsberg goes on a run down the left but he hasn't got much left in the tank and is hounded down by Chiellini. He's had an excellent game this evening, the Leipzig winger.
82' And Krafth heads off, Gustav Svensson of Seattle Sounders coming in to shore up the midfield a little more.
81'   Time is running out for Italy and the home fans sense it, raising the decibel level a few notches. Sweden packed like herring behind the ball now. Italy going side to side looking for an opening. Insigne almost gets on the end of a cross but there's a little too much on it.
79'   Italy probe Sweden's right again as they seek a precius away goal. Krafth is down with a bit of cramp to the wrath of Eder, who accuses the Bologna defender of pulling a fast one.
77'   José Mourinho is in the stands with Zlatan. Surely it would be easier to watch Lindelöf play by giving him a game at Old Trafford?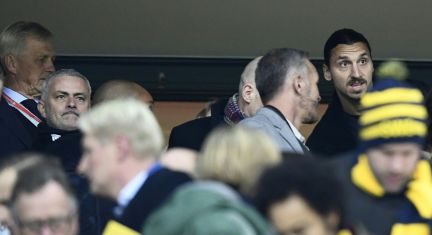 Sweden enjoyed that. Can they take the advantage back to Italy?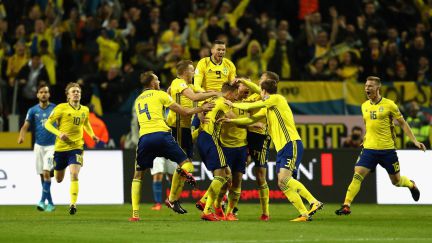 75' Italy loft another ball over the top but the flag is up for offside. Another change from Ventura, Verratti off for Insigne as Italy roll the dice.
73' Candreva tries his luck and it's out for a corner. Change for Sweden, Berg, who is on a yellow, makes way for Isaac Kiese Thelin. 
72'   Italy dawdle again at the back and Sweden press, almost nicking the ball off the ponderous Chiellini. There's a time to play route one and the visitors are yet to fully figure out when that is. The home fans are enjoying every chase down and that is giving Sweden an extra ounce of energy.
72'   At the other end Sweden have an opportunity but Claesson sends his shot straight at Buffon.
71'   Darmian! The Manchester United man, one of few decent performers for the Azzurri this evening, rattles a post with a thunderous effort from outside the box. Olsen didn't even move for that one it was travelling at such speed.
70'   Corner to Italy, Toivonen is there to clear. A second comes in and Olsen flaps at it a bit.
68'   Italy carve out a half chance but Claesson, who has been excellent this evening, gets a timely clearance in.
66'   The home fans are in good voice, sensing a famous victory. You have to say that Italy don't look like scoring.
The Inter striker scored the winning goal when these two sides met at Euro 2016. Can he repeat the trick?
63' Claesson goes down under a hefty challenge as Italy make a change, Belotti going off for Eder to come on.
It was recently introduced substitute Jakob Johansson with the strike there. A stroke of fortune for the home side perhaps, he wouldn't have been on if Ekdal hadn't picked up an injury.
61' Goooooooooooooal! Sweden take the lead! It took a wicked deflection off a defender on its way past Buffon but the home side won't care! 1-0 Sweden lead in the Friends Arena!
59'   Things are getting a bit fraught now as De Rossi goes down under a challenge from Berg. The Sweden players are incensed, as is Andersson on the touchline. They feel the Italians doth protest too much.
57'   It' Chiellini's turn to incur the wrath of the home fans now as he goes down in apparent agony after a clash with Buffon. There didn't seem to be much in it as Berg is keen to point out as he was bearing down on goal.
56' Change coming up for Sweden, Ekdal appears to have picked up a problem and won't be able to continue. AEK Athens midfielder Jakob Johansson comes on to replace him.
55'   Nice control from Claesson to bring a long ball down and he looks to play Ekdal in but Italy get across to cover.
53'   It's a little early to be shutting up shop but Sweden are stacking players behind the ball at the moment. Italy almost find a way through but Larsson does enough to shepherd the ball back to Olsen under the attention of Parolo.
51'   Sweden seem happy to let Italy have the ball at the moment, soaking up the pressure. A ploy by Andersson perhaps?
50'   Bonucci invites the opprobrium of the crowd by going down under minimal contact from Toivonen. The Friends Arena it may be called but the Italy veteran is making few this evening.
49'   It's all Italy at the moment and Candreva has got the bit between his teeth. The Inter midfielder sends in another decent cross, which goes out before landing on Olsen's bar and clipping away.
48'   Olsen! The Sweden keeper immediately makes amends with a fine save from Candreva's piledriver. Excellent stop there from the Copenhagen man.
47'   Italy come out of the blocks with a long period of possession which ends with Candreva sending in a cross. Olsen completely midreads it and he's lucky there's a defender on hand to boot it out for a corner.
46'   Italy get the second half underway. No changes by the looks of things for either side.
Italy coach Ventura has plenty to ponder at half time. He's not short of options on the bench - Bernadeschi, Insigne and Eder are among the substitutes - but one shot on goal in the opening 45 minutes is not likely to be concerning Sweden too much.
45' Larsson sends in a searching ball but it just drifts wide of the onrushing yellow shirts. There's little time for more as the ref blows for the half! 0-0 it remains but Sweden look by far the most likely to break the deadlock on current evidence.
44'   Another free kick to Sweden as Toivonen is bundled over by Barzagli.
42'    A decent Agustinsson cross is met firmly by Chiellini, who other than that mix-up with Buffon has been excellent so far in the area.
41' Huge cheers as pantomime villain Bonucci sends a pass straight out without bouncing. That is indicative of Italy's struggles to create anything this evening though. Sweden are more than comfortable defending against long balls and Italy have little to offer with the ball on the deck.
39'   Toivonen tries to catch the Italy defence out with a round the wall job but it fails to get past the blue-shirted barrier. We're not enritely sure Forsberg wasn't lining that one up...
38'   Free kick to Sweden on the edge of the area as Toivonen is battered to the floor.
37'   Mama mia! Chiellini and Buffon get into a right old tangle at the back but Sweden are unable to capitalise. Half-hearted shouts for a penalty as Buffon clatters into Toivonen in the melee but he clearly git a paw to the pig skin first, the Italy captain.
36'   Chiellini shows all those years of experience to slide into a perfectly timed tackle as Claesson attempts to break.
34'   Italy are looking fairly devoid of ideas going forward and the Sweden defence are lapping up everything they try down the right. Darmian has been the Azzurri's most dangerous outlet on the flanks. Candreva is causing the Swedes no trouble at all.
31'   Claesson feeds Ekdal and the midfielder tries his luck, but there are so many players in the way it clips the outstretched boot of Forsberg and becomes meat and gravy for the Italian defence, who once again gratefully hoof the ball upfield. Sweden have the upper hand at the moment. Can they make it count before half time?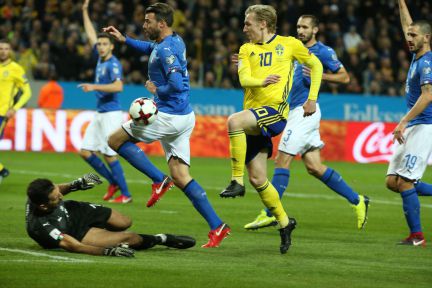 29'   Sweden get inspired by Sly Stallone and try to go over the top, but Chiellini is having none of that and rises to head the ball away. At the other end Darmian sends in a cross that takes a deflection and catches everybody off guard, eventually drifting wide of Olsen's far stick.
28' Bad news for Italy as Verratti goes in the book, meaning the PSG midfielder will miss the return game next week.
27'   Italy play one over the to pand it catches Sweden on the hop. If Immobile had just shown a slightly defter touch he would have been in there.
25'   Again Italy tarry too long and again Sweden accept the inivitation and nick the ball. Forsberg is a real thorn in the Azzurri side, buzzing about like a fly in the pomodoro.
24' Sweden are quicker to every ball at the moment and pounce on some rare Italian indecision to carve out a chance for Forsberg, whose shot is well hit but does not trouble Buffon, skimming wide of the upright and bar.
22' Corner to Sweden after Claesson is dispossessed in the area in timely fashion. Darmian getting a chatting too about whose shirt is whose. The corner, when it finally comes, is overcooked and Italy hoof it clear.
Italy try to play it out from the back but Sweden are snapping at heels, none more so than Seb Larsson, who nicks back possession for the yellow shirts.
21'   Berg clips De Rossi from behind and Italy have a free kick. Entirely accidental, old chap, is the gist of Berg's response as the Italian glares in his direction.
19'   Sweden seem to be targeting the Italy left and are trying to work the ball to Kraft whenever possible. The home side come forward again and Claesson almost wriggles through but it bundled off the ball in the area. 
17'   Berg is down in a spot of discomfort after De Rossi clips him in the throat. There wasn't much in it though and the pair share an ironic few words with the Italian suggesting his opposite number didn't need to go down clutching his face.
16'   Italy are looking to get their foot on the ball now to slow things down a bit. Sweden are having the better of the possesssion and look more dangerous going forward. Candreva delivers a cross over the back four to nobody in particular.
13'   Verratti! The PSG man picks out a glorious ball for Candreva but it's just out of reach for the Inter midfielder.
11'   Italy currently reduced to stroking about the back three and looking for a long ball towards the forwards. Belotti takes out Ekdal as the Hamburg man looks for some space in midfield.
9'   Quick feet from Sweden as the home side try to work a one-two-three through the Azzurri back line but the final ball is too heavy and can't be brought under control. Sweden hurl in a Kraft long throw and it's cleared, none too comfortably, by the visitors.
8'   Sweden go close! Good work from Forsberg tees up Toivonen, whose shot is pulled just wide of Buffon's far post. Decent effort that and a good move from Sweden.
7'   Olsen makes a fine save to touch a fizzing shot to safety but the move was called offside anyway.
6' Close! Italy break down the left through Darmian and he stands up a lovely ball for Belotti, but the Torino striker pops his header wide when it looked easier to tuck it inside the post. A bit of a let-off for Sweden, for who a clean sheet is surely the priority tonight.
5'   Italy in a spot of bother at the back as Buffon clobbers a soft back pass straight to the home side, who nearly work it through the back line. Clear intent from Sweden here to get into the faces of the Azzurri.
4'   Forsberg hits it but it's a wild effort, high and to the left of Buffon's goal. Wasted opportunity there for the home side.
3'   Sweden win a free kick on the edge of the Italian area as Bonucci is penalised for a shirt tug.
2' And Berg goes in the book, apparently for suggesting Bonucci is making a bit of a meal of the challenge. He's back up, to ironic cheers from the stands. Buffon gets the ball back into play.
1' And we're off! Bonucci down immediately after a clash with Toivonen. Looks like the Toulouse forward caught the defender with his elbow there.
Sweden going with a 4-4-2 this evening, Italy lining up in a 3-5-2, with a fair bi tof pace on the flanks...
The Friends Arena is belting out Du gamla, du fria, which translates as Thou Ancient, Thou Free. Cue a camera pan to Zlatan...
A full-throated rendition of Il Canto degli Italiani in flow, quite a lively tune you have to admit. Buffon is getting stuck in.
The teams come out to a huge roar from the home fans. The anthems coming up...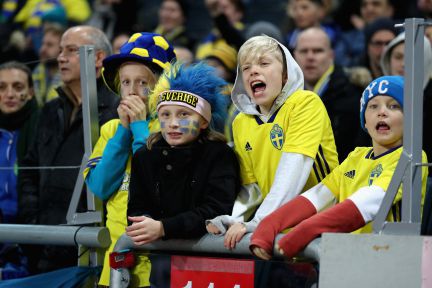 Just 10 minutes to go until kick-off in the Friends Arena. A beautiful mosaic unfolding in the stands and a huge, colossal, Sweden flag is unfurled on the pitch.
Italy's back four face a tough test this evening to keep Sweden at bay after Janne Andersson's side hit 26 goals in 10 games in qualifying - more than any other side in the playoffs.
Veteran Italy keeper Gianluigi Buffon made his debut the last time the Azzurri were forced into the playoffs, 20 years ago against Russia. Buffon, then 19, came on as a substitute under the snow in Moscow after Gianluca Pagliuca was injured. Italy were held 1-1 but qualified in the return leg.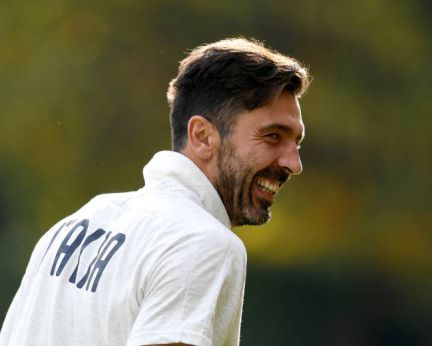 Sweden have not lost on home soil in two years and wil llook to extend that record against Italy as the Scandinavian side seek a first World Cup berth since 2006, when they lost to Germany 2-0 in the last 16. That was Zlatan Ibrahimovic's last appearance on the grandest stage, and he was substituted in the 72nd minute for Marcus Allbäck, which we suspect did not go down very well. 
Hello and welcome to our build up to the rather tasty offering of Sweden versus Italy in the first leg of their World Cup 2018 qualifier. Have a read of the preview below and then stay with us as we bring you the latest news ahead of kick off in Solna.
Sweden vs Italy live online: match preview
The Swedes and the Italians have long had a mutual respect for each other on the field, stretching back to when Gunnar Gren, Gunnar Nordahl and Nils Liedholm formed the feared "Gre-No-Li" trio at AC Milan in the 1950s. The more recent success of Zlatan Ibrahimovic in Serie A rekindled that bond, but Sweden's record goal-scorer quit the national team after last year's European Championship in France. Tonight's clash is arguably the tastiest of the playoff dishes.
Sweden team news
Sweden come into this game with a decent home record against the Italians. In their last eight meetings in Sweden, the hosts have lost just once, winning four of them. And things have changed considerably over more recent times with manager Jan Andersson fashioning his side into a compact, capable team that has finally stepped out of the shadow of Ibrahimovic, arguably Sweden's greatest-ever player and the rock on which previous sides were invariably built.
They were solid in defence at home in qualifying, beating France and drawing with the Dutch to sneak into second place on goal difference and nab a playoff spot.
"We feel really strong as a team, we've done it well so far, and we are totally at home here at Friends," Andersson said.
"We've played well so far, played good football. I hope we can do that tomorrow also, then we get the result and we will see what result we will bring with us down to Italy on Monday," he added.
Marcus Berg and Ola Toivonen are expected to lead the front line - not exactly the fear driver of the previous Larsson-Ibrahimovic attack - and will be supoorted by the talented Emil Forsberg who has shone for Bundesliga surprise package, RB Leipzig.
Italy team news
For football giants Italy the next few days could be a nightmare as they face a double-headed playoff against Sweden to avoid the humiliation of missing the World Cup for the first time in 60 years.
"A World Cup without Italy isn't a World Cup" has become the catchphrase of many Italians -- four-time world champions -- who are perplexed at how the once-mighty Azzurri have fallen so low. The last time Italy missed the World Cup was the 1958 edition which was hosted in Sweden.
"I don't even consider the idea of not qualifying. We'll go to Russia for sure," insisted coach Gian Piero Ventura, who took over from Antonio Conte after the 2016 European Championship. "We're Italy and missing out on the World Cup is not an option," added experienced centre-back Leonardo Bonucci.
Italy arrived in Sweden for the first game of their two-legged World Cup playoff against Sweden with doubts about the fitness of Valenica's hottest striker Simone Zaza, who has knee injury which is likely to keep him out of Friday's match.
Zaza suffered the flare-up of an old injury during training before the Italian squad departed for Stockholm.
"We'll see how it goes. Zaza has a little problem, if he can't play tomorrow he can play on Monday," Italy manager Gian Piero Ventura told a news conference at the Friends Arena on Thursday.
Flanked by team captain and goalkeeper Gianluigi Buffon, Ventura seemed unperturbed by the injury to his striker.
"Obviously this is a very exciting game, one of the most important (in my career), or at least half of the most important, as it is two games that can take us to the World Cup," he said. "The Swedish players take more responsibility now. Previously a lot of the play went through Ibrahimovic, he drew everything to himself, but now the other players have a more free role," Buffon added.
Sweden vs Italy live online: betting odds
Despite being the away team, Italy arrive as favourites to take a lead back home and this means you can back the Swedes at almost 3/1 to win on the night. Our office tipster sees thinks the game has 0-0 written all over it and if you agree you'll be looking at odds of 11/2. Tempted?
Check out all the odds and bet on Sweden vs Italy