Tiger Woods satisfied after solid return in Bahamas
After a 10-month layoff, former world number one Tiger Woods was back in action on Thursday in his latest comeback following back surgery and personal problems.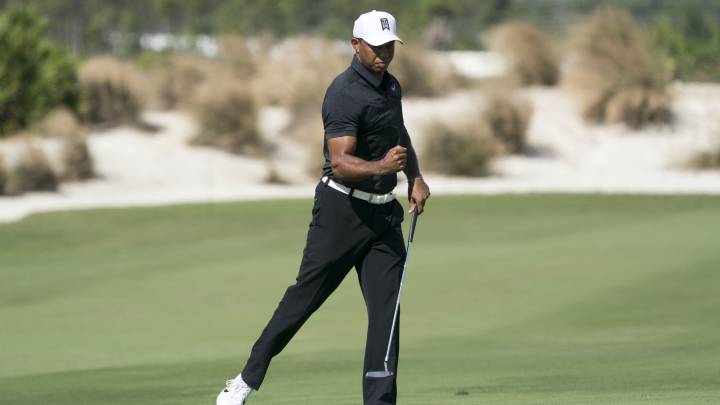 Former world number one Tiger Woods made a solid return on Thursday in his latest comeback after a 10-month layoff punctuated by back surgery and personal problems.
Tiger makes five birdies in opening round
Woods, who has not played since February, fired a three-under-par 69 in the opening round of the Hero World Challenge at Albany Golf Club in the Bahamas. The 41-year-old 14-time major champion carded five birdies and two bogeys in an encouraging first outing since injury forced his withdrawal at the Dubai Desert Classic earlier this year.
'I thought I did great,' a satisfied Woods said afterwards. 'I hadn't played in a while after some difficulities, so to come out here and score like I did was nice.
'It was fun to be out there and be part of a scorecard again.'
Woods underwent back surgery in April in the latest of a series of injury setbacks which also forced him to miss the entire 2015-2016 season. Woods admitted he had not known what to expect on his return to competitive golf.
'I didn't know what I could do. I've been playing golf, been playing a lot of holes at home,' Woods said. 'But it's a little different when you've got to tee it up in a tournament. I had a lot of adrenaline going there.
'I had to dial it back a little bit. Those are the internal struggles I haven't had for a while.'
Trials and tribulations of the Tiger
Woods has also battled demons in his private life, and was arrested for driving under the influence in May after being found asleep in his Mercedes-Benz by the side of the road near his home in Florida.
Woods, who was found to have five drugs including the powerful opioid hydrocodone in his system, later revealed he had undergone professional treatment to help him manage his medications.
Woods, whose 79 career PGA Tour wins are three shy of Sam Snead's all-time record, has not won a major title since the 2008 US Open and has not won any event since the 2013 World Golf Championships Bridgestone Invitational.
Leaderboard
.1. Tommy Fleetwood (ING) 66 (-6)
.2. Rickie Fowler (USA) 67
.2. Matt Kuchar (USA) 67
.4. Kevin Chappell (USA) 68
.4. Justin Rose (ING) 68
.4. Dustin Johnson (USA) 68
.4. Jordan Spieth (USA) 68
.8. Francesco Molinari (ITA) 69
.8. Charley Hoffman (USA) 69
.8. Justin Thomas (USA) 69
.8. Tiger Woods (USA) 69
12. Henrik Stenson (SUE) 70
12. Kevin Kisner (USA) 70
14. Hideki Matsuyama (JPN) 71
14. Brooks Koepka (USA) 71
16. Patrick Reed (USA) 72
17. Alex Noren (SUE) 73
18. Daniel Berger (USA) 75