After the controversy stirred by a photograph of Grêmio midfielder Arthur Henrique posing in a Barcelona shirt with the Camp Nou sporting director Robert Fernández, Porto Alegre daily GaúchaZH managed to get in contact with the player's representative, Jorge Machado, and Arthur's father, who gave their version of events.
Arthur agent: "He has signed an extension until 2021"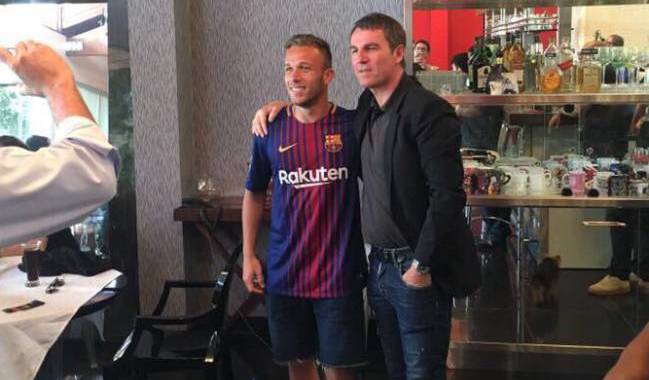 Machado moved swiftly to quash rumours of an imminent move to Barcelona for the 21-year-old after Grêmio announced they would be reporting the Camp Nou to Fifa for tapping up their player. "Three months ago we reached an agreement with Grêmio and signed a contract extension until 2021," Machado said. "Now he has a mutli-million buy-out clause."
That clause is reported to stand at around 50 million euros and after the photograph was published in Globoesporte on Friday night, Grêmio will be in no mood to do business with the Barça board for anything less than that, although they are willing to listen to offers from elsewhere.
Aílton, Arthur's father, also explained what had happened after three representatives of the Camp Nou, including Fernández, had travelled to watch his son in the Copa Libertadores final. "They told me they had come to watch Arthur up close, that they enjoyed his performance and that, if everything goes well, he'll be playing for Barcelona soon. That was the only contact I have had with any representatives of Barcelona until today," he said.