Unai Emery is confident that his PSG side are capable of beating defending champions Real Madrid after the Ligue 1 leaders were drawn against the holders on Monday.
The sides will meet in the last 16, surely not the tie PSG would have wanted after winning their group ahead of Bayern Munich.
Real, the two-time defending European champions and 12-time winners overall, came second behind Tottenham Hotspur in their group and will host PSG in the Spanish capital in the first leg on February 14.
"I don't think it's the worst draw possible. I think we are of a level where we can play against Real Madrid," said Emery. "If you want to do something big in the Champions League you have to play against the best sides. I think these matches will be the centre of the footballing world when they come around."
Bayern were rewarded for finishing behind PSG with a tie against Besiktas, the Turkish champions, while the French club will once again have to overcome one of the Spanish giants.
PSG's Barça blunder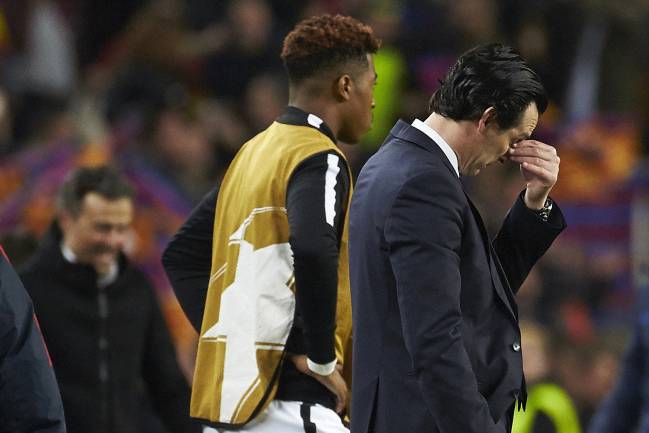 Last season Paris faced Barcelona in the last 16 and were eliminated in extraordinary fashion, winning 4-0 at home in the first leg only to lose 6-1 in the return at the Camp Nou. On that occasion, Emery described the tie as a "unique moment" and an "opportunity there to be taken."
In that match, Barcelona needed to score three times from the 88th minute onwards and did so.
But since then PSG have strengthened, signing Neymar for a world record 222 million euros from Barça and beating Madrid to the signature of Kylian Mbappé from Monaco.
The tie will be the first meeting of the sides since the 2015-16 group stage, when Madrid won 1-0 at the Santiago Bernabeu after a 0-0 draw in Paris.
"I have lots of friends in Madrid, I know Real Madrid well too, having watched a lot of their matches. I know what the atmosphere is like there," said Spaniard Emery.
"It is a wonderful opportunity for us. I am sure the team will be in perfect shape when the tie comes around."
Neymar in Brazil on personal matter
Meanwhile, Emery admitted that he has allowed Neymar to return to his native Brazil to deal with a family matter.
The 25-year-old was suspended for Saturday's 3-1 win over Lille in Ligue 1 anyway, and now looks likely to miss Wednesday's League Cup tie at Strasbourg, where Paris lost 2-1 only 10 days ago.
"Neymar called me on Saturday. He said to me he had a family issue and wanted to know if the club and I would allow him to go to Brazil to deal with the problem," said Emery.
"The person comes first, then the footballer. We gave him permission to make the trip. I hope he'll be back in three or four days, but I don't know if he'll be back for Wednesday's match."