In an interview for the Player's Tribune, former teammates, Gerard Piqué and Neymar sat down to discuss the World Cup in Russia with the Barcelona defender pointing out early on that they would not be discussing "either Barcelona or Paris". Piqué did ask the Brazilian how life was in Paris, to which Neymar replied "It's good. A new life, different. I'm adapting well."
Neymar said he didn't like how the last World Cup ended when he was ruled out with a nasty back injury but said, "it happened anyway but the next World Cup is approaching and we have a good team so we are hoping we win one, no?"
Piqué said he hoped that Spain would win it too but Neymar responded, "Nah, you've already won one. It's enough."
Piqué talked about every World Cup having an enduring image with Neymar's injury in 2014 being the one that sticks in his memory.
Neymar recalls the tackle from Zuñiga of Colombian that knocked him out of the remainder of the World Cup. "I was in a lot of pain and I remember that I had my head on the ground and Marcelo was saying, 'no, no...get the doctors in."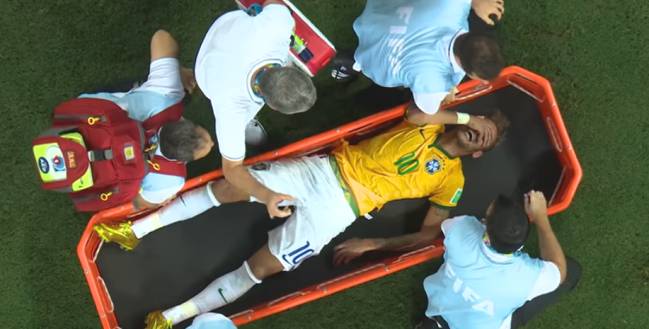 The PSG star was keen to continue and wanted desperately to score but says he 'couldn't turn. I couldn't manage to lift my legs. I couldn't move my legs and the doctors took me out and I started to cry because it was very painful and I didn't feel anything. I didn't feel my legs so they took me to the hospital there in the stadium'
'And they left me there and I remeber I was with my leg bent like this and when I stretched it out...incredible pain. And then I knew there was no way to continue in the tournament.'
Neymar says the doctor told him later that he had good and bad news. The bad news being that he couldn't play the World Cup and the good news being that he could walk.
They also discussed the defeat at the hands of Brazil and both of their hopes for the World Cup in Russia in 2018.