Iraq vs UAE live stream online: goals, action, report
The UAE reached the final of the Gulf Cup of Nations courtesy of a penalty shoot-out after the semi-final against Iraq ended goalless.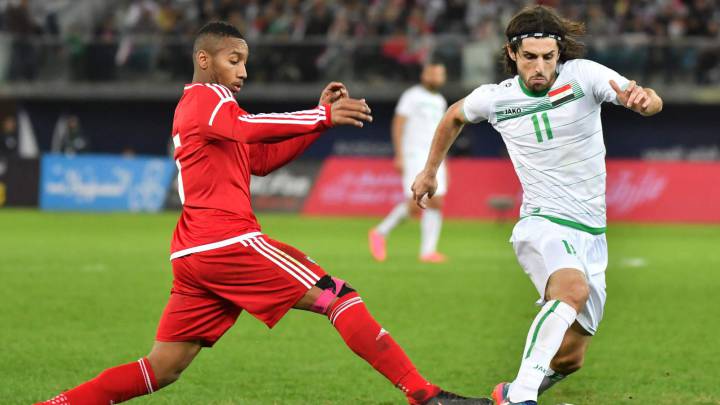 Hello and welcome to AS English's live stream online coverage of the Gulf Cup semi-final between Iraq and UAE. The semi-final takes place at Jaber Al-Ahmad International Stadium in Kuwait City between Iraq and UAE in a showdown of defence versus attack. Iraq finished their group stage with a comfortable victory over Yemen and UAE drew 0-0 with Kuwait to seal their passage into the knock-out stages.
Iraq vs UAE live stream online: as it happened
119' UAE win it! they win 4-2 on penalties.
2-1 UAE as Iraq miss their third.
2-1 UAE.
2-0 to UAE.
119'   Penalty shootout
119'   Injury now for Iraq as the game winds down completely.
112'   Still heading for a stalemate.
109'   Aymen out on the right. He tries a cross but it's blocked for a throw.
108'  108' Still nothing. Omar Abdulrahman been the liveliest player for either side but his through ball this time sees Iraq defenders mop it up and clear.
106'   Neither team looked like scoring in that half either. A really dull game at this point with penalties inevitable.
106'   Back underway for the second half.
105'   Half-time in extra-time.
103'   Corner now for UAE. Hachim fails to collect and Ahmed strikes but it's blocked and saved at the second time of asking by the keeper.
102'   Another free to Iraq as Attwan is fouled again by Al Hamadi.
100'   Foul on Attwan as Iraq look to build an attack. 
100'   Neither side with the quality or desire to break down their opponents' defense. 
98'   Aymen tries to make his way through UAE's defense and he does a good job before Essa saves.
96'   Abdulrahman does indeed take a shot but it goes just wide with Hachim making a move to try and save it but it was wide and he knew it.
94'   UAE with a free now but maybe too far out to shoot from. 
92'   Iraq break through and get a shot away. Keeper saves. 
92'   UAE with the ball early on. 
91'   We are back underway for the first half of extra-time. Can either side find a winner? Or do they want to? 
    The second half was almost a non-game-
  If ever there was a game where two sides decided extra-time was okay, that was it!
89'+2' Game over! We are going to extra-time.
89'   One late chance for UAE. It falls to Mabkhout but he drives just wide.
87'   Offside call on UAE.
83'   Neither team wants to push the boat out here. Just a very dull game.
78'   Dangerous ball sent into the box from Abdulrahman but Hachim beats it away. Back to the drawing board.
77'   Lands at the front post but it headed well wide by Aymen. 
75'   Free for Iraq now in a dangerous position out on the right. Chance for Hussein Ali to swing it in.
73'   Iraq chance. Ball sent in and glanced towards goal. Essa gathers again.
70'   Ball goes in from the left and Essa rushes out and grabs it.
69'   Would be surprised to see a goal in this one to be honest. It has 0-0 written all over it. 
69'   Reall poot now from both sides. The game just never got going. 
65'   Ali Mhawi in a nice position but he opts for a shot when the pullback was the better option. He absolutely piledrives it well wide.
63'   Really good effort now that Hachim saves. Well, it bounced off his chest and Iraq scramble it away.
59'   tariq with the ball in the box. He manages to keep it without being fouled or losing it before a UAE defender gets between him and the ball. UAE clear.
58'   Chance for UAE and it falls to Mabkhout. His shot is a tame one though and Hachim is comfortable with it. Took a nick on its way towards goal. 
55'   Abdulrahman with a lovely ball to Al Menhali but he loses out as Iraq scamper back. Nice move with UAE's number 10 looking as creative and dangerous as ever.
53'   Would have been a cracking goal. Ali Husni down the left, cuts inside and strikes but it's down Essa's throat and he grabs it with ease.
49'   Aymen through but he can't find the space to shoot. He turns back and tees up Mahdi Kamil, who drives his shot over the bar.
48'   Slightly more open than the first half.
46'   We are back underway!ª 
45'+3'   Iraq do manage to get it away in the end. Half-time!
45'+3'   Corner comes in and Iraq just about deal with it. Danger not cleared yet.
45'+1'   UAE with a brief spell now. 
45'   Iraq continue their dominance as the half draws to a close.
44'   Free comes in and Essa punches it away.
43' Ismail Ahmed booked now for chopping down Aymen as he broke towards goal.
42'   How did he miss. Al Menhali steals the ball high up the field and goes through on goal but misses as it seems to hit the bottom of the post. 
40'   Another offside. Kamil the one caught out this time down the right.
39'   Keeper off the line and gathers.
39'   Another dangerous ball into Aymen as he chases it all the way down. 
37'   Iraq push forward. They have a throw and another very lazy mistake sees the player who took it being called for offside. Sloppy.
35'   Dangerous ball in behind for Tariq to chase. Keeper off his line and gathers.
35'   Iraq taking back control of this one.
34'   Ball into Ayman and it comes off his heel and up into the air. Keeper grabs it.
33'   Game has dipped in quality since the middle of the first thirty minutes. Neither team really imposing themselves on it and both sides weary of the other, meaning it is a stalemate so far.
31'   Iraq continue to bombard that right hand side but a poor pass results in a UAE throw now.
30'   Corner goes short but there's an offside before it comes in. 
29'   Iraq on the move forward now and they do get a shot away but it's blocked for a corner.
28'   Abdulrahman with a nice strike off his left after a nice move. Hachim is equal to it but UAE looking the more dangerous side.
27'   UAE want a penalty as Mbkhout and Hussein Ali get tangled up in the box. Referee points for a goal kick.
26'   Long ball to Aymen, he plays it back to Ali Husni but he puts it out for a goalkick.
25'   Back in action.
22'   Two Iraqi defenders collide and one of them hits the ground. It was Fadhil who collided with his teammate. Break in play now for another head injury.
22'   Iraq taking their time over this one too. They've lost control of this game. UAE, who haven't conceded yet in the competition looking more dangerous in attack and solid in defense.
21'   Abdulrahman does just that and Iraq deal with it before winning a free.
20'   Free to UAE in a dangerous position. Abdulrahman caught in the back by Atiyah. Probably too far out to shoot but perfectly placed for a chip into the penalty area.
20'   We are back in action.
18'   He is back up and grabbing his shoulder. He is ready to take the free too.
16'   Free arrives in and Ghanim collides with Hachim in the air. The keeper is down and out as the referee blows his whistle for a free. Not sure if the keeper can play on after that. A nasty bang to the head.
16'   Abdulrahman fouled by Attwan. Free UAE.
15'   Hopeful ball in sees Aymen decked after he ran into the back of a defender. 
15'   Iraq back on the ball and looking for a way through. Far more movement ahead of them and looking more likely to create something.
13'   Quite an abrupt tackle on Mabkhout and he is down now. Seemed it was his hip that was caught in the exchange.
12'   UAE put Iraq under pressure at the back and they concede the goal kick. Better from UAE.
10'   Abdulrahman limping now which is not great news for UAE. He's one of their most exciting and dangerous attackers.
10'   And another hit and hope from UAE. Very sloppy start to this game.
9'   Hit and hope for Iraq that time. They've lost their early grip on control, just slightly.
8'   Free for Iraq after that break from the norm with a UAE attack. 
7'   UAE attack now and Al Menhali ends up on the ground but no free. Huge roar from the crowd but the referee doesn't care. Abdulrahman involved too there. 
6'   Ball into the box but the linesman flags for offside.
5'   Strike and it hits the wall before bobbling out for a corner. 
4'   Kamil taken down by Salem in front of the penalty area. Chance for Iraq now.
3'   Goal kick for UAE and Hachim taking his time over this one.
2'   Sloppy start but Iraq enjoying the better of it so far.
1'   We are underway!
    Team photos and then the teams line up on their respective sides.
The national anthem for the two sides plays as we prepare for action!
UAE: Bilal, Aljneibi, Almenhali, Alhammadi, Alblooshi, Al Amim, Aljaheri, Alamoodi, Zayed, Mohamme, Ali Gharib.
Iraq: Hachim, Al Khafiji, Fadhil, Atiyah, Faisal, Ghadhban, Tareq Faraj, Jasim Al-saedi, Ali Mhawi, Al Magsoosi, Shiltagh.
We know one of the finalists on the 5th! Oman will play against the winner of this semi-final after they squeezed by Bahrain in the earlier game. 
It's half-time in the other semi-final and Oman are leading Bahrain by a goal to nil in what was a slow game prior to the goal but that moment kicked it into life. Join Robbie here for the whole of the second half... 
Alaa Abdul-Zahra is the most experienced member of this Iraqi squad with 113 caps. According to the ever-reliable Wikipedia, he is affectionately nicknamed 'the Kaka of Iraq'. He has played for various clubs thoughout a nomadic career, with Tractor Sazi FC a particular highlight. He only made five appearances for them, but then, they are named after tractors. 
In the other semi-final, Oman and Bahrain are battling it out at 15:15 (CET). Live-feed Robbie will be covering that match before moving on to this one, so you know where to be for a Gulf Cup double. 
Buenos días! Welcome to our minute-by-minute coverage of this, the second semi-final of the 2017 Gulf Cup.