Philippe Coutinho was plastered all over the front covers of the Catalan sports press this morning - that in itself is hardly an unusual event, the Liverpool player has regularly made the front page of Sport and Mundo Deportivo over the past few months. This time though, it seems that the Brazilian could be swapping Anfield for Camp Nou as both dailies report that a deal is close - "Very, very, very close" according to Sport who add that they are expecting the transfer to go through within a question of days if a meeting to be held in London today between officials from both clubs and agents Kia Joorobchian and Giuliano Bertolucci go to plan. They add that in Liverpool, Jürgen Klopp, who tellingly has not underlined his previous comments on the player's future in his recent dealings with the press, has practically given Coutinho up as lost. First, Barcelona must get Fenway Sports Group executives in Boston to give the green light for the operation to go ahead.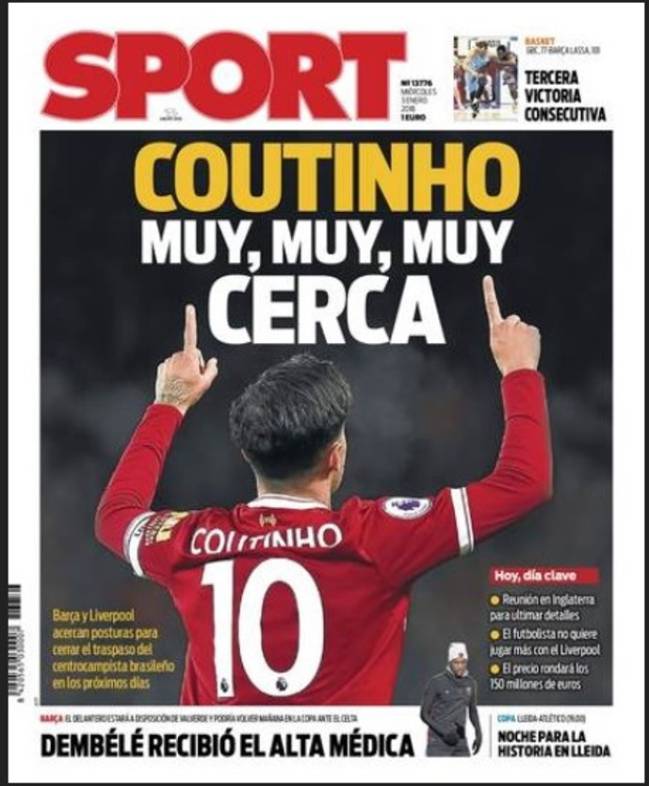 Versatility and quality
Mundo Deportivo highlight the four different positions which Coutinho can fit into - they see him playing on either wing or slightly deeper and more central on either flank whether Valverde plays 4-3-3 or 4-4-2. In their tactical study, MD see the Brazilian playing just behind front two Dembélé and Paulinho in the more defensive formation but ideally out wide on the left, in Andrés Iniesta's position although they add that the two could quite easily play together.

Premier League
*Update 3 de enero de 2018