Barcelona-Levante live online: goals, action, report
Barcelona did not have to break too much of a sweat to glide past an ambitious Levante in Camp Nou, Messi, Luis Suárez and Paulinho providing the goals.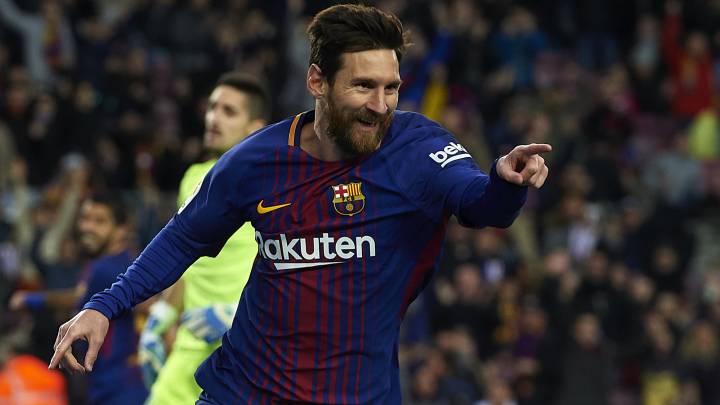 Barcelona ensured they remain the only unbeaten side across Europe's top five divisions with a comfortable 3-0 victory over Levante in Camp Nou that temporarily stretched their lead over arch-rivals Real Madrid to 17 points and ensured that Atlético and Valencia's victories on Saturday did not eat into their healthy advantage at the top of the table.
Leo Messi scored his 15th league goal of the season to set Barça on their way to three points, latching on to a ball in the area and striking it, albeit not very cleanly by the Argentinean's standards, beyond the reach of Levante keeper Oier. The visitors did not travel to Camp Nou merely to make up the numbers and were occasionally dangerous on the break but lacked a cutting edge in front of goal in the absence of their two top scorers this season, José Luis Morales and Enis Bardhi.
Suárez on target again
Luis Suárez continued his recent purple patch with a splendid strike towards the end of the first half, pulling down a Sergi Roberto cross and firing into the net via a slight deflection to send Barça into the break two goals to the good.
Levante came out firing in the second half and could have got on the score sheet when Shaq Moore find himself one-on-one with Marc-André Ter Stegen, but the Barça keeper made an excellent stop with his foot. Frogs winger Ivi was a constant thorn in Barça's right hand side and also drew a sprawling stop from Ter Stegen but the visitors were to be denied a goal for the third consecutive Liga game.
Paulinho completed the job for the hosts in stoppage time after Messi had danced through the Levante defence and squared for the Brazilian to tap in from close range.
Barcelona vs Levante live online: latest updates
Thanks for joining us. Celta - Real Madrid up later.
90'+4' And that's it! Barça comfortable 3-0 winners to maintain their unbeaten run in all competitions.
90'+3'   Seven goals in LaLiga for Paulinho now. And he wasn't exactly the summer signing the Camp Nou wanted. He's earned his fee though.
90'+2'   Goooooooooooool! Paulinho slots home after some excellent footwork from Messi takes out three defenders. 3-0 to Barça!
90'   Arnaiz makes his presence felt with a crunching tackle on Doukouré, to the delight of the Camp Nou.
90'   Four minutes added.
87'   Alba is down in considerable discomfort after a challenge with Samuel. Barçano changes left of course. He's up and ok to continue, albeit a tad gingerly.
86'   Messi! The Argentinean clatters a post with a right-footed shot but he's offside in any case. A glower suggests he does not agree with the lino's call there.
85'   Five minutes for the former Valladolid striker to add to his growing reputation.
84' Sergi Roberto off and another huge roar both for the departing canterano and for his replacement, new apple of the Camp Nou eye José Arnaiz.
84'   Lovely work from Semedo to fire in a dangerous low cross but Moore is there, yet again, to clear. 
83'   Ivi drives another Levante break, but Barça hack it clear. Another Frog who has turned in a princley performance this afternoon.
81' Jason heading off for Levante now, Samuel coming on.
80'   Shaq Moore with another excellent challenge to deny Gomes. He's had a very good game, the Levante right back.
77'   But the Argentinean fails to clear the wall. André Gomes shows some glorious footwork in the area to tee up Paulinho but Levante clear.
76' Messi is flattened again and Barça have a free kick on the edge of the area.
75' Iniesta heads off to a huge ovation, as is customary, handing the armband to Luis Suárez curiously, not to Messi. In any case, on trots André Gomes for a 15-minute cameo.
73' Boateng goes off for Levante, Nano coming on his place. A decent showing from the Ghanaian striker, who was making his first start for Levante today after his summer move from Moreirense.
72'   Ivi tries his luck from distance but it doesn't trouble Ter Stegen.
71'   Mascherano channels his inner Cruyff and plays in Suárez, who may have thought he was offside initially. A poor shot finds its way back to the Uruguayan who does better with his second, drawing a good save from Oier.
69'   Good work on the right again from Moore, who finds Boateng with a fine cross. The striker can't quite bring it under control though and the chance goes begging.
68'   Another short corner, and Barça pushed back to the halfway line. The ghost of tiki-taka will not go quietly, it seems.
67'   Semedo in the action straight away as he breaks down the right and forces a corner.
65' Dembélé's afternoon is over, the Frenchman going off to an ovation. Nelson Semedo on in his place.
63'   Ter Stegen! An excellent save denies Moore! Levante so close to bagging a goal there. The American hit it well enough but Ter Stegen stuck out a foot and diverted it wide.
Shaq attack.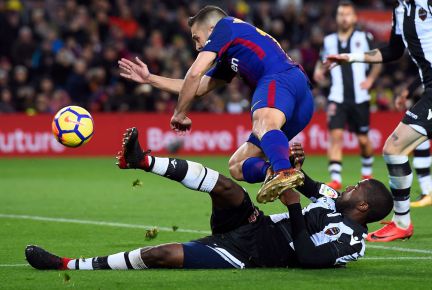 62'   Levante break again, again it's Ivi with the ball into the area and again it's a good one but Boateng is a pace or two short of reaching it.
61' Change for Levante, Lerma goes off, unsurprisingly, with Rober coming on.
60'   Chance for Levante as Ivi sends a cross towards Jason but it's just too long.
59'   Ernesto Valverde tucking a sheaf of paper into his pocket on the touchline. His list for the Magic Kings perhaps? "Coutinho." Check.
58'   Nelson Semedo and André Gomes warming up for Barcelona.
56'   A long period of Barça possession finally produces a shot from Dembélé but it's a wild one, straight into the second tier.
54'   One for Lukic's scrapbook as he nutmegs Iniesta as Levante look to break out of their own half but the ball is back in Barça's thrall.
53'   Lovely one-touch stuff from Barça. Iniesta to Alba, to Messi, back to Alba and the full back is floored by Moore. Appeals for a penalty but they are fanciful to say the least. That was a fine challenge from the American, well-timed and clean as a whistle.
52'   Doukouré protests, with a delicious lack of irony, after he is clipped by Andrés Iniesta in midfield.
51'   But the delivery is poor, clubbed over the onrushing black and white shirts harmlessly.
50'   Levante have a free kick in the left channel. The big men trotting up...
49'   Number 13 as Lukic floors Dembélé.
48'   That was foul number 12 from the visitors, with a good deal of those committed against Messi.
48'   Messi gives the ref a glare as he is hauled back by two players in midfield. No card though.
47'   A nice move from Levante almost opens up an opportunity for Shaquell Moore but he goes down under a challenge from Alba on the edge of the area. Nothing in it though.
47'   Ini! The Levante winger shows neat footwork to skip past Dembélé and unleashes a ferocious shot that Ter Stegen tips over acrobatically.
46'   Levante have another corner but yet again fail to make it count, hitting the first man.
46'   We're back underway!
Will we see José Arnaiz in the second half? You suspect that if Barça further extend their lead the youngster may be given the chance, not least to hand Suárez a rest before the Celta game next week.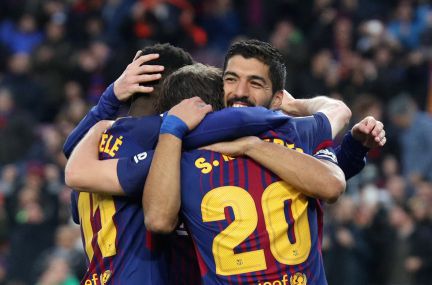 It's all been fairly plain sailing for Barcelona so far. Levante have threatened on the break and have managed a couple of efforts but have yet to test Ter Stegen.
45' That's the half! 2-0 to Barça going into the break.
44'   Doukouré has covered planty of midfield today and almost nicks the ball for a break but it's Barça that suddenly strike, Messi eluding the defence to fashion a chance but it's from a tight angle and even he can't turn it past Oier from there.
43'   Rakitic! The Croatian gets his laces across a ball on the edge of the box that fizzes just wide.
41'   Another foul, this time Dembélé is floored. Muñiz looking a little resigned to the situation on the touchline. Fair enough. His side have scored once in five Liga games. They'll need at least two in Camp Nou to salvage anything as things stand but you suspect Barça aren't finished yet.
40'   Short corners. What's the point? Just sling it into the mixer. It gets there eventually and Vermaelen rises to meet it but can't get any power on a soft cross and it falls harmlessly into Oier's paws.
40'   Messi takes, it clips the head of a man in the wall and pings out for a corner...
39'   Free kick to Barça on the edge of the area. Messi eyeing it up...
38'   Hold the front page. Stop the clocks. Leo Messi fails to control a football. Had he done so, it may well be 3-0.
37' Goooooooooooool! Suárez! What a hit! The Uruguayan picks up the ball from Sergi Roberto and wallops it into the far corner. Beautiful control and a perfect looping half-volley.
Thomas Vermaelen and Boateng are both down after a nasty clash of heads in a 50-50 aerial challenge. Pretty unpleasant looking that one. But they are ok to continue after a short pause.
32'   Another Levante attack starts promisingly but fizzles out as Barça get back in numbers. They are getting forward, the visitors, and certainly are not looking to sit deep but lack a little craft in the final third. There are plenty of injury absentees today though it's worth remembering.
31'   Messi! La Pulga has a pop and it's a good one, whistiling past Oier's far post.
30' And there is the next booking as Postigo takes Messi down on the edge of the box. A bit harsh the yellow, but the ref's done well to keep it in his pocket over the last five minutes.
29'   It's all getting a bit niggly now as Lerma protests his innocence after bundling into Paulinho. He may not be back out for the second half at this rate.
28'   No sooner is Messi up than he's floored again, this time by Sasa Lukic.
27'   Lerma gets stuck into Messi again and he'll have to be careful, the Colombian, as he's already on a caution.
25'   Oier quick to react again as Jordi Alba scampers towards a Suárez through ball but the Levante keeper was swifter to the punch. Not a bad buy last summer for 180,000 euros. What extremity of Philippe Coutinho would that get you? His little fingernail?
24'   Oier! The Levante keeper makes an excellent stop from Dembélé and then watches as Suárez blazes the rebound over the bar. 
23'   Ini is clean through on goal but the flag again rises to deflate Levante's travelling support. Barça caught on the hop playing a high line there, and Levante's game plan is pretty clear. They have the players to exploit space in behind the back four as well.
22'   Messi thinks he's clear on the right, gleefully embracing the green in front of him, but the lino's flag pulls the Argentinean up.
Messi feels the full force of Jefferson Lerma.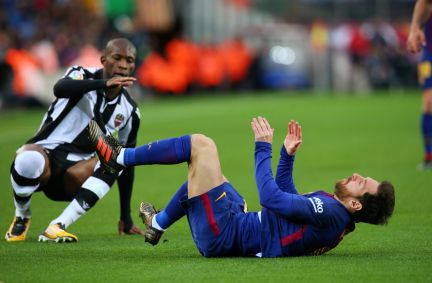 20'   Barça try to pick a away through but Levante hold firm and then Levante see a chance to break but Mascherano, who has looked sharp despite his recent inactivity, is across to cover.
19'   Ini! The Levante winger takes a touch, picks his spot and fires in a decent shot that hits a defender and pings out for a corner. Again, The Frogs waste the opportunity from the flag but the ball remains in Barça territory, which is where the visitors want it.
18'   And the German was quick to react to that! Another long ball is set up for Boateng to chase down and he's almost clear and through but the Barça keeper appears from stage left and hoofs it clear with the onrushing striker bearing down.
17'   Levante again look to go over the top, Sly Stallone style, but it's overhit and an easy gather for Ter Stegen.
15'   Lerma! What a miss from the Coilombian, who was teed up on the edge of the area but scuds a woeful shot wide. Good chance for Levante there, and you fancy they won't get many better.
13'   Oier! The Levante keeper makes a save from close range, denying Suárez and then Dembélé gets on the end of the rebound but fires into a Levante defender. Barça looking to put this one to bed as soon as possible with the Copa return on the horizon. 
12'   Not one for the Argentinean's extensive highlight reel that but they all count.
11' Goooooooooooooool! Messi, who else? The Argentinean finds the far corner with a bit of a scuffer after a one-two with Alba after some fine build-up play from Dembélé.
10'   Barça build another attack around the Levante box but a rare poor touch from Suárez cuts it short.
9' Levante come again down the left and a cross is lofted into the box, more in hope that anythign else as there was nobody there to meet it, but Ter Stegen sees fit to palm it on its way.
Messi delivers the free kick and it's a vicious inswinger, gliding with menace towards the far pos. It looked as though Oier got a fingertip to it but a goal kick is given.
Messi picks up the ball on the right touchline and cuts inside but his progress is checked by Lerma, who goes in the book for sending the Argentinean flying with a wild challenge.
5'   The home side have their foot on the ball now, taking the sting out of the early Levante pressure. Doukouré apologises after clattering into Iniesta. The White Knight accepts graciously and gets the ball rolling again.
4' Another chance for Boateng! Jason finds the striker with a deep cross and the Ghanaian knocks it onto a Barça head for a corner. Levante making the early running in Camp Nou, Barça a little off-key in midfield at the moment.
2'   Lerma! The Colombian buys a yard in the box and blazes over from a couple of yards out. It was a tight angle though. Maybe should have pulled that back across the area. Positive start from the Frogs though.
2'   First opening for Levante as Boateng cuts into the area but Mascherano is across like a whippet to clear for a corner. It's an easy clearance for Rakitic though.
1'   We're off! Barça in their home colours, Levante rocking a rather nice black and white stripe shirt.
Barça huddle before kick-off.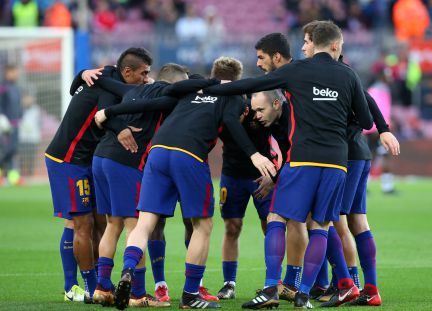 Blaugrana al vent, Un crit valent, Tenim un nom que el sap tothom, Barça, Barça, Barça! It's a decent anthem as these things go isn't it? The Cant del Barça rings out as the teams take to the pitch.
It's difficult to see where the goals for Levante are going to come from this afternoon. Top scorer José Luis Morales (6) and second-highest Enis Bardhi (4) are both missing. Behind those two The Frogs have scored a total of nine with Ivi on three and Cheick Doukouré on two.
Javier Mascherano is making his first appearance for Barcelona today since November 4, when he was on the pitch for one minute against Sevilla. An area for Levante to target, perhaps?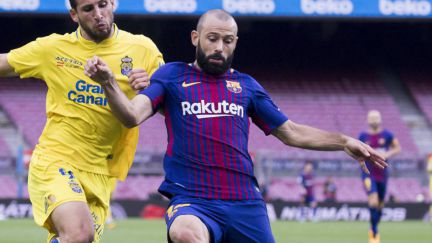 Barcelona have conceded only seven goals this season and have kept a clean sheet in each of their last three Liga outings. Levante, meanwhile, have scored only once in their last five Liga games. Will that change today in Camp Nou?
It has just been confirmed that Coutinho will not be in the stadium today as the club didn't want to detract attention from the task in hand on the pitch. The Brazilian is expected to be unveiled tomorrow.
Since Levante ascended to Primera for the first time in 2004, The Frogs have never got so much as a point out of their trips to Camp Nou. There have been four draws in all between the sides over that period, but all at the Ciutat de Valencia.
And here's Levante's starting 11, with Ini and Boateng up top. Oier, Moore, Cabaco, Postigo, Luna, Lerma, Lukic, Doukouré, Jason, Boateng, Ivi.
Something else to look out for today is 22-year-old striker José Arnaiz. Signed from Valladolid in the summer for Barcelona B, Arnaiz has bagged three goals in three Copa games this season and is in line for a place on the bench today.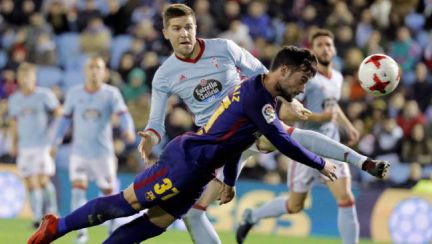 In a secind piece of news to cheer chilly Cules in the stands on Sunday, Ousmane Dembélé is in line to make his first appearance for Barcelona since limping off in Getafe last September.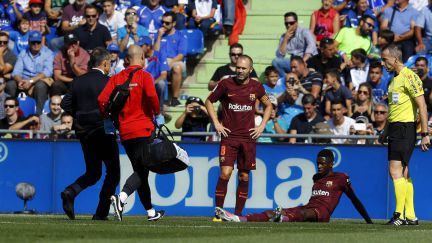 The big news around Camp Nou on Sunday was not centred on the game but the arrival of Philippe Coutinho, who a day earlier became the second most-expensive player of all time when Barça shelled out 160 million euros for the 25-year-old. Coutinho is expected to be in the stands today to watch his new side, but may have to wait for his debut as he is carrying an injury that may keep him out for the next two weeks.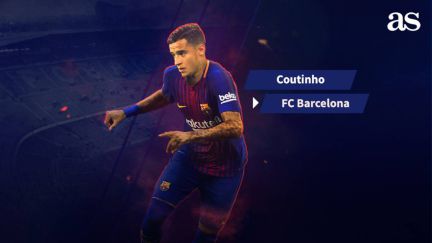 League leaders Barcelona remain the only undefeated side in all competitions across Europe's top five leagues this season, a record that Levante will be hard pushed to snap after going five Liga games without tasting victory.
Hello and welcome to AS English's live coverage of the 2017-18 LaLiga game between Barcelona and Levante at Camp Nou, kick-off at 16:15.