Espanyol 1-0 Barcelona Copa del Rey: match report, result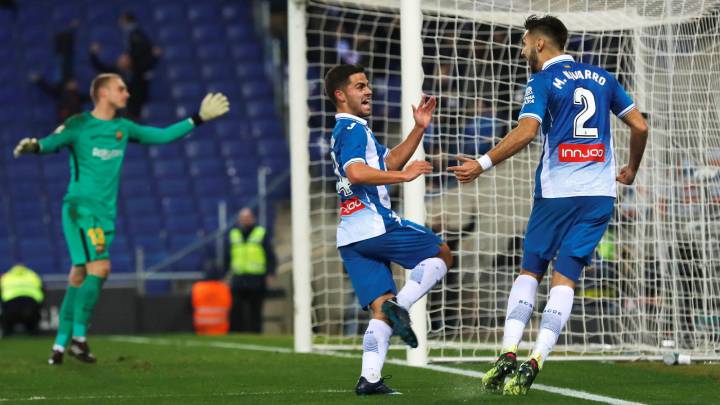 Espanyol 1-0 Barcelona: report
For the first time in the decade, Espanyol leave a Catalan derby with a victory over Barcelona. It was also the first time in six years that they scored a goal at home in a game against their city rivals.
Ernesto Valverde opted to rest Luis Suarez and was without Andres Iniesta as chances were given to Denis Suarez and Aleix Vidal amongst others. The visitors never really got going despite having the chance to win the game with a Lionel Messi penalty that was expertly saved by Diego Lopez.
The first half seemed to drag on with neither side seeming too concerned with breaking the deadlock. That changed in the second half, however, as Espanyol stepped up their game and Barcelona did the same.
A foul on Sergi Roberto by Esteban Granero in the penalty area gave Messi a chance after 63 minutes to score from the spot but he couldn't and Espanyol's confidence spiked. After a sustained period of pressure, they had their reward when substitute, Oscar Melendo opened his left foot out to a cutback and finished across Jasper Cillessen to give the home side the lead for the first time in a home derby in what must have felt like forever.
There is a second leg of course for Barcelona to right things after their first loss since August and after 29 consecutive games. Espanyol really needed a win and a clean sheet to harbour any hopes of a win over two legs espcially with that trip to the Camp Nou on the horizon.
Espanyol vs Barcelona live stream online: updates
90'+3' GAME OVER! For the first time under Sanchez Flores, Espanyol have beaten Barcelona.
90'+3'   Way over in the end. 
90'+3'   Rakitic fouled now as Barcelona have one last chance from a very nice position to fling it into the box.
90'+2'   All XI men back defending the goals now.
90'+1'   David Lopez and Luis Suarez both booked as they got into in the penalty area off the ball. 
90'   Espanyol back and defending. Clear it as Barcelona try to find a goal.
89'   Full value for their lead. They've been by far the better side in this half. 
88' GOAL! Espanyol strike.  Ball down the right-hand side and it's cut back to Melendo, who finishes excellently past Cillessen.
86'   Pass in behind for Sergi Roberto and that's not going to cut it as it's too strong.
85'   Long spell of pressure from Espanyol there which was by far their best of the game.
84' Vermaelen booked now for having a go at the linesman after he thought he was fouled.
83'   Marc Navarro drives the shot at goal and Cillessen taps it over.
82' Rakitic given a yellow card. He was dispossessed by Gerard Moreno, who was through on goal, but the referee doesn't pull out the red because of the lack of a red for Aaron earlier. Lucky boy is Rakitic.
81'   Ball is headed up in the air and Cillessen gathers, as he is fouled too. 
80'   Vermaelen intervenes and puts the ball out for a corner.
77' Denis Suarez replaced by Rafinha.
77'   Cillessen hit in the face by something from the crowd. Having a word with the ref now and he's not happy. 
76'   It comes back in and Baptistao drives over.
76'   Corner comes in and Navarro miss the headed chance. 
75'   Pique clears a cross. Came in quite awkwardly but he got it away and tells him teammates, again, to keep their heads.
74' Melendo on for Javi Fuego.
73'   Javi Fuego on the ground as trainers check on him. He will have to be replaced.
71'   Barcelona running out of ideas now. Suarez offside from a looping long ball. Lashing rain in Barcelona. Replays suggest the Uruguayan was actually onside, maybe. A very close call in any case.
70'   20 minutes to go. Rafinha warming up now. 
69'   Aleix Vidal wants a handball on an Espanyol player in the box. Ref says no.
68'   Espanyol with the high press but Barcelona work their way out with the ball.
67'   Espanyol fans urge their side on but they're still chasing the ball. Putting more pressure on now.
67'   Gerard Moreno through on goal. But he was offside. Replays show it was the right decision.
66'   Low corner bounces up off the turf and is headed towards goal. Cillessen gets down and saves. 
65'   Piqué urges his teammates to keep their heads.
65'   Corner Espanyol. The stadium has come to life now after that penalty save. 
64'   That's as good a save as you are likely to see from a penalty. Brilliant from the goalkeeper.
63'   Messi's penalty is saved! Diego Lopez with a top quality save.
62'   Granero stands on his foot. Very clumsy. Messi to take.
61'   Suárez to mess and out to Aleix Vidal. He passes to Sergi Roberto and is fouled. Penalty!
60'   Can the Uruguayan make a difference?
59'   Luis Suarez replaces Carles Aleña.
57' Didac Villa replaces Aaron Caricol. 
57'   Messi wins it back after some fairly reckless possession from both sides. 
55'   Granero with a dreadful free to absolutely nobody. That's twice now he has done that tonight!
54'   Baptistao fouled now by Sergi Roberto. he stood on the ankle of the sub. Really sore one but not sure he meant it.
54'   Free comes in and is cleared away before it lands to Messi again and he drives a volley towards goal. Saved.
53' Rakitic replaces Paulinho.
52'   Sergi Roberto fouled just outside the penalty area. Barcelona players surround him looking for a card. No dice says the ref.
51'   Paulinho has injured himself and Rakitic is coming on.
51'   Vermaelen with a pass forward, Denis Suarez steps over and it nearly make its way to Aleña. Espanyol break with Leo Baptistao. He crosses and it's picked off and cleared. the sub then fouls Aleix Vidal.
50'   Luis Suarez and Ivan Rakitic warming up now.
49'   Messi threads one through to Aleix Vidal. He plays to Denis and Espanyol win it back in the end.
48'   Messi with a lovely ball from the free. Naldo makes it first to the cross and heads out but they give it as a goalkick. Vermalen looking to get on the end of it himself.
47'   Denis suarez tripped up by Javi Fuego and wins a free on the left.
46'   We are back underway. Sergi Darder replaced at the break by Leo Baptistao.
We're in the tunnel (well, we're not literally in the tunnel but the players are) and ready to re-emerge for the second half.
Espanyol sat back in that game to take the sting out of Barcelona's attack and it worked but they have been woeful going forward. They probably need to score at home to stand a chance in the second leg.
45'+1'   Half-time at the RCDE.
45'+1'   Granero sends the free toward goal to nobody. 
45'+1'   Probably did throw himself into the challenge a little recklessly but nothing more really. Studs were high. 
45'+1' Aleña fouls Sanchez and gets booked.
44'   Best chance for Barcelona so far and Denis Suarez pulls his shot wide.
44'   Drifting towards half-time. Barcelona have picked it up lately. 
44'   Sent in by Messi and Paulinho tries to get a foot on it but Lopez nabs it.
42'   Messi fouled now and a yellow for Aaron. Messi dropped the shoulder and was gone by the left-back. 
40'   Uninspiring from Barcelona tonight too. A few players being given chances that are not really taking them.
39'   Long, diagonal ball across the field by Espanyol and that's a mile off.
38'   Denis Suárez fouls David Lopez. He's not happy but the referee explains to him what he did wrong and he accepts the punishment.
36'   Barcelona with 71% of possession so far in this half.
36'   Gerard Moreno fouls Vermaelen as they run for a long ball. 
36'   David Lopez with a nice move as Espanyol try to build but he givers it away before Espanyol win it back. A rare spell of possession now for the home side.
35'   And now Denis Suárez wants a free for being pulled back but he wasn't, according to the referee.
34'   Aaron crosses but there's nobody in the penalty area.
33'   Espanyol win a throw now after pressing and winning the ball back in the middle of the field. Still very disjointed when they do try to counter.
32'   Aleña looked like he was in an offside position but picks it up, goes backwards and Barcelona eventually appeal for a penalty when Digne looked to have been kicked as Sergi Darder was blindsided and takes a swing at the ball. Would have been a very harsh penalty.
31'   Barca win a throw on the left-hand side. Play it out to the middle and back again. 
30'   Messi finds Paulinho with a lovely pass and the Brazilian toe-pokes it wide.
30'   Mistake from Sergi Roberto as Gerard Moreno pounces. He strikes just wide. 
28'   Not that time, maybe, as Cillessen put under pressure and nearly has it stolen off his toe. Barca break and Messi strikes but it's blocked.
27'   Game still struggling to come to life. Barcelona in possession and Espanyol almost accepting it.
25'   Free against Piqué, it looks like. Messi with a first time ball into the box and the central defender was offside. He took a punch to the face too while he was jumping for it.
24'   Messi moves forward again. Denis Suárez gets it out wide and tries a low cross but it's blocked and deflects out for a corner.
23'   Trademark Messi as he drives across goal and shots but Lopez saves.
22'   Quick free is wasted by Barca.
21'   Naldo fouls Messi. This actually might be ideal positioning for a Messi free.
21'   Aleix Vidal breaks down the right and tries to pull it back to a teammate but Espanyol sniff it out and win it back. 
19'   Victor Sanchez fouls Paulinho and he is down and grimacing in pain. His right leg got caught under the Esapanyol midfielder. Messi lining it up but it's slightly too far to the left.
16'   Javi Fuego has an issue with his ear. Not sure that he can continue as the ball he took to the head from his own teammate is still affecting him.
15'  Barcelona with all the possession but Espanyol growing into this. Still a fairly turgid affair so far.
11'   Ends up going out for a throw.
11'   Espanyol with a throw and it is cleared out of the box for another throw by Piqué.
10'   Busquets with a stepover and it's picked off by Barcelona. Messi takes off in chase and fouls Gerard Moreno. They want a yellow and it looked like a tactical foul but referee doesn't want to know about it.
9'   All Barcelona here. Building and breaking through Espanyol's lines with ease but not that last line just yet.
6'   Aleña breaks forward and on to Vidal. Messi gets it in the penalty area and Busquets ends up shooting. Diego Lopez saves. Corner.
6'   Barcelona calm things down and take control of this game.
5'   Excellent technique from Sergio Busquets to get out of trouble.
3'   Aleix Vidal caught now by Caricol. A really good intensity to this one.
2'   Perfect position for Messi but that's over.
1'   Early push by Barcelona. Messi taken out of it by Javi Fuego as he drives forward. Free for Barca outside the box. Ideal position for Messi.
1'   We are underway at RCDE!
10 games between the two managers. Five wins for Valverde, two draws and three wins for QSF.
He has played 12, won three, drawn two and lost seven against Barcelona during his career.
All focus now on the derbi barceloní!
Ok, those games are over and they stay that way.
Valencia 2-1 Alavés
Atlético Madrid 1-2 Sevilla.
26 players have played for both Espanyol and Barcelona. Aleix Vidal and Philippe Coutinho from Barcelona on their current squad. Ernesto Valverde too.
Barcelona and Espanyol out to warm up!
15 minutes to go in the other games! Sevilla have just gone ahead and so have Valencia. Both lead 2-1.
Other scores in the Copa del Rey are: Valencia 1-1 Alavés. Atlético Madrid 1-0 Sevilla.
Some unfortunate news coming out of Madrid where a 22-year-old Atlético Madrid fan has been stabbed and is in serious condition in hospital.

A win tonight and Barcelona are unbeaten in 30, which Samuel Marsden from ESPNFC points out, will put them nine games away from the record which was set under Luis Enrique.
Barcelona and Espanyol have played each other 18 times in the Copa and Barcelona have won 13 times. The last time they faced each other in the competition was 2016 when Barcelona trounced their rivals 6-1.
Quique Sanchez Flores take before the game: "It's all about motivation. Games against Barça generate an energy that we must use to our good on the field … Espanyol have never beaten Barça in Cornellà but a win is what every coach and every player has wanted … If there is any team that can make a difference by playing as unit then that team is Espanyol."
Meanwhile, Vermaelen starts again as he has become Valverde's first choice alongside Gerard Piqué in the absense of Samuel Umtiti. His options aren't great to be fair and Vermaelen has been excellent.
LuisSuárez rested for the game and starts on the bench. The striker was very poor to start the year and didn't fully let a knee injurt recover. He took a break during the last international break and has been excellent sinc! He scored two on Sunday night and Valverde opts to rest him tonight in order to keep him fresh! 
Barcelona team news: Cillessen, Roberto, Digne, Piqué, Vermaelen, Busquets, Paulinho, Aleñá, A.Vidal, Messi and Denis Suárez.
Quique Sanchez Flores stayed at Espanyol despite interest from Stoke City and a win tonight would certainly justify his decision!

Barcelona are without Coutinho and Yerry Mina as fans itch to see their new signings but will have to wait. Ousmane Dembele is out for three or four weeks and it will be interesting to see how Barcelona respond after a huge effort to come back from 2-0 down against Real Sociedad to win 2-4 at the weekend.

Hello and welcome to our live stream coverage of Espanyol vs Barcelona from the RCDE Stadium as Ernesto Valverde's men look to build on their excellent form and help themselves towards a semi-final spot in the Copa del Rey. Kick-off is at 21:00 CEST in the Catalan derby.
Espanyol vs Barcelona live stream online: preview
Barcelona are on a quest to win three trophies this season. They are perfectly placed in LaLiga, have a tough tie against Chelsea in the Champions League and have to contend with a Catalan derby over two legs against Espanyol to make it into the semi-final of the Copa del Rey.
After a spirited comeback against Real Sociedad at the Anoeta on Sunday, Barcelona travel to the Estadi Cornellà-El Prat on Wednesday at 21:00 CET where Athletic Bilbao came and earned a point for themselves at the weekend despite going a goal down thanks to the impressive Gerard Moreno.
Quique Sanchez Flores was linked with a move to Stoke City but opted to stay in Barcelona to continue his project with Espanyol with a chance for semi-final up for grabs despite their unconvincing form in the league.
There is nothing unconvincing about Barcelona's league form, however, and with their recent transfer movement with the signing of Philippe Coutinho and Yerry Mina, there is a lot for blaugrana fans to be excited for. Barcelona are without their two new signings along with Andres Iniesta, Javier Mascherano, Samuel Umtiti, Paco Alcácer, and Ousmane Dembélé for the first leg of the tie as Espanyol might try to spring a surprise at home on their opponents.
Meanwhile, Espanyol add Pablo Piatti, David López and Javi Fuego to their squad from the weekend but Marc Roca, Sergio Sánchez and Jurado don't make Sanchez Flores list.